There's not much we wouldn't do to guarantee a good night's sleep. We've flirted with the no caffeine after lunch rule, installed blackout blinds, listened to whale calls, and—although we haven't been able to give up our evening phone scroll (yet)—we've committed to viewing our Instagram feed through a frustratingly unaesthetic blue light filter.
However, there comes a point in time, and in every sleep-deprived state, where you need to call for backup, and in our case, that's a weighted blanket.
A modern solution to a likely very modern problem. In their simplest form, weighted blankets are heavy blankets typically filled with weighted glass beads that work to calm the nervous system by providing pressure touch to the body—essentially mimicking the feel of a firm, comforting hug. Traditionally used in therapeutic settings to assist with sensory processing disorders, weighted blankets claim to do everything from easing anxiety, reducing restlessness, and promoting a feeling of calm and relaxation, therefore creating the perfect environment for a good night's sleep.
When it comes to choosing a weighted blanket, we recommended you look for one that weighs around 8 - 12% of your body weight to ensure you get all the benefits, without any excess baggage.
Below, find the nine of the best weighted blankets you can buy right now, including the perfect starter blanket, a super affordable find, and the plush, ultra-soft option that will have you snoozing like a well-behaved baby.
Oodie Weighted Blanket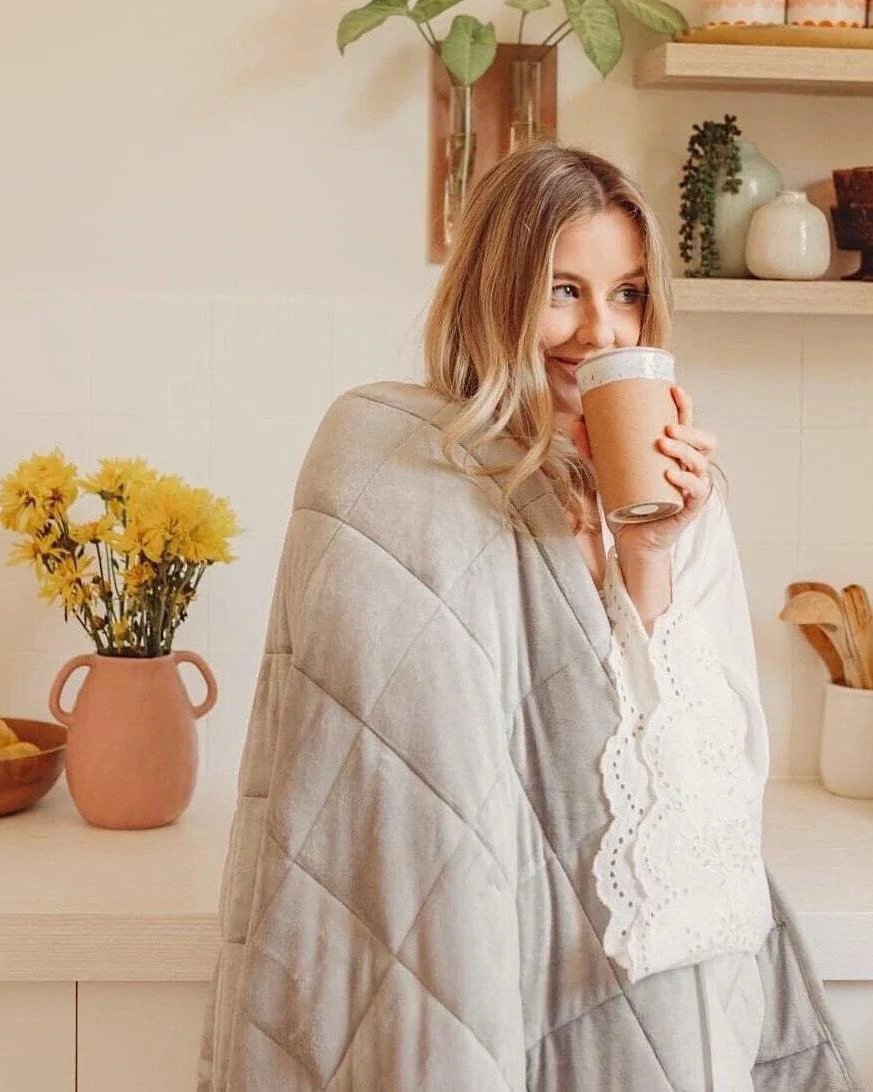 Oodie is all about home comforts, so it's only natural that the brand that brought us the viral oversized blanket-hoodie has now released a cosy weighted blanket. Theirs come in grey and sky blue, and a range of weights too. They suggest going for a weight that's about 10% of your body weight. To score the discount, use the code EASTER-25 at checkout. Shop here.
Calming Blankets Hand-Woven Weighted Blanket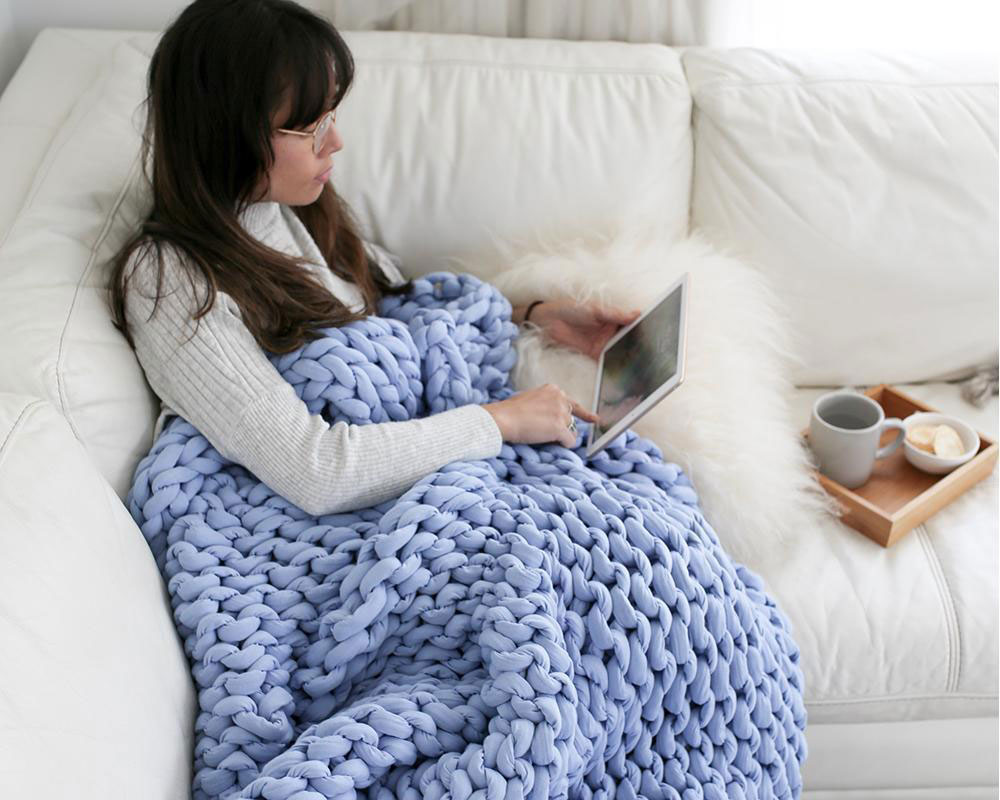 Thanks to its handwoven and oversized design, if you're after a weighted blanket with a difference this should be your pick. Suitable for all adults above 40kg, this blanket is made to evenly distribute pressure across your entire body without trapping heat, making it perfect for all climates and year-round use. Shop it here.
Ecosa Weighted Blanket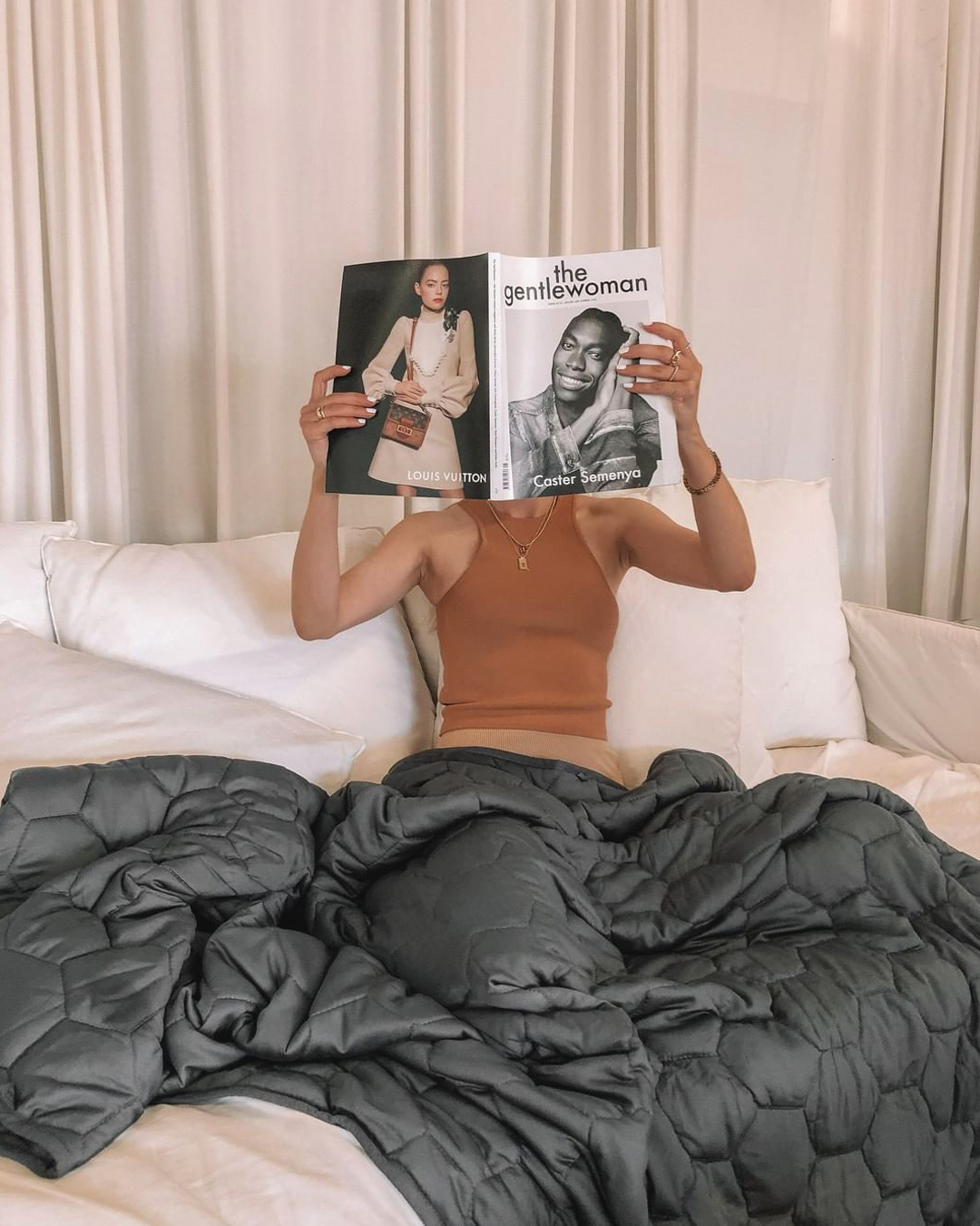 Naturally hypoallergenic and moisture-wicking thanks to its 100% organic bamboo, this weighted blanket is designed to keep you cool as well as calm. Its weight glass bead fill comes in three different weights, so you can select your perfect level of comfort. Shop it here.
Adairs Harrison Charcoal Weighted Blanket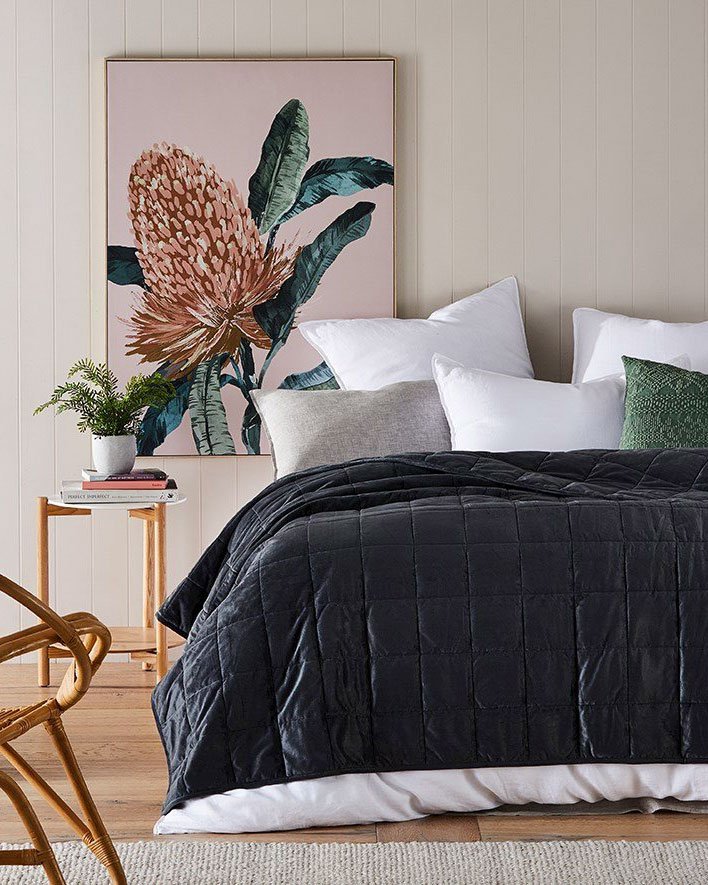 This ultra snug weighted blanket is designed to lull you into a deep sleep thanks to its glass bead-filled quilted panels. Designed with five plush layers of ultra-soft fabric, this blanket is Oeko Tex 100 certified, so you don't need to worry about any harmful chemicals or odours. Shop it here.
Bambury Weighted Blanket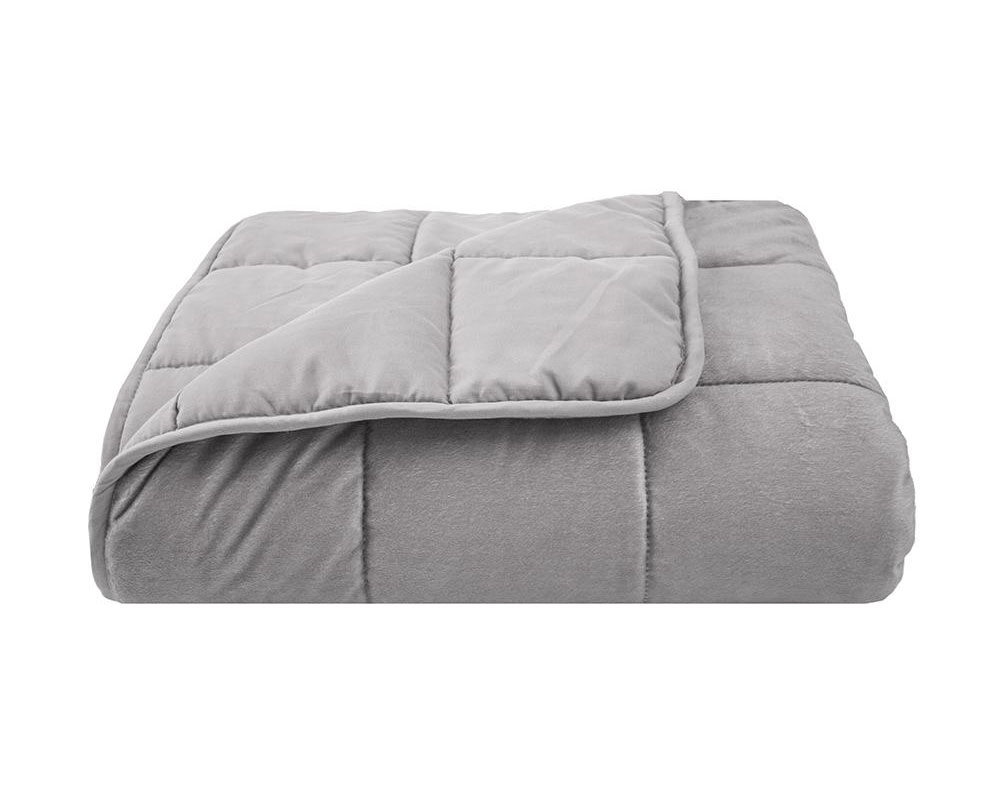 Promising a better night's sleep, this doubled sided blanket sports soft plush polyester on one side and smooth cotton on the other. Its glass bead fill is designed to assist with the promotion of sleep hormones and can be easily covered with your normal doona cover if you'd prefer to match it to the rest of your chic linen bedding. Shop it here.
Scandi Home Weighted Blanket With Bamboo & Dotted Minky Cover
At 2.2kg this weighted blanket comes in on the lighter side, making it a great option for the summer months, hot sleepers, or as the perfect way to dip your toe into the proverbial weighted waters. With a micro-weighted glass bead fill and dual-sided cover, this blanket is designed to give a deep sleep without any added bulk. Shop it here.
Neptune Blanket Weighted Blanket II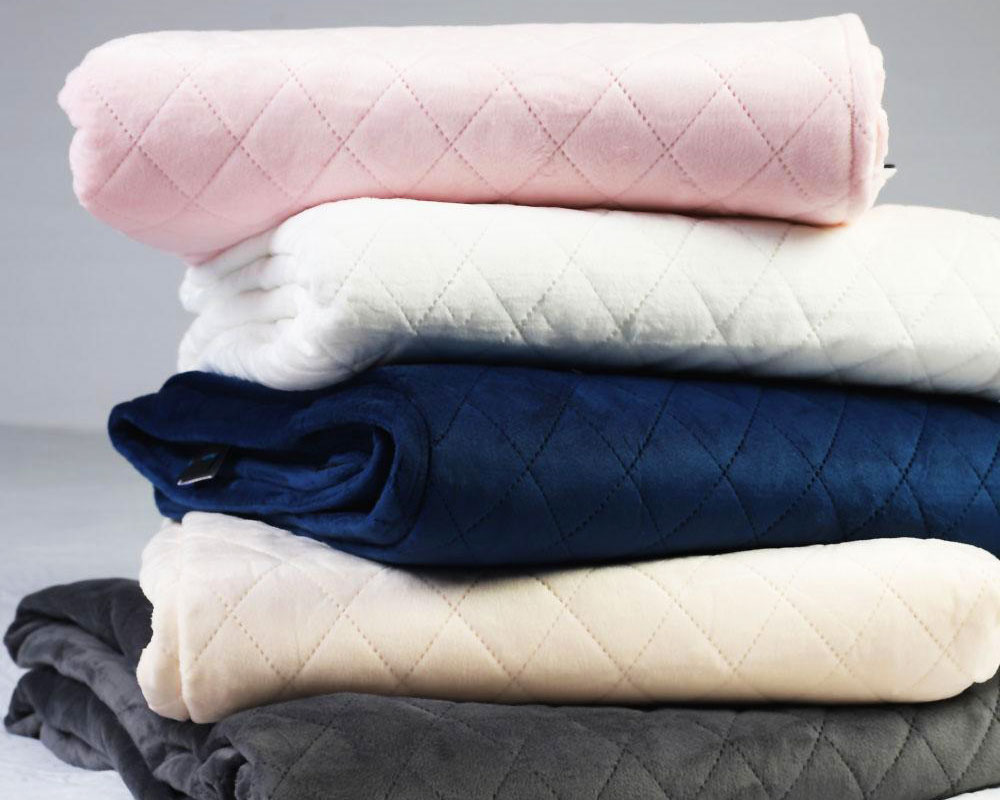 With the industry's smallest pocket squares, promising the most even of weight distribution, Neptune's second edition weighted blanket pledges the ultimate night's sleep. Featuring ultrasonic stitching for a softer feel, a Minky cover and superior glass beads, this fully washable blanket ensures a quiet and luxe experience. Shop it here.
Giselle Bedding Heavy Gravity Blanket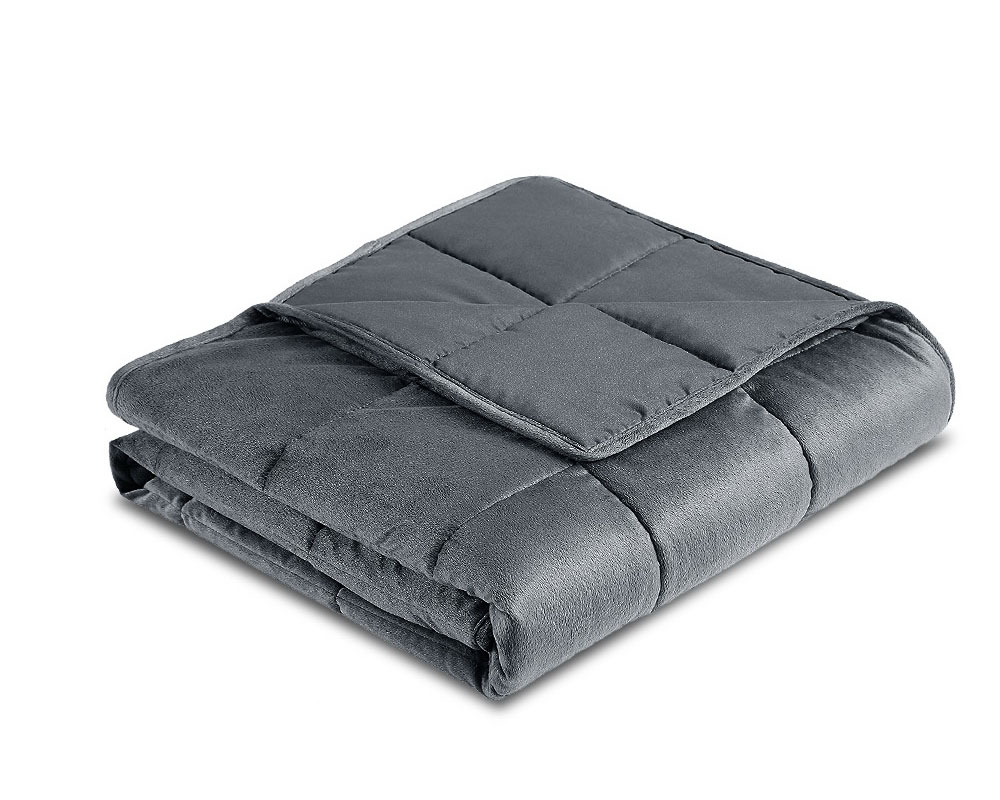 This weighted blanket comes with all the sensory bonuses, as well as being self-adaptive to any sleeping posture—meaning no matter which snoozing position is your favourite, you're covered. It's also totally machine washable, which is a major plus in our eyes. Shop it here.
Hotto Cuddle Comfort Weighted Blanket
With a 100% cotton cover and non-toxic glass microbeads for weight, this super-affordable weighted blanket offers all the sleep benefits without the hefty price tag. The blanket uses Deep Pressure Touch Stimulation (DPTS) to naturally help you fall asleep, and stitched squares help the beads distribute evenly. Shop it here.
Now, check out our ultimate guide to getting a better night's sleep.
Image credit: Calming Blankets Instagram, Oodie, Calming Blankets, Ecosa Sleep, Adairs, Bambury, Neptune, Giselle
Editor's note: Urban List editors independently select and write about stuff we love and think you'll like too. Urban List has affiliate partnerships, so we get revenue from your purchase.