There's no better way to see Australia than by road, and with a lot of road to cover you'll want to be doing it in style. Enter the campervan.
Thanks to the rise in popularity of #vanlife over the last few years there are some absolutely stunning vans up for grabs, each as unique as the next. With modcons like hot showers, high speed blenders for whipping up Insta-worthy smoothie bowls, Bluetooth speakers so you can crank chilled tunes and even projectors for your next Netflix binge under the stars—you'll probably forget you're even camping.
Leave the tent at home because here are 10 of the coolest campervans in Australia that you can book for your next roadtrip.
#1 Dolce Sole Camper
Burleigh Heads, QLD
Designed with the colours and decor of the Amalfi Coast in mind, the Dolce Sole Camper packs in more than just the basics. From the Nebula projector, Nespresso Machine (including pods) and sandwich press to the NutriBullet, Delonghi toaster and kettle, and shower, the yellow Fiat Ducato has got everything you need for a luxury campervan getaway. The white and yellow awnings are perfect for keeping things shady on sunny days and there's even a pull-out table at the back for alfresco dining. Plus, you can document your Euro-inspired camping adventure with the Fuji Instax Mini that's provided.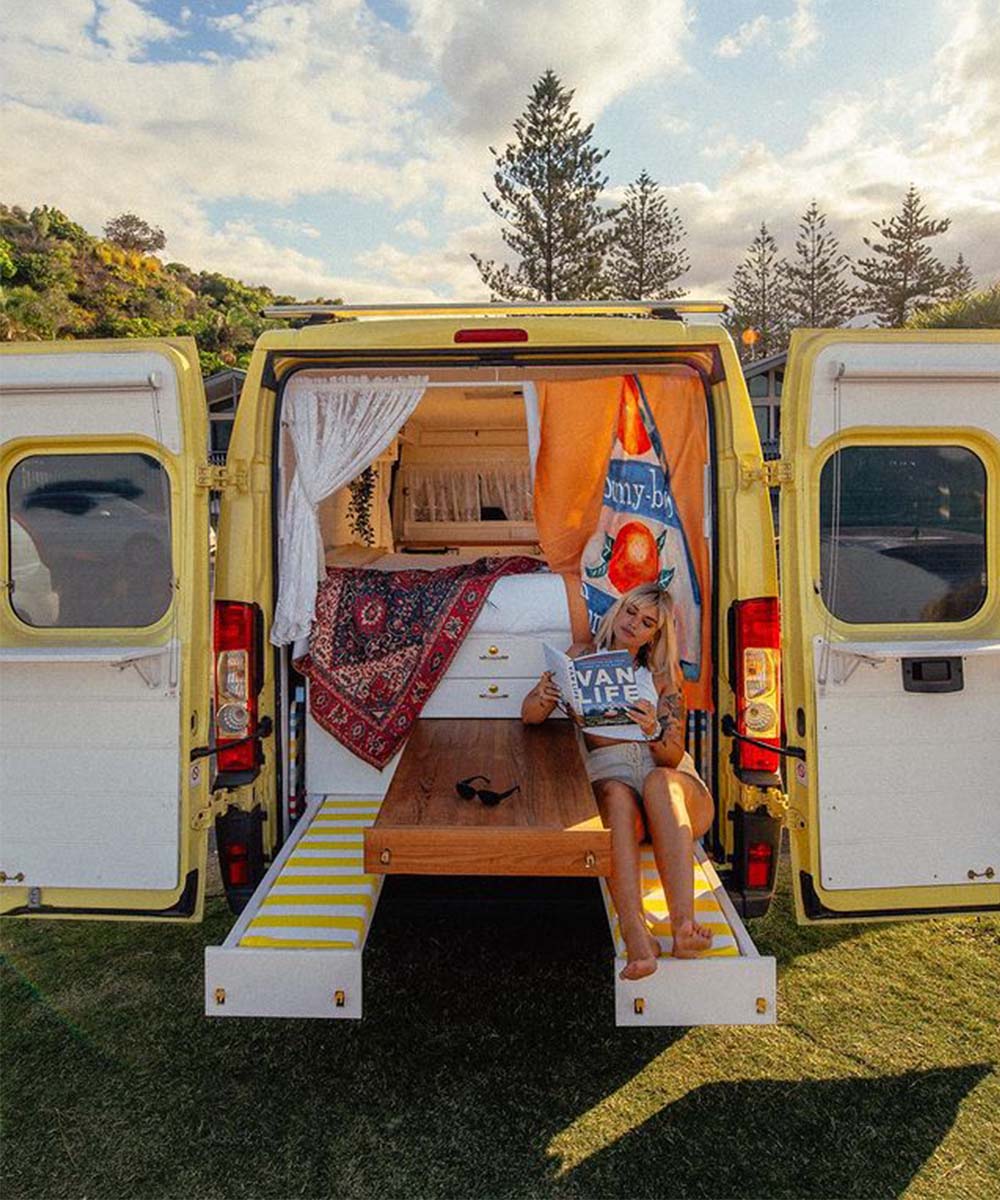 #2 SproutVans
Melbourne, VIC
With a dream home fitout in campervan form, SproutVans is the home-away-from-home that you'll never want to leave. Featuring golden hues, loads of wood, bespoke panelling, textured walls and natural elements throughout, Sprout's got a robust 90L fridge/freezer and a 3000W inverter to power up all your devices (including most hairdryers) and the onboard NutriBullet. You can fall asleep gazing at the stars on the memory foam mattress and take afternoon naps in the breeze on the hammock. Neatly packed away among the many cupboards and drawers you'll find Monopoly cards, coffee table books, Cards Against Humanity, snorkelling set with flippers, a frisbee, Finska and an extensive spice selection to jazz up your scrambled eggs.
#3 The Roaming Van
St Kilda, VIC
You won't feel like you're camping in The Roaming Van, which is decked out with an extra comfy double mattress, full kitchen, outdoor hot water shower, two burner stove and fridge/freezer, and everything you need to make more than just 2 Minute Noodles. You can pack your pooch on your adventure because this dreamy van is dog friendly, and they've thrown in a tent and air mattress in case you've got a third person tagging along. There's even an air-conditioner to keep you cool on balmy nights.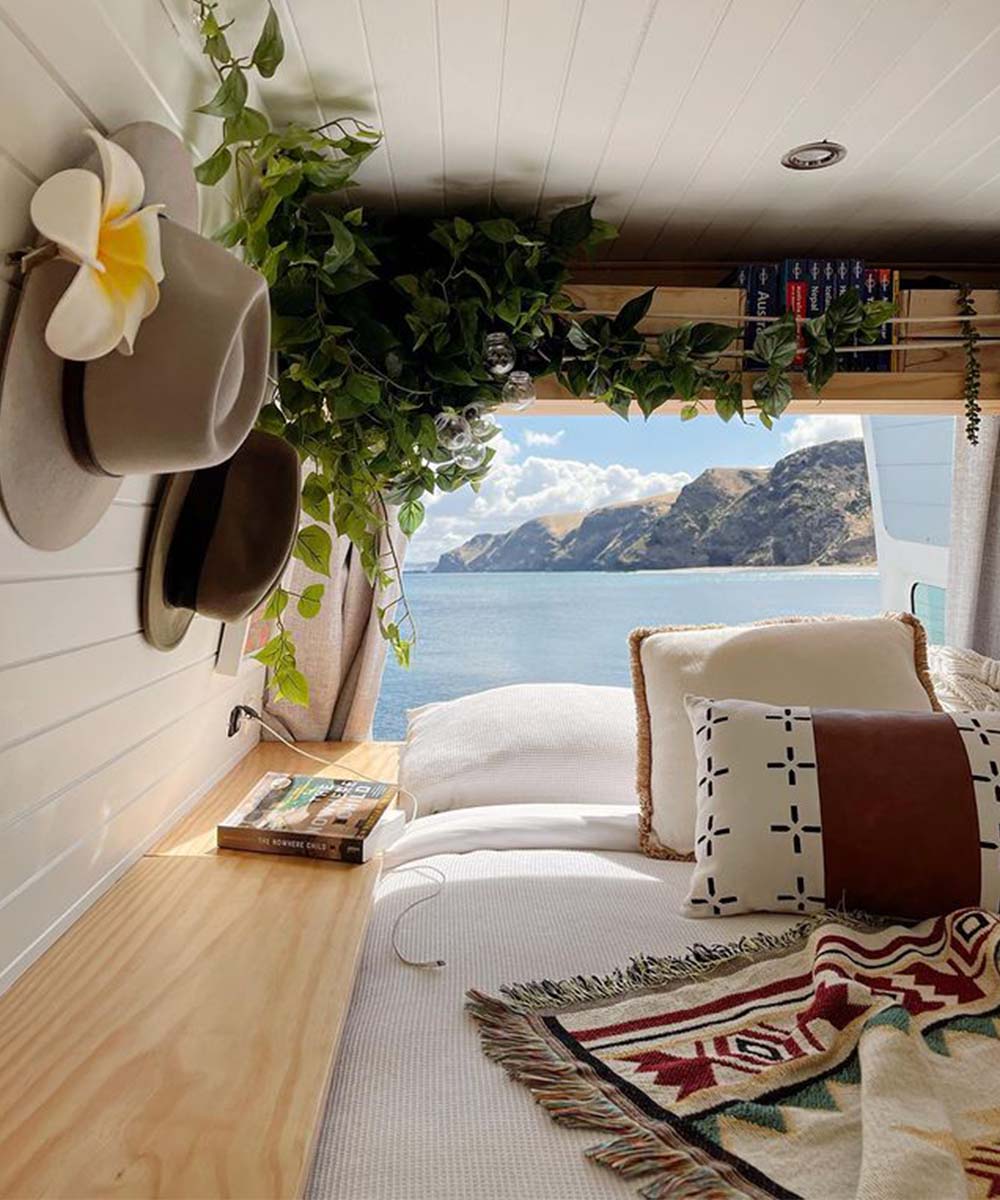 #4 Happy Campers Co
Scarborough, WA
Oozing with boho-chic vibes, Happy Campers Co's Zaidee campervan is revving and ready for your next beachside escape. Comfort-wise, all bases are covered thanks to the queen size bed, mounted projector, Bluetooth speaker, Nespresso machine, heating and cooling. The van even has cruise control which makes driving a breeze, and when the sun goes down you'll find board games to keep you occupied. If you're planning to whip up dinner in the camper kitchen, they've covered off the basics like salt, pepper and oil.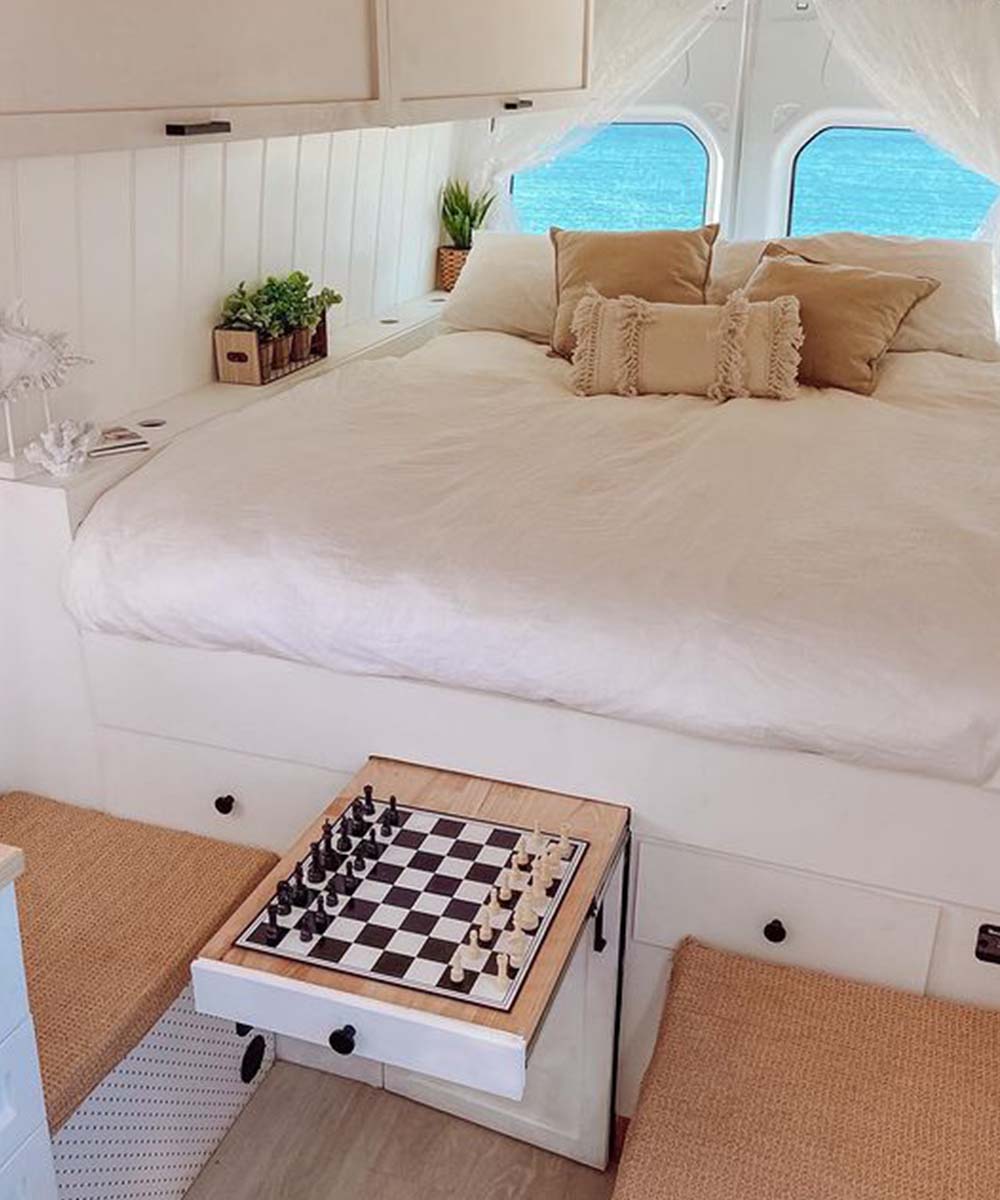 #5 Nomad Vans
Sydney, NSW
Nomad Vans has two gorgeous campers to choose from with plenty of bells and whistles including a full kitchen, off-grid power and even a National Parks Pass so you can enter all NSW national parks for free. The Arthur van would be our pick, with its dreamy wood panelled interior and cosy vibes galore. There's plenty of smart storage and even a rooftop bed in case you've got extra passengers. You won't miss out on the camping experience with the pull out outdoor kitchen and outdoor shower. And if your campervan adventure has left you inspired to get your own, Nomad Vans also build modules so you can kit out your own rig.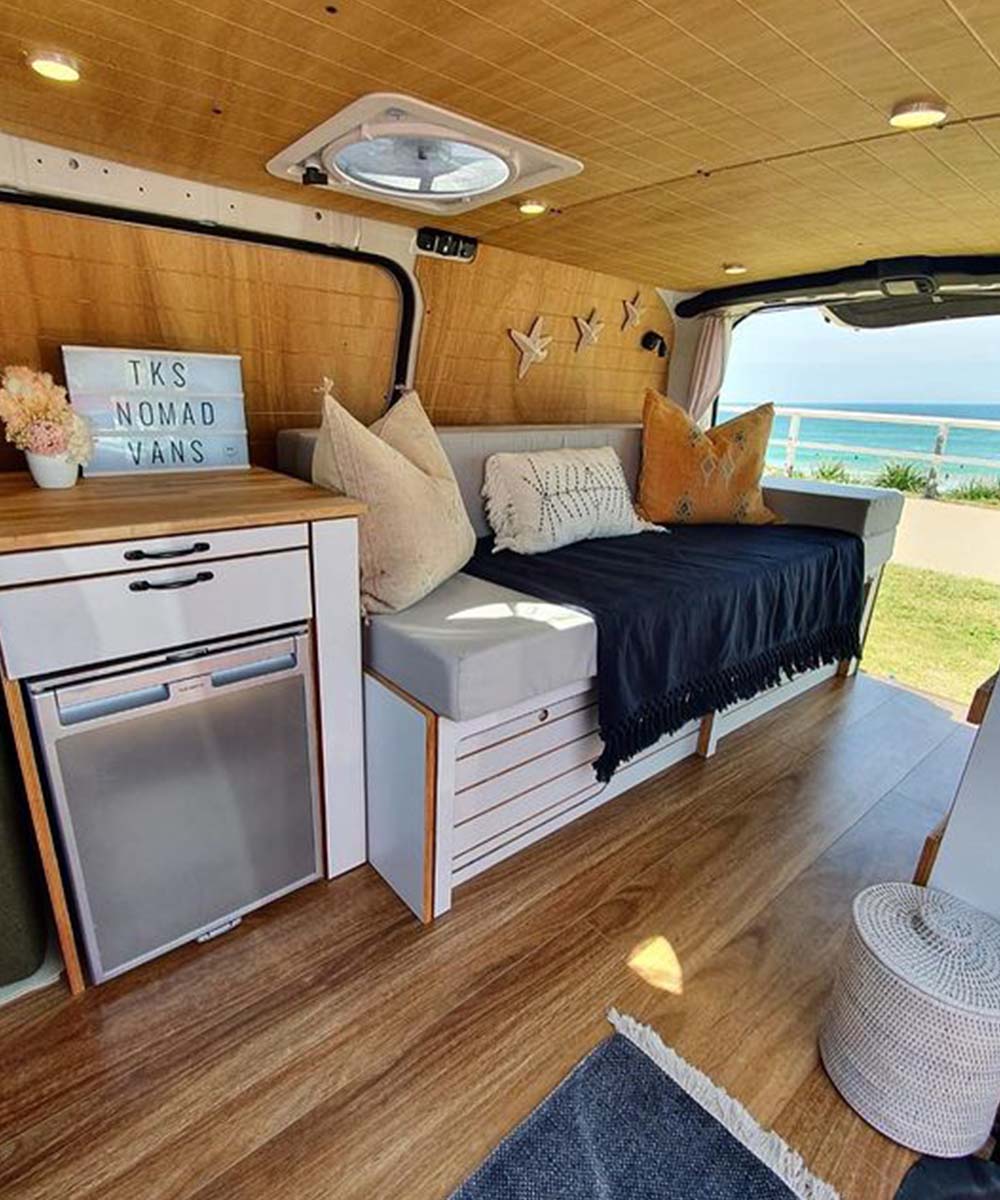 #6 Herbert
Launceston, TAS
With so much stunning natural beauty to scope out in Tassie, booking Herbert the campervan is a no brainer. Fall asleep under fairy lights on the posturepedic bed decked out in quality linen and an extra warm doona (essential in these parts). It's got all the essentials to whip up tasty eats in the outdoor kitchen and they've even added a picnic basket, a cheeseboard, wine glasses and tealight candles. You get free access to all of Tasmania's national parks included in the $95 per night rental.
#7 Open Road Campervans
Brisbane, QLD
Based in Brisbane, but with one-way rentals and long distance discounts an option, Open Road Campervans is the perfect choice if you're hoping to head further afield. All three of their vans are meticulously fitted out with an indoor and outdoor kitchen, seating area that converts into a comfy bed, hot outdoor shower, insulation and roof fans, solar panels and all the bits and bobs to make it feel like you're not camping at all. There's even an option to rent a beginners surfboard for $10 a day, plus you can even bring smaller pups along for the ride.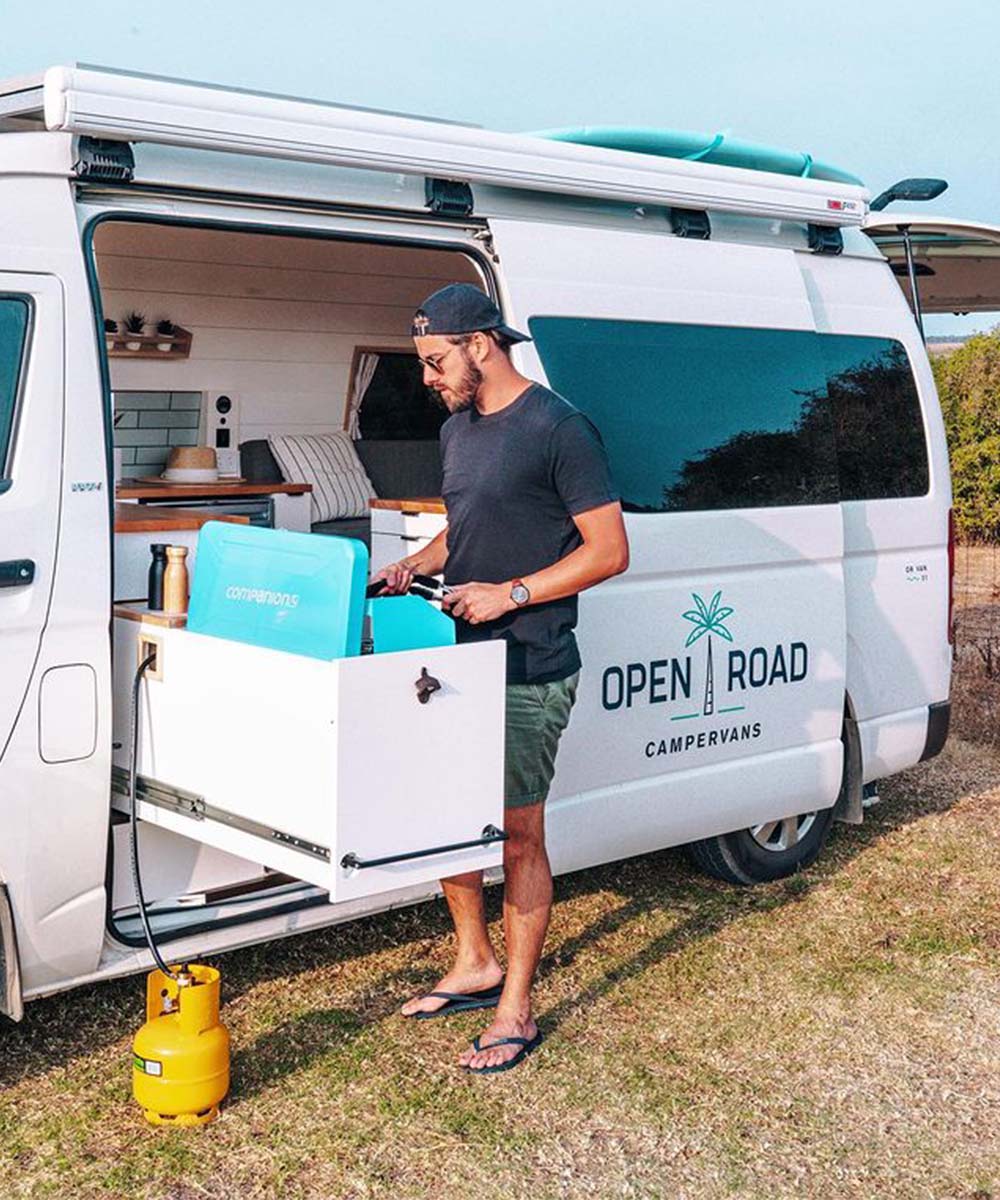 #8 Wander Out West Campervans
Perth, WA
Wander Out West Campervans has two vans to choose from—Florence and Tallulah. Whichever you choose, fairy lights, rustic wood panelling and plush furnishings will take your Western Australian camping experience to the next level. Thanks to the porta-loos, which are included, you can camp just about anywhere you're able without having to dig any holes. Both vans feature high ceilings, loads of storage space and permanent beds so there's no need to constantly be converting things inside. They've even thrown in some astroturf, camping chair and outdoor table so you can create your own oasis when you're parked up, as well as things you might not think to pack like head torches, mozzie coils, ponchos, washing powder, phone chargers and a first aid kit.
#9 Vanderlust
Tweed Heads, NSW and Coolangatta, QLD
If you love a cook-out then you'll love Vanderlust's Banjo and Jane campervans with their slide-out Weber BBQs. The Banjo van has been built with avid surfers in mind, with indoor surfboard storage for two long and two short boards so you don't have to worry about your precious gear getting nicked, plus it's got a nice rooftop platform you can climb onto to check out the swell. There's also an indoor kitchen, permanent bed set up, a one metre black butt timber table perfect for Monopoly Deal tournaments, a NutriBullet, dimmable lights and a lovely awning for keeping things shaded on hot days.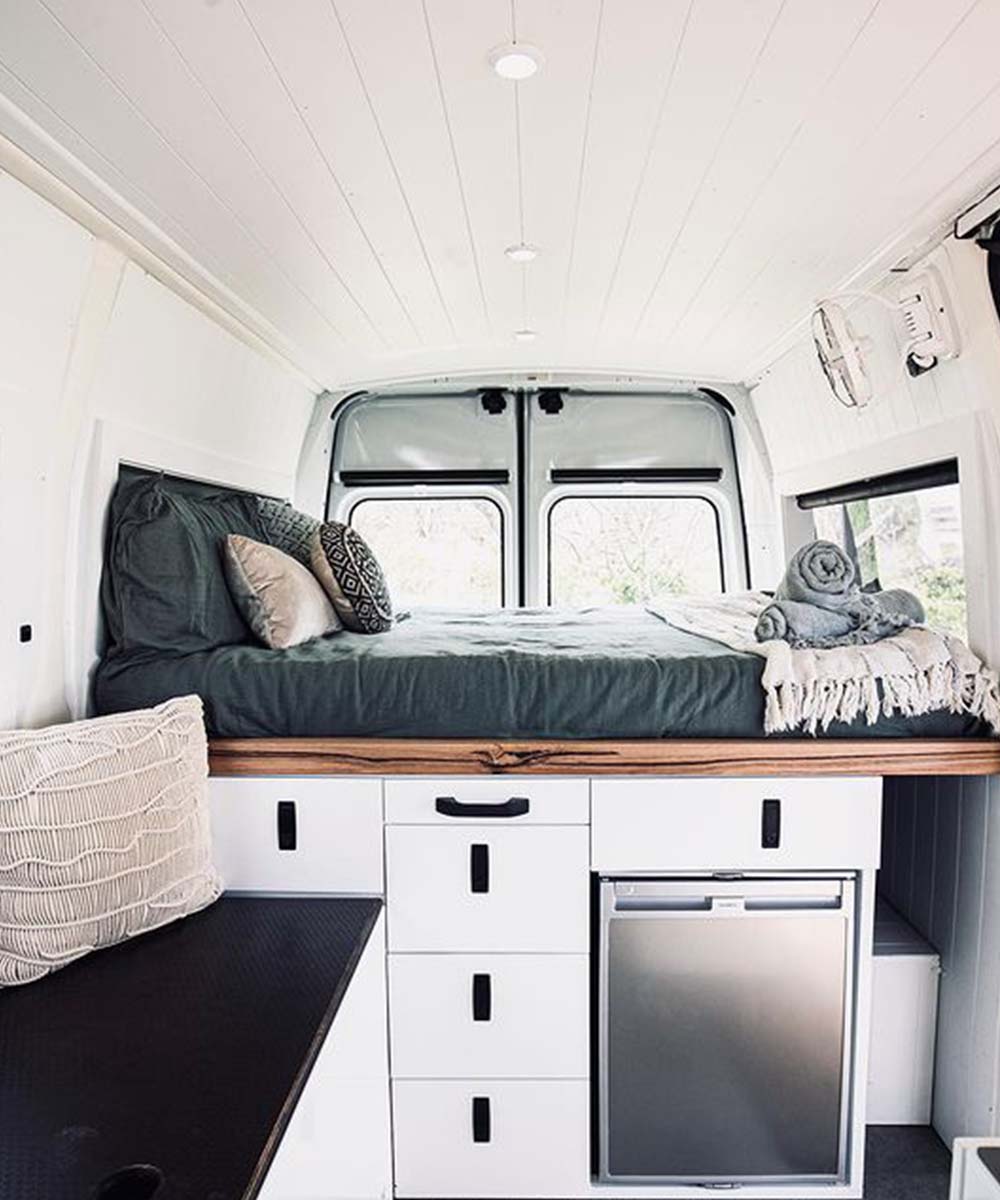 #10 Wander Campervans
Sydney, NSW
We've got major van envy when it comes to Wander Campervans' Harlow van. Begging to be parked up at the beach, we highly recommend swinging the back door open and lazing away the day on the permanen queen sized bed. There's an indoor kitchen area, as well as indoor and outdoor tables, clip-on blinds for added privacy when night falls, Bluetooth surround sound, LED lighting and even Milo tucked away in the luxe kitchen cupboards. She's pet friendly and features enough storage for surfboards, snowboards or bicycles, depending on the adventure you have planned.
Got the van and need somewhere to go? Check out these amazing roadtrips around Australia.
Image Credit: Vanderlust, Open Road Campervans, Nomad Vans, Happy Campers Co, The Roaming Van, Dolce Sole Camper, Manuel Meurisse