If you're passionate about decor, cooking and chilli oil, then you've likely scrolled past one of Jessica Nguyen's delicious recipes and stunning tablescapes on the 'gram before.
In celebration of the new and bold Tanqueray Blackcurrant Gin, we sat down with Jess (and her gorgeous pup, Pabla) to chat about everything from her favourite local provedores to her French-inspired cocktail recipes.
No matter if you're locked down with your roommate or you're able to connect with your nearest and dearest, here's how you can channel Jess' enviable style and host your own luxe cocktail party at home.
What is it about the French countryside that inspires you?
The flowers, the produce, the picnics. It's the perfect vibe of cottagecore meets European summer.
What's on the menu?
Just a whole lot of snacks that people can pick at when they get peckish. For my French countryside menu, I've gone with things like some good bread and butter, an assortment of cheeses, some saucisson, terrine, cornichons as well as some crudites with dip. It's also nice to have some hot options to mix it up. Baked camembert is always a great and easy party dish. You simply make some incisions on the top of a wheel of camembert, stick in some aromatics like garlic and thyme, drizzle some olive oil over the top and bake in the oven for 20 minutes until golden and oozy. Dip your crudites and bread into it—perfection.
Can you share any recipes or cooking tips with us?
For a cocktail party, the food is the supporting role so don't put too much pressure on yourself to have to cook it all yourself. I like to grab everything from my local bakery, cheesemonger and grocers and then it's all about arranging it for people to just help themselves. The other thing is if you know what your guest's favourite foods are, try to grab one thing you know they'll like, which always guarantees they'll love the spread.
Do you have any local artisans that you like to source your ingredients?
Of course, I'm obsessed with Pepe Saya Butter, it's my bit of indulgence, bread from Woodfrog or Baker Bleu, cheese from Maker & Monger, Pete 'N' Rosie's Deli at Prahran Market or Emerald Hill Provedore at South Melbourne Market, fruit and veg from Paddlewheel Prahran and meats from Boccaccio Cellars.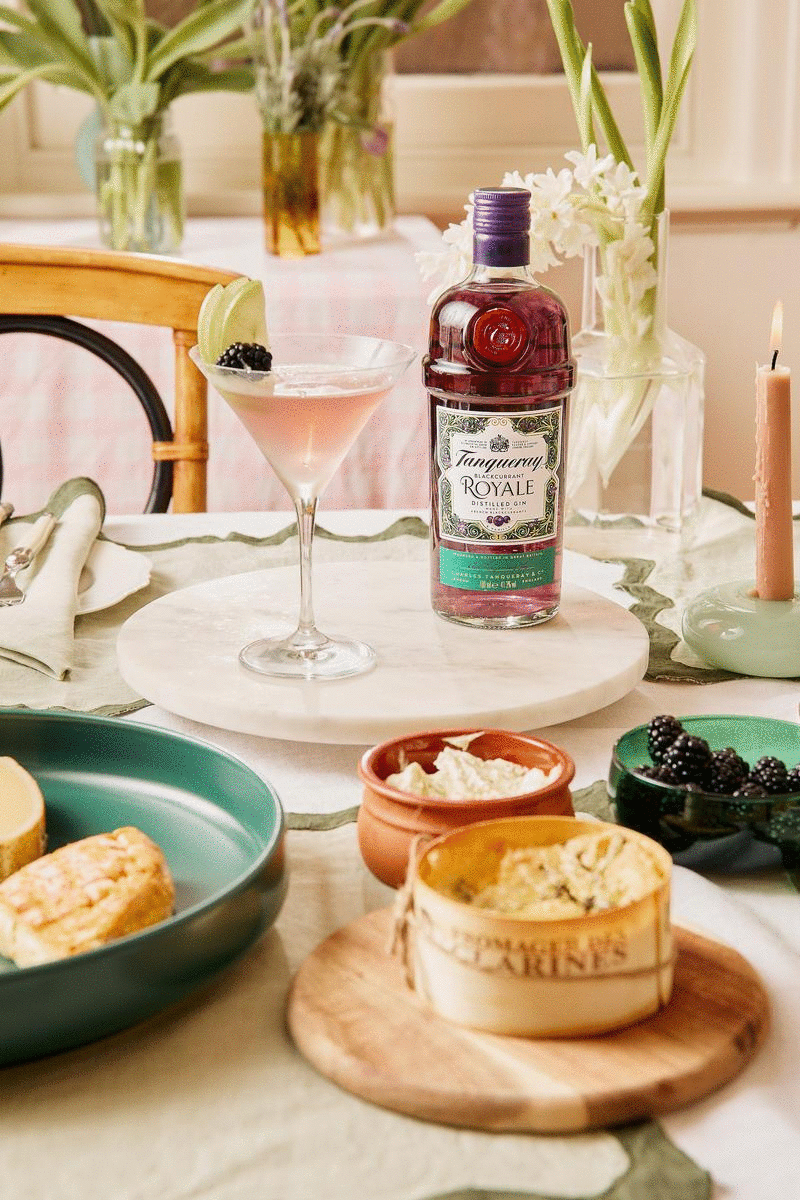 And what's on the drinks menu?
I like to make cocktails that match the theme but also play into the cocktails that my guests like to drink. Normally, I like to have a variety of different ones: an easy pour over spritz or martini, a fun shaken one and maybe a creamy or sweet one to enjoy later for dessert. For this specific party, I've made a Tanqueray Blackcurrant French 75, a fun and fizzy cocktail that is topped with champagne or prosecco, and I've also made a Tanqueray Blackcurrant Royale x Green Apple Martini, a fruity and slightly sweeter style martini. Best of all, the Tanqueray Blackcurrant Royale is a beautiful, purple liquid that creates the most picture-perfect cocktails.
A quick glance at your 'gram and it's clear you've got an eye for fashion. Do you prefer going fancy or casual when hosting?
I see fashion as another form of self-expression. I like to go fancy and fun with a side of comfort, so a fun dress paired with some comfy slippers. These days, a cocktail party or any party is a rare luxury, so if you have the opportunity, why not dress up?
My favourite brands include Faithfull the Brand and Steele—their feminine and fun clothing is perfect for a French countryside theme. Alemais is also a great new Australian designer who has the most incredible prints. I also love a suit and Emily Nolan can make a fab one.
Your epic style also translates to your 'grammable table settings, can you share any tips for curating a stunning tablescape?
Embrace colour. From the plates to the glassware and the flowers, find two or three colours that speak to the theme and then carry it through all the elements. For example, I was inspired by the purple and green artwork on the Tanqueray Blackcurrant Gin, so I decided to weave those colours into my table and even my outfit.
Do you have any local designers or florists you like to source your decor or flowers from?
For flowers, I love going to my local Prahran Market and picking flowers that are in season. Flawless Flowers Prahran always have a great variety of flowers. I also love scouring op shops for interesting vessels and crockery. Some of my favourite pieces I found at local op shops and markets.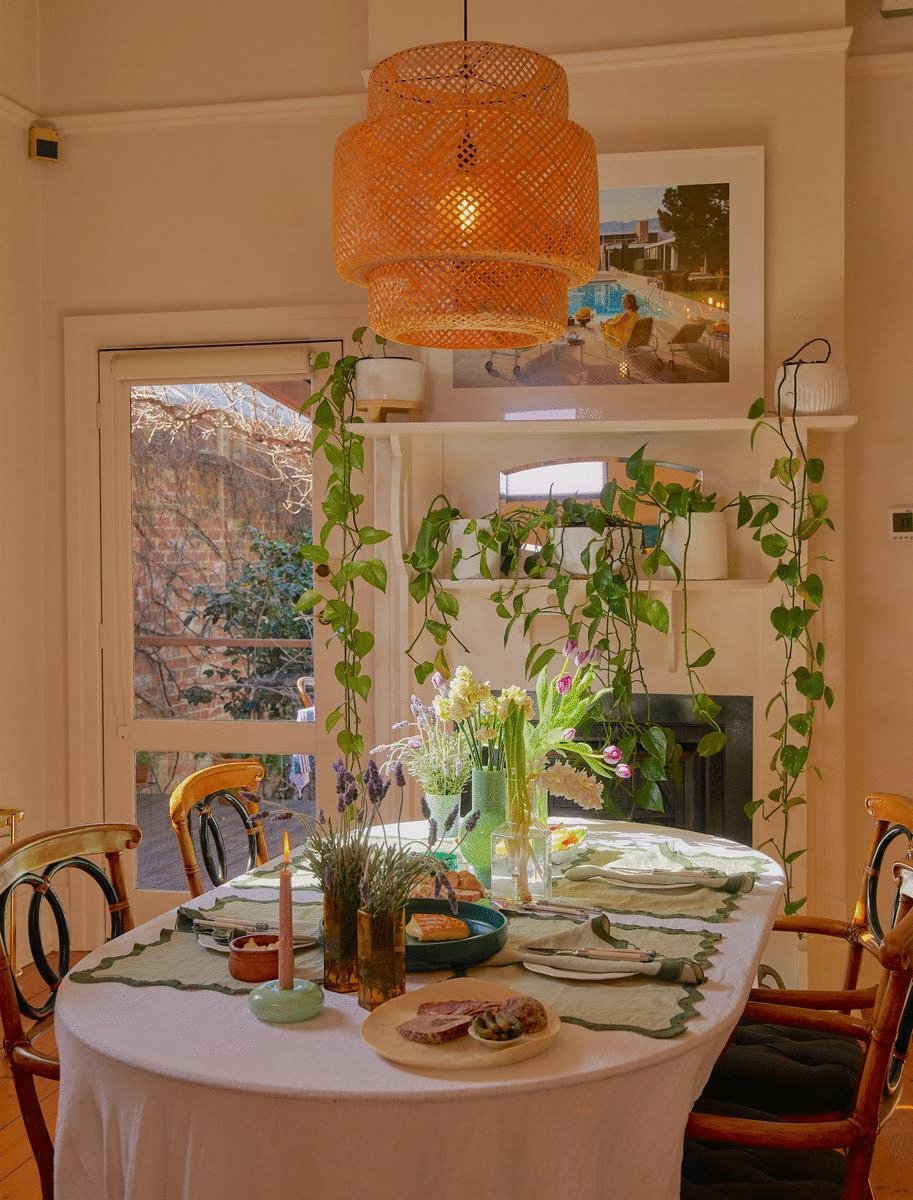 How important is curating a cohesive theme for you when entertaining?
It's not always crucial for every time you entertain, but if you base it around a theme, occasion, season or vibe, it helps you to decide on the right drinks, food, decor and playlist to match. There are absolutely times though where I don't have a particular theme and it's all just about throwing a few things together to have an impromptu party for the most part—I love a theme!
What songs do you have firing on your playlist at your French-inspired cocktail party?
I actually have my own French Cooking and Dining Spotify Playlist that I made and love to play.
What do you love most about cocktail parties?
Cocktail parties are fun because they're less formal than a sit-down dinner and you can tailor the cocktails to your guests depending on their tastes and personalities. Your guests can also get interactive by making their own cocktails and have a bit of fun with it all.
Entertaining can be a tricky feat for some, any tips for making it easy?
Preparation is key. I like to do everything I can at least the day before the party so that in the event I've forgotten something or something unexpected happens, I have time to fix it. Then the actual day of the party is as stress-free as possible. Also, I like to delegate aspects to my guests to get them involved or take the pressure off me. For instance, someone can bring the ice, someone could bring the ingredients for their favourite cocktail and someone could bring dessert, that way you don't have to do everything yourself. And lastly, you always need more ice than you think!
Feeling inspired? Shake up your soirée with a Tanqueray Blackcurrant Gin and transport yourself to the beautiful French countryside.
This article is sponsored by Tanqueray Blackcurrant Gin and proudly endorsed by Urban List. Thank you for supporting the sponsors who make Urban List possible. Click here for more information on our editorial policy.