Here in Australia we're blessed with an incredibly rich history and culture that spans thousands of years—and yet many of us have not yet experienced it first hand. Would you go to Italy and not try the pizza? Of course not. Part of being a better ally to Australia's First Nations People is opening your mind to greater education (if it's done while on holiday, that's a win-win) and spending your dollars on Indigenous-owned or run businesses.
If you're not sure where to look, you've come to the right place because we have curated a list of the most incredible Indigenous travel experiences around Australia that will absolutely fill your heart and give you a greater appreciation and understanding of this vast country.
From bush tucker food tours to exploring Australia's untouched wilderness alongside the land's true custodians, prepare yourself for some serious "pinch me" moments.
Book in that annual leave folks, here are the best Indigenous travel experiences around Australia.
Indigenous Travel Experiences In Northern Territory
Kakadu Cultural Tours | Kakadu National Park And West Arnhem Land
Kakadu National Park is home to some of Australia's most sacred sites, so if you're going to visit, you're going to want go with someone who lives and breathes the land—like the crew at Kakadu Cultural Tours—which is owned and operated by the Djabulukgu Association representing the traditional owners of Northern Kakadu and parts of Western Arnhem Land. Offering a series of tours in the dry season (May until November) our favourite is Arnhemlander Cultural and Heritage 4wd Tour which will see a small group journey across Cahill's Crossing on the East Alligator River into Arnhem Land. You'll get the chance to meet with Aboriginal artists at Injalak Arts & Crafts Centre as well as observe them create beautiful masterpieces before your very eyes. You'll also check out dreamy Mikkinj valley filled with billabongs, rock art, wildlife and lush forest. The full day goes for around eight hours and includes Arnhem Land permits and lunch.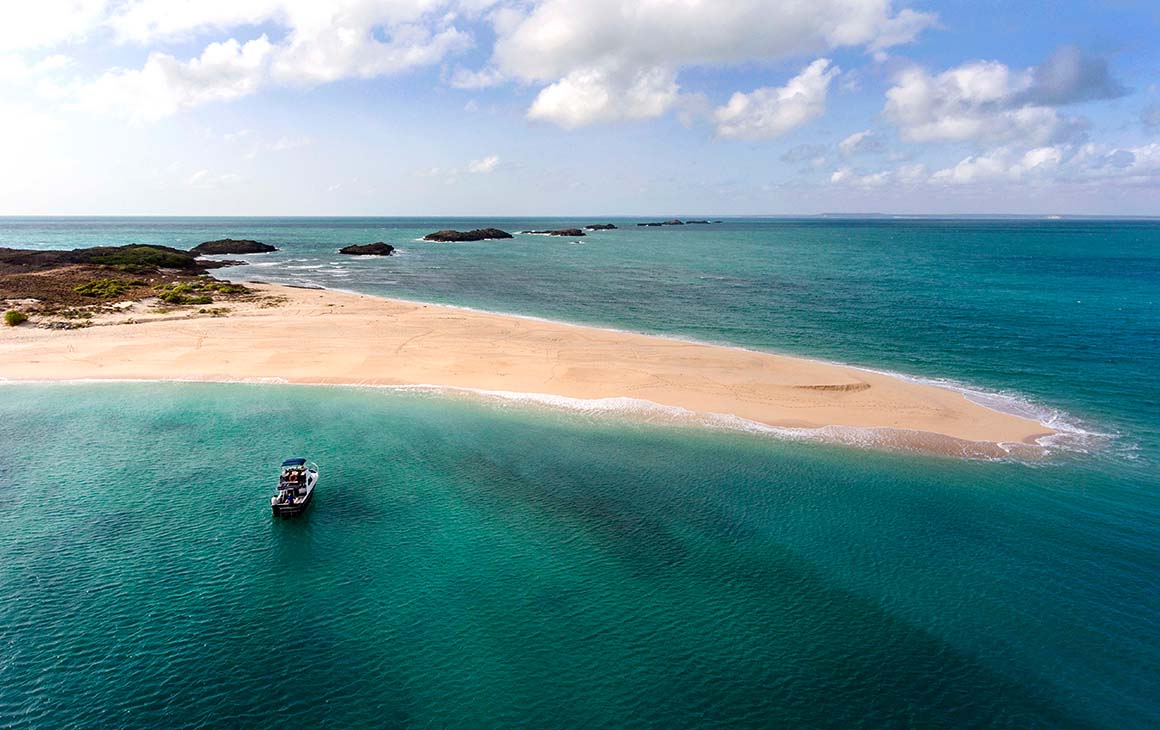 Karrke Aboriginal Cultural Experience & Tour | Kings Canyon
Kings Canyon is one of those bucket-list worthy locations that needs to be seen IRL to really feel the magic that resides there. And what better way to soak it up than with a local guide? Kar­rke, which means bowerbird in Aran­da lan­guage, is owned and operated by Lurit­ja woman Chris­tine Bread­en and Peter Abbott, a proud West­ern Aranda/​Pertame, who live on their ancestor's land in a small Abo­rig­i­nal Com­mu­ni­ty called Wan­mar­ra with a population of just 10. The duo created Kar­rke tours to pre­serve and main­tain their Lurit­ja and Per­tame lan­guage, cul­tur­al knowl­edge and her­itage. During the hour-long tour you'll go on a short walk before settling in a shaded area where Breaden and Abbott will explain the importance of bush tuck­er and bush med­i­cines, as well as dot paint­ings and locally-made Abo­rig­i­nal artefacts includ­ing clap sticks, neck­laces and weapons.
Maruku Arts | Uluru-kata Tjuta National Park, Red Centre
There is nothing quite like seeing Uluru up close and personal, but what makes that experience even more special is when you immerse yourself fully in the culture and history of the area. For over 30 years Maruku has operated as a not-for-profit art and craft corporation, owned and operated by Anangu people (the traditional custodians). Made up of around 900 Aboriginal artists belonging to over 20 remote communities across the Central and Western Deserts, this Uluru-based art collective runs painting workshops (as well as gallery spaces) to educate visitors on thousand-year old traditions. Currently, an organic dot painting workshop runs twice daily. You'll be taught by a local Anangu artist (with an assisting interpreter) where you'll learn about traditional art, symbols and tools and create your own masterpiece.
RT Tours Australia | Alice Springs/Mparntwe
If you find yourself in Alice Springs, then local Arrernte man Bob (Penuka) Taylor of RT Tours is your guy. A chef with over 25 years experience, his tours are all about drool-worthy eats, amazing conversations and immersing yourself in the nature of Mparntwe. On the Mbuntua Gourmet Bush Lunch Tour, you'll join Taylor out at Simpson's Gap where you'll be treated to a bush food demonstration and a tasty lunch (cooked by Taylor of course). In a stunning setting you'll get the chance to talk with Taylor about his culture and experiences (a treat in itself). If you're more of a night owl you'll want to book yourself in for the Mbantua Starlight and Bush Dinner Tour. Kicking off at 3pm Taylor will drive you out along the Western McDonnell Ranges to a secret bush setting where you'll catch a stunning sunset over the colourful rock face. Then underneath the Milky Way, Taylor will treat you to a tasty three-course dinner featuring the flavours of the bush.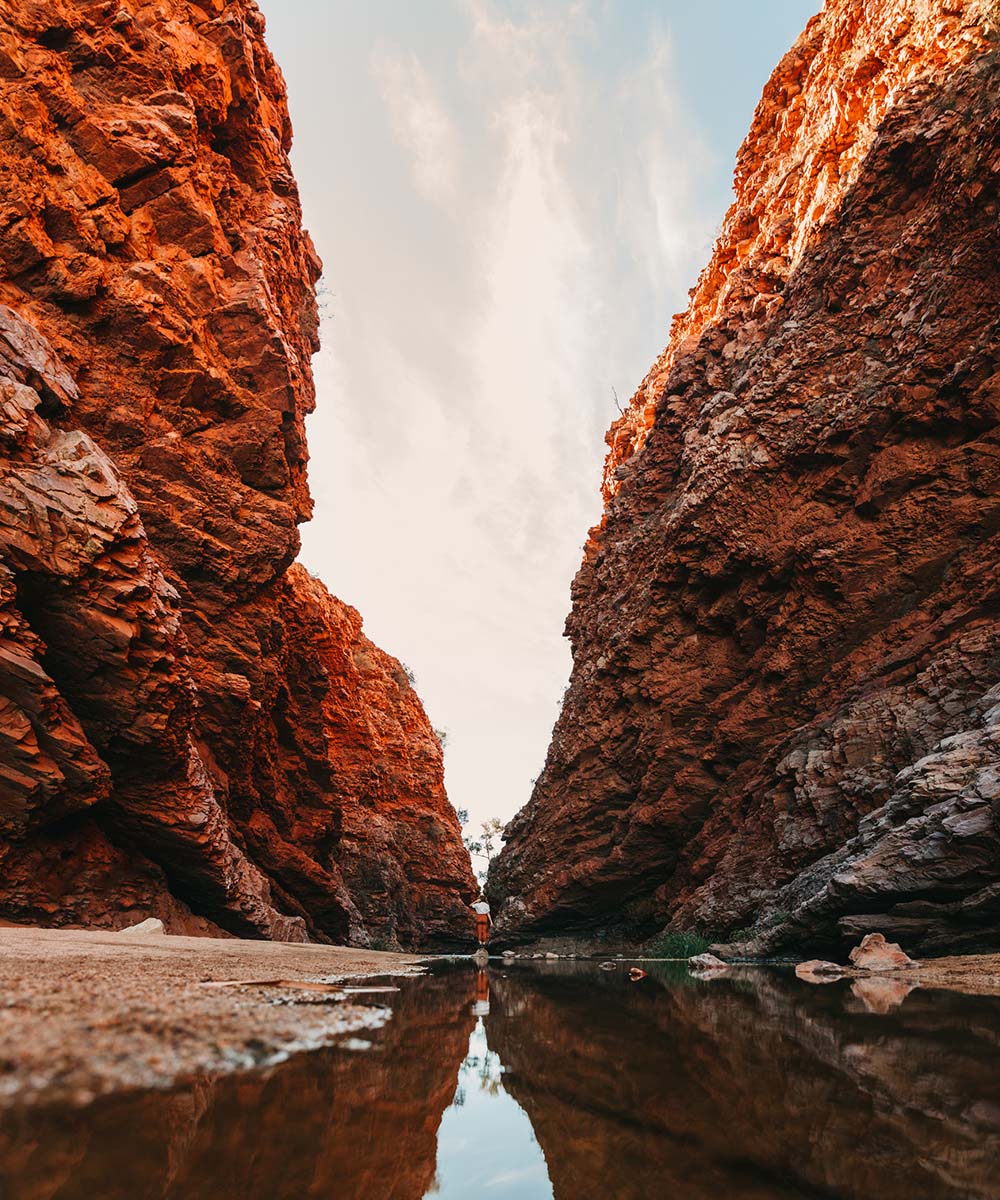 Indigenous Travel Experiences In Queensland
Janbal Gallery | Mossman
Janbal is first and foremost a stunning gallery created by artist Brian "Binna" Swindley to celebrate Aboriginal art and to honour his late mother Shirley Swindley. While Binna and Shirley's work—depicting Dreamtime stories, Kuku Yalanji life and the animals of the Great Barrier Reef are on display throughout the gallery—Binna also runs a selection of art workshops for visitors to try out. Offering both group and private workshops, Binna will teach you how to understand stories told through Aboriginal paintings and help you create your own souvenir of Australian art to take home. As well as learning about Aboriginal ochre paints, Indigenous art history and painting techniques, Binna will tell you stories about traditional bush foods, construction materials and medicines.
Spirits Of The Red Sand | Beenleigh
If you really want to deep dive into the history of Australia's traditional landowners then pop Spirits Of The Red Sand on your must-see list. Set in Beenleigh (about 45 minutes drive from the Gold Coast), Spirits of the Red Sand is a moving cultural show (and three-course dinner) depicting Aboriginal Dreamtime to the 1800's in an open-air live theatre. Created by Yugambeh man Eddie Ruska and his son Shannon, the show is set in a 19th-century town, complete with a church, pub and Aboriginal village. This experience is immersive so you'll wander between different locations over the course of the evening as a group of talented actors, whose characters are inspired by real people, take you on a historical journey. The story is narrated by Jarrah, the only surviving member of three Aboriginal brothers, who reveals his family's encounter with colonial settlers and tells the stories of passion, humility and triumph that developed along the way.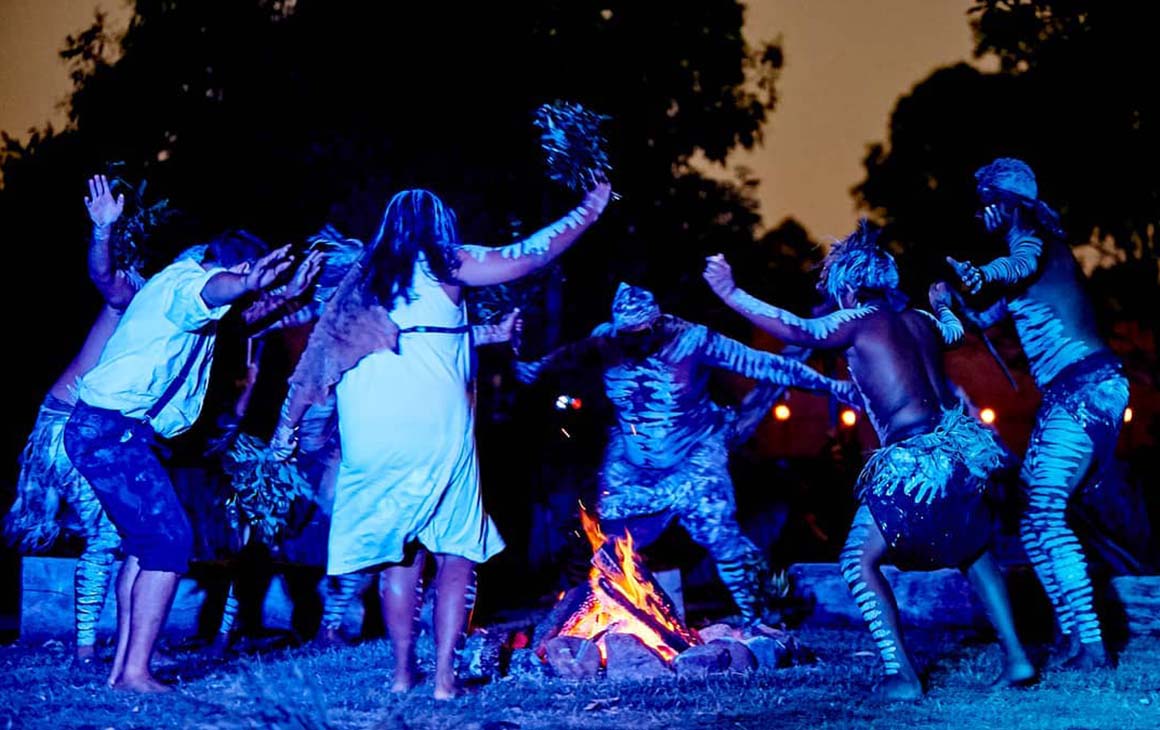 Walkabout Cultural Adventures | Port Douglas
The Port Douglas Daintree region, also known as Kuku Yalanji country, is a place where the Great Barrier Reef meets the ancient Daintree rainforest—in short, it's bloody gorgeous. And there's no better way to see it than with proud local Juan "Karanba" Walker, who has been guiding tours through this slice of paradise for more than 15 years (although his link to the land is much longer than that). Walker offers half-day, full-day and private journeys which cover Daintree Rainforest, Cape Tribulation, Mossman and Cooya Beach. In between cruising through mangroves, foraging for pipis and scanning tidal flats for mud crabs, Walker will share his knowledge of the environment, bush tucker and medicine as well as his deeply personal connection to the land. You'll also learn how to throw a spear to catch your next meal, before cooking up a freshly caught feast back later on. Yep, it's a seriously special experience.
Indigenous Travel Experiences In Western Australia
Koomal Dreaming | Leeuwin-naturaliste National Park
Koomal Dreaming provides an opportunity for visitors to experience Wadandi and Bibbulman country through the eyes of the traditional owners. From his home base of Dunsborough, Wadandi man Josh Whiteland gives guests the opportunity to taste native foods, discover bush medicine, and experience traditional fire lighting. He'll recount stories of the Dreaming spirits and take you deep into Ngilgi Cave for a goosebump-inducing didgeridoo cave experience. Whiteland offers a variety of tours and they're all equally incredible but if you really want to soak up as much history and culture as possible (you do) then opt for his full day tour. Over six hours you'll get all of the above plus a tasty lunch (depending on the season these could include kangaroo, marron, quandong, emu plums, damper and salt bush) learn about the six Noongar seasons before finishing the day at the beautiful Meelup National Park beach.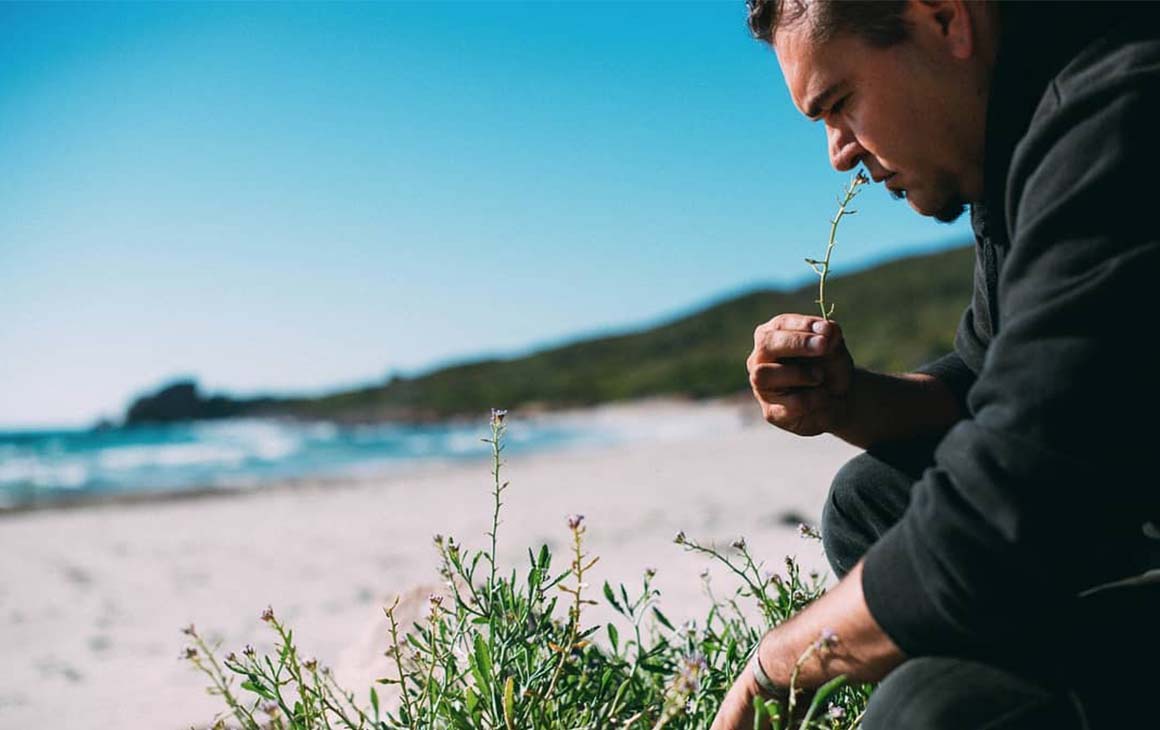 Narlijia Experiences | Broome
Scenery doesn't get much more breathtaking than in Broome. Someone who knows that first hand is local Bart Pigram, a Yawuru man who drawing on knowledge gained from living a saltwater lifestyle, started Narlijia Tours in 2015. Keen to share his Aboriginal and multicultural perspective first hand he offers several excellent tours. There's Beach To Bay, where you'll get the chance to view dinosaur tracks, hear the Dreaming stories and visit ancient shell middens created by the Djugun-Yawuru people of Broome; the Bagul Bagul tour where you'll cruise the bay to Buccaneer rock, hear the Dreaming story of Randigunya the giant, scour the mangroves for tasty morsels and taste bushtucker. Or there's the Cultural Cruise, where you'll join Pigram on a 42 foot catamaran to learn about the traditional country of Yawuru people from a unique perspective with music, bush tucker and an incredible sunset.
Wula Gura Nyinda Eco Cultural Tours | Monkey Mia
Gutharraguda, the traditional Aboriginal name for the Shark Bay World Heritage-listed area, is a place where red sand meets turquoise sea—it's a truly breathtaking spot. Wula Gura Nyinda Eco Cultural Tours is owned and operated by Darren "Capes" Capewell, a descendant of the Nhanda and Malgana people of the region. Through his eco-friendly 'on country' tours he aims to foster an understanding of the natural land, wildlife, stories and traditions of the region. There's didgeridoo campfire gatherings and 4WD tours as well as bush-tucker walks, kayaking and snorkelling adventures and stand-up paddleboard tours. But if you really want to immerse yourself, check out one of Capewell's camping safaris. There's a three-day trip to Wirruwana (Dirk Hartog Island), Steep Point Wild West safari and Francois Peron Catch and Cook Safari. They all include tasty meals, bucket list-worthy experiences and a few nights in a fantastic eco lodge.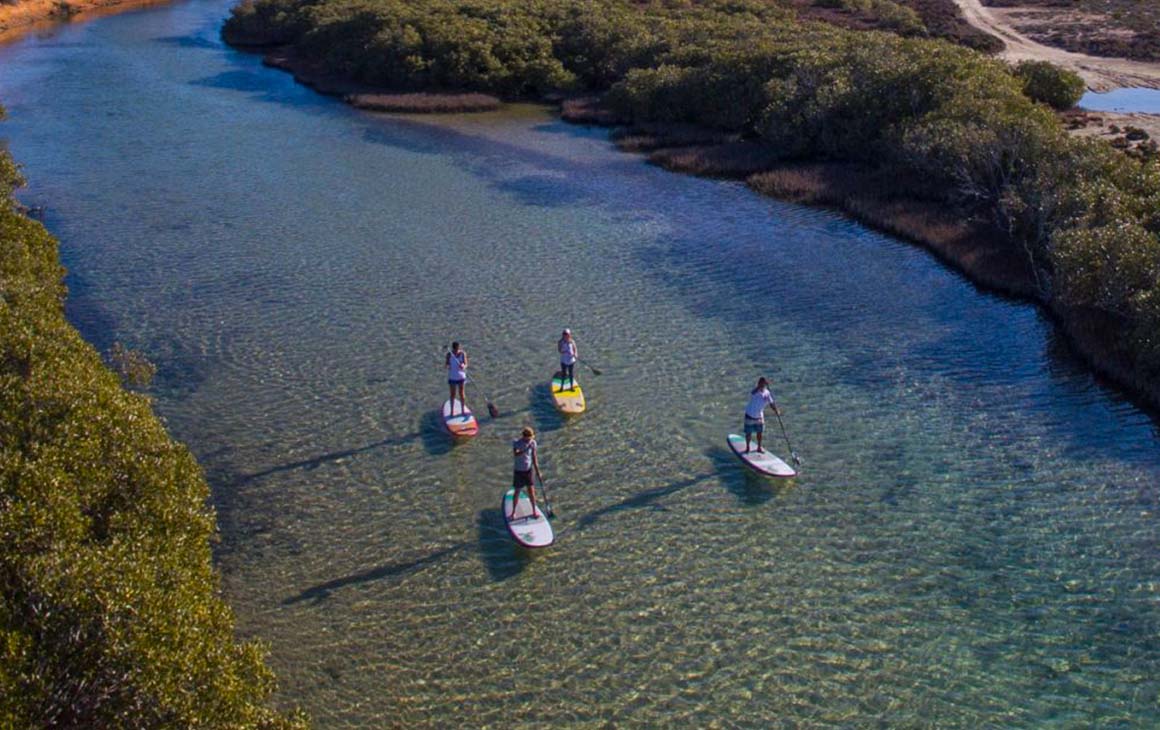 Indigenous Travel Experiences In New South Wales
Ngaran Ngaran Culture Awareness | Narooma
Established back in 2011, Ngaran Ngaran Culture Awareness (NNCA) is a First Nations owned and operated tour service on the far south coast of NSW in Yuin country. Run by Dwayne Bannon-Harrison, he shares his knowledge and cultural teachings over 17 years from his elders through a series of multi-day tours. On the Gulaga Creation Experience you'll experience a sunrise beach ceremony, before checking out sacred Gulaga Mountain. You'll also join a traditional reflection yarning circle and unwind with an Indigenous dinner including fresh seafood and kangaroo while listening to Yidaki (didgeridoo). There's also the Djirringanj Dreaming Tour which involves a walking tour of the sacred dreaming of Djirringanj country, the heartland of the Yuin people, as well as traditional forage and cooking demonstrations and sound healing meditation.
Next, clip that helmet on and check out the most beautiful bike trails in Australia.
Image Credit: Tourism NT, Spirits Of The Red Sand, Koomal Dreaming, Wula Gura Nyinda Eco Cultural Tours