Snow season is here people so grab your thermals, your beanies and your goggles.
While Australia is most definitely known for its coastal glory, its snow season is nothing short of immaculate. With a wide range of slopes, various courses on backcountry, winter festivals with mulled wine and of course, an endless line-up of après-ski antics, you'll be well-looked after on your next snow adventure.
Thanks to an icy blast that hit Australia's east coast earlier this year, snow season has hit earlier than usual and is predicted to give you a few extra weeks of play on the fields. In other words, start booking your annual leave in now.
Read on for you 2022 guide to snow season in Australia.
When Is Snow Season In Australia?
Okay, snow season in Australia is famously unpredictable but for the most part, you can start strapping on your boots and thermals from June until August. Depending on the fall, sometimes as early as May and as late as October but you'll just need to keep tabs of that yourself.
Where To See Snow In Australia
Thredbo
NSW
As one of the primo snow destinations in Australia, Thredbo is a top spot to take to the slopes for the very first time. Providing a purpose-built beginners area with gentle slopes for the newbies, it also boasts Australia's only alpine gondola which will take you from Thredbo Village to the base of the Cruiser area in about six minutes (yep, she's speedy). When you're not carving up the snow, Merritts Mountain House is the place to refuel, offering up feeds that'll make you feel like you're in the middle of Europe.
Thredbo has around 480 hectares of snow terrain for all levels—if you're a novice, you'll want to kickstart your technique at Friday Flat. When you've mastered the basics, you can move onto said Merritts Gondola. For the seasoned pros, you'll obviously want to take on the bigger slopes like the Supertrail, Cannonball, Bluff and Little Beauty. You can also opt-in for a Sunrise Session with breakfast at Australia's highest restaurant, Eagles Nest.
Where To Stay In Thredbo
Thredbo Alpine Hotel
Candlelight Lodge
Banjo Loft
Perisher
NSW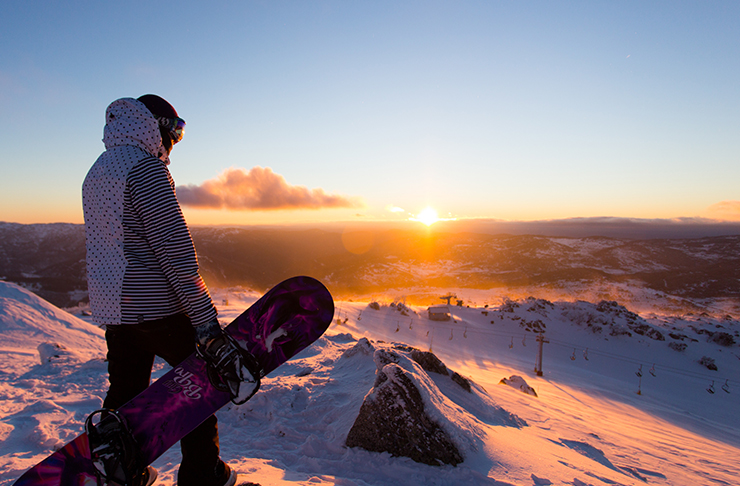 The largest ski resort in Australia, Perisher is situated in the picturesque Kosciuszko National Park and incorporates four villages including Blue Cow, Guthega, Smiggin Holes, and Perisher Valley. This alpine playground features 47 lifts and a plethora of ski runs so there's plenty of choice for both expert and first-time skiers. Here, it's all about sledging your way through snow gums, rock outcrops and marvelling at the impressive Mount Perisher. It's criminal to not delve into a pub feed at the Man From Snowy River Hotel and at Guthega, the Alpine Inn is the place to be for hot chocolates and coffee.
One of the most popular bars here include The Overflow Bar which is a great spot to watch the sun go down behind Front Valley. From the end of June until the beginning of September, you'll also be privy to neon night skiing and boarding under lights—not to mention, there's epic firework displays to be seen as well.
Where To Stay In Perisher
Maritz Hotel
Eiger Chalet
The Stables
Charlotte Pass
NSW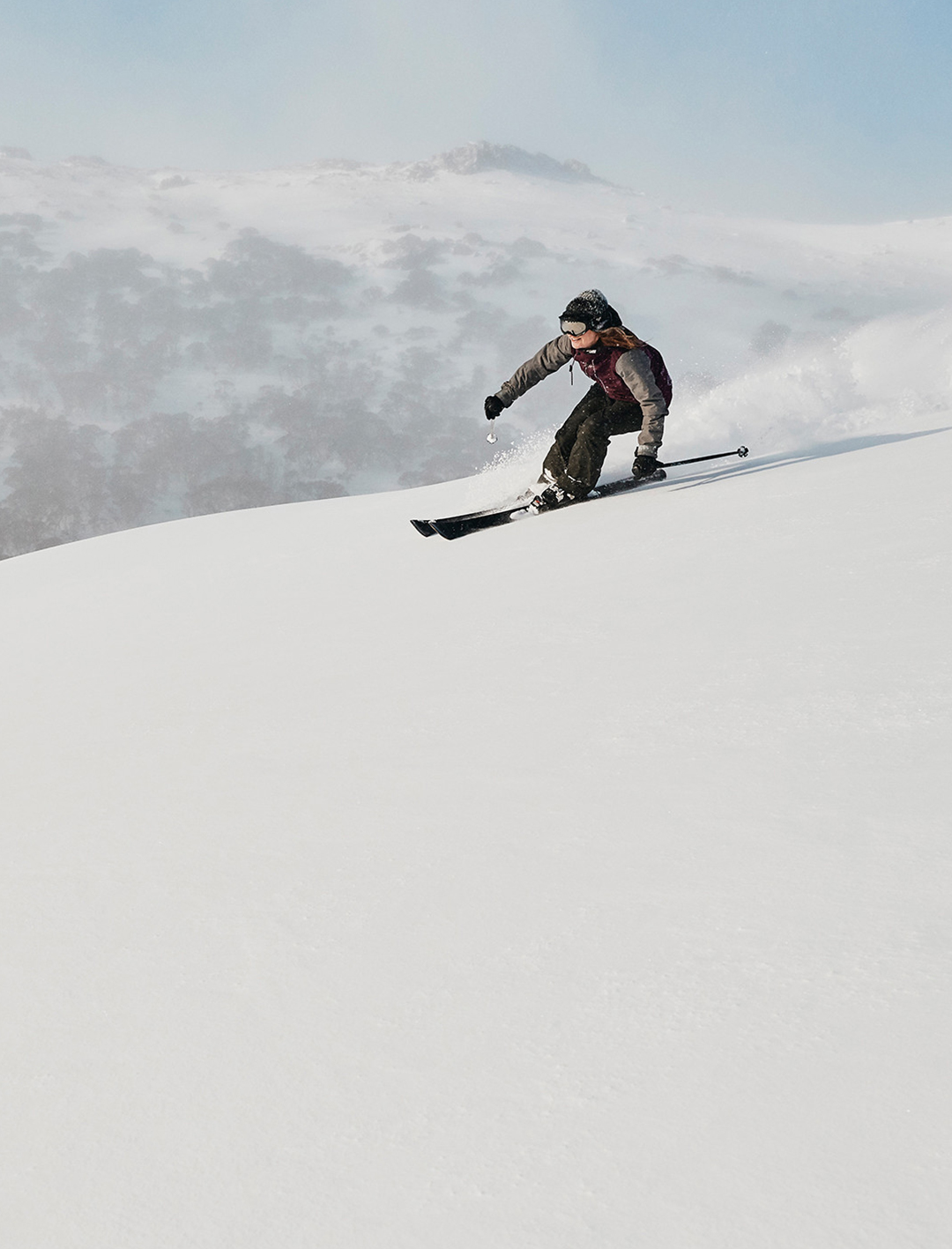 Hitting high at 1765m, Charlotte Pass is Australia's highest snow resort—the only way to get here is through over snow transport. This gem receives some of the most consistent snowfalls which means there's always plenty of snow for the slopes. The five lifts take skiers to 19 different runs and most of these are dedicated to beginners and intermediate skiers. For anyone more advanced than this, Guthrie's Chutes and the Freestyle Terrain Park is calling your name.
After a day on the slopes, you can head into Adams Cocktail Lounge for après ski, with High Tea and live jazz. The Cellar is also another cracker for drinks and live music on Wednesdays and Saturdays.
Where To Stay In Charlotte Pass
Charlotte Pass Snow Resort
Stillwell Hotel
Koscuiszko Chalet
Falls Creek
Victoria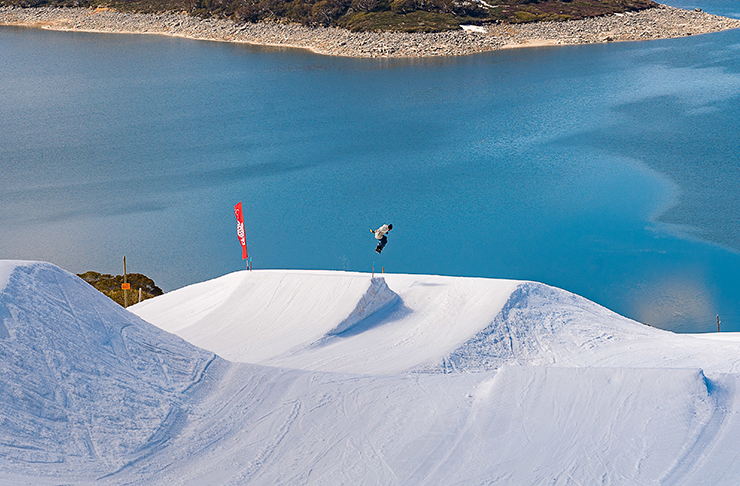 If you're even remotely clued into the snow season, you'll already know that Falls Creek is an all-season resort in North-East Victoria. It's famous for its ski-in-ski-out village and features a mega 450 hectares of skiable terrain (the biggest in Victoria) which translates into 90 runs accessed by 14 lifts. A mecca for avid cross-country skiers, Falls features fast corduroy trails and new terrain off-piste in the National Park.
Where To Stay In Falls Creek
Apartment Geilo
Les Chalets
Winterhaven
Mount Hotham
Victoria
Famed for its breathtaking and misty sunrises to seriously unforgettable panoramic views of the rugged mountain ranges, Mount Hotham is easily one of Australia's best snow destinations you'll want to hit up this winter. About a four-and-a-half hours' drive from the middle of Melbourne, Hotham is nestled in the Victorian Alps of the Great Dividing Range.
You'll be in for a whopping 320 hectares of ski terrain and with that said, it's very much been dubbed the 'powder capital' of Australia. Regardless of what level you're at, Hotham sports primo landscapes for tobogganing, dog sled tours and snowmobile rides plus luxurious day spas and 18 restaurants and bars to help you close out your snow day in style.
Where To Stay In Mount Hotham
The Polo Club
Snow View
Snokomo
Mount Buller
Victoria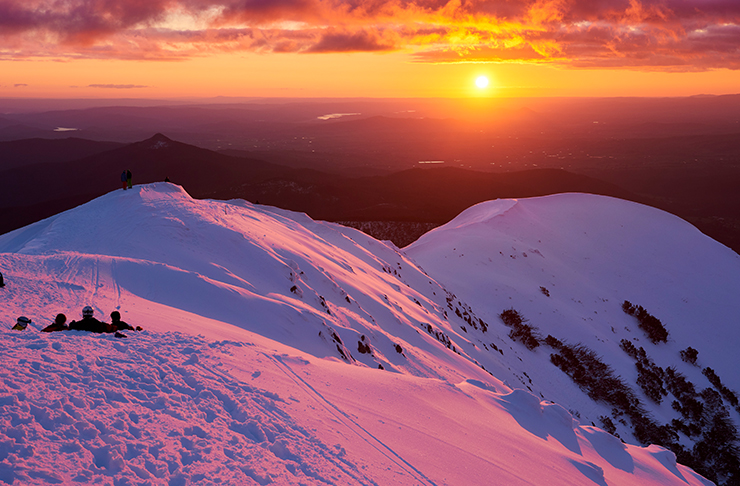 If you're keen to roast marshmallows over a fire and soak up sunsets like never before, you'll want to make your way to the ever stunning Mount Buller. Featuring 22 lifts, over 80 runs and a skiable area of 300 hectares so, in other words, it's every keen snow-goers absolute dream. If skiing and snowboarding don't tickle your fancy though, the beauty of Mount Buller is that it oozes some serious old-school charm so you can most definitely use your time to check out the museum and cinemas instead.
Kooroora Hotel is your local watering hole (with constant live music) and kicking your feet up on the open-air deck at Tirol is the perfect place for a sundowner. If you're craving some city cocktails though, the Bird Cage is your best bet.
Where To Stay In Mount Buller
Ski In Ski Out
Huski
Mountain Retreat
Mount Baw Baw
Victoria
Mount Baw Baw is about a two-hour drive from Melbourne and 50km north of the Latrobe Valley. This key snow destination features 35 hectares of snow terrain with groomed runs, seven ski lifts, snow play areas, toboggan areas and magic carpets too (beginners will love this part). For those ready to freestyle it a bit more, there's also 10kms of cross country skiing among snow gums and if you're a fan of the rugged winter hike, you'll also have a network of epic trails within Baw Baw National Park and the Great Alpine Walking Trail.
Where To Stay At Mount Baw Baw
Stringer's Cottage
Reindeer Lodge
Sancreed Cottage
The Hartz Mountains National Park
Tasmania
Here's the thing, Hartz Mountains National Park has been shaped and moulded by ancient glaciers and serves one of the most rugged wilderness terrains you'll ever get to witness in Australia. Here, it's all about the snowy bushwalks (save the judgement for Thredbo's ski slopes), the glacial lakes and the alpine plateaus that look freakishly similar to Switzerland's Mount Jungfrau. Waratah Lookout, Arve Falls and Lake Osborne are pretty basic walks which span around 60 minutes but give you stunning views into dramatic landscapes.
Where To Stay At Hartz Mountains National Park
River Resort
Shanley's
Tides Reach
Skiiing, Snowboarding And Snow Activities In Australia
We don't care if you've been plowing since before you could walk or you're a bonafide bomber with much to prove, snow activities are always a good idea. Thankfully, Australia is home to a whole range of ski resorts that offer up some stellar slopes worthy of your time (not to mention, the après ski always goes off). Read on for some of the most popular ski slopes in Australia.
Perisher, Thredbo, Smiggins, Selwyn And Charlotte Pass
NSW
New South Wales is home of both Perisher and Thredbo, two of the biggest skiing locations in the country. Each resort has a wider range of runs designed for skiers and snowboarders of all levels. For the less experienced skier and snowboarder, Smiggins, Selwyn and Charlotte Pass are designed for families, and those still figuring out how to plant their poles without face planting. For those looking to try something new, this snowshoeing tour in Thredbo will take you onto backcountry in an unforgettable way.
In Thredbo, there are several unique dining opportunities to retire to after a long day on the slopes. Kareela Snowcat Dinners presented by G.H.Mumm includes gondola and snowcat rides, a fireworks display, as well as G.H. Mumm champagne and a canape package. If you're after a taste of a European winter, try the Merritts Mountain Haus Feast with its Bavarian-inspired food and drink. Alternatively, for a view to die for, check out Australia's highest restaurant, Eagles Nest, perched 1,973m above sea level and featuring delicious food with a 270 degree view of Thredbo Valley.
Falls Creek, Mount Hotham And Mount Buller
Victoria
Every winter, crowds flock to Victoria's stellar ski resorts in Falls Creek, Mount Hotham and Mount Buller. Here, you'll be spoilt for choice when it comes to breaking in powdery slopes with various terrain courses, lessons and of course, backcountry skiing for those that learnt to ski before they could walk. If skiing ain't your thing, snow tubing is available at Falls Creek, otherwise you can try your hand at snowmobiling—think endless surrounds of the Australian Alps.
Party It Up At A Winter Festival
One of the easiest ways to keep warm in winter is to bundle up and enjoy comforting food, hot schnapps and a dance. There are several festivals taking place right across Australia over its winter months showcasing the country's vibrant culture, music and art scenes.
NSW
Ministry Of Sound Reunion
When: Sunday 24 July
Where: The Station, Jindabyne
White Claw Weekend
When: Saturday 13 August
Where: Alpine Bar, Thredbo
First Base Ft. Poof Doof
When: Saturday 20 August
Where: Alpine Bar, Thredbo
Victoria
Winter Wonderlights
When: Saturday 25 June to Friday 15 July
Where: Sovereign Hill
Oktoberfest
When: Saturday 1 october
Where: Village Bowl Ct, Falls Creek
Keep reading for the best ski resorts in Australia.
Image credit: Thredbo, Visit Victoria, Destination NSW, Destination NSW, Visit Victoria, Visit Victoria
Editor's note: Urban List editors independently select and write about stuff we love and think you'll like too. Urban List has affiliate partnerships, so we get revenue from your purchase.