Kath and Kim. Bush doofs. Corey Worthington. Yep, we're damn proud to be Australian but nothing sends our hearts aflutter quite like a nostalgic Aussie meal.
And no one knows how to cook up a heart-stopping feast better than Easey's chef Jimmy Hurlston, which is why we asked him to do us all a favour and throw a spicy spin on his fave Aussie dish.
The result? A red hot take on the humble chicken parmigiana that's easy enough for you to cook at home. This glorious creation has been marinated not once, but twice, in Frank's RedHot Sauce making it the perfect blend of flavour and heat.
So for all our chicken parma / parmy / parmi fans out there, you're going to want to Bookmark this recipe and make it for someone special (you) this weekend.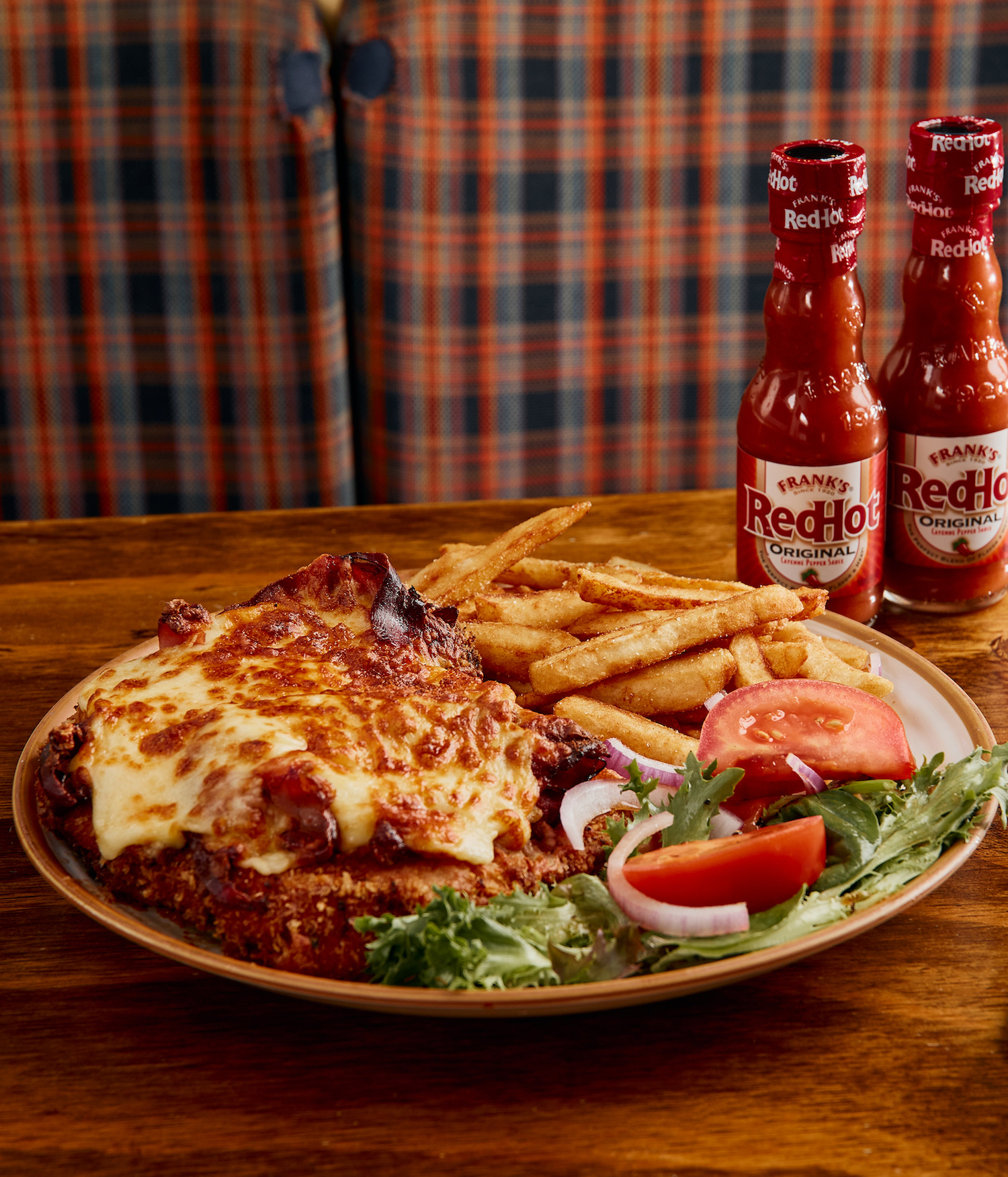 Ingredients
Chicken breast fillets with skin off
150ml Buttermilk
2-3 slices of prosciutto per parmigiana (or use ham as a substitute)
Can of diced tomatoes (400g)
1 Brown onion
3 Cloves of garlic
2g Onion powder*
2g Garlic powder*
3g Basil*
2g Oregano*
2g Celery salt*
3g Pepper
3g Salt
2 cups Panko crumbs
1 cup Plain flour
500g Mozzarella
100g Grated parmesan
Chips
2g Chicken salt
Salad and dressing (if you're feeling healthy)
*Hot tip: if you don't have the above herbs and spices use Italian herbs instead.
Method
Prep your chicken fillet by trimming off the fatty bits and flattening it with a rolling pin.
Make Frank's RedHot Sauce and buttermilk marinade by adding both ingredients into a bowl.
Soak chicken in the spicy marinade overnight or for a minimum of 2 hours.
Prepare your crumb by adding panko, parmesan, flour, celery salt, onion powder, garlic powder, oregano and basil to a bowl. If you don't have some of these herbs, use Italian seasoning as a substitute.
Make your Napoli sauce by cooking down tomatoes, garlic, onion and basil.
Coat your marinated chicken in flour and then dunk it back into the Frank's RedHot sauce and buttermilk marinade.
Coat chicken in the premade crumb.
Deep fry or oven cook the chicken.
Pour Napoli sauce on top of the chicken.
Add prosciutto or ham.
Apply mozzarella and parmesan liberally.
Place chicken in the oven or under a salamander to melt and brown cheese.
Fry or oven cook your chips.
Prep your salad and dressing and plate.
And there you have it. A spicy chicken parmigiana of your damn dreams. If you've got time on your hands, Jimmy recommends going all out by soaking the Panko in another bottle of Frank's RedHot Sauce, then baking it out and re-crumbing the chicken. It's labour intensive but totally worth it. Basically, when it comes to Frank's RedHot Sauce, you can put that $#!t on everything.
Editor's note: This article is sponsored by Frank's RedHot Sauce and proudly endorsed by The Urban List. Thank you for supporting the sponsors who make The Urban List possible. Click here for more information on our editorial policy.