An undeniably important part of personal style, jewellery has a considerable capacity not only to tell a story about who we are and what we like but also to act as wearable memories of life's special moments, milestones and achievements.
Whether you're in the market for more fashion-forward styles or shopping for modern heirlooms, the same principle applies. There's never been a better time to consider the sustainability of your jewellery purchases—both for the planet and your wallet.
Keep reading below for 10 jewellery brands that rate just as highly for sustainability as they do for aesthetics.
Temple Of The Sun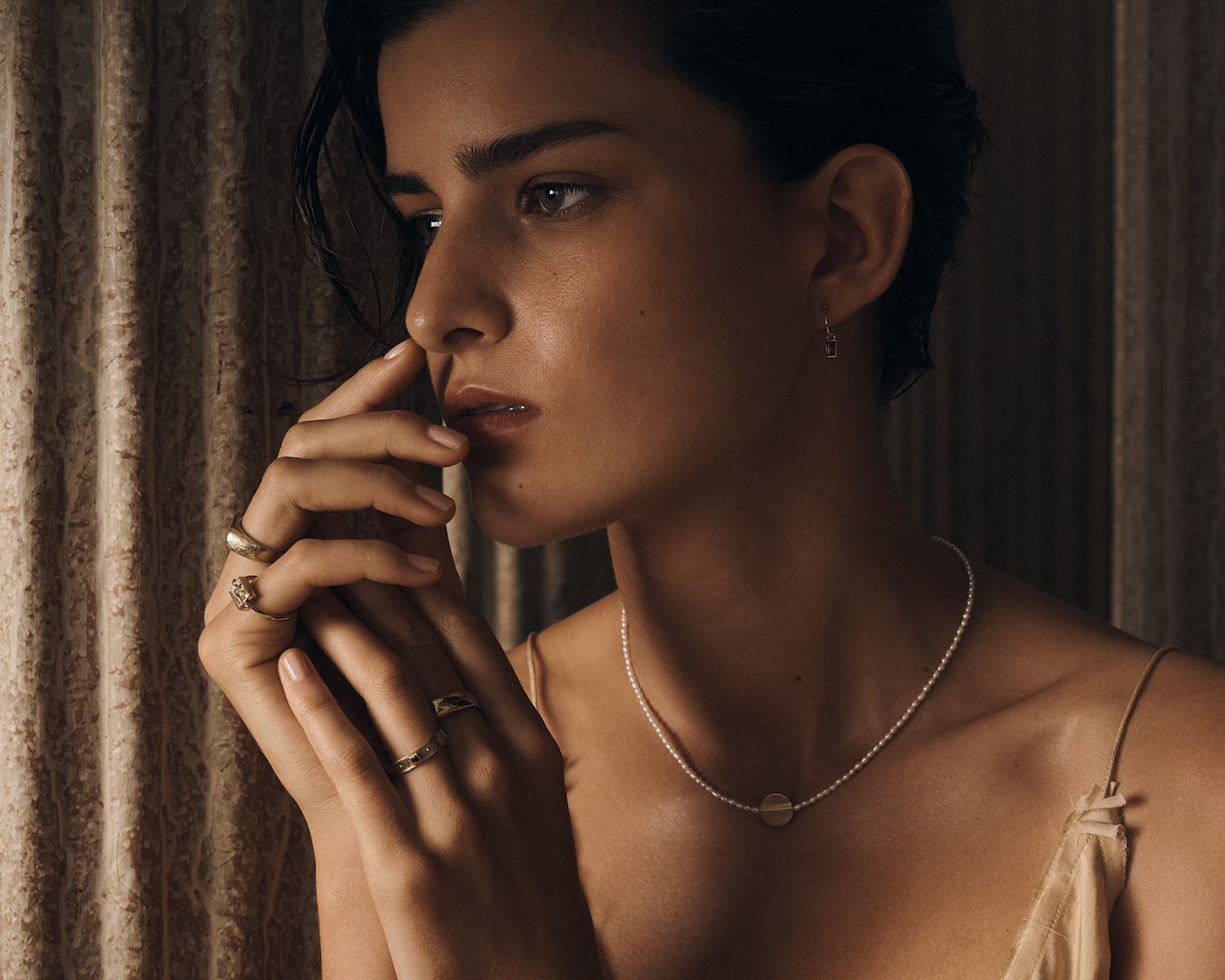 Masters of ethical production, Temple Of The Sun's Byron Bay solar-powered studio focuses on hand-making and creating modern heirlooms with ethical integrity. Each piece is inspired by the brand's founders (and real-life partners), Yonna and Darren's love of doing things differently. In addition, the brand has made personal commitments under the three pillars of 'people', 'planet', and 'materials', ensuring everything from packaging to diversity aligns with their sustainable and ethical brand values. Shop here.
Holly Ryan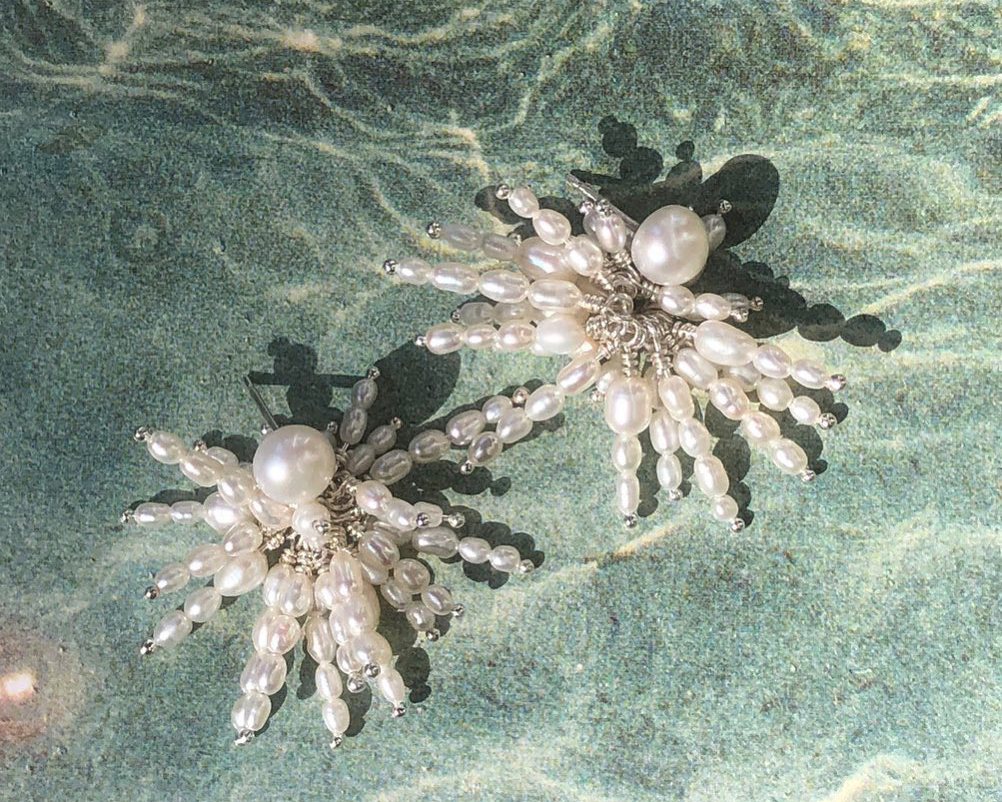 Much loved for more than a decade, Holly Ryan has been championing sustainable and ethical jewellery production long before it was cool. The brand uses recycled and upcycled materials and responsibility-sourced stones to create handcrafted pieces designed to be worn and loved forever. The brand also champions a closed-loop recycling initiative that offers customers the unique opportunity to re-work, return or repair existing Holly Ryan pieces to ensure ongoing sustainability and wearability. Shop here.
Natalie Marie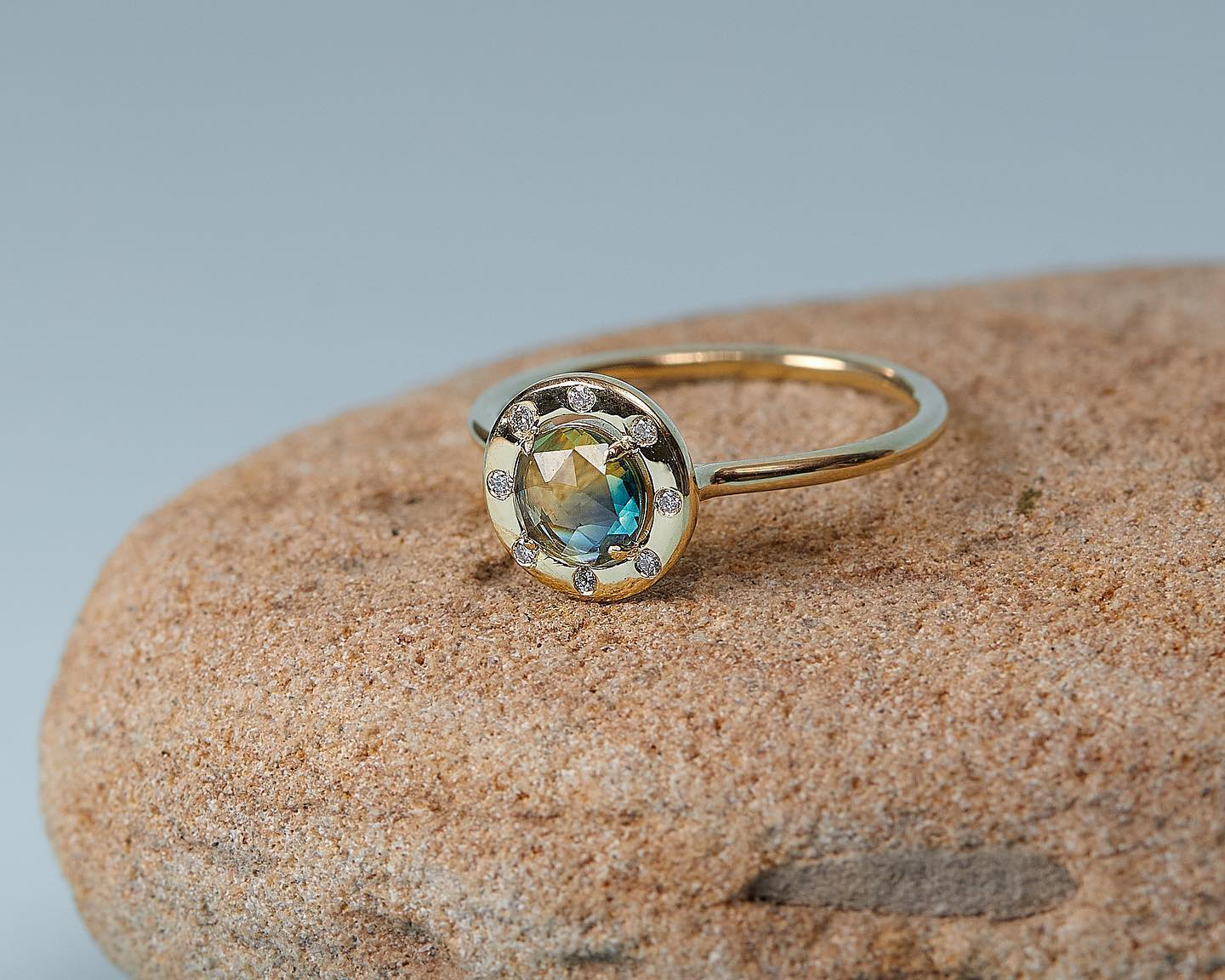 Based in Sydney's Northern Beaches, family-owned business Natalie Marie is all about creating beautiful, wearable, and unique fine jewellery. A go-to for custom-designed engagement rings and other modern heirlooms, the brand's bespoke service ensures the conscious creation of high-quality pieces crafted from sustainable materials, each with a unique story. Working with 100% recycled Australian sterling silver, 70% recycled Australian gold, and GIA-certified diamonds, every item purchased from Natalie Marie is made to order, ensuring no piece goes to waste. Shop here.
Commune Gallery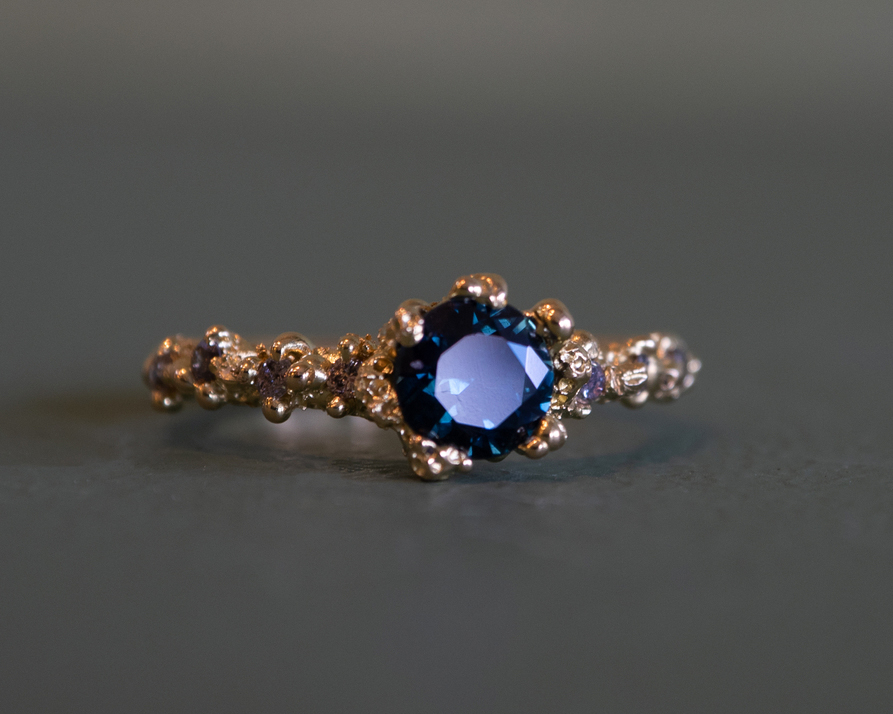 Commune Gallery is not just a brand but a collective exhibition space showcasing various ethical, handmade, and locally produced jewellery designs. Founder Eloise Falkiner and Christian Stott carefully hand select every piece to be displayed alongside their own work, ensuring all items meet their individual ethical standards. If you can't find something perfect for you (or a special someone) on display, Commune Gallery will happily work with you to commission a unique work of jewellery art that you'll have to treasure for years to come. Shop here.
Laura Lombardi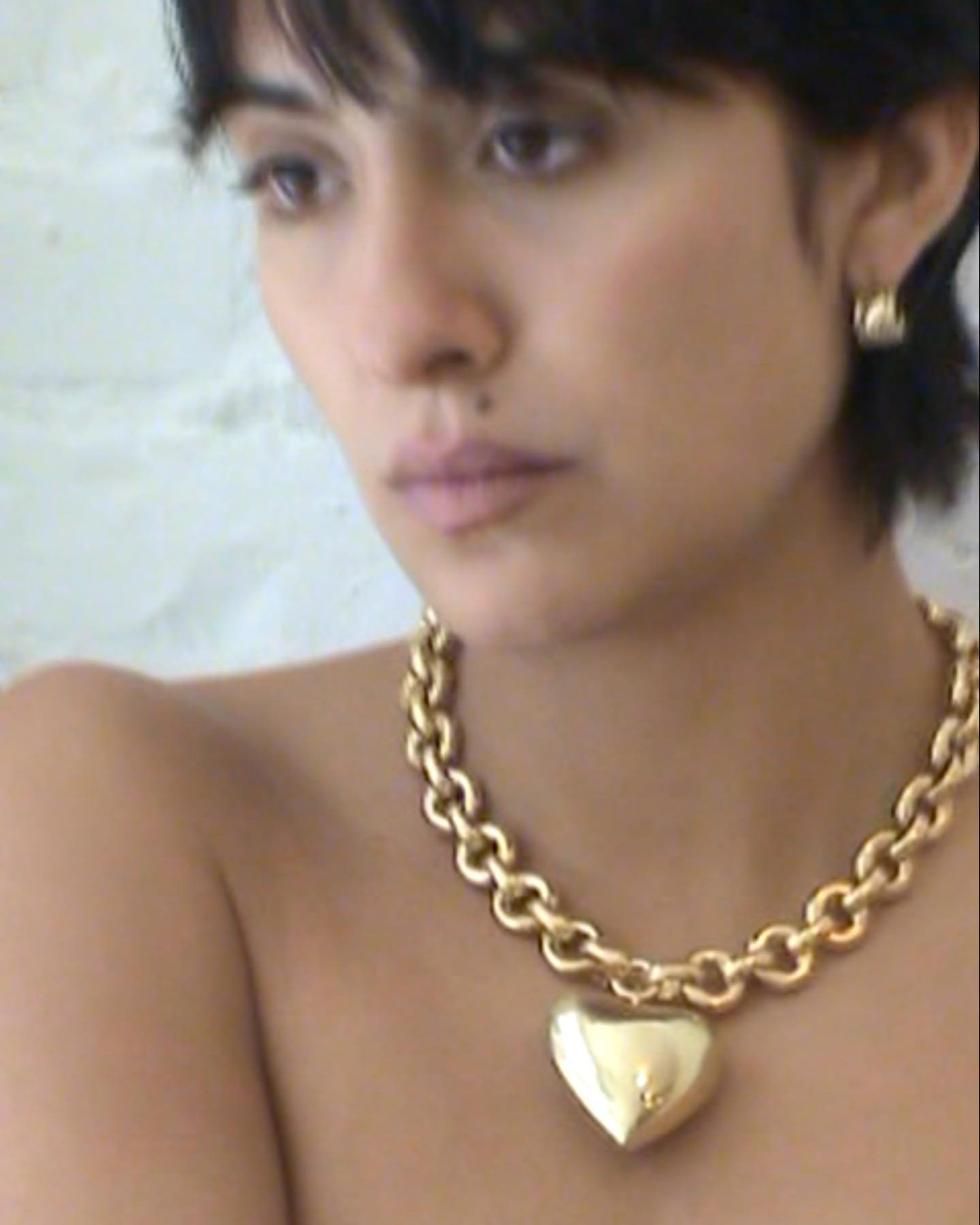 Laura Lombardi's line of chunky gold jewellery will bring a touch of 90s cool to your everyday look. Striving to source materials responsibly and create with care, the brand's pieces are made uses a mix of new, up-cycled, and recycled materials, including vintage deadstock. Based in Brooklyn, most of the brand's pieces are made and produced locally, using the skills and expertise of several locally owned businesses, including a Brooklyn-based brass mill. The company also ensures everyone involved in creating its products is paid fair and living wages. Shop here.
Sarah And Sebastian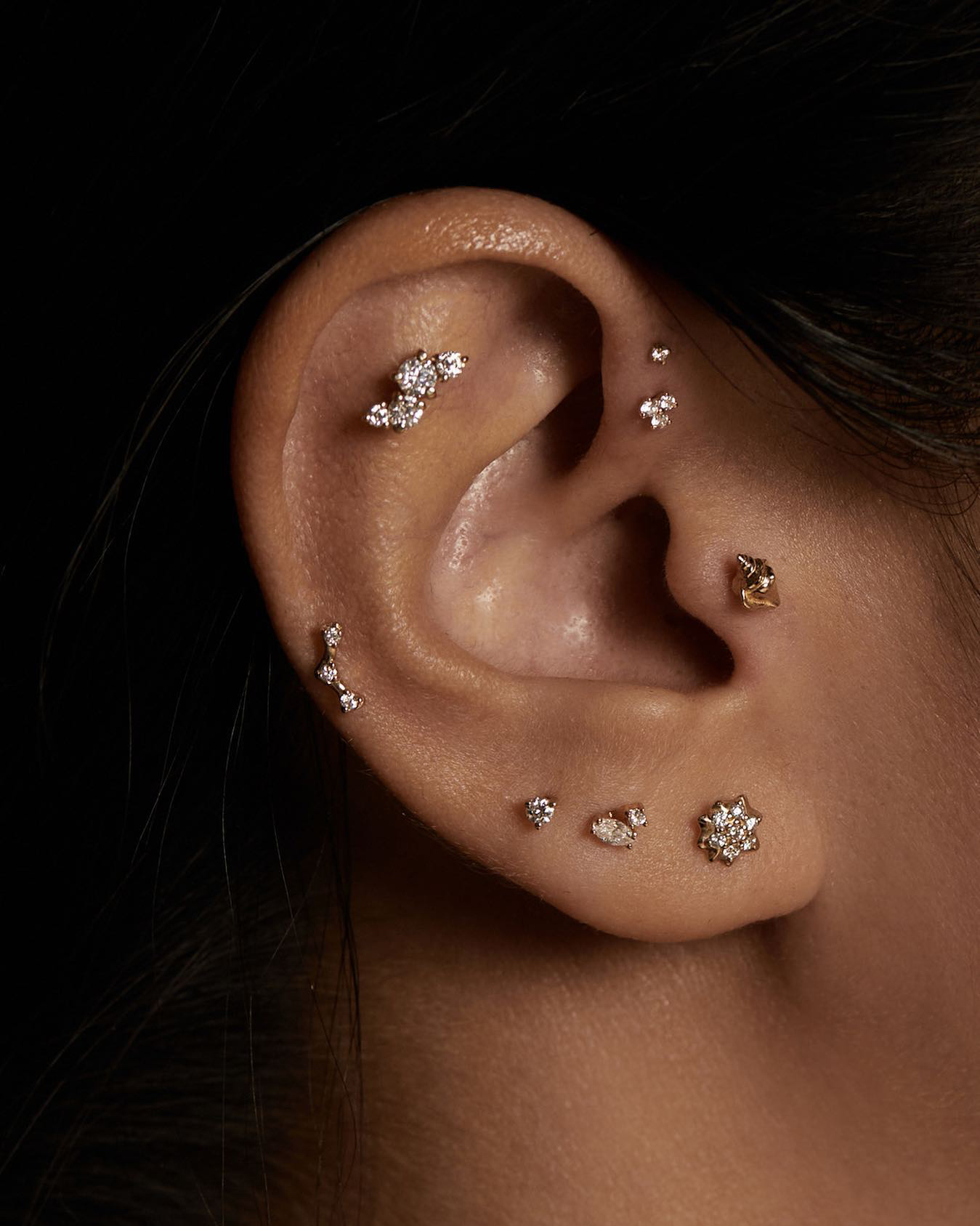 With a long list of conscious goals and brand practices, the much-loved fine jewellery brand Sarah and Sebastian has long set the standard for ethical and sustainable jewellery production within Australia. From its made-to-order model for low product waste to the use of recycled materials, ethically sourced stones, and diamonds, to primarily working with local suppliers and artisans to ensure maximum transparency, there's not much Sarah and Sebastian aren't doing to ensure high ethical, social, and environmental standards. Shop here.
Temple And Grace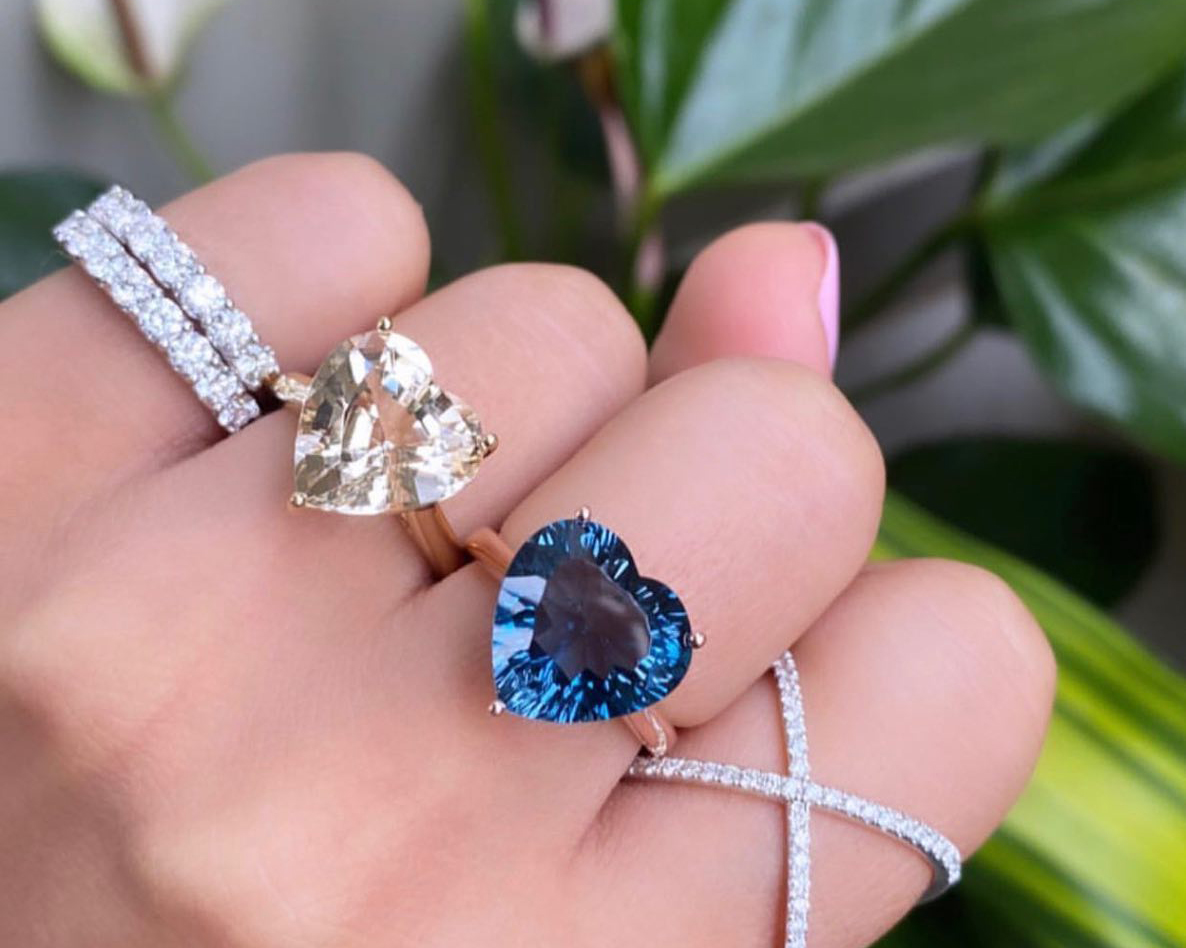 With showrooms in Sydney and Melbourne, Temple and Grace is a favourite for classic engagement rings. Handcrafted in Australia using only the best GIA-certified diamonds, Temple and Grace make beautiful pieces to last a lifetime with special jewellery repair services, personalised customer service, and complimentary lifetime jewellery polishing service, ring resizing, and engraving all included in your purchase. Shop here.
Monica Vinader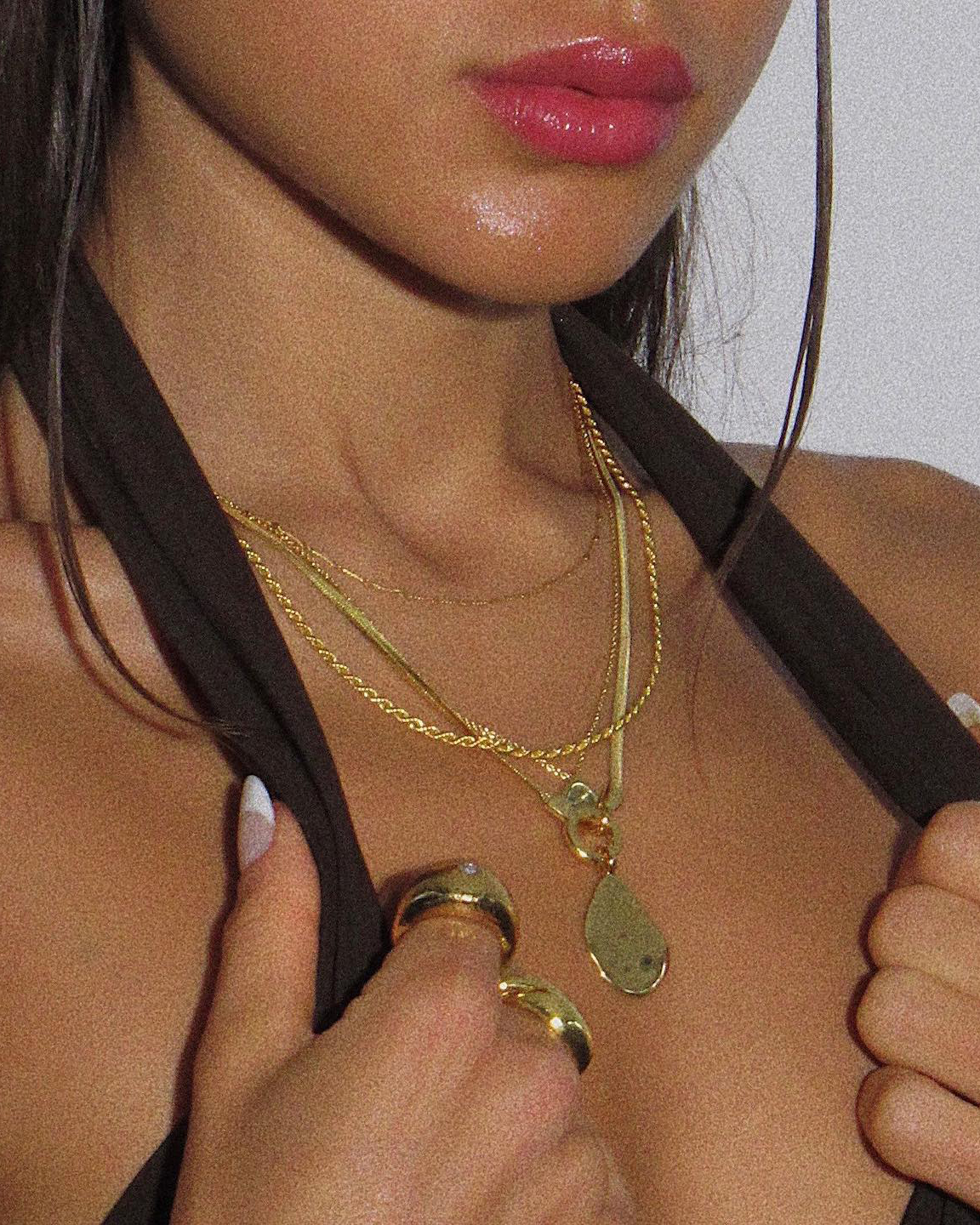 Completely carbon neutral and free from single-use plastics, Monica Vinader was recently awarded a Positive Luxury Butterfly Mark certification—a certification awarded to luxury brands that meet the highest standards of verified environmental, social, and governance performance. The brand's website also provides a comprehensive breakdown of its sustainable principles and practices, covering everything from recycling to ethical diamond sourcing and everything in between. Shop here.
Sofia Maria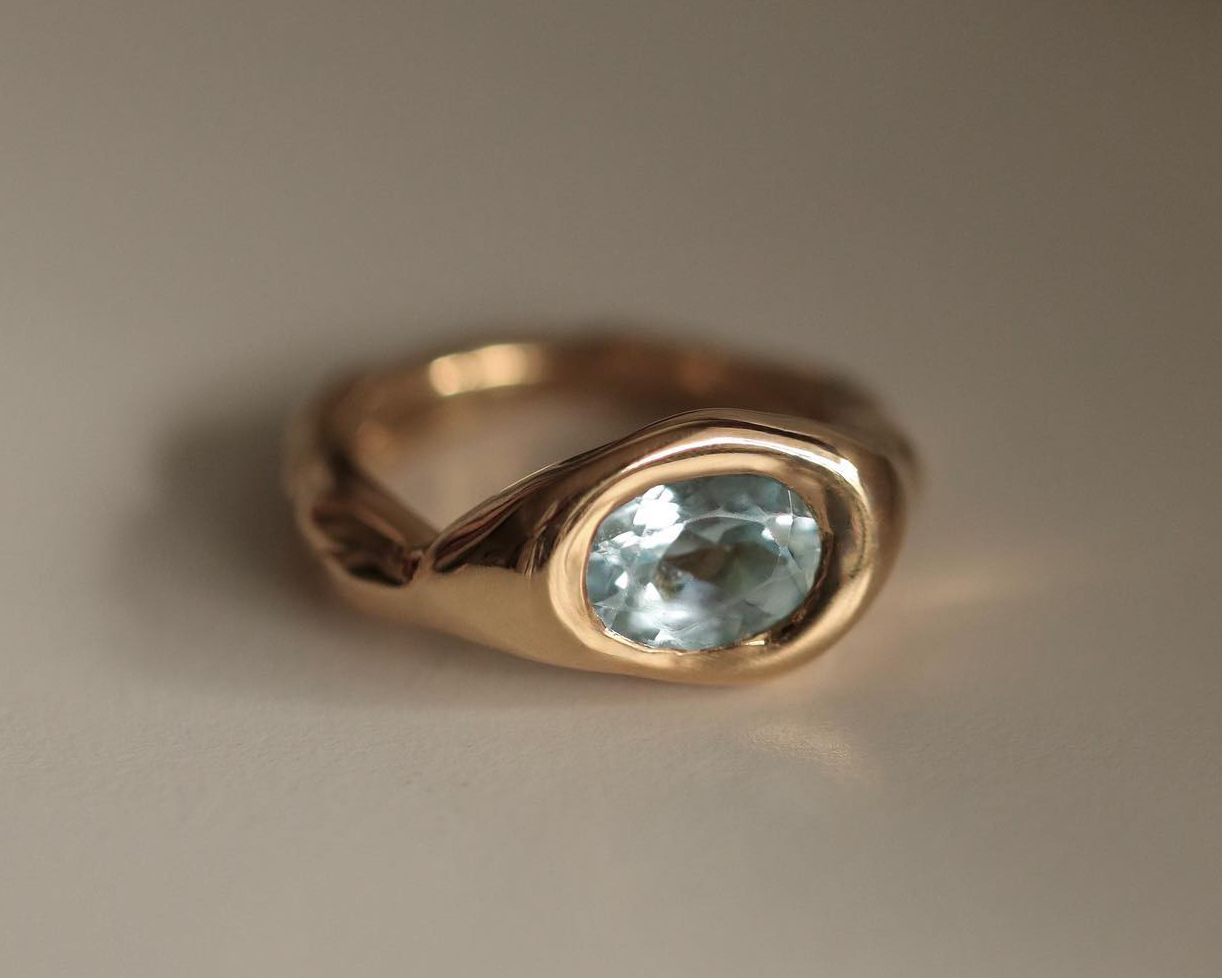 Inspired by imperfect forms, natural textures, and organic lines, every piece in Sofia Maria's fine jewellery line is locally handmade by Maria herself on Sydney's Northern Beaches. Choosing to work only with locally sourced and handpicked recycled metals and responsibly sourced natural gemstones, purchasing a piece made by Sofia ensures you're supporting 100% handcrafted, locally made, and sustainably produced pieces. Shop here.
Larsen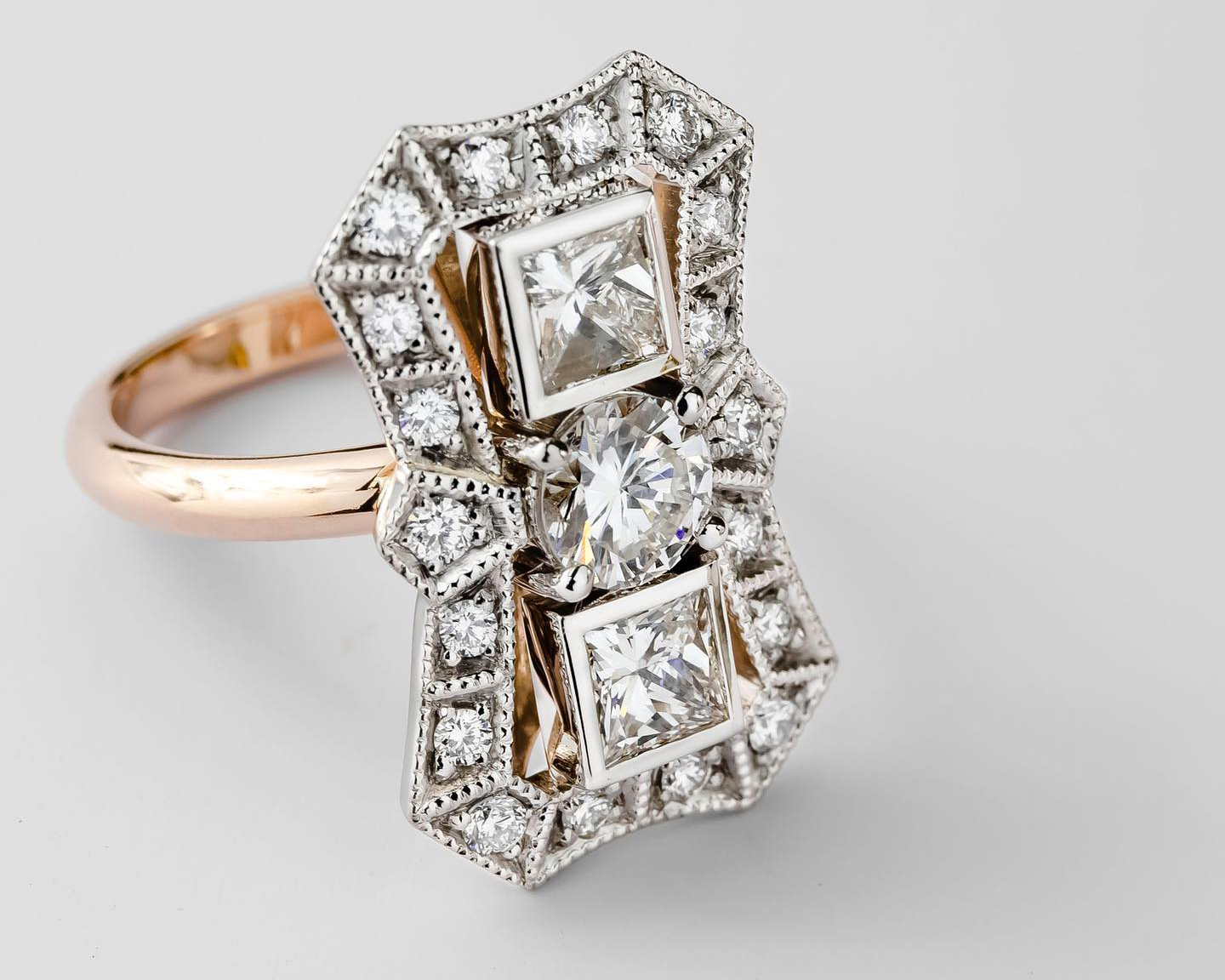 Larsen is perfect if you want to purchase sustainably made bridal, engagement, and unique occasion pieces. With high ethical standards at the heart of everything they do, you can feel good knowing that each piece has been sourced in an environmentally and socially responsible way. Working with conflict-free diamonds and Fairtrade gold, the brand is certified carbon neutral, locally produced in Australia, and donates at least 10% of profits to charitable causes each year. As a bonus, Larsen also ensures a lifetime guarantee on every piece purchased. Shop here.
RUUSK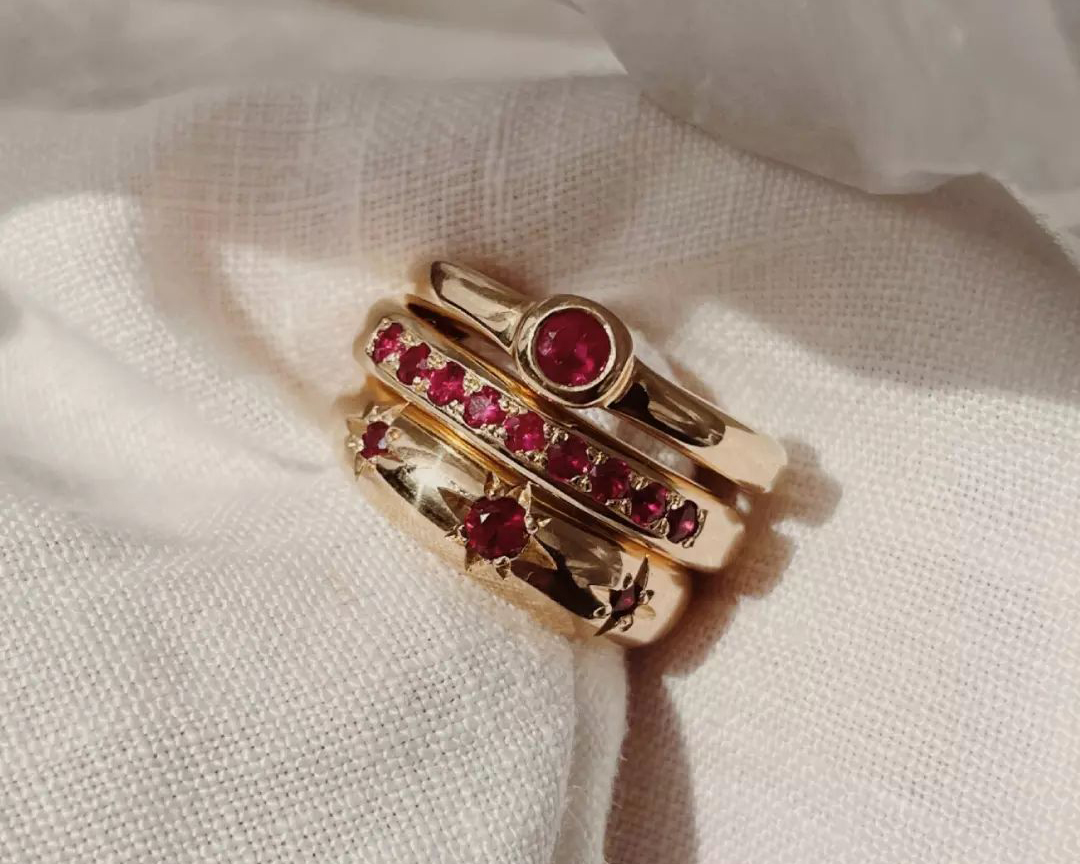 Each piece created by RUUSK has been designed with purpose, intention, and conscious production to ensure lifelong wearability. The brand wields traditional jewellery-making techniques, hand carving, casting, and polishing each piece locally in Newcastle and Sydney. Every RUUSK piece is made from Ethical Australian Gold, with all diamonds purchased from accredited Diamond suppliers to ensure they are conflict-free. The brand has also adopted a low waste process, with their studio powered by a combination of renewables and carbon-offset energy and all supplies, from scrap metal to studio paper, being recycled when possible. Shop here.
Now, check out these plastic-free beauty products to swap into your routine.
Image credit: Laura Lombardi | Temple of the Sun | Holly Ryan
Editor's note: Urban List editors independently select and write about stuff we love and think you'll like too. Urban List has affiliate partnerships, so we get revenue from your purchase.