The Cook Islands is a glorious collection of islands in the South Pacific renowned for its snorkelling, scuba diving and island time. Made up of 15 archipelagos, if it's your first time hitting up these parts, you'll want to make sure you set up shop on this island of Rarotonga. This beauty is home to volcanic mountains, turquoise waters, about a hundred cafes and a tonne of secret swimming holes. She's also sans traffic lights and McDonald's so you're guaranteed all the genuine island feels.
Here's everything you need to know for your first time in the Cook Islands.
When To Go
The best time to visit the Cook Islands is winter and early spring. Because Rarotonga is about as far south of the equator as Hawaii is north of it, this island soaks up the best kind of tropical weather from May to October (which is also the dry season). Temps sit between 22 degrees and 29 degrees with humidity keeping pretty steady throughout the day.
On Rarotonga, because the island is decorated with all the mountainous ranges, you can expect rainfall all year around on the Cooks. In the dryer months, that means you're likely to see the forecast reading as "rainy" but we guarantee that means just a few early morning showers and a lush rainforest aroma after or a cooling afternoon thunderstorm.
Where To Stay
Edgewater Resort
We'll be honest, no matter where you stay on Rarotonga, the remote vibes will be real. The Edgewater Resort & Spa is probably the best known around here though, and it throws up a cross between luxe and no-frills times. Because this gem is sheltered on the west coast of the island, it means you'll be front and centre for epic sunsets (if you thought Santorini took the sundown cake… think again), taking in a lush green mountain backdrop and lapping up one hell of a health spa.
You'll also just be around eight minutes from Avarua, home to Rarotonga's local markets, bars and cinema.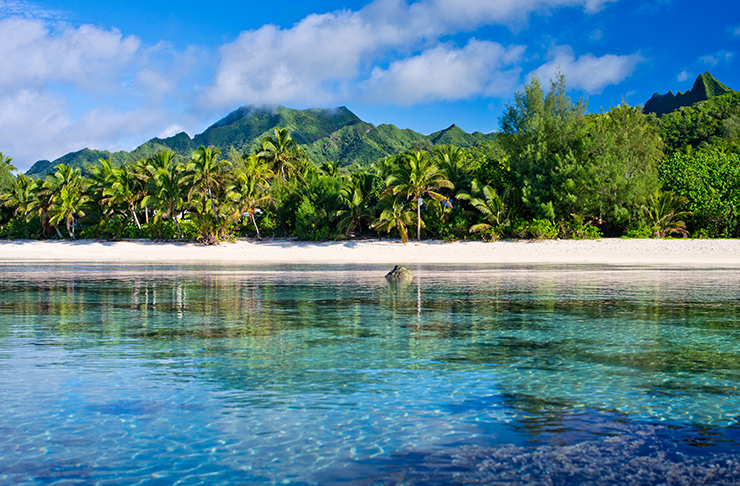 Where To Eat
Beluga Cafe
If you've got caffeine on your mind, then the first place you'll want to load up at is Beluga Cafe. Located in Arorangi Village, the beating heart of this laid back cafe is all things fresh. We mean freshly brewed coffee and freshly caught fish.
Vaima Polynesian Bar And Restaurant
For one of the best dinners you'll ever have, treat yourself to a feast on the sand. If you get here early enough (or book with enough notice), you'll be privy to an actual beach feed and get to watch the sun go down at the same time. Opt in for the filling fish yellow curry which will deservingly give you one of the best food comas of all time because it's packed with a local catch, scallops, prawns, roti and jasmine rice. Hit the "Sands Of Vaima" cocktail (a delicious concoction of peach schnapps, Midori, Malibu and pineapple juice) to knock it all back.
From the outside, Vaima is pretty unassuming but keep your eyes out for the fairy lights and you're on the right track.
Palace One Takeway
For a no-frills feed, Palace Takeaway One is your jam. Pretty much everything at this joint is a go-er but this one is iconic for its wet cheeseburgers. The concept behind this bad boy isn't necessarily practicality… but it's damn delicious and we'll be stumped if you ever find another burger quite like it. Here, the cheeseburgers or, wet burgers, get drowned in the Palace Burgers' house sauce which makes for one of the juiciest feeds you'll ever have.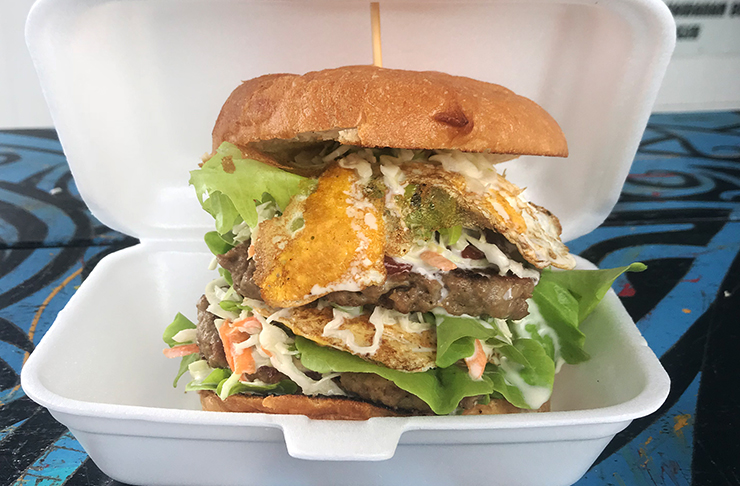 Kai & Ko
You'll find this takeaway joint in Avarua at the Punanga Nui Markets and it's a surefire foodie win post-pub crawl or adventure-filled day. Go for the mammoth breakfast burrito which has very quietly (not really), been dubbed the best burrito on the island. The morsel is loaded with bacon and chorizo and we highly suggest you pair this winner with the iconic mango smoothie. Thank us later.
Where To Drink
Raro Pub Crawl
There's plenty of bars to check out on Rarotonga if you're keen to wet the whistle and keep your toes sandy but the best way to maximise your time here is to undoubtedly get onboard the Rehab Pub Crawl. This crawl is massive every Wednesday night and not only is it iconic (across the world) but it'll shoot right to the top as one of your best nights out ever. At the end of the night, you'll end up at Rehab Night Club which is a sand-filled beach blowout where you can dance on stage under the palm trees and stars.
Things To Do
Aitutaki Day Trip
It's hard to describe the Aitutaki day trip because to be fair, no words do this gem justice (but we'll back the fact that it should absolutely sit at the top of your travel bucket list). Aitutaki is one of the most secluded places you'll ever get to visit in the world and even though she's a short flight off the island of Rarotonga, believe us, it's absolutely worth it.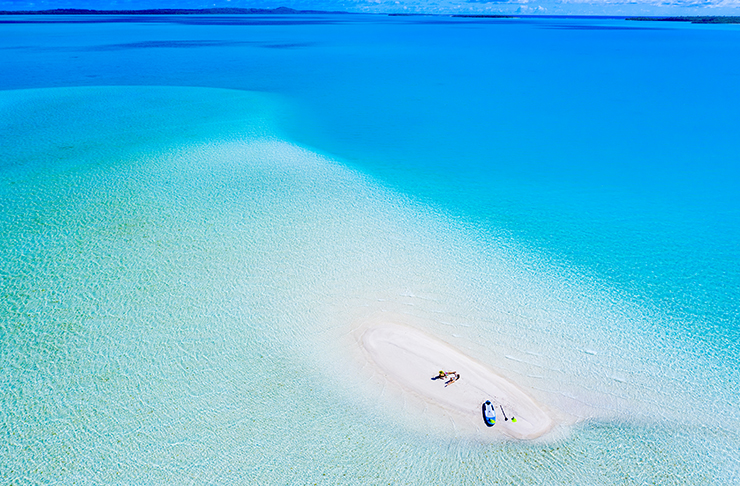 Fringed with sandy beaches, and the clearest waters ever (move over Maldives), Aitutaki is made up of a main island, lagoon and barrier reef. Throughout the day, you'll circle the island on a bus and then get to explore the lagoon in all its glory on a 21-metre Polynesian style canoe "Vaka Titi ai Tonga" with stops on different islands including the famous One Foot Island Post Office Box (bring your passport on the day and you'll score a footprint stamp too).
Pretty much everything you could need will be onboard including towels, snorkelling gear, fins and a BBQ lunch with freshly caught ocean fish.
Punanga Nui Markets
Otherwise known as "the pulse of Rarotonga", Avurua is Rarotonga's main bustling township and the home of the infamous Punanga Nui Market. You'll find this one well and truly alive on a Saturday morning with huts (yes, huts) open as early as 7am. Here, you'll want to make sure you scope out some black pearls which are perfected in the nearby isle of Manihiki, fresh fruit, veggies, pastries, smoothies, handmade ukuleles and handcrafted goods.
Night Paddle Lagoon Tours SUP
You'll have figured out by now that Rarotonga is breathtaking by day but a SUP lagoon tour with Ariki Adventures is the greatest way to make the most of the perfect balmy nights. The paddleboards are lined with neon lights so you can navigate with ease and light the way so you can keep an eye out for eagle rays, school fish and turtles too.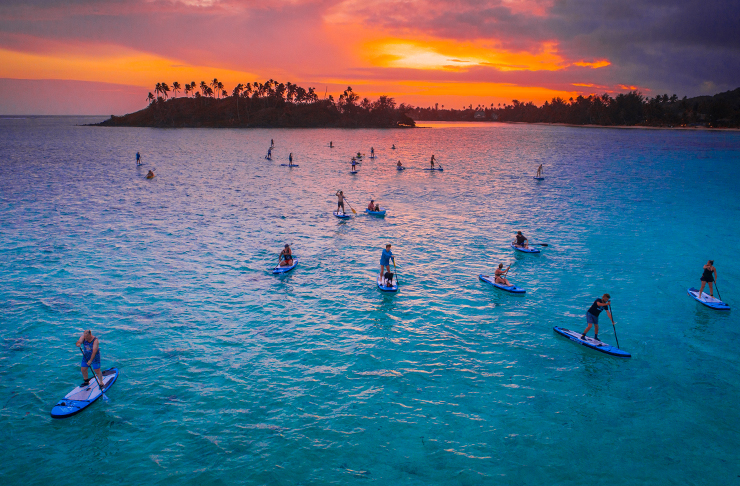 Turtle Sea Scooter Tour
Between beach hopping and living your best castaway-inspired life, make time for Ariki's Turtle Sea Scooter Safari. Located at Muri Beach, this scooter tour means you'll be swimming alongside Pacific Green and Hawksbill turtles, moray eels, tropical fish and on the rare occasion, a beautiful Reef Shark (which aren't dangerous at all). The scooters are super easy to use and a heap of fun to play with but you'll want to make sure you're pretty comfortable swimming in deeper waters with this one.
Still got the travel bug? Here's a first timer's guide to Costa Rica's stunning Santa Teresea.
Image credit: David Kirkland