With the weather getting warmer, we love to kick-start our day with a nourishing smoothie. But not all protein powders are created equal, which is why we've rounded up the very best for you to get that extra hit of goodness in your daily shake.
Whether you're vegan or not, these tried and tested powders will give you everything from an energy boost and supplement hit to a power shot of collagen for your hair and nails. And the best bit? You can sip away knowing that not a single animal was harmed in the creation of your smoothie.
So what are you waiting for? Fill your basket with the best vegan protein powders now.
Power Super Foods—Maca Smoothie Blend
This fairtrade Maca Smoothie Blend is as tasty as it is good for you. The 50/50 maca and cacao powder blend combines the nutty vanilla taste of energizing maca Powder with stress-busting raw chocolate cacao powder. Did you know that maca is high in protein (20 amino acids), essential fatty acids, vitamins, while cacao powder has 360% more antioxidants than regular cocoa? That's pure health in a drink, friends.
Tropeaka Lean Protein
These guys are one of the leading vegan protein shake makers going, and there's good reason for it—they're seriously tasty. Our fave is their classic Lean Protein. Scientifically formulated to support muscle recovery with a combination of organic ingredients that will help you conquer the day the healthy way, this is one of the best vegan protein powders on the market.
Eden Health Foods Chocolate Ultimate Protein
Everyone loves a choccy hit in the morning and this certified organic sprouted brown rice protein vegan powder is the perfect choice for all the sweet-tooths out there. Using 100% raw ingredients, this powder promises increased bioavailability and digestibility, plus it's non-GMO and gluten free.
Amazonia Raw Paleo Fermented Protein In Salted Caramel Coconut
We're just a little bit in love with this tasty number. Drawing on unique fermentation principles from the Paleolithic age, this delicious vegan, grain-free formula contains a comprehensive amino acid profile and cultured superfoods to promote inner wellness.
NutraOrganics Thriving Protein In Cacao Choc
Ok we're obsessed with chocolate but isn't everyone? If you're after a healthy overhaul, add Thriving Protein to your cart. Promoting growth and energy, this protein powder contains certified organic sprouted pea protein, Aquamin (Red Algae) and high vitamin D mushroom powder. This power packed protein also contains essential vitamins and minerals like iron, magnesium, Vitamins B1, B2, B3, B5, B6, Vitamin C, folate and zinc!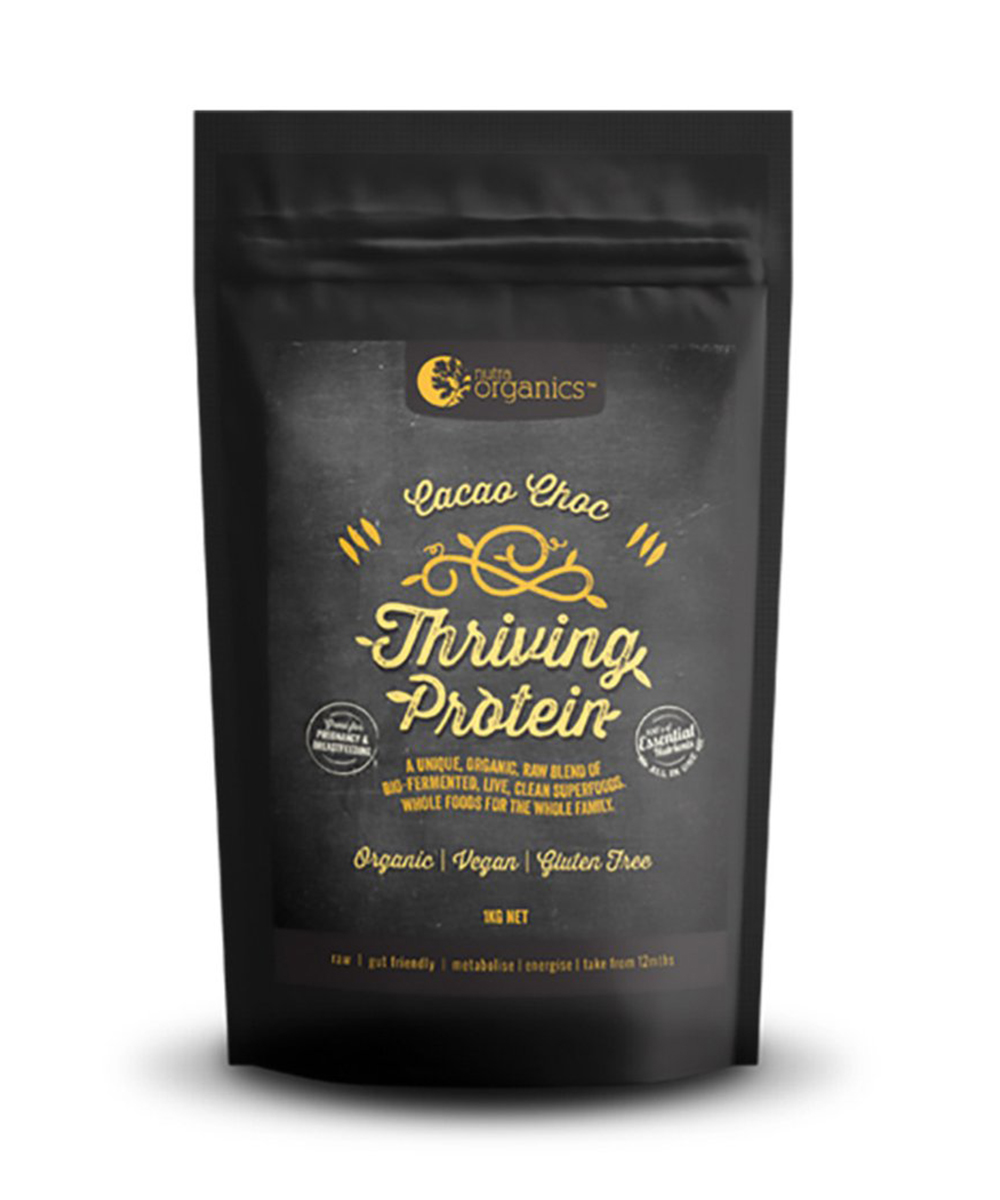 Vida Glow Beauty Protein In Vanilla
As well as giving you a serious protein hit, this powder from Vida Glow will also lead to glossier hair, stronger nails and glowing skin. Now that's a multi-tasking supplement right there. Serving up a wide range of positive benefits, Vida Glow will also help to curb cravings, help your body recover post exercise and assist in building lean muscle mass.
Nutra Organics Hemp Protein Salted Cacao Maca
Perfect for inner balance and wellbeing, this moreish mix is an excellent addition to your brekky smoothie. The chocolatey protein blend was created with the ideal mix of wholefoods for nourishing your body, skin, hair and nails, helping you glow from the inside out. It's also a great source of complete protein, zinc, vitamin C, pre and probiotics and fibre.
Power Super Foods Organic Acai Berry Powder
Who doesn't love a classic acai bowl? Instead of dishing out $10 at your local cafe, why not make it at home? This super healthy superfood (which has a protein profile similar to an egg) has been snap frozen at the harvest site and milled at low temperature into a powder for your convenience. It's loaded with nutrition including 19 amino acids, vitamins A, B1, B2, C, E, and P (bioflavonoids), and minerals like potassium, iron, phosphorus and calcium. Get yours here.
Nutra Organics Hemp Protein Beauty Berries
Ok so we're a little bit obsessed with Nurta Organics but we had to share a few of our faves in their extensive range. If you're after a berry flavour hit, check out this tasty treat. This delicious certified organic vegan blend of organic hemp protein, sprouted and bio-fermented pea protein and wholesome superfoods is a gut-friendly source of complete protein.
Nuzest Clean Lean Protein In Coffee Coconut
Give your inner-health a boost with this delicious shake. Combining pea protein with ingredients from centuries old traditional medicine this powder will aid with recovery and repair of muscles and tissue and energy levels. With over 19g of protein per serving, pea protein is one of the most effective vegetable proteins out there and it is a complete protein with all nine essential amino acids. This is absolutely one of the best vegan pea protein powders out there. Grab it in vanilla and wild strawberry too.
Essential Hemp Powder In Chocolate
Don't let the word hemp deter you, this protein powder is an excellent vegan protein option. Jam-packed with a complete amino acid profile, this natural plant-based protein is made with Hemp Gold™ containing 60% protein, which means it's super easy to digest and good for your gut. Plus the creamy texture makes it feel like a tasty treat. Grab the vanilla version here too.
Want to grow your own fresh fruit and veg for your smoothie? Check out this genius and simple hack.
Image Credit: Supplied, Lauren Naefe
Editor's note: Urban List editors independently select and write about stuff we love and think you'll like too. Urban List has affiliate partnerships, so we get revenue from your purchase.