Have you ever found yourself deep in a scrolling session, mesmerised by the epic efforts of someone who is not only killing it in their field but doing it while working towards a better future?
Welcome to 30 Faces, a celebration of 30 individuals changing the world by 2030. A destination to unearth how they got here, what fuels their passion, and to educate and inspire your own journey towards a future made better.
Here, we take a dive into the fashion psyche of Hobart designer Noah Johnson of ONEOFONE ARCHIVE. For Noah, his ethos is simple: to upcycle and 'use excess materials instead of making excess'. Each of his designs is unique, one-offs made from items such as vintage flour bags, thrifted handmade quilts, or locally sourced hessian coffee bags that look damn cool.
From his cult following on TikTok to how he feeds his creativity throughout the day, welcome to the styled up world of Noah Johnson.
Tell us about yourself, where did your journey in fashion begin?
It began when I was about 16. I think most teenagers started to experiment with fashion around that age as I did but I also gained an interest in sewing. For me, that was doing basic tailoring and sewing patches onto clothes.
ONEOFONE ARCHIVE as a clothing brand came from my exploration of sewing as a hobby and my desire to change the fit and look of my own clothes that I had thrifted. From there I gained interest from family, friends and whoever else saw me in my altered clothing. And although I started it 2016/2017, I didn't really start selling on a bigger scale until 2020 and making it a full-time gig over the last couple of years.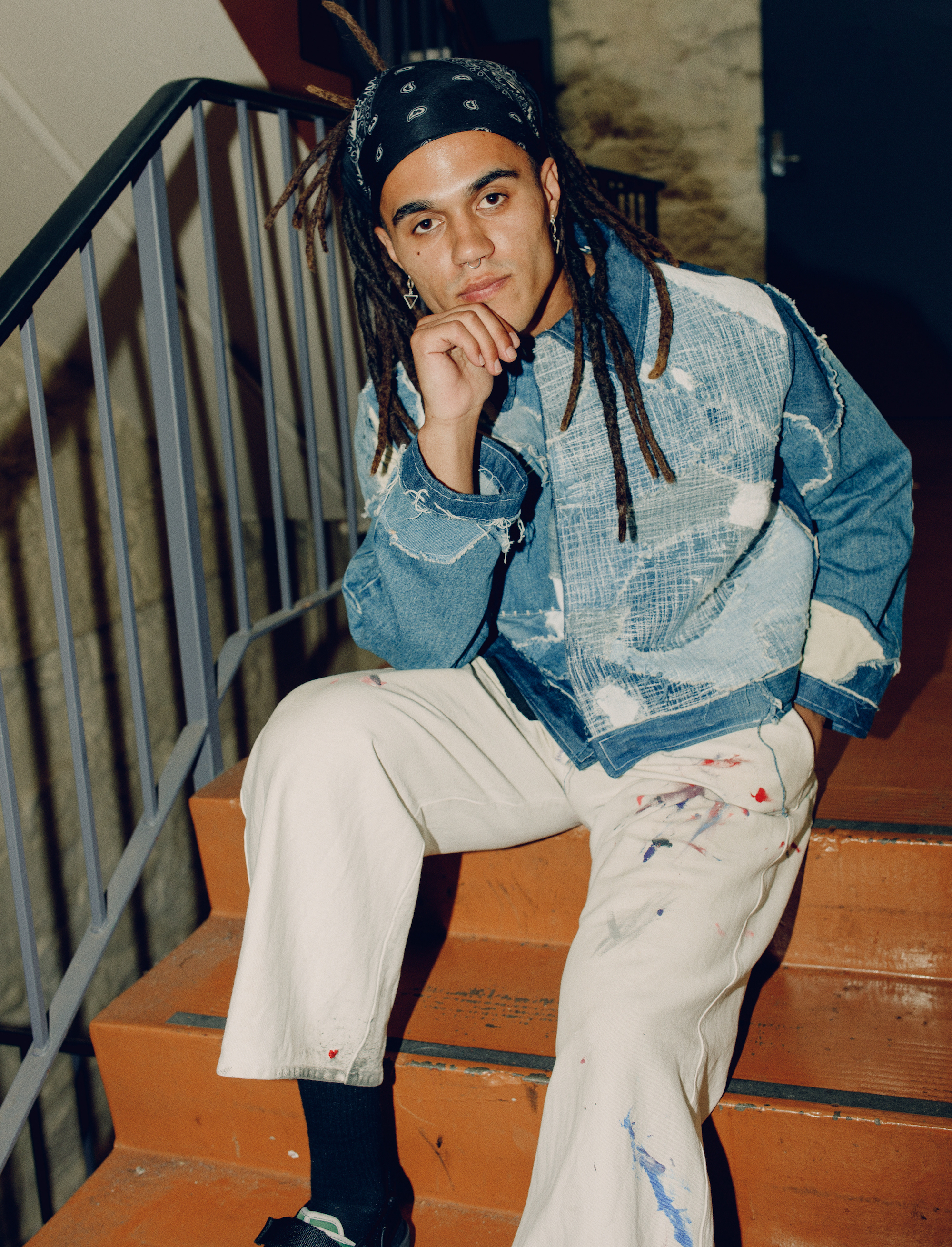 Sustainability is at the core of ONEOFONE ARCHIVE, why is that so important to you and your brand?
What sustainability means to me and my brand is ultimately trying to use the excess instead of making excess. Making top-quality garments from secondhand, reclaimed and discarded fabrics as I don't think it's necessary to buy brand new when there's already so much life in secondhand.
You've been selected for Urban List x Kiehl's

30 Faces campaign that spotlights 30 individuals working towards a better future by 2030. Can you share what you have planned next?

It's a huge honour to have been chosen for something I feel aligns with myself perfectly. For future projects, I hope to utilise all secondhand fabrics and release a denim jean collection, make even crazier jackets, and ultimately just expand my upcycling to more types of garments such as skirts, dresses, corsets and potentially even furniture and upholstery.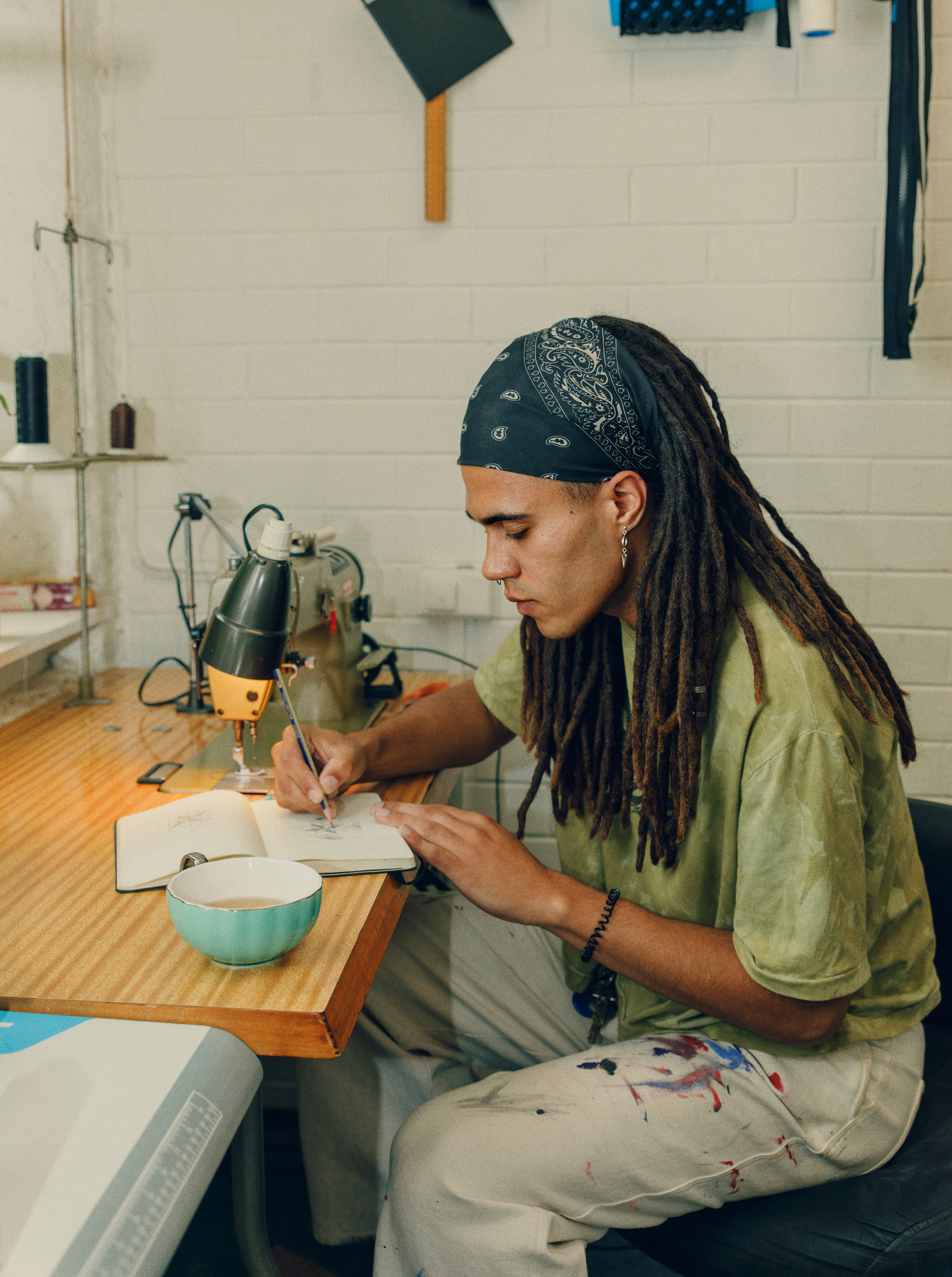 Walk us through your creative process.
My creative process is pretty all over the place, which is how I like it. Whether I sketch some ideas or designs then source or find fabrics to work with; or it's the other way around and I just work with the fabric once it's in front of my machine. Everything is pretty much on the fly as I work fast-paced and frantic which helps me flow and just keep moving even once I've completed a garment.
You have a cool 27.8M views on TikTok. Do you think the platform has been instrumental in educating followers on how covetable upcycled fashion can be?
Since adopting TikTok it's definitely helped push my upcycled pieces to further eyes and heights, which I'm super grateful for as it's a huge passion of mine. I think the most rewarding thing also has been the response from people saying it's inspired them to learn to sew, upcycle things they have or even dust off their old machines.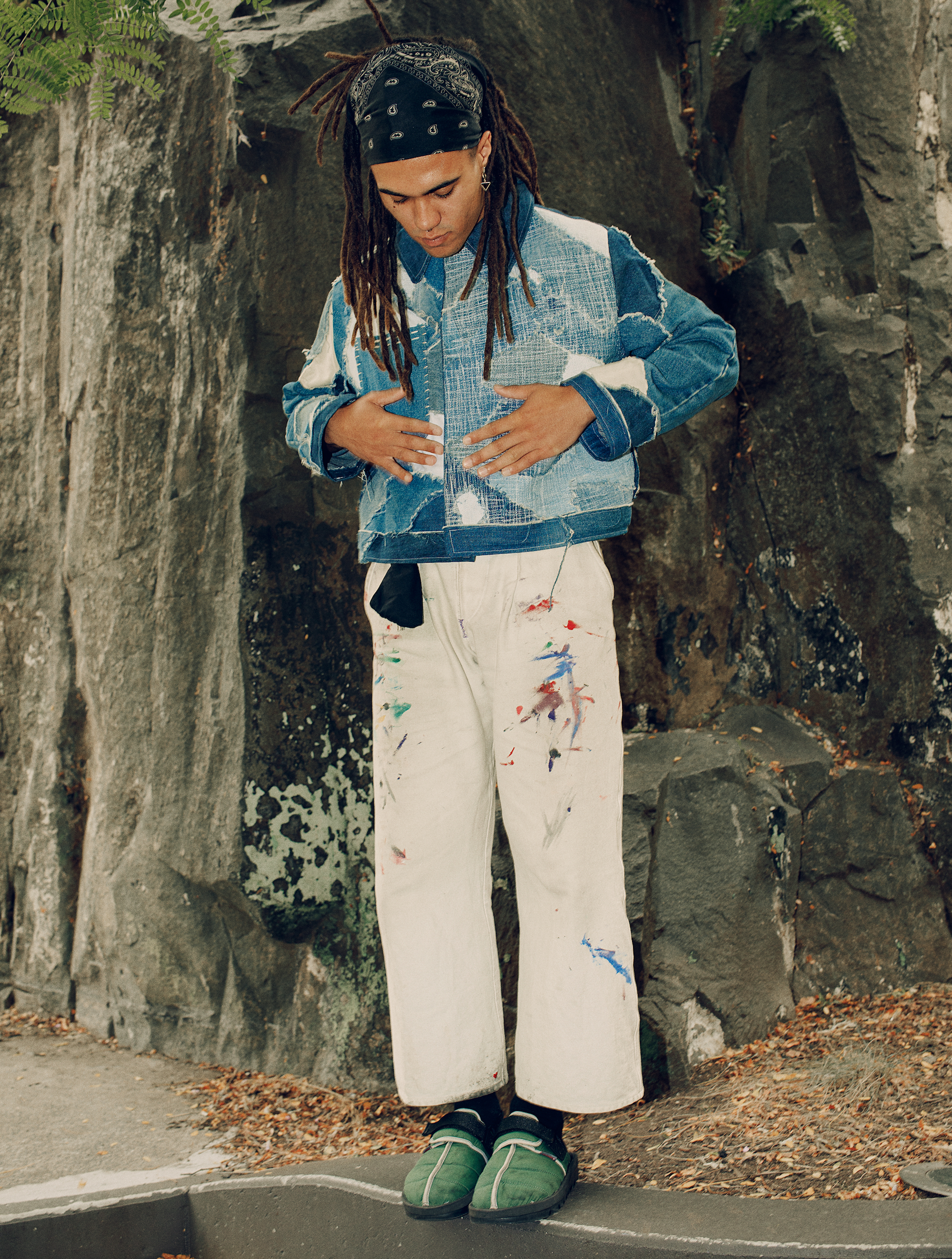 What does a typical day in the studio look like for you?
A usual day in my studio consists of a section in the morning from 9am-11:30am which may be looking through fabrics, brainstorming, sketching, cutting fabrics and most likely sewing. I then give myself about 30 minutes for lunch and jump back into it and resume my activity from about 12pm-5:30pm.
As a designer, how important is starting your morning right to feed your creativity throughout the day?
It's super important for me to start my day in my studio in a calm, meditative way. I do this by making tea as soon as I arrive, burning some incense for some nice smells and just chill out not doing any of my sewing jobs for about 30-45 minutes. Once I'm feeling good, I almost subconsciously flow into my work.
As most would've guessed, when it comes to sewing, you're using your hands a lot, working with all sorts of fabrics and machinery. So I tend to get dry hands which is exactly why I keep Kiehl's Ultimate Stength Hand Salve in my bag every day so I make sure my hands don't get too dry. I apply it in the morning and it keeps me right for the whole day. Love it.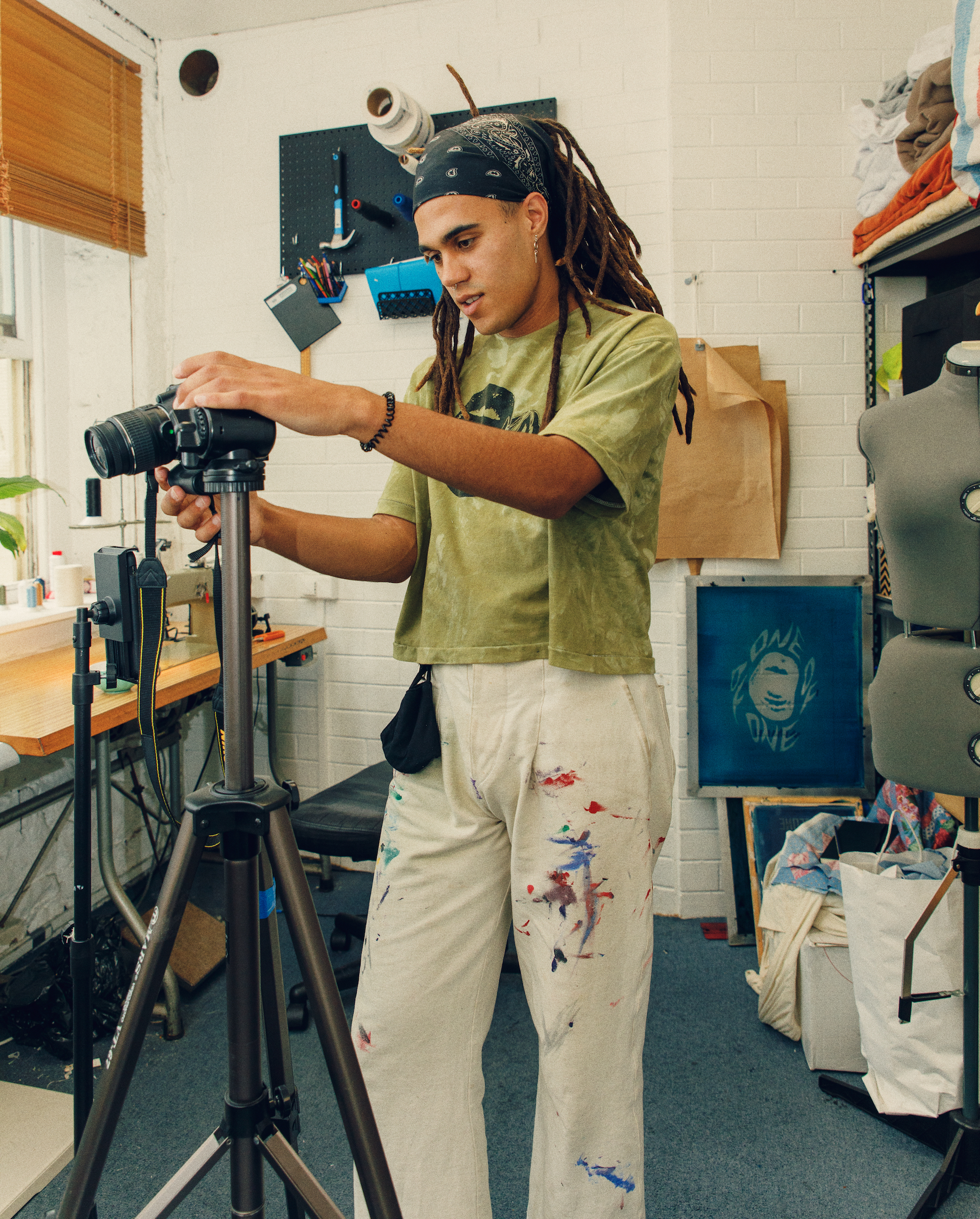 Aside from supporting designers such as yourself, what other tips do you have for someone looking to adopt a more sustainable wardrobe?
I think the best thing you can do is keep it simple. Regardless of where you're shopping, start with simple pieces you will wear for years. From there, you can build your wardrobe up, thrift, source secondhand if you're able to, but all in all just wear your clothes more than once, wear what you like and have fun.
When it comes to the future of fashion and carving out a better future, what do you see and hope for?
What I hope for the most is designers opting for fabrics and pieces they can find. Unconventional, secondhand bits and bobs and just transforming those. It may not always be attainable but I think in the future it will be the most sustainable thing. It would be amazing to see more one-off, upcycled designs and collections too. It makes each piece rarer and somewhat cooler. All I know is I will continue to show and encourage people to upcycle and be hopeful we continue in that direction.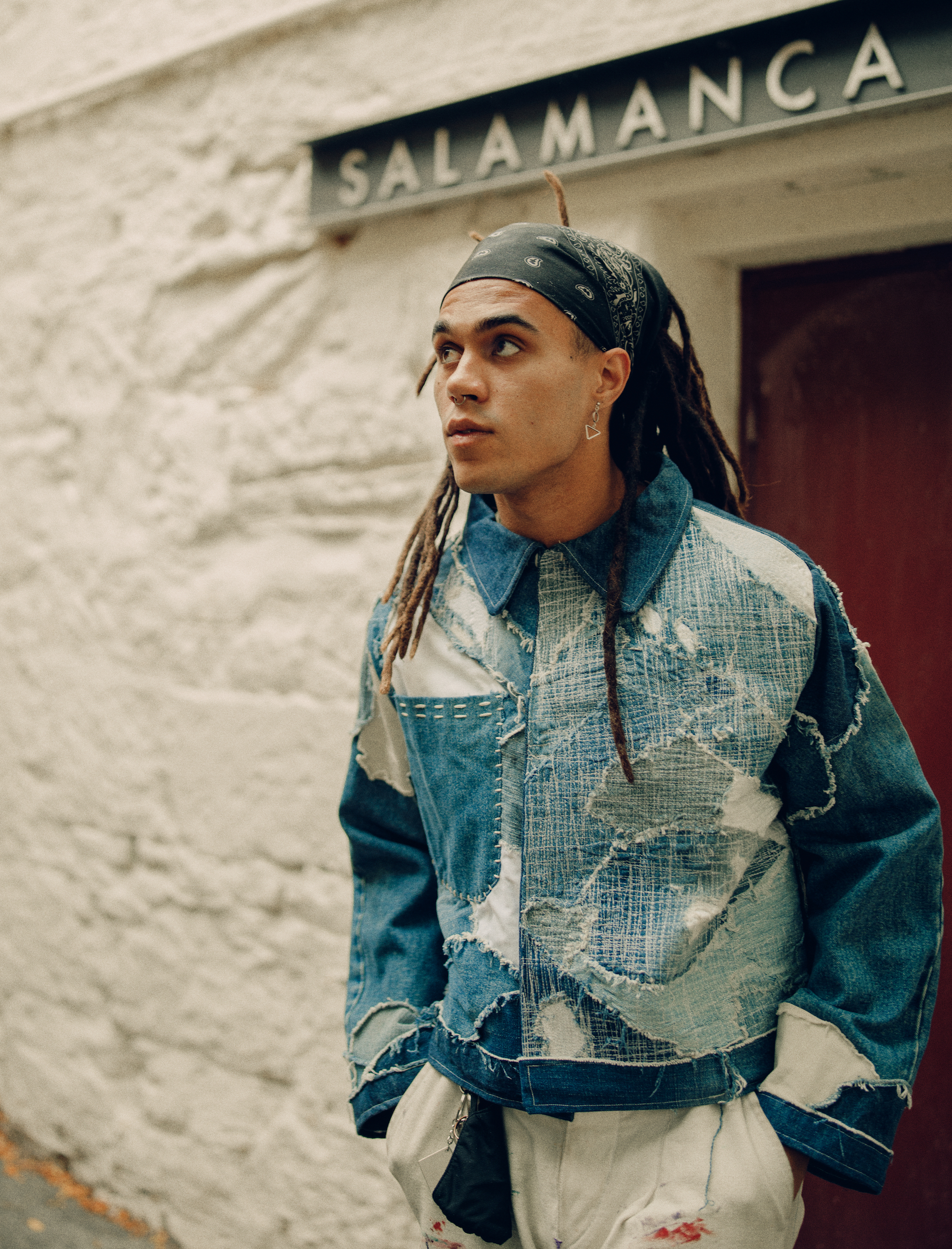 Continue feeding your inspiration and discover more individuals shaping the next decade at 30 Faces, and uncover Kiehl's commitment to the clean beauty movement and Future Made Better.
Image credit: Kishka Jensen
Editor's note: This article is sponsored by Kiehl's and proudly endorsed by Urban List. Thank you for supporting the sponsors who make Urban List possible. Click here for more information on our editorial policy.