Now, I don't think of myself as someone who walks through life with careless abandon for my impact on the world around me. I diligently wash the tins that my chickpeas come in and pull the plastic film out of my tissue boxes so the cardboard can be recycled (brag, I know). But like all of us, there are definitely things that I can adjust in my days to further reduce my impact on the planet—and there's no better place to start than first thing in the morning.
Taking inspiration from 7-Eleven's introduction of coffee cups made with plants and their newly Fairtrade coffee—their most sustainable ever—I spent a week embracing more sustainable practices in my morning routine. Read on to find out what I learned, loved and continue to explore.
Monday: A Little Less Procrastination, A Little More Coffee Drinking
I'm starting the week strong by going into the office because the commute gets my blood pumping and the gears in my brain spinning a little more smoothly before 9am. But commute or no commute, I always need coffee. I've been trying to budget better and one of the things I've been cutting back on is takeaway coffee. The alternative though is the coffee machine in the office used for emergency caffeine injections after our local baristas head home after 3pm. While the pods we use are recyclable, the alarm bells are ringing in my head that I have an opportunity for change here.
There's a 7-Eleven on the way from the train station to our office, so I duck in to grab a coffee. $2 for a regular cup is definitely kinder on my budget, plus the extra 50c off if I bring a reusable cup or scan the My 7-Eleven app is an even tastier treat. In my rush to get to the train on time, I left my reusable cup at home today, but knowing the takeaway cups and lids are made with plants and can be returned to the Simply Cups units in store to be turned into new products eases my guilt. I'm in and out in under three minutes and fully caffeinated by the time I make it to the office.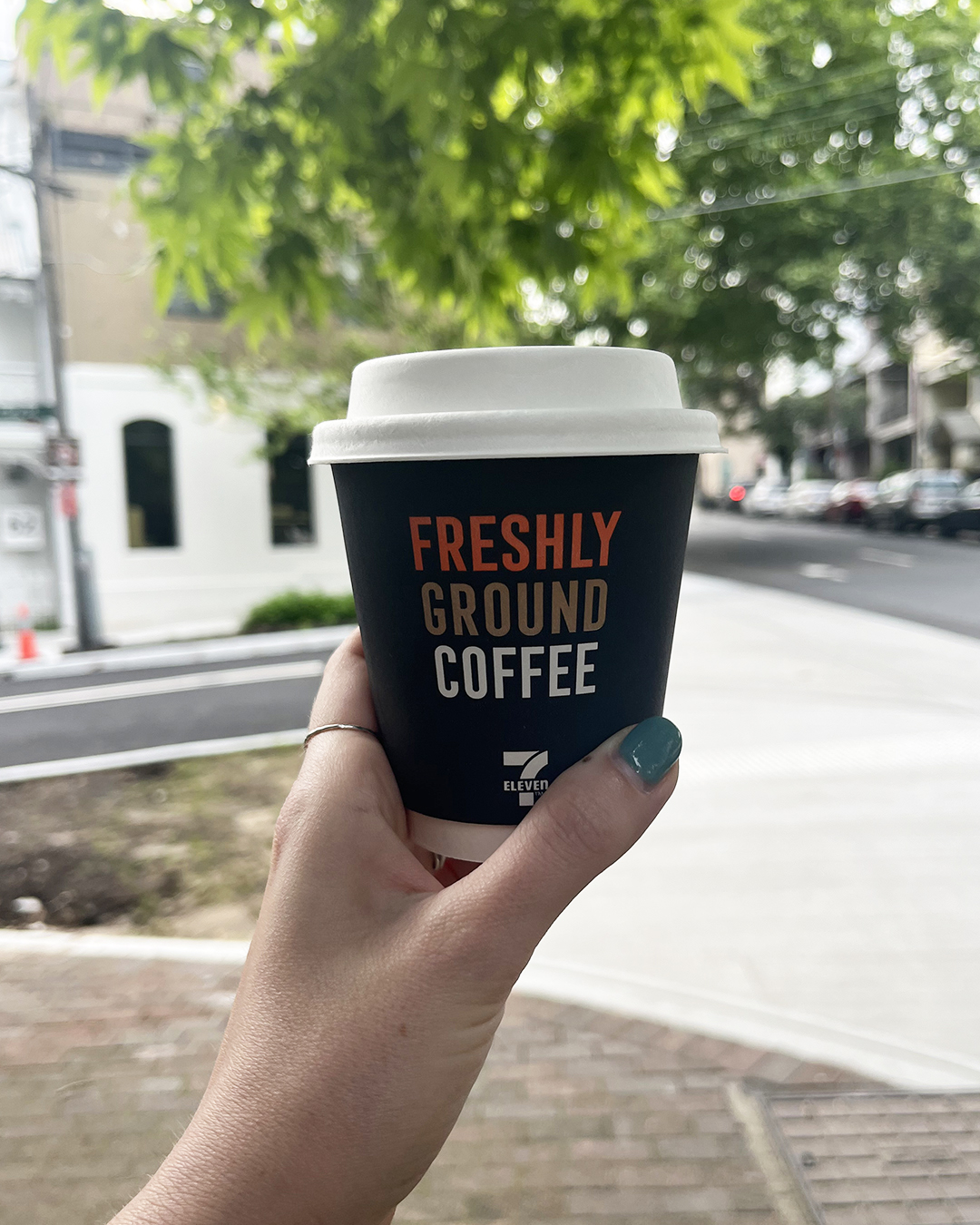 Tuesday: First Comes Coffee, Then Comes Breakfast
Okay, so I've figured out the coffee routine and remembered my reusable cup today, so that's a win. I'm heading into the office again and made a lush salad to go with my staple can of tuna for lunch, but I didn't bring any breakfast. Usually, I'll bring a couple of slices of bread in some cling wrap and buy an avo (or splurge on the wildly good tomato, basil and bocconcini croissant at the French bakery across the road from the office…) but today I have my sustainable brain on. I want to cut my reliance on cling wrap and have something easy to make in the office that I can buy in bulk.
I grab a packet of quick oats, some milk and a jar of honey. I love making salad dressing by shaking it up in a jar but recently culled a heap when we moved house, so I make a mental note to take this one home when it's empty. This haul will last me a couple of weeks and the price tag comes in under what coffee and a croissant would cost me for only one (albeit delicious) breakfast. Plus, I can return the soft plastic oats packet to a recycling station at the supermarket and recycle the milk bottle—minimum impact achieved.
Wednesday: Good For My Teeth, Good For The Planet
I'm going to be totally honest with you—I've tried switching to bamboo and plant material toothbrushes in the past and while they might be perfect for some people, they are not perfect for me. Until there's a design that has a little more heavy-duty bristle coverage, I'm going to use a standard toothbrush so that I don't end up having to buy a pack of gum before midday. But, in the spirit of sustainable thinking, I decided Wednesday would be research day. I'm going to find out if there's a better way to dispose of my old toothbrushes.
Turns out there is. If you jump online you can find a stack of options to send off your used toothbrushes to be recycled into raw formats that can be used to make new products. So, I grabbed a rogue jar from the kitchen that I can't find a lid for and popped it in the bathroom cupboard to start collecting our old toothbrushes, until we have enough to put in a box and send back to be recycled.
Thursday: Cleaning Up My Shower Routine
Walking down the toiletries aisle at the supermarket and gazing at the wall of plastic shampoo, conditioner and body wash bottles can really hammer home how much plastic we can churn through just to keep ourselves clean. I made the switch to a haircare product that simultaneously cleans and conditions, and comes in plastic reduced packaging a couple of years ago and never looked back. Now it's time to give my body wash the same treatment.
My memories of soap are either single-use hotel vibes (wasteful, IMO) or the soap of my early childhood that left my skin literally squeaky clean and dry. Having pivoted to body wash as soon as it became the preferred product in my household as a teen, I'd never given soap a second thought.
But it turns out that soap has come a long way since 2004. Last night on our visit to the supermarket, we popped an assortment of soap 'flavours' (as my boyfriend fondly calls them) into the shopping basket. We picked the bars that come in cardboard packaging, to be popped in the recycling bin once opened. So far I can give a big shout-out to the shea butter bar we cracked out first—it lathered like a dream and left my skin nice and soft. Also, it turns out that according to research by the UN Food and Agriculture Organization (FAO), 'shea forests are quite effective carbon sinks' and 'Relative to production volumes, every ton of shea kernels produced has a negative carbon footprint of 1.04 tonnes of CO2.' Feels like a win-win to me.
Friday: Pay Day Feels Even Better When The Money Hits My Sustainable Bank Account
I was going to tell you all the things I love about getting the train into the office; the motivation to get up early to get the emptier carriages and also more time to ease into work at the other end of the commute; the opportunity to listen to my favourite podcasts while familiar views slip by the window; not having to pay for petrol, car insurance, registration or parking (fines). But we all know these perks inside and out. What really got me excited during my commute this time was that it was my first payday with a better, more sustainable bank.
It had been on my radar for a while to deep dive into where my previous bank invested my money and when I finally did, I didn't love what I found. So, I did a little bit more research and found a bank that doesn't invest in any of the sectors that do more harm than good to our planet and people. Now, every morning when I tap on at the train station, pay for my coffee or treat myself to the occasional croissant for breakfast (only the strongest of us can stick to porridge every day), I get a little buzz knowing that while my coins were tucked away in my bank account, they were doing good things.
Want to learn more about 7-Eleven's most sustainable coffee ever? Head over here for all the details and to download the My 7-Eleven app.
Image credit: Urban List
Editor's note: This article is sponsored by 7-Eleven and proudly endorsed by Urban List. Thank you for supporting the sponsors who make Urban List possible. Click here for more information on our editorial policy.