Poor old Monday, it gets a bad rap. You never hear of people coming down with the Thursday blues, and no one wrote a song about not liking Wednesdays, and when was the last time anyone made a meme about having to get out of bed on a Friday? Well we've taken it upon ourselves to turn Monday into Funday. How, you may ask? With a trip to the bar, of course. And before you start complaining that nowhere is open on a Monday night, we present to you a list of Brisbane's very best bars: all open and all bursting to banish your Monday night woes.
Sling Lounge
If any day of the week calls for cocktail therapy, it's Monday; something the mixologists at Sling Lounge know all too well. Choose from intriguing concoctions like The Hiroshima Martini and The Cane Toad (no amphibians are harmed in the making of this cocktail, although the mix of dark rum and Amaretto may do some damage to your head) or stick with a trusty Tom Collins. Or you can just go with the crowd and join the masses at Sling for Margarita Mondays (you can read all about this holy day here).
Gertie's
Brunswick Street's Gertie's Bar and Lounge is all about mussels on Monday (that's the kind in the shell, not the kind on the beef cakes). Served in a white wine garlic and chilli broth, and with a glass of vino for only $20, this is a no-brainer Monday night option.
Cobbler
Our whisky-obsessed friends over in West End, Cobbler, have Monday nights down pat with their Whisky & Cocktails special, on every week. Doors open at 5pm and you can get your fix of excellent tunes and good company washed down with a Boilermaker, Old Fashioned or Whisky Sour. Because whisky on a Monday makes the world go 'round.
Lock 'n' Load
West End favourite, Lock 'n' Load can always be relied on for out-of-hours drinks and Monday night is no exception. Kick back in the courtyard with beer and bar nibbles or, if the weekend party vibe isn't quite extinguished, ask for a jungle juice. Who knew Jagermeister and ginger beer made such good companions? Or, better yet, order yourself a schooner, jug, or beer tower, fill out an entry form, and you'll be in the running to win a trip to Singapore! (You can read all about this sweet comp' here).
The Euro
We all know The Euro is great for its continental-inspired menu and impeccably presented dishes, but it's also worth a visit to the CBD bistro for its wine list. We can't think of many better ways to wind into the working week than with a glass of crisp white.
Cloudland
Not only is Cloudland open on a Monday night, it kicks working week blues' butt with expertly crafted cocktails, Italian-style dining and dancing until the small hours of the morning (although maybe not in that order). Hunker down in a booth with your workmates and some cocktail jugs for ultimate post-work stress relief.
Papa Jack's
Do they even have Monday mornings in New Orleans? Swap working week Brisbane for The Big Easy at new M&A Lane bar and restaurant, Papa Jack's. The drinks list is about so much more than lacklustre Hurricanes; try the frozen bourbon milk punch or Ramos Gin Fizz for an authentic sip of the world's Mardi Gras capital. N.B. All cocktails best when accompanied by a pulled pork Po' boy.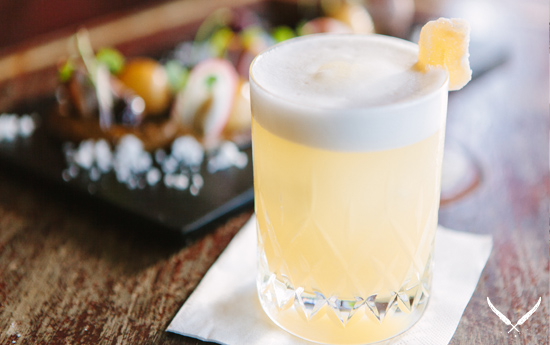 Lychee Lounge
Already our go-to cure for Monday-itis, we can't seem to get enough of Lychee Lounge's $5 menu and Walnut Fatwashed Manhattans (a prosciutto and spiced fig cocktail that needs to be sipped to be believed). Stars of recent share plates include pork sliders, chicken skewers and — wait for it — chocolate brownies. Monday night just got a whole lot yummier.
Image credits: Daniel Maddock