There's nothing quite like a change of season to make you pause and appreciate the good things in life. From the satisfying crunch of an Autumn leaf underfoot heralding sweater season to the first spark of a mushroom heater to accompany a courtyard tipple. And nothing compares to catching up with your mates, on a blue sky, winter's afternoon, sun streaming down and good company warming things up.
Your socials might be full of international holidaymakers, but we know that Australia's newfound love of aperitivo hour provides the means to transport your tastebuds anywhere in the world, all year round and without the hefty airfares.
Readily adopted in recent years, the international ritual of aperitivo centres on the joy of getting together and thrives in the magic of a winter's afternoon golden hour. Traditionally understood as an opportunity "to open" the stomach before treating yourself to a tasty shared meal, aperitivo hour provides the perfect excuse to get your friends together and deepen connections through sharing international flavours at local venues, and an Aperol Spritz in hand.
In celebration of aperitivo uniting us, we've teamed up with Aperol and some of your favourite local restaurants to unlock exclusive dishes at a wallet-friendly price point to launch your tastebud journey. Read on for all the delectable details of these custom-made snacks designed to buoy your imagination while you wind down with an Aperol Spritz, aperitivo's most iconic tipple—cin cin!
You can also head here to find out all of the details and book direct with restaurants, and to enter for the chance to win a vacay valued at over $3,000.
Sydney
Bootleg Italian | Paddington
Don't let the name fool you, everything at Bootleg Italian is totally above board, even though it feels criminal how exquisitely this playful venue balances classic fare with contemporary touches. Specialising in quintessential Italian pillars of silky, housemade pasta, and freshly baked bread, it's no surprise that Bootleg is well-versed in the joy of aperitivo—the only difference is everything at Bootleg Italian is completely vegan. Get down to Paddington to try the exclusive Cacio e Pepe-filled zucchini blossoms with Bootleg honey and shaved black truffle–perfect for nibbling in the sun-soaked courtyard that feels purpose-built for an afternoon Aperol Spritz.
Price: Share dish and two Aperol Spritz $40
Tokki | Surry Hills
If vibrancy and a refreshing palette spring to mind when you think of aperitivo, then Tokki has that vibe matched perfectly. Dappled in a neon glow and sparking with an eclectic vibe, this eatery, inspired by Japanese and Korean Izakayas brings the buzz of Tokyo to Sydney's doorstep.
Be transported to Izakaya-lined streets with Tokki's exclusive offering of charcoal barbecued octopus leg with gochujung bisque for a flavour adventure to remember.
Price: Share dish and two Aperol Spritz $35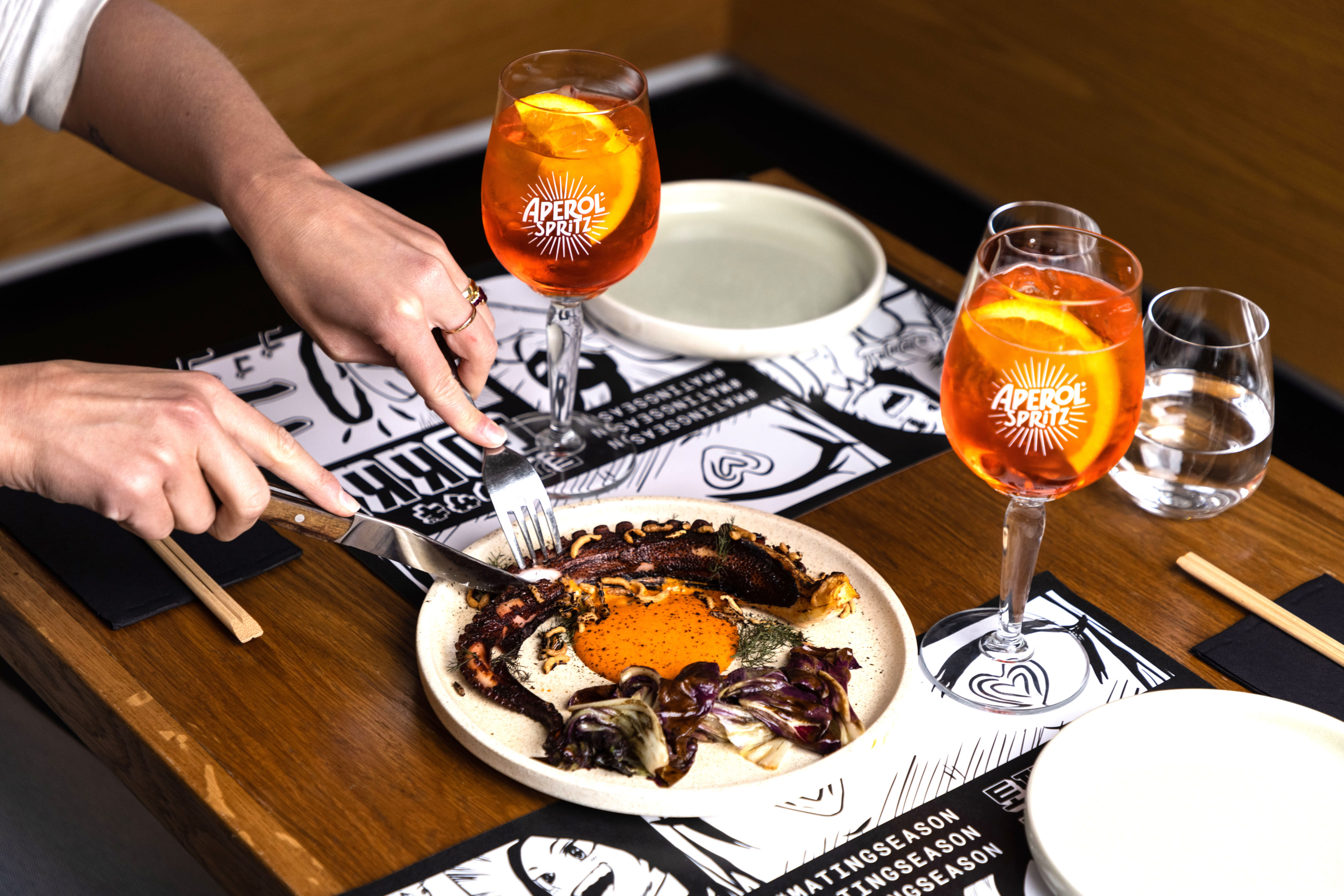 Shaffa | Surry Hills
Hidden between two calling cards to Sydney's heritage, a 120-year-old church and a 19th-century inn, Shaffa is a striking breath of fresh air that evokes the salty air and sleek lines of Tel Aviv's Cosmopolitan dining scene. Take a journey down the alleyway and find yourself in a light and spacious dining experience. Emulating the rich textures of Middle Eastern culture, Shaffa has created an exclusive dish that will take you through a journey of flavour. The flaky pastry of Bourekas bassar is filled with braised pulled beef alongside dates, jus, pickles, and vibrant zhug. This is a snack that will live rent-free in your memory forever.
Price: Share dish and two Aperol Spritz $35
Melbourne
Maha Bar | Collingwood
Nothing beats clear blue skies on a winter day, but sometimes no matter how much sun comes streaming from above, the chill factor never quite quits. This is where havens like Maha Bar come into play. Golden hues and calming curved architecture begin to warm the soul as soon as you set foot in this meze-slinging venue. Pair that refreshing Aperol fizz with a custom-created, heart-warming Porcini ravioli in wagyu tagine sauce with toasted almonds and parsley and be transported to a Middle Eastern summer afternoon.
Price: Share dish and two Aperol Spritz $40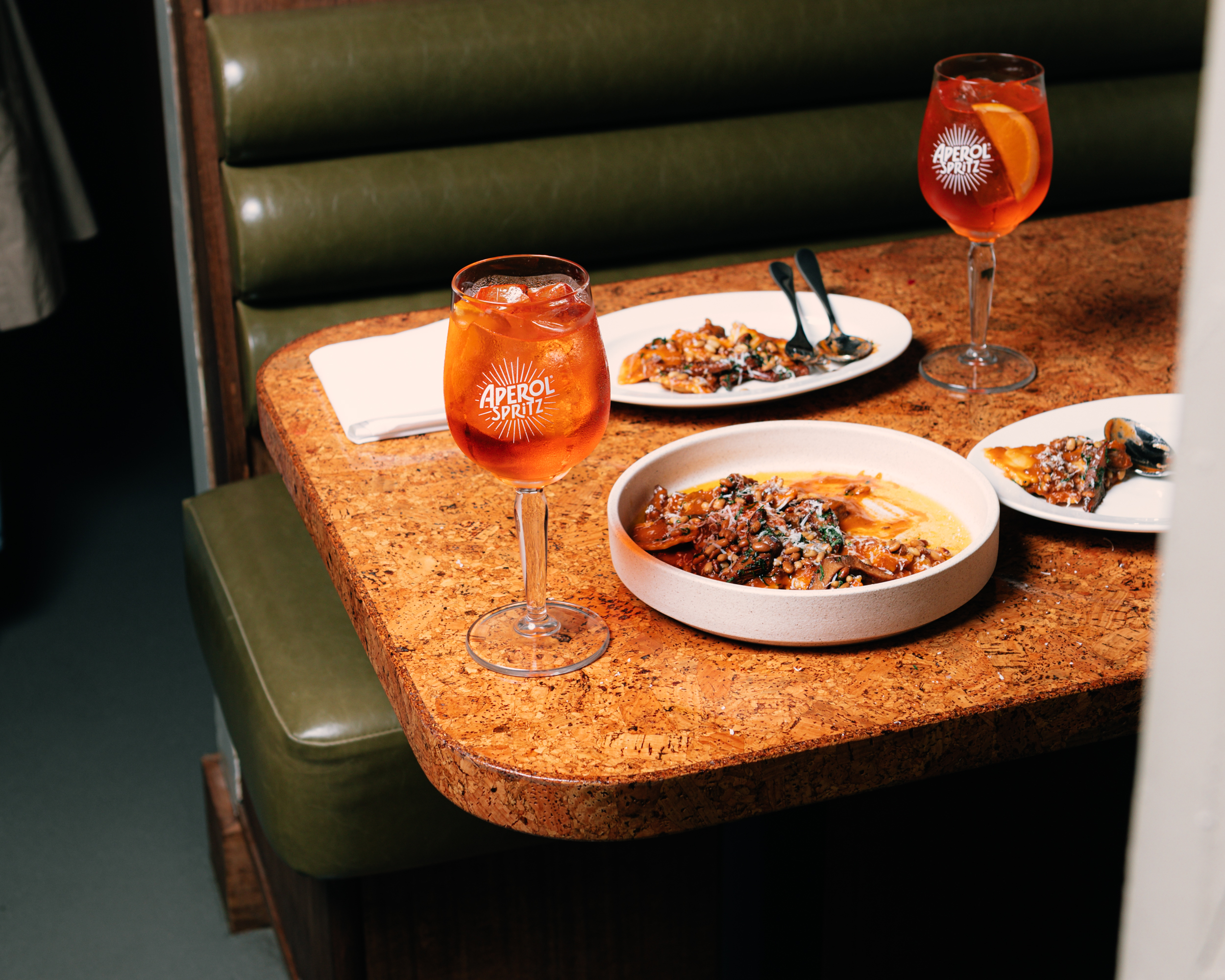 Tokyo Tina | Windsor
Much like the great tradition of aperitivo hour being respectfully adopted with a unique Aussie twist, Tokyo Tina respects the rich history of Japanese culinary tradition but is not bound by it. A street-side Tokyo vibe means you can bask in blue skies while your taste buds are transported by an exclusive snack of beef skewers with smoked gochujang and orange. To be transported in time as well as space, get your mates together on a Saturday for a round of bingo. Even if your lucky number doesn't show up, a meal with mates at Tokyo Tina will have you feeling pretty fortunate.
Price: Share dish and two Aperol Spritz $35
Leonardo's Pizza Palace | Carlton
Nostalgia abounds and attention to detail underpins this 70's inspired Italian diner. Brown checked tablecloths and red napkins bring charm and a knowing sense of humour to a venue that welcomes you in like family. The relaxed atmosphere means comfort and connection come easy for anyone sharing a meal of beautifully crafted and authentic Italian bites. Leonardo's specially curated dish will have you transported to the Italian seaside with smoked muscles. Roasted nduja brings a spicy spark to balance zesty radish and bitter leaves. If there's any dish to be accompanied by an afternoon Aperol, it's this one.
Price: Share dish and two Aperol Spritz $40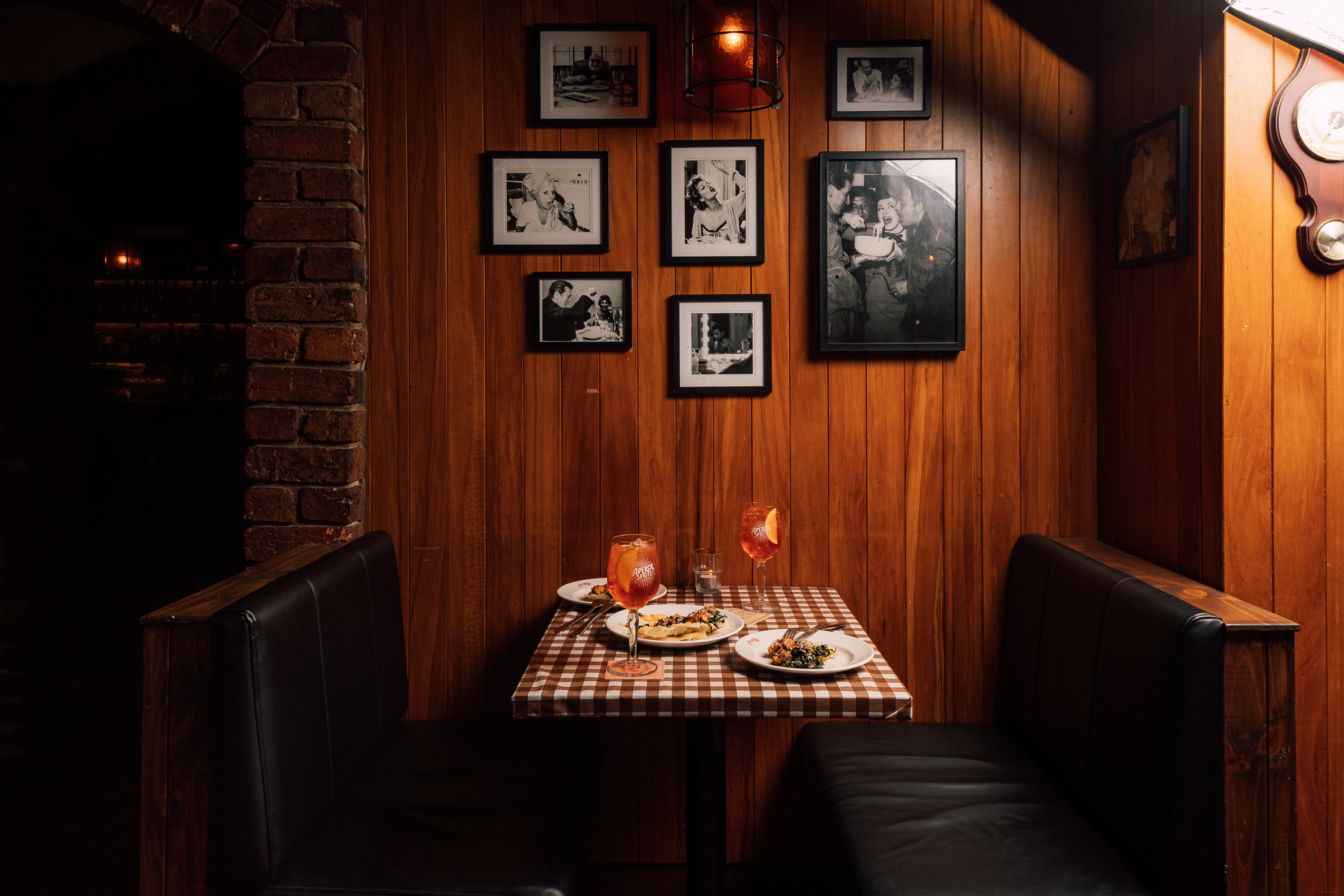 Brisbane
Greca | Howard Smith Wharves
When we think of connecting with mates to witness the sunset and share a couple of refreshing sips, the centre of that mental picture features a lush spread of snacks to share. This is where Greca puts its best foot forward. Coming through with the MVP of aperitivo seafood spreads, this special selection includes cured kingfish with capers and fig leaf oil, scallop Crudo with preserved lemon and dill, Sydney Rock Oysters served natural or with fig leaf vinegar and mussels with zesty ladolemono dressing & pepper as well as a classic taramasalata dip. With the afternoon sun glistening upon Greca's riverside setting, this snack is sure to stick in your memory as strongly as a trip to Greece itself.
Price: Share dish and two Aperol Spritz $40
Rita's | Teneriffe
The one cuisine that can bring those holiday vibes without the cost of airfares, is Mexican. Spicy, communal and fresh, Rita's irreverent, Mexican-style snacks are the perfect excuse to get together and daydream about being somewhere else for an evening. Much like a cheeky aperitivo gets the stomach going for the meal to follow, Rita's custom-made entree platter will welcome you seamlessly into a night of good food and good friends. Transport your tastebuds with chorizo and goats cheese empanadas, kingfish ceviche tostadas, roast eggplant dip and chips and grilled peppers with chipotle.
Price: Share dish and two Aperol Spritz $35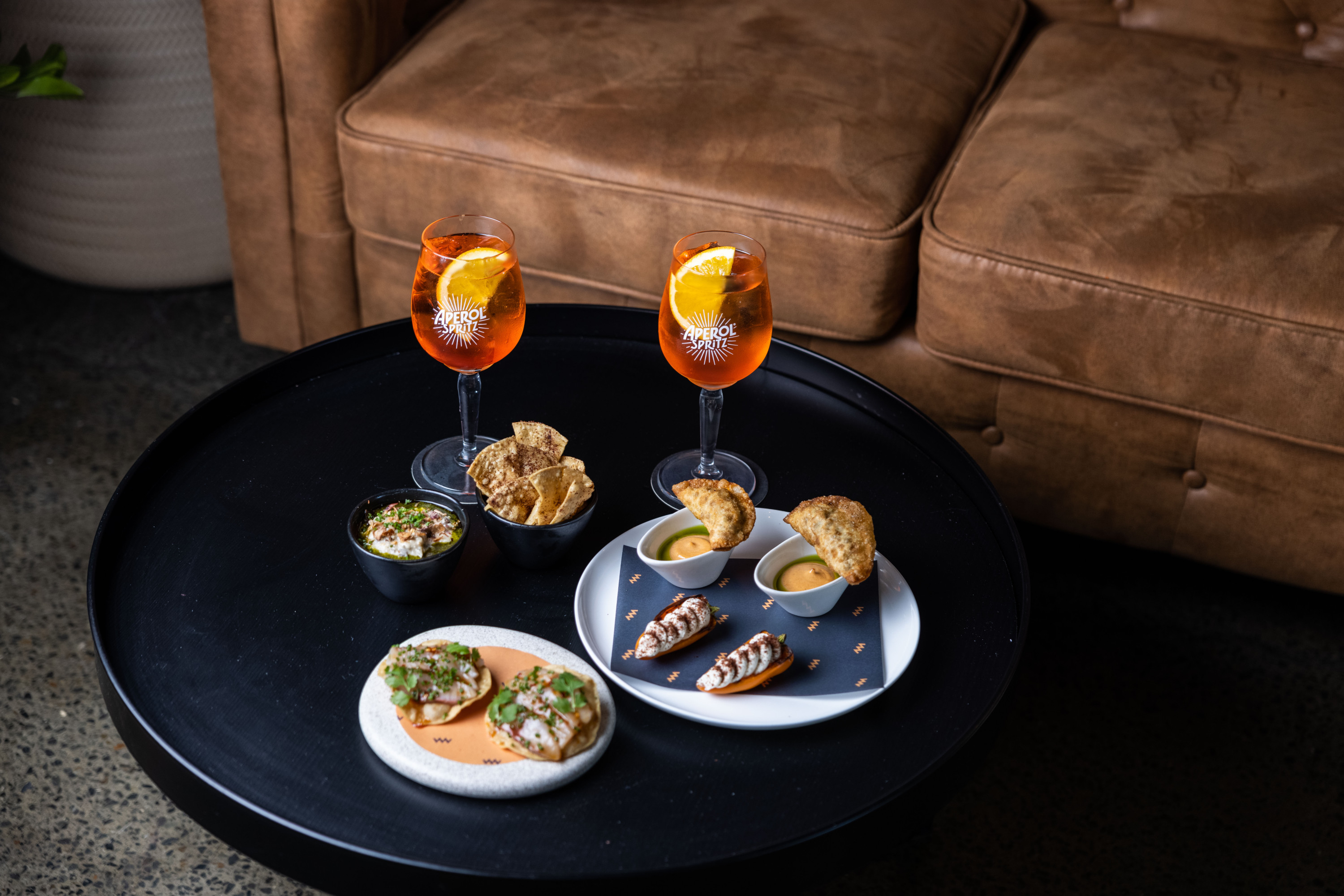 Gemelli | James Street
Two textures that go hand in hand are the soft fizz of an Aperol Spritz and the flaky crunch of fried dough. Knowing this all too well, Gemelli has created a snack inspired by another great power couple of Italian aperitivo–cheese and cured meats. Gnocco Fritto, a crispy fried dough, transports creamy Stracciatella and 24-month Prosciutto di Parma from platter to palate for a quintessential Italian taste that will make any Euro-holiday FOMO totally fade away.
Price: Share dish and two Aperol Spritz $40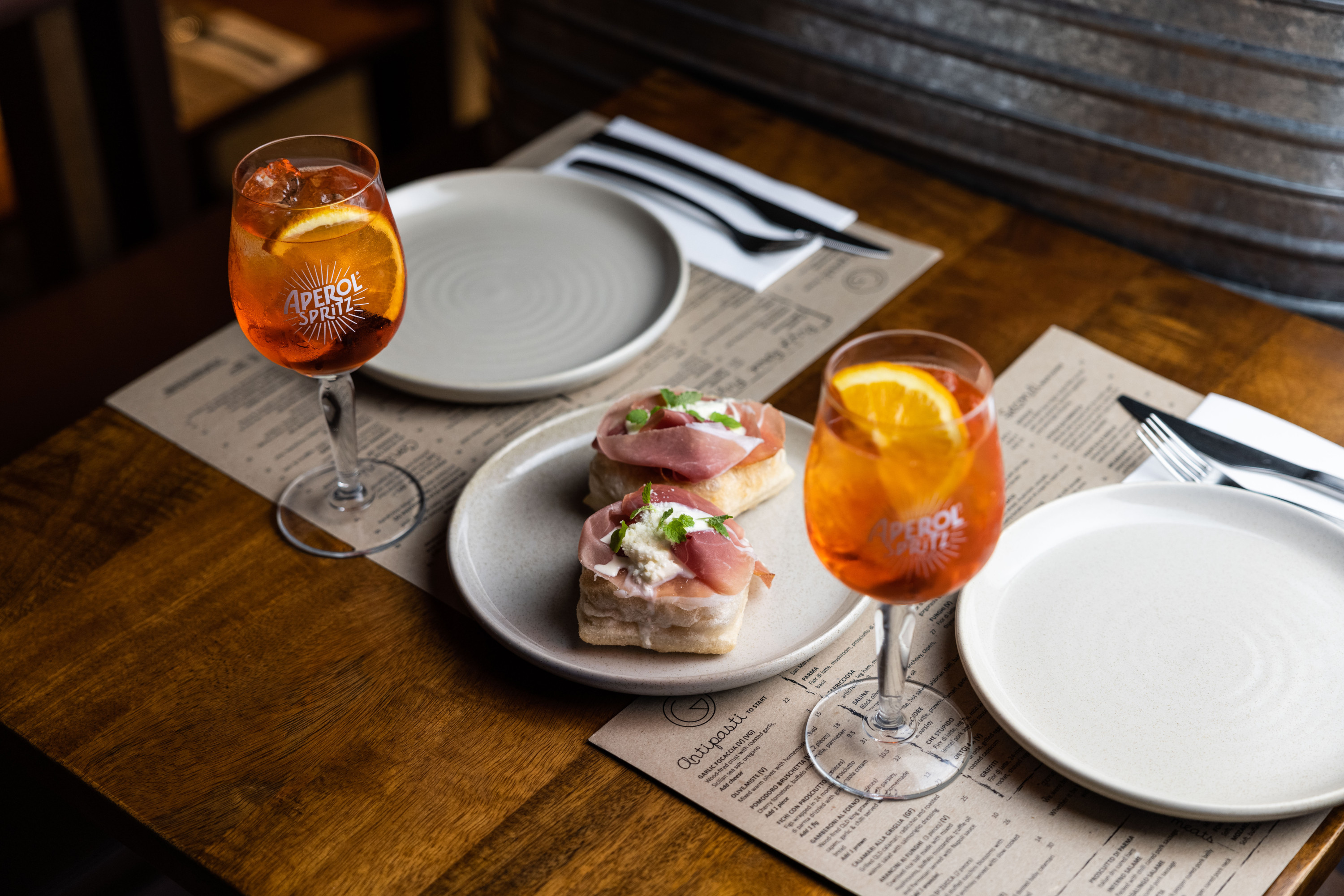 Take a culinary trip this winter that your tastebuds will thank you for with these nine exclusive dishes thanks to Aperol. But be quick, these creations will only be hitting tables until 4 September 2022. For more details, head over here.
Editor's note: This article is sponsored by Aperol and proudly endorsed by Urban List. Thank you for supporting the sponsors who make Urban List possible. Click here for more information on our editorial policy.