Counting down the days until you can sip a delicious summer Aperol with friends again? Well, we're about to hit you with a revolutionary fact. Aperol is not just a summer bevvy. In fact, it never has been.
This Italian staple has been bringing people together for over a century in all types of weather. It turns out that summer has never been a global requirement to enjoy this iconic drink. Instead, the activities that underpin Aperol experiences worldwide are food culture and rituals.
In honour of this epiphany, we've partnered with the legends at Aperol to celebrate the joy of Aperol-fuelled dining experiences. Not to mention, we've also teamed up with Greca, Gemelli and Rita's to bring you a series of bespoke aperitivo and Aperol foodie deals for $40 or less.
Head here to discover our exclusive foodie deals, and read on for more places to enjoy an Aperol any day of the year.
Rita's
Ever had non-Mexican Mexican food? Rita's does it best, introducing Brisbane to non-traditional deliciousness grounded in Mexican flavours and culture. Not only does Rita's offer an innovative take on Mexican classics, but it's also a tequila bar serving up an impressive cocktail menu that features the ever iconic Spritz.
For just $35, Rita's has paired two Aperol Spritz with limited edition chorizo and goat cheese empanadas to share. These tasty morsels are served alongside kingfish ceviche tostadas and grilled peppers with chipotle, roast eggplant dip and chips to complete the rounded flavour experience.
Once again, this deal is available up until September 4, so order fast.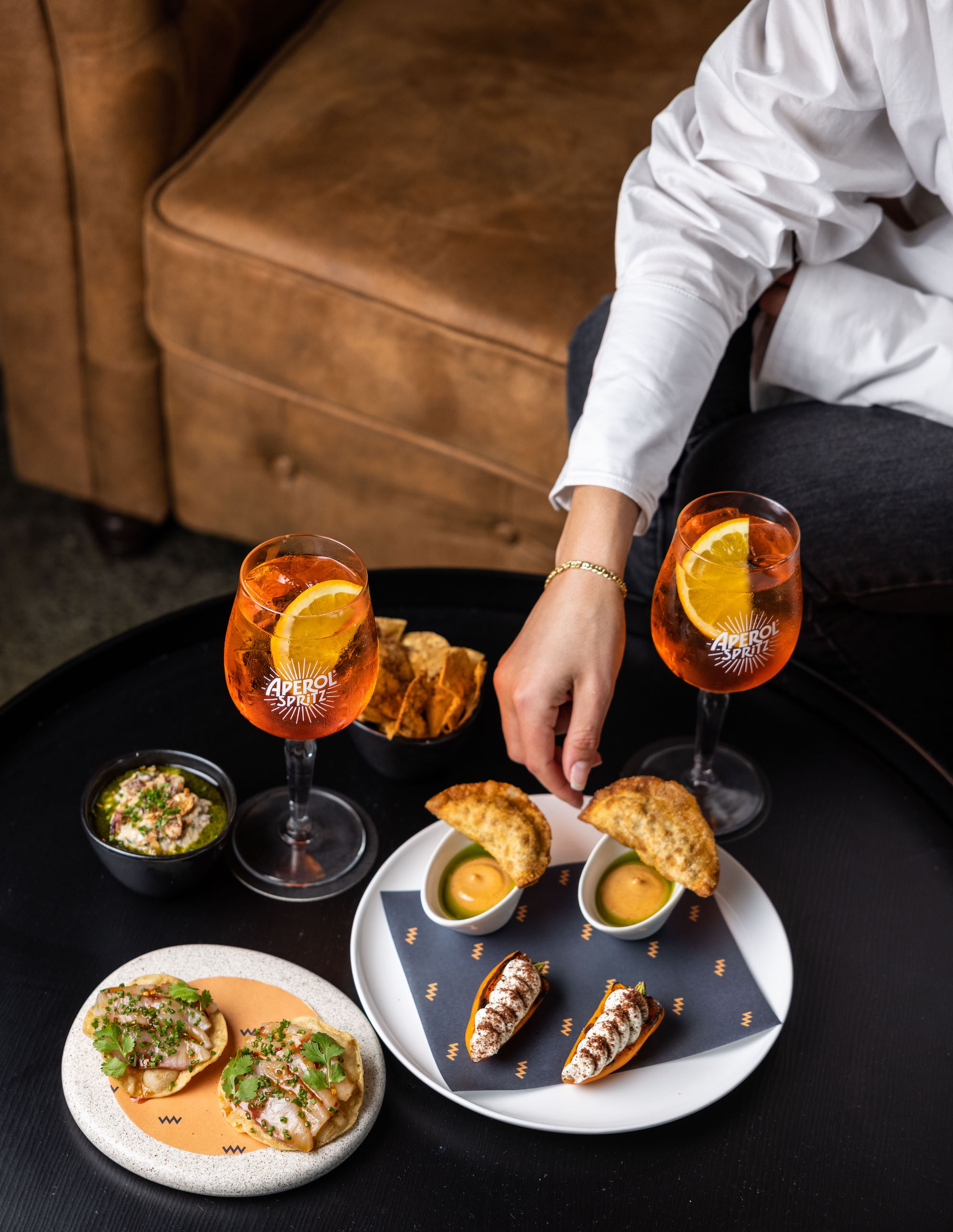 Lina Rooftop
If anything screams Aperol experience, it's a rooftop bar with its own pool. Lina Rooftop is more than your average rooftop bar, serving up a prestige restaurant alongside this elevated landscape and, of course, breathtaking views.
Settle into Lina Rooftop's sunken lounge with friends or stretch out by the pool in Brissy's pleasant winter sun with an Aperol in hand. The restaurant will deliver their Medditeraneian-esque plates directly to you, making this the most relaxed way to indulge in all your Euro favourites from up high.
Mina Italian
Mina's mission is to bring the European coastline to Brisbane, and we've got to say, they've done a bang-up job. Their brand new restaurant evokes all the beauty, brightness, and touch of drama that will instantly transport you to your favourite beachy Italian bistro.
The menu is just as authentic, serving up all your faves from lamb ragu to pizza capricciosa. We recommend an afternoon of their traditional antipasti to accompany your Aperol. What better way to spend an evening than by grazing on cheese and meat while sipping liquid sunshine?
Stratton Bar & Kitchen
Whether you need a venue for a family get-together or a first date, Stratton Bar & Kitchen has you covered. You'll find this relaxed eatery in a couple of old World War II hangers, refitted to become a modern restaurant and bar. The giant curved ceilings are lofty yet somehow make the space feel cosy. Stratton completes the vibe with a plant-filled atrium to bring some life to the industrial digs.
Order an Aperol, take a stroll through their plant sanctuary, and soak up the vibes before you settle in for a delicious meal. Everything is designed to share, giving you the opportunity to celebrate your friends and family over tasty bevvies and mouthwatering bites.
Greca
For the first of our bespoke, bargain Aperol experiences, head to Greca. One of the best Greek restaurants in Brisbane, Greca effortlessly gives off international holiday vibes thanks to its riverfront dining and contemporary Greek decor. Book in for a traditional Greek-style food menu where they take the basics and make them exceptional, each dish tasting extra delicious when served with their signature Karpouzi Aperol Spritz
Now for their limited time only aperitivo and Aperol offer. For just $40, you'll be treated with a selection of the day's best cold seafood including cured kingfish, scallop crudo, Sydney rock oysters and mussels, served with taramasalata. Wash it all down with a couple of Aperol Spritz to complete the dining experience.
This offer ends September 4—but don't worry, Greca will still be serving Aperol cocktails year-round.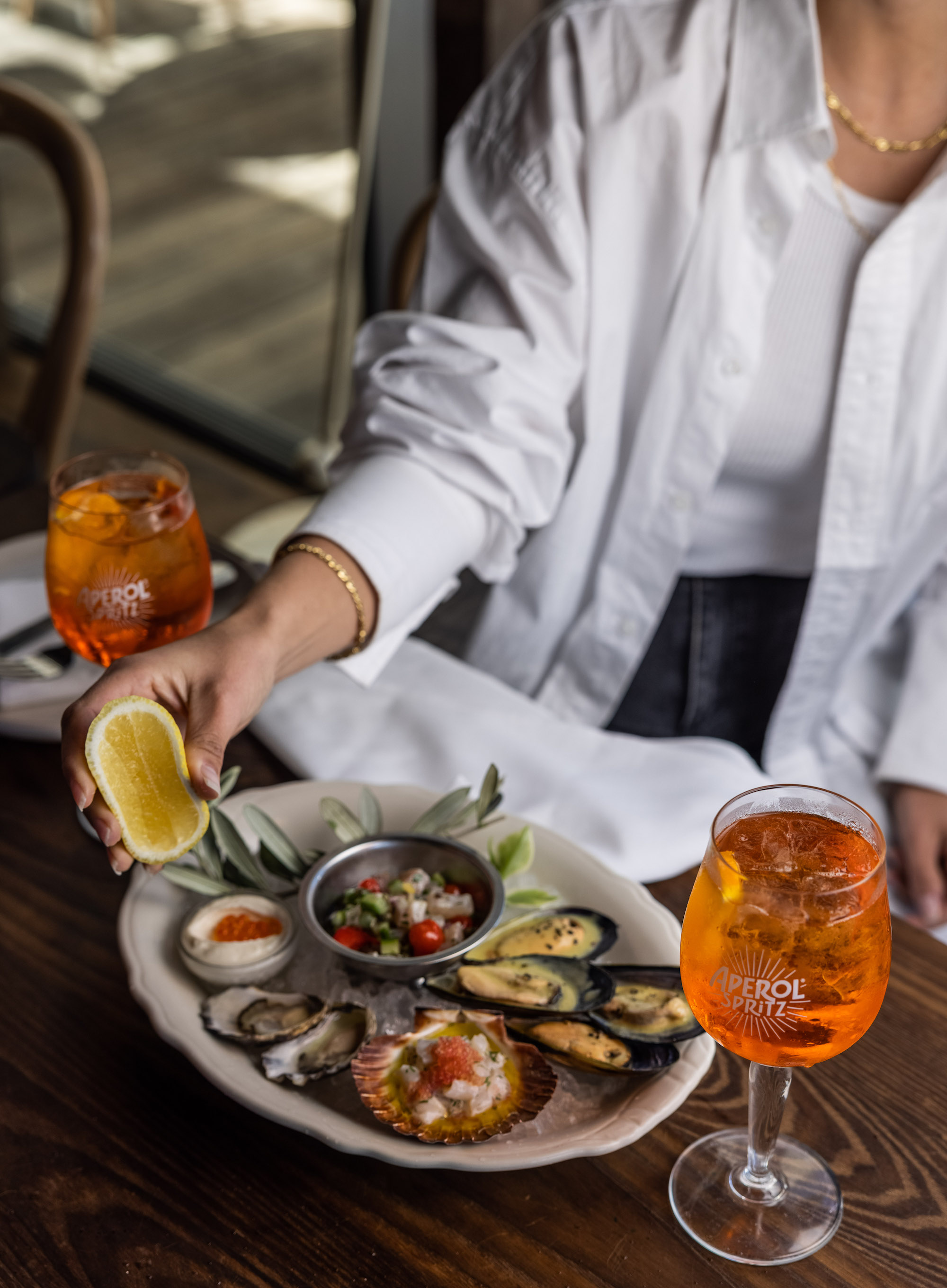 Hervé's
If you're searching for authentic and inspired artisanal French food experiences, look no further than Hervé's Restaurant and Bar. Delivering a moody atmosphere with ceilings clad in rich wood and black metal accents throughout, Hervé's is all about the sophisticated French vibes. They've captured the sleek Euro feel perfectly and created a menu to match.
The star of the menu is definitely the chilled seafood platter. Enjoy a selection of fresh oysters, bugs, prawns, scallops, crab, and tuna crudo all prepared to perfection. To elevate this feast to a truly exceptional dining experience, simply add Aperol and friends.
Gemelli
Where better to bask in the cultural experience of an Aperol Spritz than in one of Brisbane's most iconic generational Italian restaurants? Gemelli is a family affair born out of a deep passion for Italian food and culture, grounded in family activities such as annual sauce and salami making with Nonno. The owners have partnered with us to offer their own aperitivo and Aperol, creating a bespoke and entirely Italian dining experience.
Gemelli has paired two Aperol Spritz cocktails with their Gnocco Fritto share plate. What is Gnocco Fritto, you ask? Just delicious morsels of fried dough topped with Stracciatella and 24-month Prosciutto di Parma. Because what could possibly be more Italian than the combination of bread, cheese, and cured meats all washed down with a spritz?
This offer is available up until September 4 for just $40. Order now, and thank us later.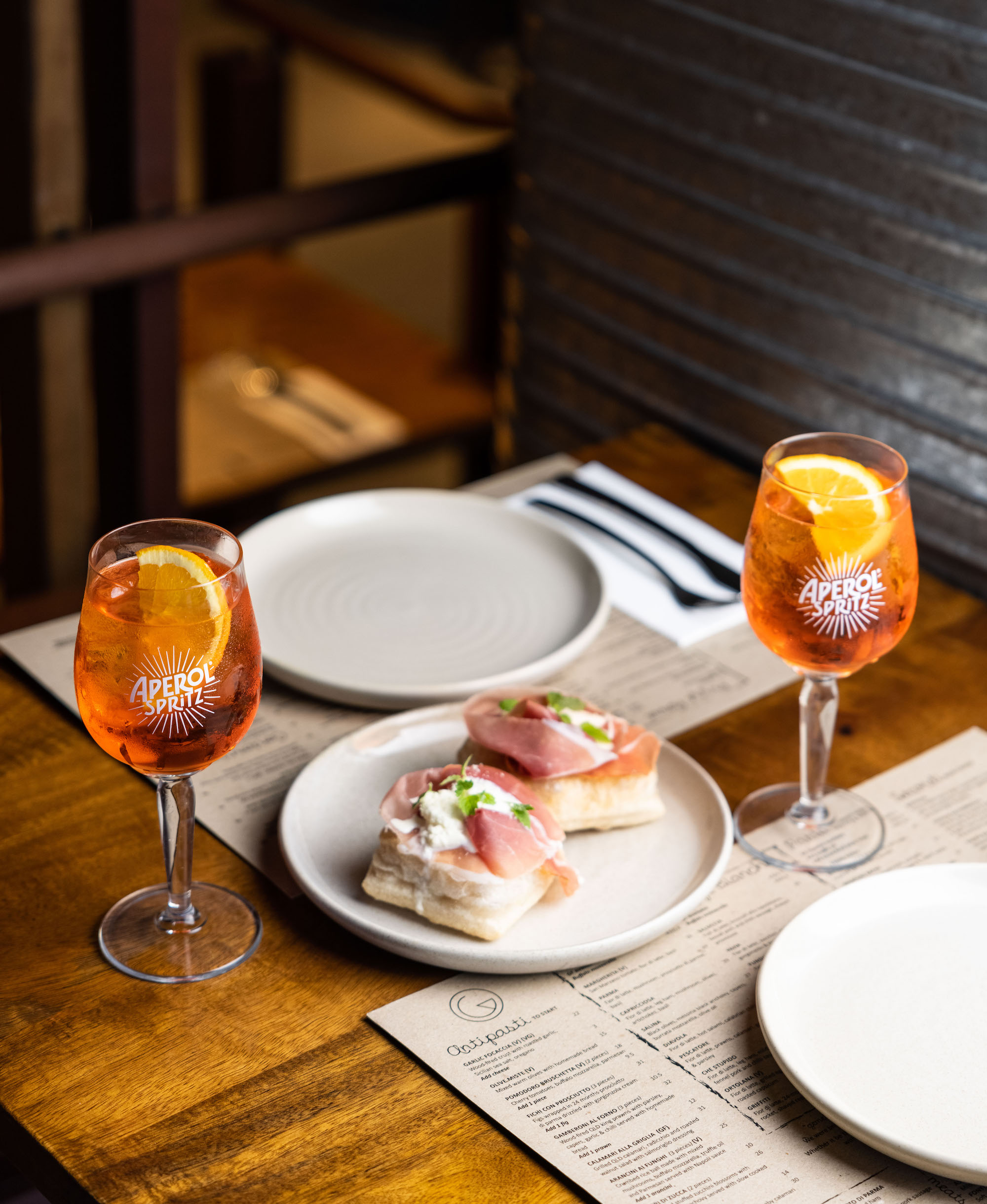 Antica Pizzeria
Another traditional Italian gem bringing authentic pizza to Brisbane is Antica Pizzeria. Antica translates to 'ancient', giving you some insight into the classic look, feel, and taste they serve up. Expect limewashed walls, house barrel-aged aperitifs, and genuine pizza throws visible from the dining area.
Cosy up with an Aperol next to the impressive, hand-tiled oven that gives their pizzas that distinctly delicious texture. We recommend their Antica Signature, a long pizza dividing classic flavours into two halves, one side boasting balsamic and basil and the other topped with a mouthwatering combination of goats cheese, fig, and honey.
The Lodge
To cap off our guide to the best Aperol dining experiences in Brisbane, we have a bar and restaurant serving up some of the most photo-worthy eats in town. Make your way to The Lodge Bar & Dining on James Street for the epitome of luxury and style served up in a selection of delectable dishes.
Take a seat on the balcony that overlooks the iconic fashion hub below as you enjoy a fresh Aperol with friends. Elevate the experience with our favourite menu item, their hand-cut fettuccine with blue crab and sea urchin butter. Top it all off with a passionfruit pavlova to complete the luxe dining experience.
Need more Aperol in your life? Take a culinary trip this winter that your tastebuds will thank you for with these nine exclusive dishes thanks to Aperol. But be quick, these creations will only be hitting tables until 4 September 2022. For more details, head here.
Editor's note: This article is sponsored by Aperol and proudly endorsed by Urban List. Thank you for supporting the sponsors who make Urban List possible. Click here for more information on our editorial policy.