Before the full lumberjack look was embraced by the mainstream, men's grooming was knocked into a deep sleep by the 90s' interpretation of a goatee. It awoke to the smell of pancakes and four bars of Wi-Fi in 2010 and there has never been a more exciting time to be a dude with a chin except maybe 1890.
We love a face mane. We really bloody do. But if we clock whiskers falling even slightly short of their fullest, most luscious potential, there's nothing that irks us more. Where's the love? The care? The COMMITMENT. Moustaches don't just *happen*, it takes a lot of energy, attention and beard oil for those bushy bastards to reach peak follicular glory. And don't get me started on untrimmed beards.
If you want to harness the power of everything your bristles can be, go have a shave and get pampered by a professional. You'll look better and feel invincible—these mere twelve of Brisbane's best barber shops can confirm.
Bare Bones Barbershop
Morningside
With better command of the clippers than a scimitar-wielding Dothraki war lord, Morningside's Bare Bones Barbershop are game enough to take on even the wildest and most neglected mops. They've also got some schmick merch and Uppercut products including pomade, soap, shampoo, and even pocket combs for keeping your pompadour nice and pompy. You won't get a hair cut like this anywhere else in Brisbane. Oh, and there's a pinball machine.
Mr Snippets
Clayfield
Ever wondered how your barista gets his stubble looking so trim? Mr Snippets might have the answer. Straddling the dual disciplines of hair clipping and coffee-making, this barber-cum-espresso bar will fix you up with the freshest dome and a decent helping of old fashioned service from the comfort of a bright red barber's chair.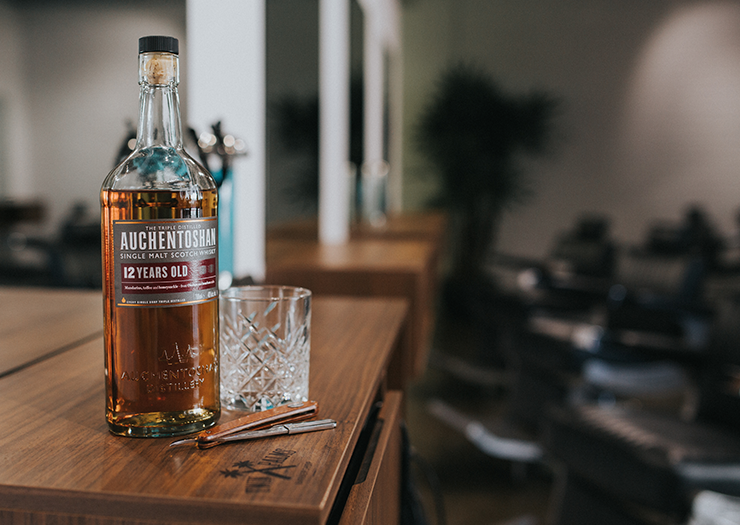 Twin Palms Barbershop
Fortitude Valley
With old fashioned service at their fore and hip kids at their helm, Twin Palms is where the tradition and modernity intersects. Their full services pamper like nothing else, with a refreshing wash, hot towel, and complimentary whisky or a local craft beer.
HQ Male Grooming
West End
If you're feeling a bit fuzzy and in need of sharpening, swing by HQ and let their scissorsmiths loose on your mane. Their full list of services covers everything from a corporate cut and finish to a cheeky mustache trim, and comes with a free side of maintenance advice. Owner, Jon Miller comes from a long line of hairdressers, and few barbers around town can match his experience and training when it comes to cutting men's hair.
RYAN. CO
Fortitude Valley
Your friendly and local neighbourhood barbershop, Ryan. Co is the clipping hutch where master barber, Ryan Reed, flaunts his twelve years of industry experience with everything from beard trims, house shaves, and even a 15-minute hangover treatment.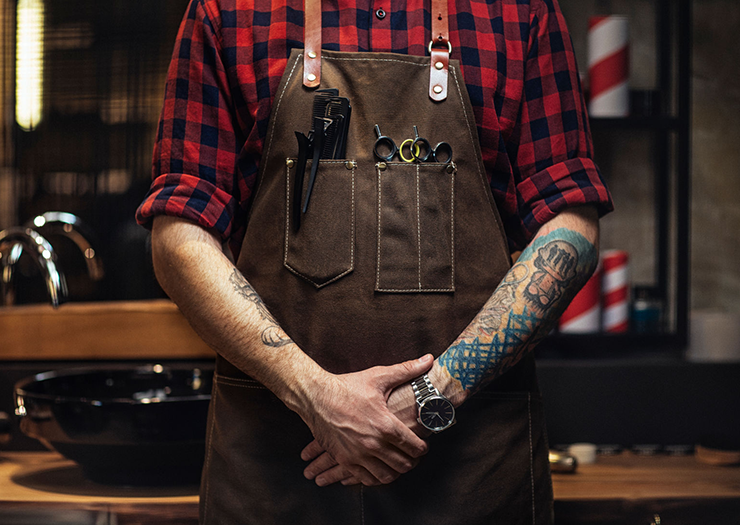 Men's Grooming Lounge
Fortitude Valley
We love a place that does what it says on the can. Men's Grooming Lounge is a one-stop for the modern gent's grooming needs, offering all-important but oft-neglected treatments like eyebrow waxing, manicures and pedicures as well as cuts and shaves.
Langanis Barber
West End
Another espresso barber, Langanis is an intersection of coffee, cuts, and culture. Kitted out with an espresso window on their street front, just make it past the threshold and their commitment to looking good is writ large in their barbershop, which often features the work of local artists and photographers. Extra points for rad hair styling and serving coffee past 3pm.
Tommy Two Blades
Teneriffe
One thing is as sure as the sunrise: where Tommy goes, fresh lids are sure to follow. This Teneriffe barber is slick as slick gets, just check out their Instagram for some snaps of their handiwork.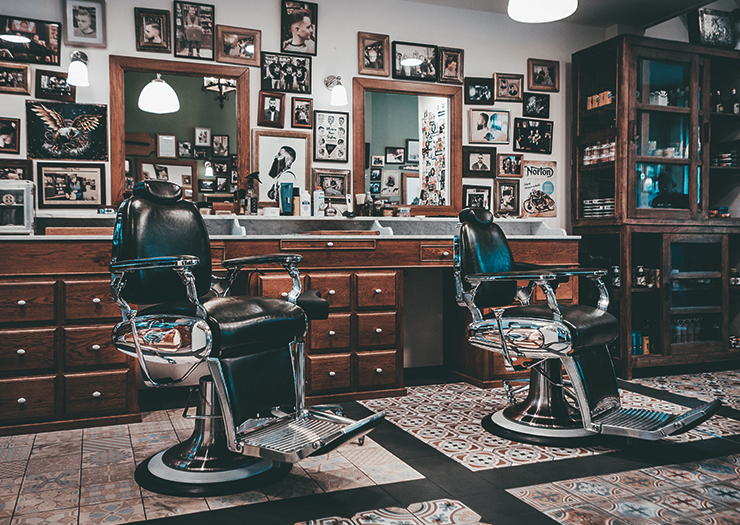 The Public Barber
Fortitude Valley
Bushy beards might be the purview of lumberjacks, but expect no hack job from The Public Barber. All white tiles and wood paneling, these guys know what it takes to look good, offering a full range of services including cut, shave, colour and trim.
Jimmy Rod's Barber Shop
Various locations
Successfully walking the line between a traditional and modern-style barber shop is the secret to Jimmy Rod's appeal. With all the, ahem, trimmings of a stylish, contemporary salon but the kind of old-school, no-fuss service that men love, it is not wonder they have expanded to multiple locations since opening their original shop in Oxley in 2003.
Pure Man
CBD
This is as close as a chap can come to shamelessly pampering himself and not feel weird about doing it. More than just a barber, Pure Man is a right proper man-salon, offering up cuts, shaves, face treatments, body treatments, and plenty of fancy products to spruik.
Esq. Male Grooming
Milton
Esquire owner and chief barber, Mark Rabone is a British native whose idea to bring London-style barbering to Brisbane has resulted in a locale where you can get a quality cut, have a natter with the lads, watch some sport on the TV and generally just relax and enjoy yourself. You won't need to stress about the final cost either, as prices are reasonable.
Image credit: Hayley Williamson for The Urban List; Stocksy