As an Australian man, I am forced to live with the eternal struggle between pretending not to care about my appearance, and caring about my appearance.
I haven't owned a brush or a comb since someone made fun of me for my neatly brushed hair. In Grade 3. That has meant styling my hair with my hand every morning for 24 years so that it looks good, but not like I've made too much effort. It takes quite an effort to pull it off. I suspect I usually fail on both counts.
In recent years it has become far more acceptable for blokes to sport hair styles that have obviously taken quite a bit of work, and that's a good thing. Thank Don Draper and George Clooney and Ryan Gosling for bringing back snappy male grooming, and guys like David Beckham for trying so hard that it makes the rest of us look like we're putting in way less effort by comparison.
Barbers, as opposed to regular hairdressers, specialise in cutting and styling men's hair, as well as attending to other grooming needs such as beard trimming. And even though we go there, essentially, to prettify ourselves, they're also a great place to make us feel unabashedly masculine.
If you're still going to some soulless, production-line, shopping-centre, unisex hairdresser to get your cut, you're missing out in a big way on the whole barber shop experience.
In this muddled up modern world where Turkish baths are no longer fashionable, opium dens are illegal, and women are allowed to attend the Olympics, barber shops are among the handful of places left where we can go and just be men.
Here are five of the best in Brisbane. Let us know where you go!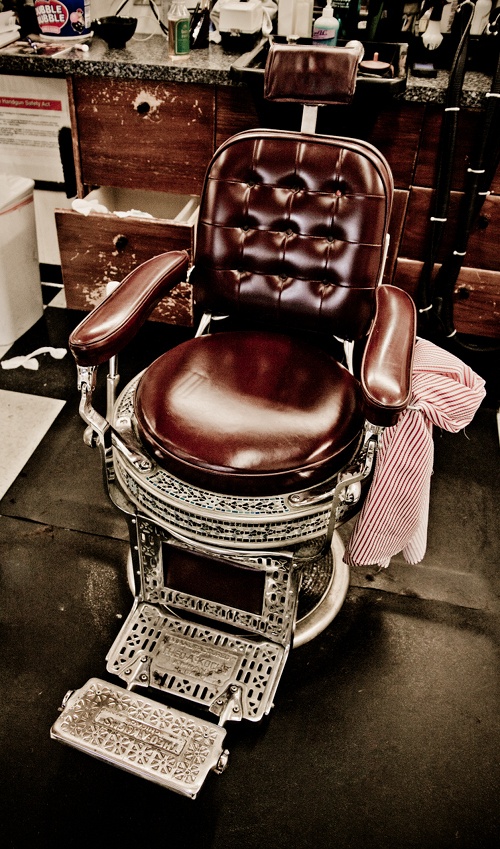 Successfully walking the line between a traditional and modern-style barber shop is the secret to Jimmy Rod's appeal. With all the, ahem, trimmings of a stylish, contemporary salon but the kind of old-school, no-fuss service that men love, it is not wonder they have expanded to five locations since opening their original shop in Oxley in 2003.
Where: Four locations
300 Queen Street in Brisbane CBD
61 Petrie Terrace at The Barracks
1000 Waterworks Road at The Gap
104 Cook Street in Oxley
Pure Man
This is as close as a chap can come to shamelessly pampering himself and not feel weird about doing it. More than just a barber, Pure Man is a right proper man-salon, offering up cuts, shaves, face treatments, body treatments, and plenty of fancy products to spruik.
Where: 121 Albert St, CBD
Perfect for all the rockabilly/skater/punk/hipsters out there looking for an edgy hair cut that won't cost half your pay cheque (or online banking wage transfer). The barbers are slick, the music is sharp and the shop itself is dripping with personality. You won't get a hair cut like this anywhere else in Brisbane. Oh, and there's a pinball machine.
Where: 602 Wynumm Rd, Morningside
A glance through the big glass doors of HQ Male Grooming does a pretty good job of revealing what they're all about; clean, professional, personalised service for men who want a bit of good, old-fashioned attention given to their hair. Owner, Jon Miller comes from a long line of hairdressers, and few barbers around town can match his experience and training when it comes to cutting men's hair.
Where: 87 Boundary Street in West End
Esquire owner and chief barber, Mark Rabone is a British native whose idea to bring London-style barbering to Brisbane has resulted in a locale where you can get a quality cut, have a natter with the lads, watch some sport on the TV and generally just relax and enjoy yourself. You won't need to stress about the final cost either, as prices are reasonable. If only there were more hairdressers around town who understood what men want as well as these guys!
Where: 3/41 Park Road in Milton
Their tagline says it all: 'In pursuit of manliness.' These super-stylish guys and girls are artists who clearly love their work. They have an unhealthy obsession with beards and moustaches as well, so if that's your bag, they are the people to see. And the excellent coffee and nice selection of beers they have are a good excuse to drop in even if you don't need a hair cut.
Where: 1000 Ann Street in Fortitude Valley

TUL Note: After a six-year stint as a freelance journalist in Buenos Aires, Daniel is back in Brisbane to find that his knowledge of Argentinian football is of little practical value here. Luckily, his other areas of expertise, such as eating food, drinking wine, and writing about it, are applicable across most cultures.