Time to pull off those oversized hoodies and ditch the trackie dacks—spring is in the air. And with it comes the promise of purple rain, thanks to Brisbane's vibrant jacaranda scene. Starting in early October—or even earlier, if we're lucky—the jacaranda season is short and sweet, so you'll need to get in quick to see these beauties at their best.
Rest assured, we've done the hard work for you: here are our top picks for jacaranda walks in Brisbane worthy of your Insta feed.
The University of Queensland
St Lucia
For UQ students, the pops of purple that shower St Lucia every spring can mean only one thing: SWOTVAC is right around the corner. But don't let the daunting threat of 8am exams prevent you from exploring the campus at the prettiest time of year. A walk under the purple canopies is just what you need to clear your head, and let those lectures sink in. Of course, coffee doesn't hurt, either. Even if you aren't a student, don't let that keep you off campus: the uni has its very own CityCat terminal, not to mention a busway stationed right outside UQ Lakes. We promise, it's purple galore—just keep an eye out for stressed-out uni students getting in some last-minute cramming beneath the trees.
Brisbane Botanic Gardens
Mt Coot-tha
A stroll through the Brisbane Botanic Gardens is always a good time, but spring truly makes the gardens come to life. The self-guided walks are a great way to explore the exotic shrubbery, and see Australia's natives in full bloom. Admire the jacarandas lining the main ring road, or wander through the gardens to find the perfect place for a purple picnic. Can't make it over to the west side? Don't stress—the City Botanic Gardens also burst with jacaranda blue every year.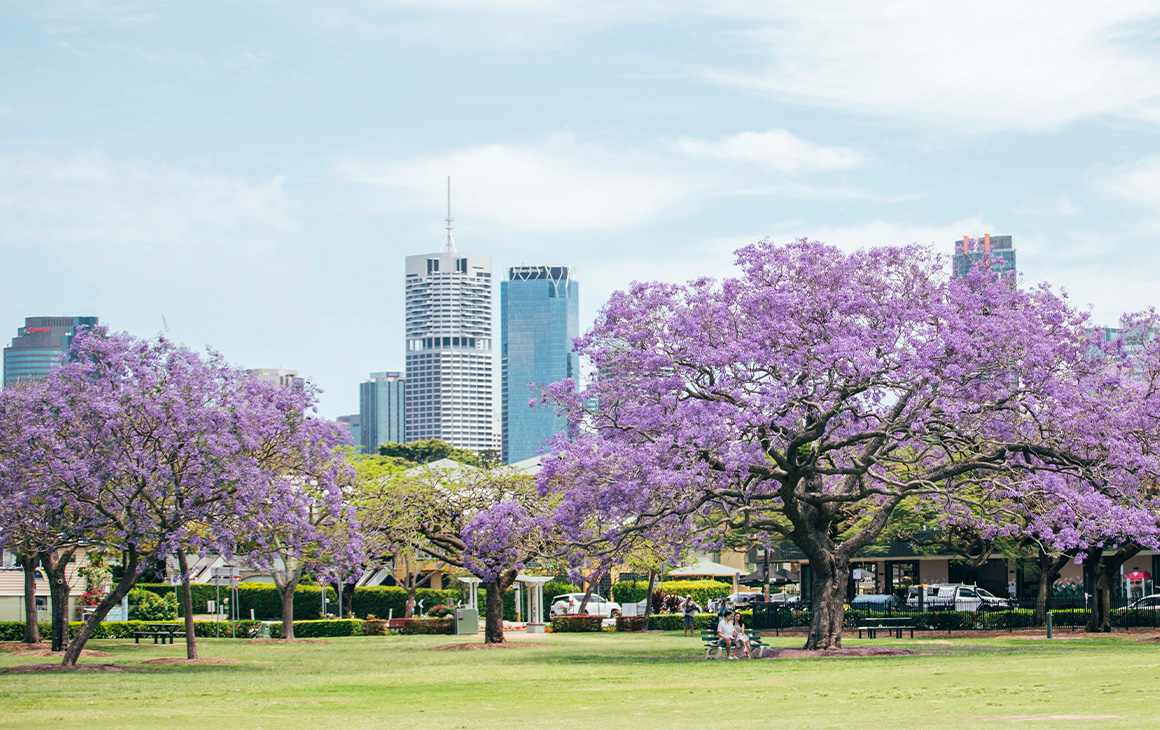 New Farm Park
New Farm
The New Farm Park rose garden isn't the only springtime sensation to grace the park's grassy fields. This iconic riverfront retreat is also home to one of the city's oldest and largest displays of jacaranda trees. Over 146 trees spring to life in October every year, drawing anthophiles (read: floral enthusiasts) far and wide. Pro tip: be sure to visit on a weekday if you're looking to avoid the crowds.
Princess Street
Fairfield
When you're chasing purple rain, a trip to the local cemetery probably seems like a strange suggestion. We hear you—and yeah, it's a little out of left field. But trust us, the hallowed ground of Dutton Park Cemetery is the perfect place to appreciate the new life that blossoms every year in the warm winds of spring. Just be sure to pay your respects to the dearly departed, or risk a visit from some particularly disgruntled ghosts.
Captain Burke Park
Kangaroo Point
Bring a burst of colour to your Sunday morning stroll courtesy of Kangaroo Point's Captain Burke Park. Take in the dockside's stunning river views as you walk beneath the jacarandas' signature purple petals on your way to the Story Bridge. Swing by Moonshine Coffee Roasters for a morning pick-me-up (of the caffeine-kind, we swear), not to mention doughnuts so good you'll be drooling for days. Mmm, doughnuts...
Wilson Outlook Reserve
New Farm
Watch the world go by under the shade of a coolibah jacaranda tree at this stunning spot overlooking the Story Bridge. Wilson Outlook Reserve is packed with purple beauties and city views to boot. Better still, it's a great alternative to the crowds of New Farm Park, without having to stray too far from the area. Make sure your phone's charged for some stellar shots.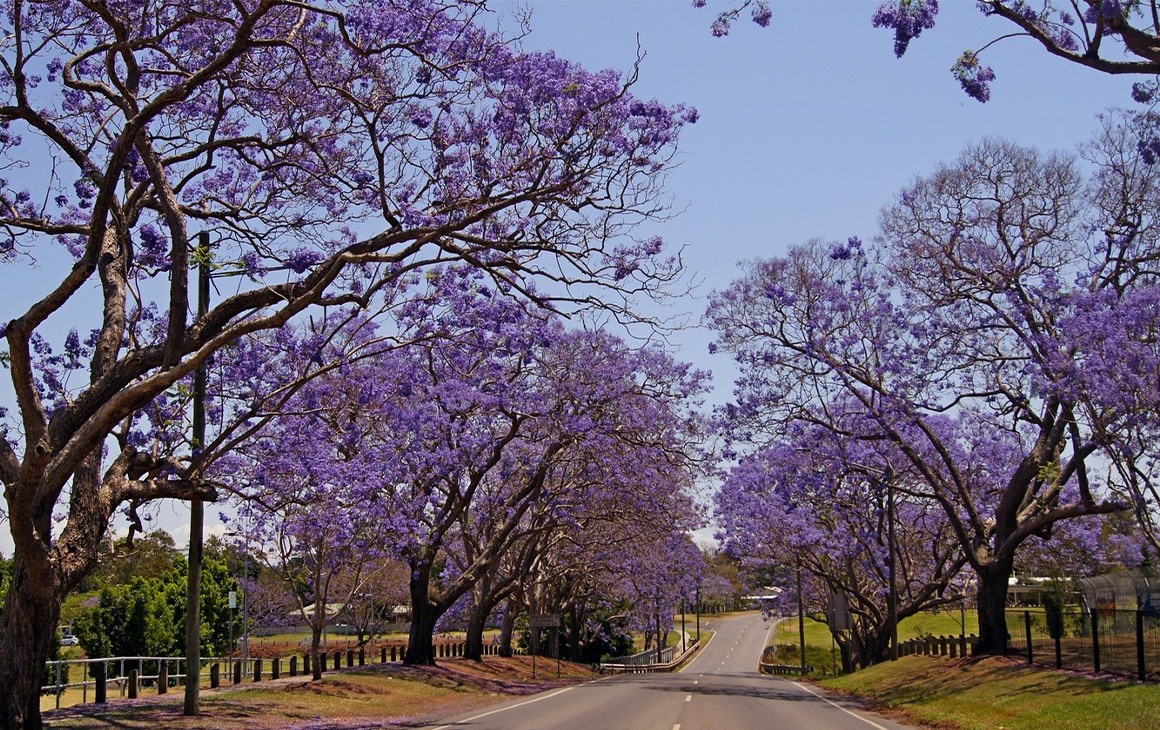 Evan Margison Park
Goodna
For a park so full of flowers they blanket the ground like a colourful carpet, you'll want to head down to Brisbane's west side. At Evan Margison Park, jacaranda trees line luscious green fields, creating an incredible contrast that's easy on the eyes (and your camera lens). The park is usually the site for the Goodna Jacaranda Festival, but the uncertainty of 'rona has led to it being postponed for another year, so you'll have to wait until 2023 to see the festival in full swing. In the meantime, enjoy the park without the crowds, and be sure to save the date for next year.
Jacaranda Park
Yeronga
Yeronga's aptly-named Jacaranda Park certainly delivers on its promise of purple plumes. The jolt of jacarandas lining the park is sure to brighten your day, so pack a picnic and bring the footy for an arvo of fun. While you're in the area, swing by Urban Saigon to dine on drool-worthy pho recipes straight from the streets of Vietnam.
Craving even more colour in your life? Check out these flower walks around town.
Image credit:
Sara Photography
, Tourism And Events Queensland,
Tatters