Cairns is the kind of place where you really need to settle in for a week or so. Whilst the city itself might not be full of thrills, the surrounding region is overflowing with things to see and do, from green hills and waterfalls of the Atherton Tablelands to the stunning gorges in the Daintree, and of course, the undersea worlds of the Great Barrier Reef.
If you're planning a lengthy trip, you'll want somewhere that feels like a home—enter the many Airbnbs Cairns has available. We've rounded up nine of the best pack your suitcase for, all you have to do is book a flight.
94 Northhouse
Sleeps 6
A glorious beachside property in Palm Cove, 94 Northhouse is a luxe abode for those looking for a beach holiday rather than a rainforest escape. A brisk walk will get you to all the cafes, restaurants and shops you could ask for, while back at home sliding doors open up to a pristine pool and entertaining area, so have your bottles of vino and snacks at the ready. Bonus, this is a three bedder, so family or friend crew getaways are catered for. Book your stay here.
Lily Pad Inn
Sleeps 2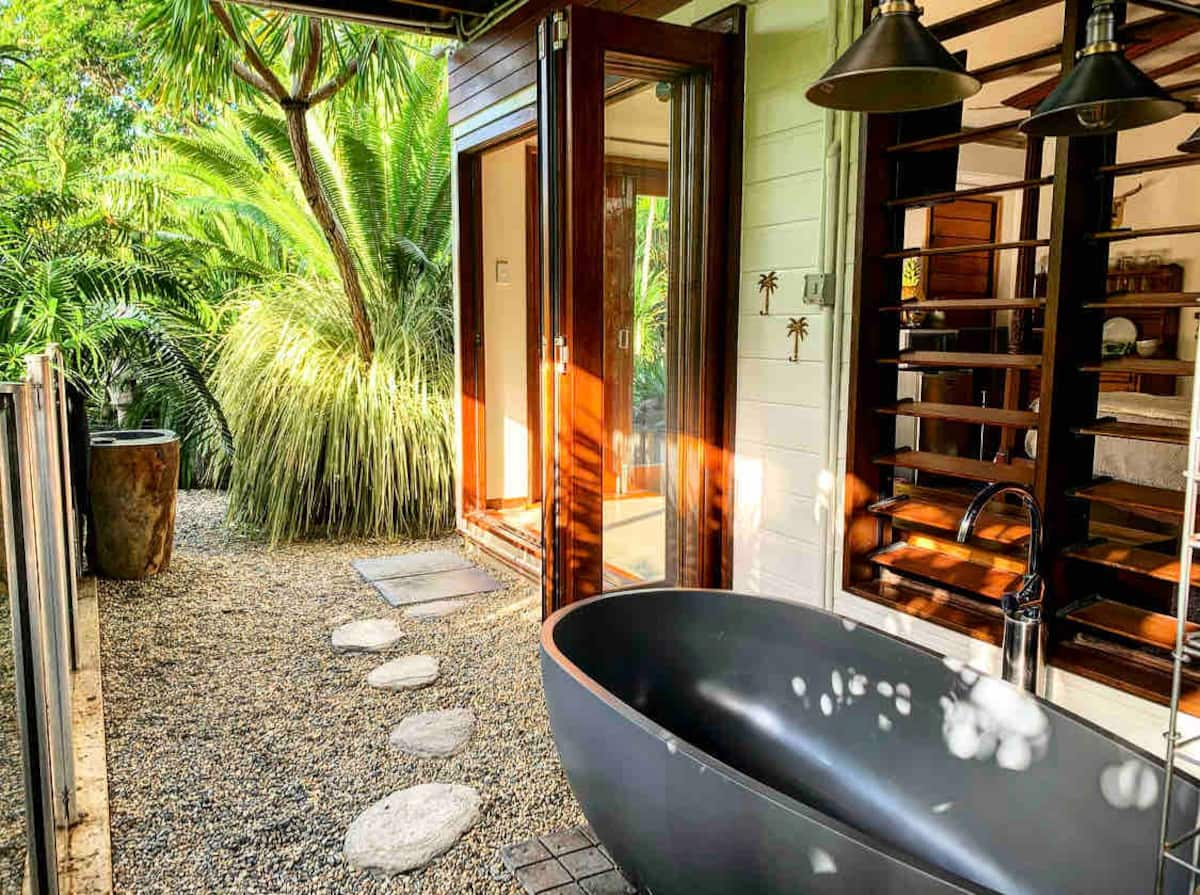 Now this is tropical living. Enter the Lily Pad Inn for a exotic stay surrounded by ponds, botanical gardens and even wildlife. So secluded you'll forget you are just two streets from the Cairns Esplanade, this serene property is fitted with an outdoor kitchen, private courtyard and a double rain shower in the bathroom. Our suggestion would be to soak up that balmy Cairns air while you relax in the outdoor seating area with a glass of sparkling and a cheese platter. Book you stay here.
Blossom 2
Sleeps 2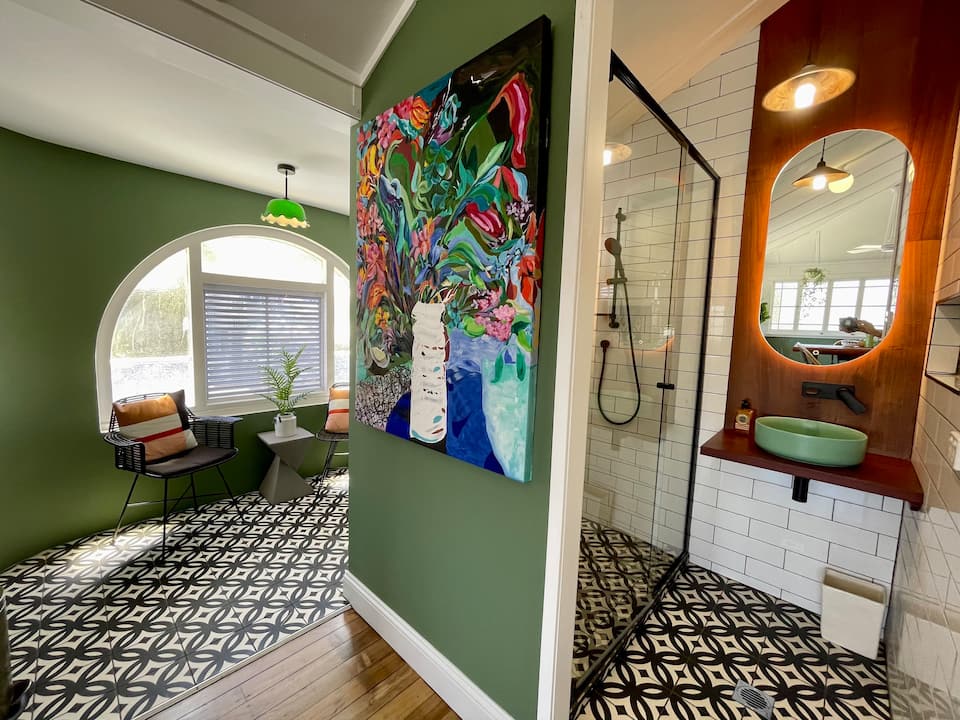 We can't even describe how cool this studio looks—you'll just have to check Blossom 2 out for yourself. A funky apartment we would definitely recommend for besties on vacay, this Airbnb is an art deco lover's dream, with green walls, patterned tiles and awesome art pieces all through the house. The 1920s Queenslander studio has just undergone an eight-month restoration, and features a super large bedroom, bathroom and kitchenette filled with the essentials. Of course, the apartment is a stone's throw from the Esplanade and beach so there is plenty to do nearby. Book it here.
Lazenby Lodge
Sleeps 6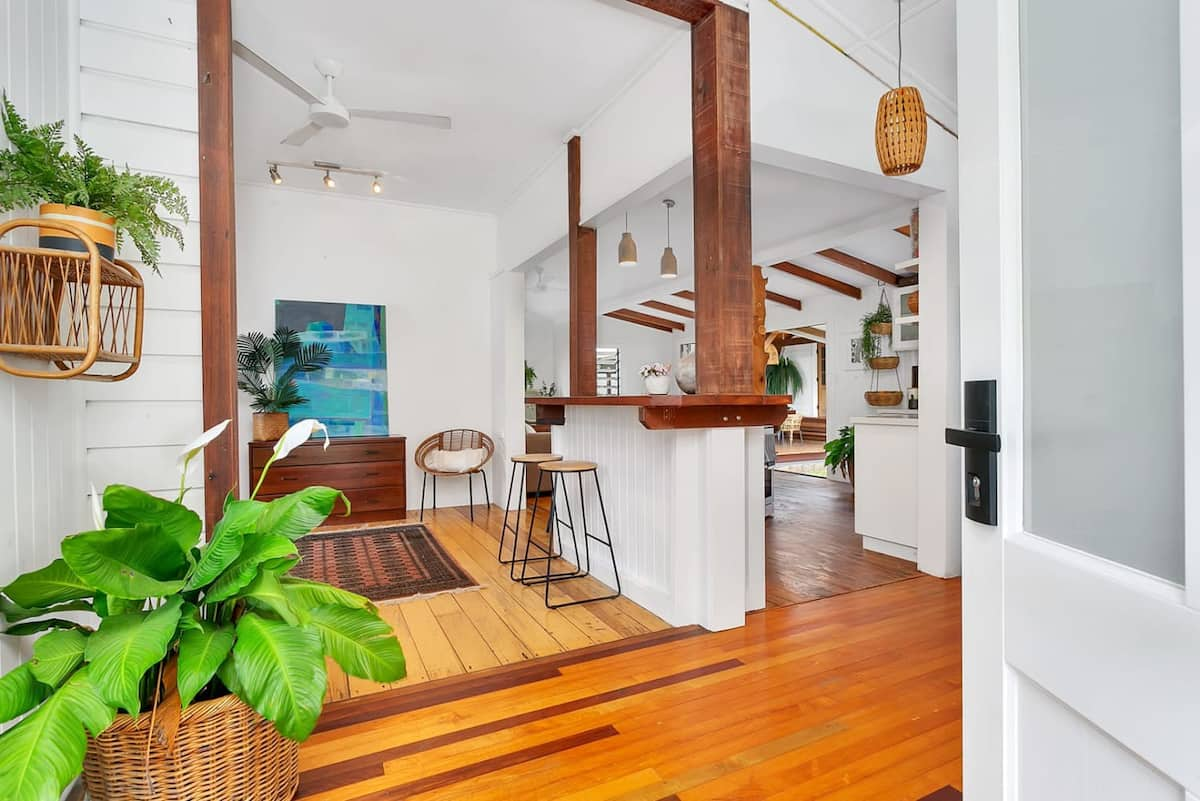 Don't worry, we haven't forgotten about the family vacays—the Lazenby Lodge is a huge Queenslander perfect for your clan. The house has spacious living areas and bedrooms and a private pool on the property so you can set up shop and really settle in. Plus the whole place kinda feels like a Balinese villa, so you'll definitely feel like you're on holidays. Head here for more info.
Palm Trees Forever
Sleeps 8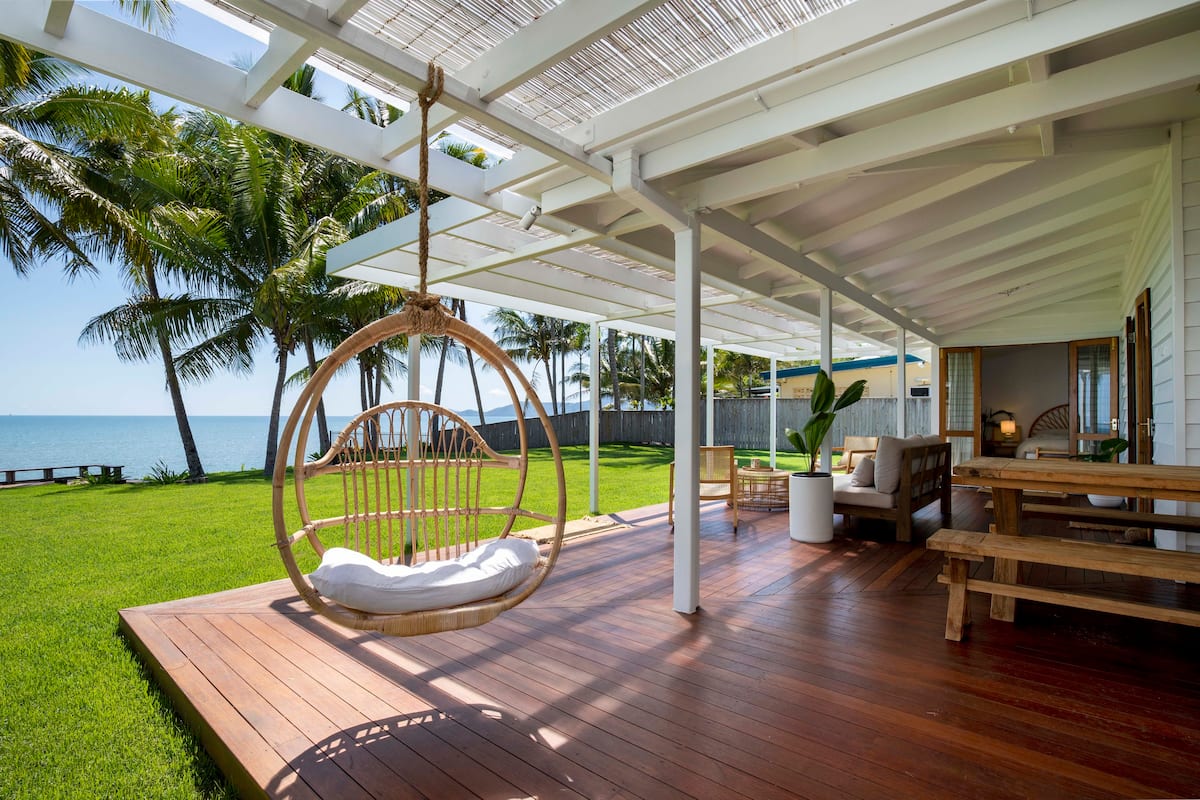 Now if it's strictly beach views that you're after, this Airbnb in Cairns will not disappoint. Aptly named Palm Trees Forever, with stunning views of Holloways Beach lined with, you guessed it, palm trees, this spot is an entertainer's dream. A huge backyard blends into the beach, amply kitted out with seating areas for any occasion. Complete with a stylish kitchen area, three bedrooms and two bathrooms, this abode is for the group vacation done right. A few days in and you'll be begging to buy the place upfront. Book your trip here.
The Secret Treehouse
Sleeps 4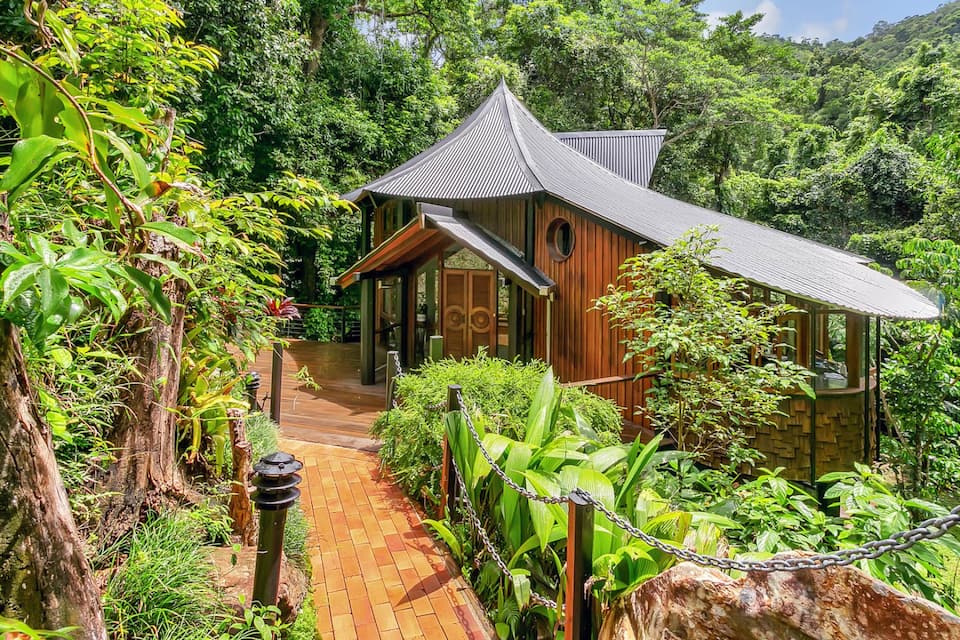 An Airbnb for those who are one with nature, The Secret Treehouse is built right into the surrounding trees to blend into the rainforest canopy. The very definition of serenity, it even has its own waterfall and creek where you can take a dip—how much more peaceful can you get? The treehome has many wildlife neighbours that you can try to spot while you bask in the sun on the huge verandah, or maybe in the massive spa enclosed by windows overlooking the rainforest. Keen chefs, meanwhile, will love the huge kitchen. Book in your stay here.
Stunning Waterfront Apartment
Sleeps 4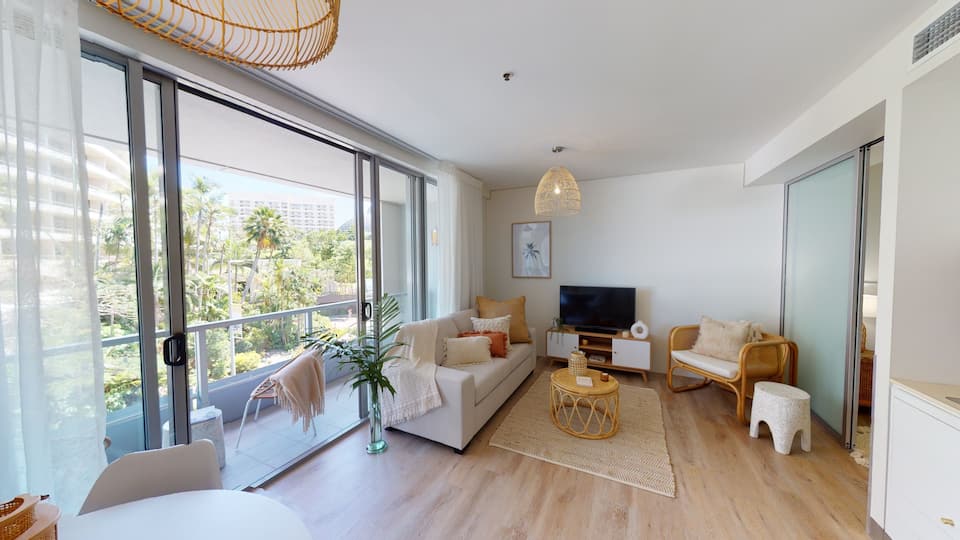 Smack bang in the middle of Cairns city, this waterfront apartment has relaxation written all over it. Located in a five-star complex, you'll get nothing but the best if you stay here. When you've finished unpacking, head to the marina next door for top restaurants, shops and bars, or even just for a walk along the water. Once the social battery has run out, camp out on your private balcony and watch the sun set over the water. A quick elevator ride will take you to the relaxing shared pool and spa area, or to the gym facilities. For more details on this gorgeous apartment head here.
Bombora Lodge
Sleeps 6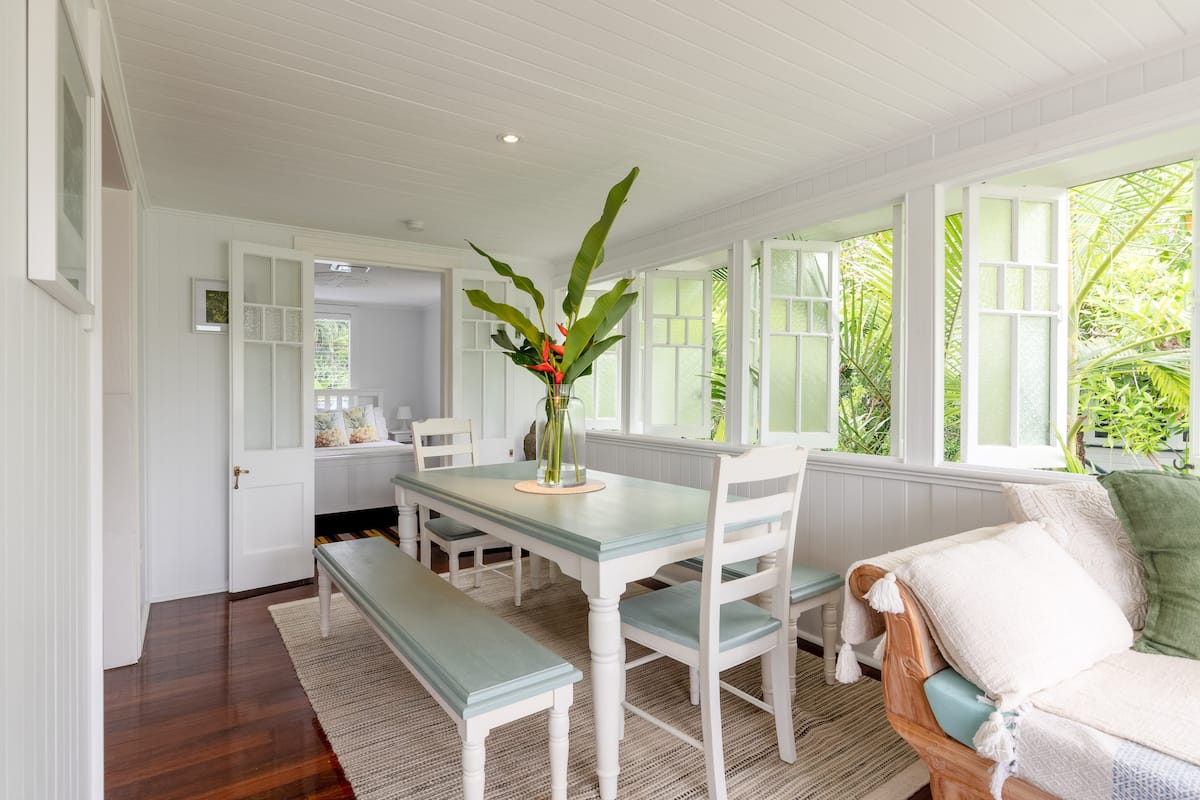 We reckon this one really lives up to the definition of 'home-away-from-home.' A spacious and airy Queenslander, Bombora Lodge is great for large groups, sleeping six guests. Our favourite space in this one is the comfy Balinese daybed in the gorgeous sunroom, where you just know you'll be relaxing with a book after a long day, if you're not in the pool. Exploring locally? A short walk will take you to the Cairns Botanic Gardens, the Art Centre, and plenty of restaurants and cafes. Right in the heart of Cairns, this is the ideal stay if you're aiming to hit the famous spots in the area. Book your stay here.
Villa Entrata
Sleeps 6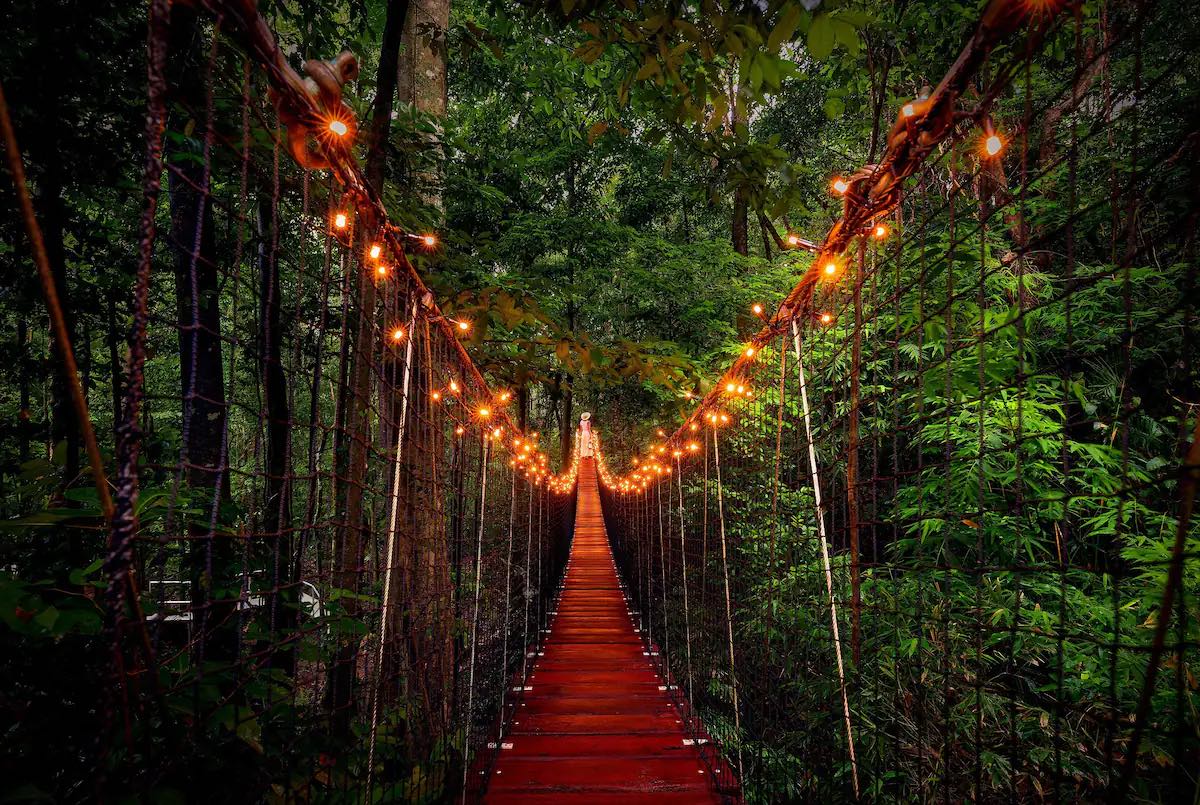 Want to be one with nature and level up your Instagram game at the same time? Villa Entrata can help you out. This villa, which backs onto your own private rainforest, features a 72ft fairy-light-laden suspension bridge across a natural creek, as well as a raised aluminium boardwalk specifically designed for all your exploration needs and photoshoot opportunities. The house isn't one to complain about either, with three European-style bedrooms and an outdoor dining and nature viewing area sure to make any family BBQ fun. And if cooking isn't your cup of tea, there's 17 different places nearby where you can grab a bite, all within a five minute drive. Book your stay here.
If you're heading up that way and have your Cairns Airbnb sorted, check out these incredible hot springs.
Image credit: Airbnb