Eject yourself from winter hibernation and get the crew together because Roma Street Parkland is throwing a series of spring events to ring in the new feel-good season.
Going all out to celebrate the 20 years of Roma Street Parkland, City Parklands will host live a slew of music acts, boujee alfresco picnics, guided tours, and a plant market this September. The best part? It's all free to attend.
Block out your calendars, here's everything you need to hit up.
The Sound Society
Kicking off the festivities Sunday, 5 September, The Sound Society will see the Parklands grazing ground come to an idyllic afternoon of live music, food trucks and model boat regatta. Park up on the green for a picnic to the backdrop of beats from samba-reggae outfit The View From Madeline's Couch and Zumpa. For your alfresco feasting, The Garden Room Café has you covered with luxe picnic boxes and high tea available for pre-order. BYO tipple of choice.
What: The Sound Society
When:
Blooms & Tunes
Blooms & Tunes is back and better than ever. If you're eager to bliss out in an inner-city oasis on a sun-drenched grazing ground, this one's for you. Going down 11—12 September from the afternoon to early evening, you can get yourself a bite from the plethora of food trucks parking up for the event and settle in for live performances. Oh, and did we mention alcohol is permitted on the Celebration Lawn between 10am and 8pm? Yep, shake yourself a cocktail to enjoy and kick back on a plush rug. It's also pooch-friendly, so puppy pats are pretty much guaranteed.
What: Bloom & Tunes
When: 1-5pm, 11-12 September
Where: Celebration Lawn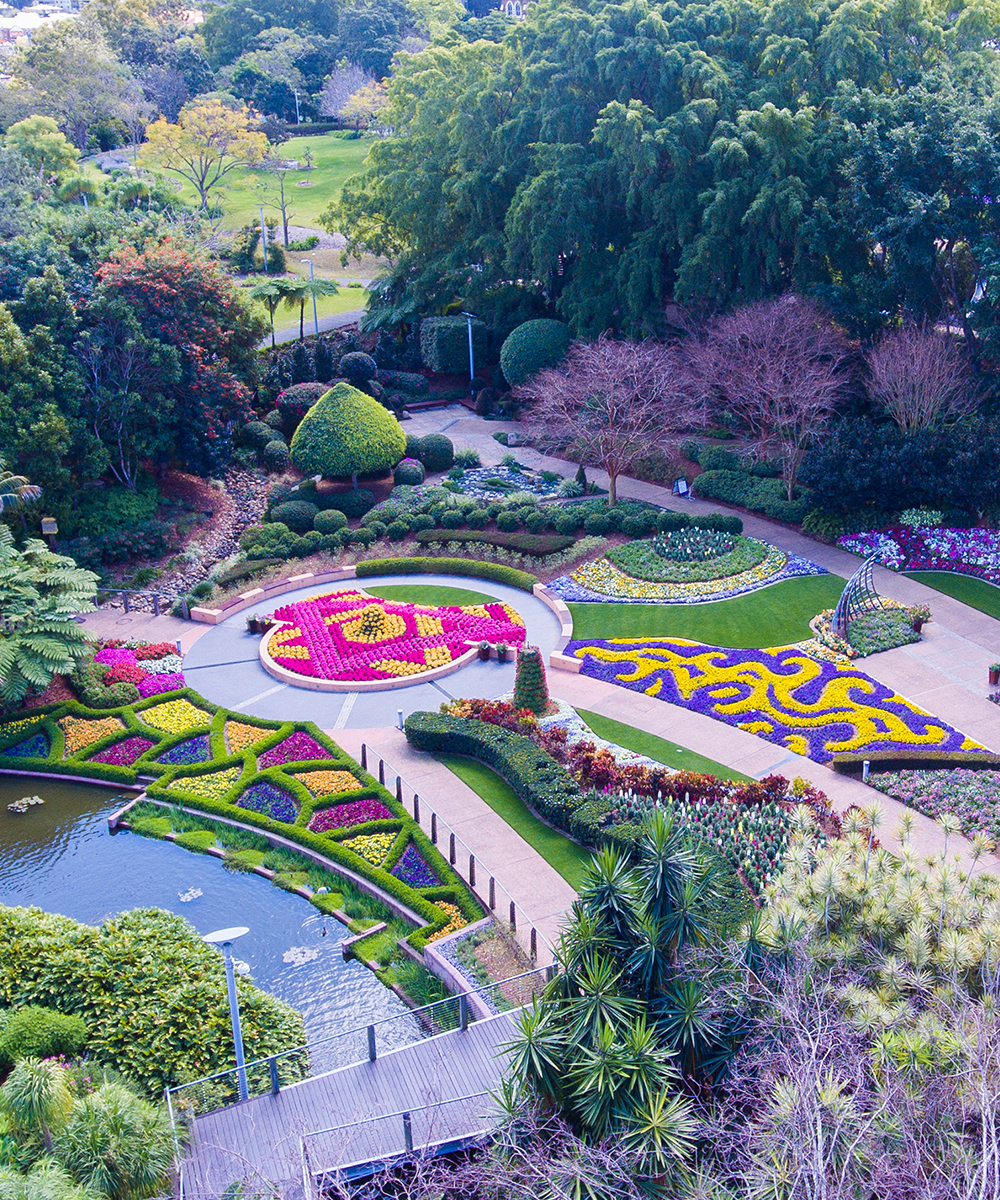 Guided Tours
One for the history buffs and all Brisbanites, board a journey into the Parkland's evolution with the 20 Years Of RSP tour. Led by a knowledgable volunteer, you'll also unearth a whole new perspective of the park over the hour, wandering through surreal subtropical foliage in the Spectacle Garden and the transformation of upper Parkland.
Or, go all out for the Bush Tucker tour, which will immerse you in a rainforest discovering lush native plants and learning about rich sources of foods used within indigenous cultures. A paid tour worth the coin, it also includes a stacked high tea at The Garden Room Café. Book yours here.
What: City Parklands Guided Tours
When: Weekends, Tuesday, Wednesdays and Fridays
Plant Market
If you take up any opportunity to snap up some lush greenery, you're going to want to make a beeline for the Plant Market. Here you'll stock up on the latest and lushest, including hanging devils ivy, monstera, and fiddle leaf. Better yet, you can also shop accessories for your new plant pal, hawking plants and flora-themed homewares. While you're there, flex your creative muscles at one of four interactive workshops, including pot painting, embroidery, charm bracelet and kokodama creating.
What: Plant Market presented by BrisStyle
Where: Celebration Lawn
When: 9am-2pm, 18 September
Kids Collective
Just in time for the school break, the Kids Collective holiday program promises to inspire the next generation of green thumbs through interactive and educational workshops spliced with craft, sport and play. Find out more here.
What: Kids Collective
When: Wednesday to Friday 22-24 September, Wednesday to Friday 29 September - 1 October.
Editor's note: This article is sponsored by City Parklands and proudly endorsed by The Urban List. Thank you for supporting the sponsors who make The Urban List possible. Click here for more information on our editorial policy.
Design credit: Dom Lonsdale
Image credit: Supplied