If you were left bereft when Dandelion & Driftwood shut the doors on its Hendra cafe back in 2018, we've got good news—the cosy cafe is back better than ever, and it hasn't even moved far from its original address.
Just a few doors down from where they were on Gerler Road, Dandelion & Driftwood 2.0 has taken everything we loved about the popular cafe—the exceptional coffee, the stacked high teas and their signature waffles—and taken it up to an 11 (because it was already at a 10, as any fans would know). Bonus, they've added dinner services and a well-stocked bar to their offering, so they've now got you covered for every time of day.
Housed in a quaint white cottage, the new cafe is a quirky mix of old and new, with multiple spaces to choose from depending on the occasion. There's comfy vintage lounges and low tables by the front entrance for cute high tea dates, sleek marble-topped tables and bench seating for relaxed lunches and dinners and garden seating outside for afternoon espresso martinis in the sunshine (yes, they're doing espresso martinis). Planning a small shindig? There's also a private dining room that can seat between 8–15 guests for high teas, dinner parties and everything in between.
Now onto the menu, because there is A LOT to cover. First up, let's talk breakfast, because we know that's what you're into. You'll have a hard time choosing from plates like savoury cheese and chive waffles with bacon and grilled tomatoes; crispy potato rostis topped with bacon, eggs and onion marmalade; and a breakfast sundae of almond and maple muesli topped with acai frozen whip and fresh fruit. Really struggling to choose? Talk your brunch date into splitting one of the breakfast towers with you, a double decker spread with corn and zucchini fritters on the bottom and a sweet caramel fudge sauce topped waffle on the top.
Coffee of course, is supplied by sister business Wolff Coffee Roasters, but you'll find a few signature blends at Dandelion & Driftwood that you won't find anywhere else, and so many ways to drink them that your head will be spinning (espresso tasting plate, anyone?). Then there's 21 kinds of tea, just to make things even harder.
Rolling around to lunch and dinner, the menu switches over to choices like the sunday roast chicken with creamy corn cake and tri-colour carrots; pork sausages served up with baby beetroot, asparagus and smoked capsicum sauce; and a vegan schnitzel loaded with vegan bacon and romesco sauce. Oh, and you can get those double decker feeds on the PM menu too, only now they come with salt and pepper calamari salad, deep-fried mushroom sliders, popcorn chicken and chips on the bottom deck. We'll take one just for us, thanks. Pair it all with a sparkling, white, rose or red wine, a craft brew or a mojito or margarita from the cocktail list. We'll be sipping the 'Inkredibly Pleasurable'—a blend of Ink Gin with tonic water, cucumber, edible flowers, sugar and rosemary.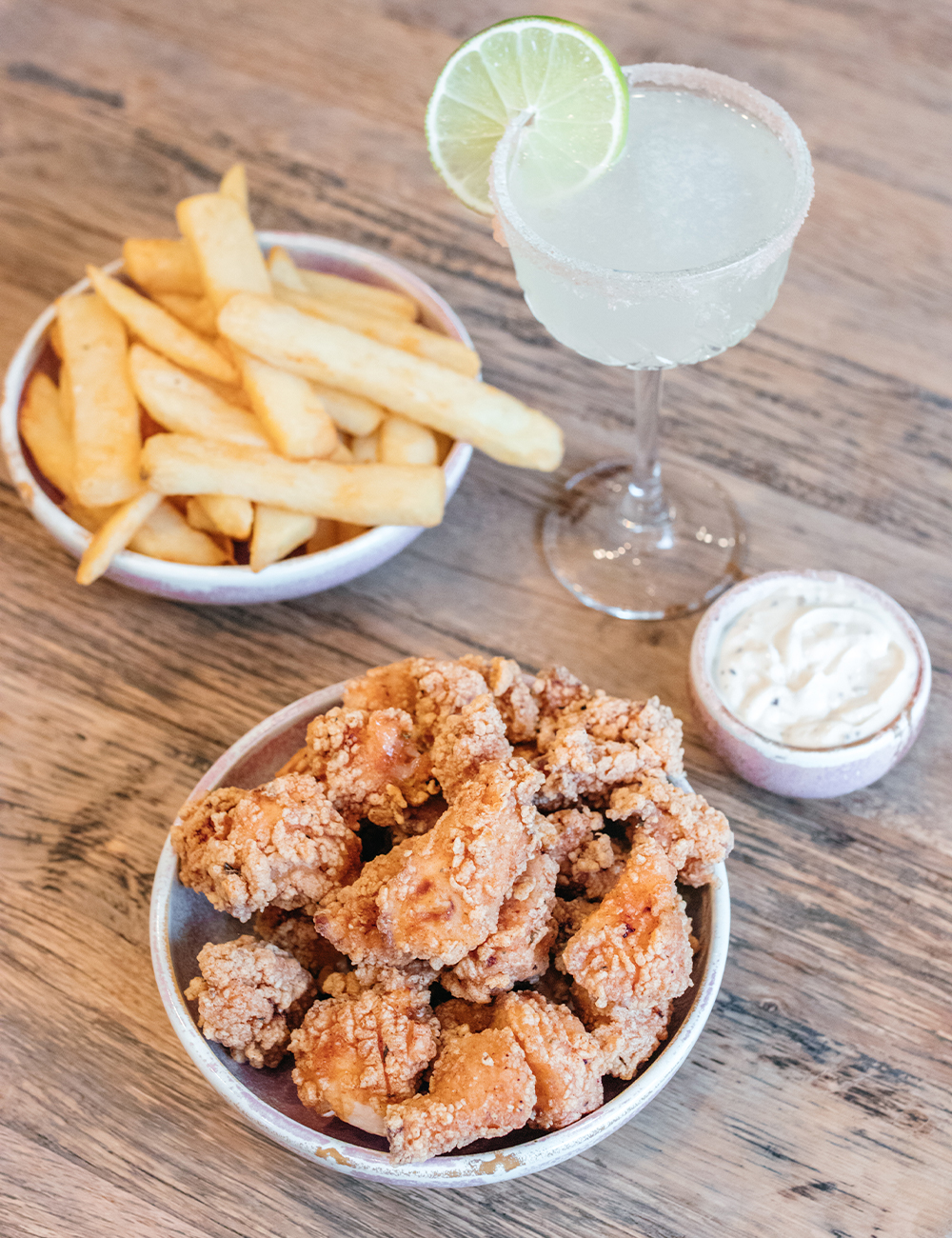 But wait, there's more. The all new Dandelion & Driftwood high tea is 'grammable three-tiered share stand of ribbon sandwiches, savoury pastries, fluffy scones with jam and cream and miniature tarts which you can combine with a pot of tea, a glass of prosecco or a glass of rose. Yes. Please.
Honestly, we could keep going, but we're betting you've already clicked off this article and gone to book yourself a table. If you are still here though, you can scope out everything you need to know about Dandelion & Driftwood here.
Love baking and drinking wine? Combine the two at these boozy baking classes.
Image credit: Ranyhyn Laine and Mauricio Belarmino