After what has been a dismal two years of travel restrictions, business closures, and mask mandates, Australia is finally cruising along its roadmap to recovery. But boy, do we have a heck of a lot of lost time to make up for. Just think of all the experiences you put aside while the country chased those vaccination targets—from delicious eats to shopping sprees, and everything in between.
Rather than breaking the bank trying to catch up all at once (as tempting as that sounds for our taste buds and wardrobe), payo has swooped in with an attractive alternative. The Australian-first app brings buy now, pay later technology to restaurants, cafes and bars—think Afterpay, but exclusive to hospo, so you can tick off your restaurant wish list in a way that's a little more wallet-friendly.
With a mouth-watering line up of over 700 restaurants, cafes and bars accepting payments through the app, diners can use payo to find and book eligible eateries, whilst splitting the bill into four equal, interest-free payments. Just fork out 25% upfront, and pay off the remainder over three fortnightly payments. Sounds like a dream come true? Trust us—it gets even better.
After winning over Brisbane, payo has officially launched Sydney, Melbourne and the Gold Coast, meaning you can already access meals and deals across some of the cities' most loved eateries. As fast as it is to flick through the app to find eligible restaurants, we decided to do the hard work for you, curating our top picks across the country. Eat now, pay later and have a forking good time with your mates at eight of Australia's best hospo venues.
Melbourne
Morris Jones
Known as the pride of Chapel Street, Melburnians will be delighted to know that easing restrictions means a night at Morris Jones is back on the table. The dynamic restaurant, cocktail and wine bar practically oozes West Hollywood charm, featuring built-in flower walls, countless chandeliers, and booth seating throughout. And that's not to mention their adventurous menu, which offers a Californian take on traditional Japanese cuisine. Think carefully curated hand-cut sushi, A-grade sashimi, and sticky pork bao buns, all served in an adorable bento box alongside Insta-worthy cocktails. Of course, the end of lockdown deserves a bit more celebration, so treat yourself to a two-hour sip and sushi session for just $16.25 a fortnight, courtesy of payo.
Bomba Bar
With both a downstairs restaurant and rooftop bar, Bomba is beloved by locals for its quality meats and imported Spanish spirits. Whilst the ground level restaurant is perfect for those seeking a more intimate affair, five levels up will have you treated to sweeping city views courtesy of Bomba's rooftop bar. The bar's Barcelona-inspired menu will have you feasting on confit chicken at 1am, against the backdrop of black-and-white Spanish films silently projected on the exterior walls. Sign yourself up for a bottomless lunch and be sure to thank payo for making that $89 charge far more affordable.
Sydney
Hotel Ravesis
Drawing upon a coastal Mediterranean influence, Hotel Ravesis is our go-to destination for incredible eats with a view. The Art Deco-inspired venue has curated its menu around fresh, local, and sustainable produce, served alongside uninterrupted views of Australia's most iconic coastline. Featuring fresh oysters shucked to order, hand-rolled pasta, and fish filleted in-house, Hotel Ravesis will impress even the toughest food critic. Topping it all off is an endless drinks menu featuring all your faves, with a few house-made creations to keep you on your toes. Order up a jug of passionfruit watermelon spritz and charge it to payo for a guaranteed great night out.
Butter
Perhaps best known for their hip-hop inspired sneakers and apparel, dining at Butter will see you walk away with a bloated belly and fresh kicks, to boot. The combined fried chicken, champagne and sneaker store is renowned for its drool-worthy heat-at-home ramen packs, although their beef burger range is nothing to sneeze at, either. Celebrate a brand-new Butter wardrobe with a bottle of champagne or side of sake, using payo to whisk your wallet-worries away.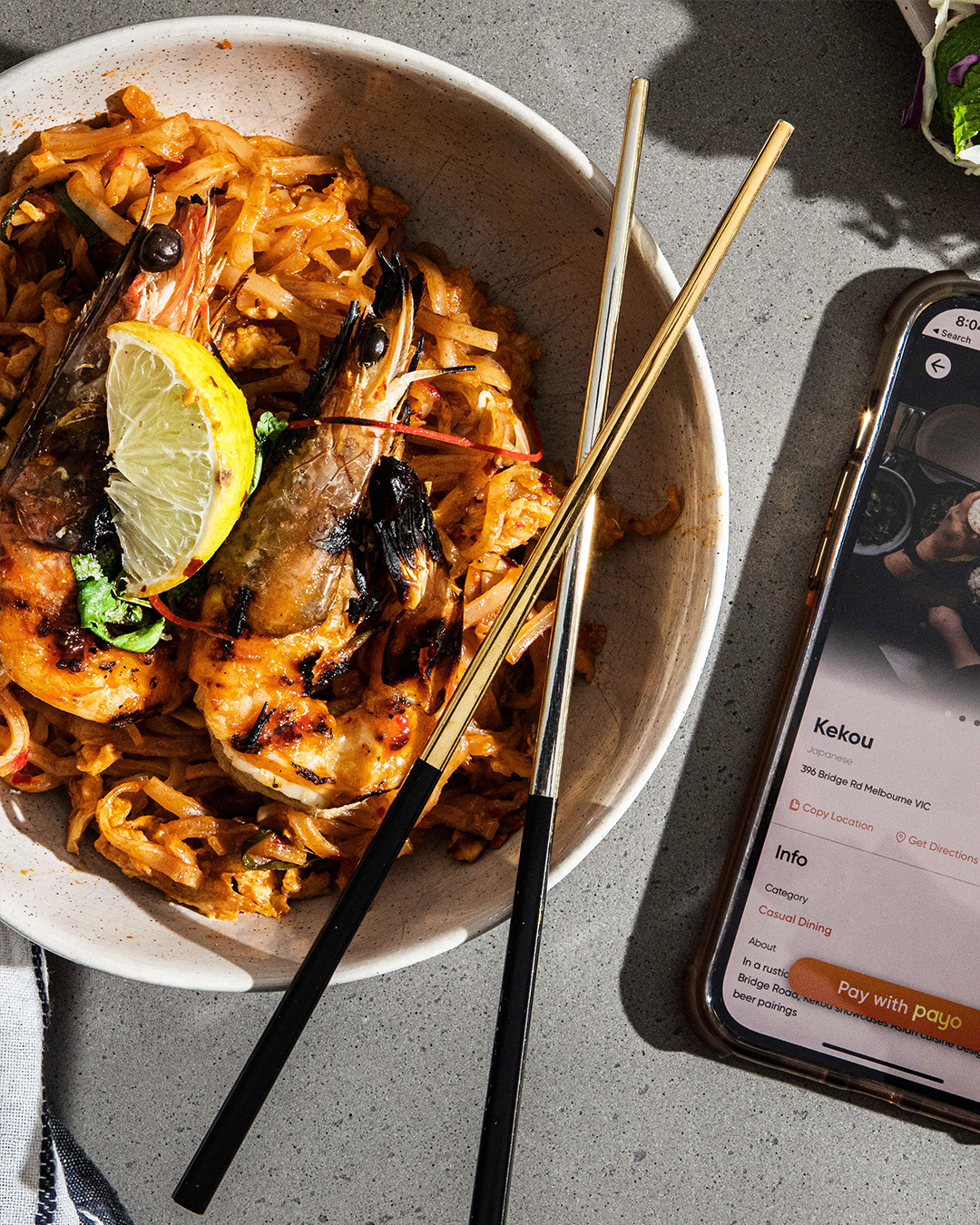 Image credit: @4foodssake
Brisbane
Takashiya
Indulge on stunning cherry blossom cocktails at this lavish whiskey and sake bar on Grey Street. Takashiya is your best bet for authentic Japanese food, without forking out for an exxy flight overseas. Home to the renowned Omakase experience, where diners leave their meal orders up to the chef, dining at Takashiya is a great way to expose your palate to new flavours and preparation techniques.
Eterna
When in Rome, do as the Romans do... aka eat 'till your stomach is full, and drink 'till the bottle is empty. At Eterna, neither poses a challenge, thanks to traditional dishes that pay homage to quintessential Roman cuisine. Featuring seasonal produce that balances simple tastes with complex flavours (and plenty of imported Italian wine), Eterna promises a dining experience like no other. We recommend booking the banquet and scoring yourself a four-course meal for just $20 now, and $60 later. What. A. Steal.
Gold Coast
The Henchman
Home to what is debatably the best burger we've ever tasted, The Henchman is a homely dog-friendly cafe just a few blocks back from Miami Beach. Featuring both a breakfast and bar menu, it's the only place you'll find pumpkin salad alongside late-night karaoke. Swing by for after-work drinks or indulge on The Henchman's Weis bar cocktail, complete with mango liqueur, coconut cream, and plenty of Malibu. For something extra special, now that you can split the bill by four, splurge on a meat and cheese board.
Palazzo Versace
What was once an exclusive dining destination with meals priced way out of our weekly budgets is now actually affordable—that is, if you pay through payo. Live a life of next-level luxury (for the hour or two it takes you to finish your meal) with a lunch date at Palazzo Versace. Home to one of the most legendary fashion brands in the world, enjoy mouth-watering cuisine at the hotel's award-winning restaurant as you take in its exclusive waterfront setting, spectacular architecture, and ambience of pure glamour. Be sure to snap a pic or two so you can savour the experience—before booking yourself back in for dinner at any of the three restaurants on site.
Looking for more? Download payo today and scroll through the scores of participating restaurants, bars and cafes now. Trust us—your wallet will thank you.
Payo is a responsible lender. They conduct internal credit checks on every payo credit applicant, ensuring they only shout customers that they know can afford to pay them back.
Editor's Note: This article is sponsored by payo and proudly endorsed by Urban List. To find out more about who we work with and why read our editorial policy here.
Design credit: Dom Lonsdale