One of the greatest things about living in Brisbane has to be getting out and enjoying our long and ever-evolving list of epic restaurants. With kids in tow, however, you might be hesitant to go ahead and make that reservation. While there are some swanky spots you might like to save for your next date night (the restaurants on this list, for example), Brisbane does have a neat collection of kid-friendly eateries that will be as enjoyable for the fam as it will be for you.
Far away from the Maccas playground and the kid's menu at the pub (though we don't mind a good family-friendly pub either), these restaurants are chill enough that you won't be looked at askance for walking in with a babe in arms, while keeping it cool for mums and dads too. Keep scrolling for Brisbane's best kid-friendly restaurants.
A Little Bit Fancy
One Fish Two Fish
Kangaroo Point
If it's been a long day, and you're not even sure you want to drag the kids out to dinner, One Fish Two Fish's kids menu will at least put a smile on your face—even if most of it ends up left on the plate. Will it be the 'I Don't Know' (crumbed fish fingers), the 'I'm Not Hungry' (crumbed calamari), or the 'I Don't Want That' (mini pork sausage)? Does it even matter when they won't eat it anyway? Whichever they *don't* choose, let them pick at it while you slurp down oysters, inhale Moreton Bay bug bao buns and fill up with your own grown up version of fish and chips and grape juice (wine, it's wine ok).
High chairs available? Yes.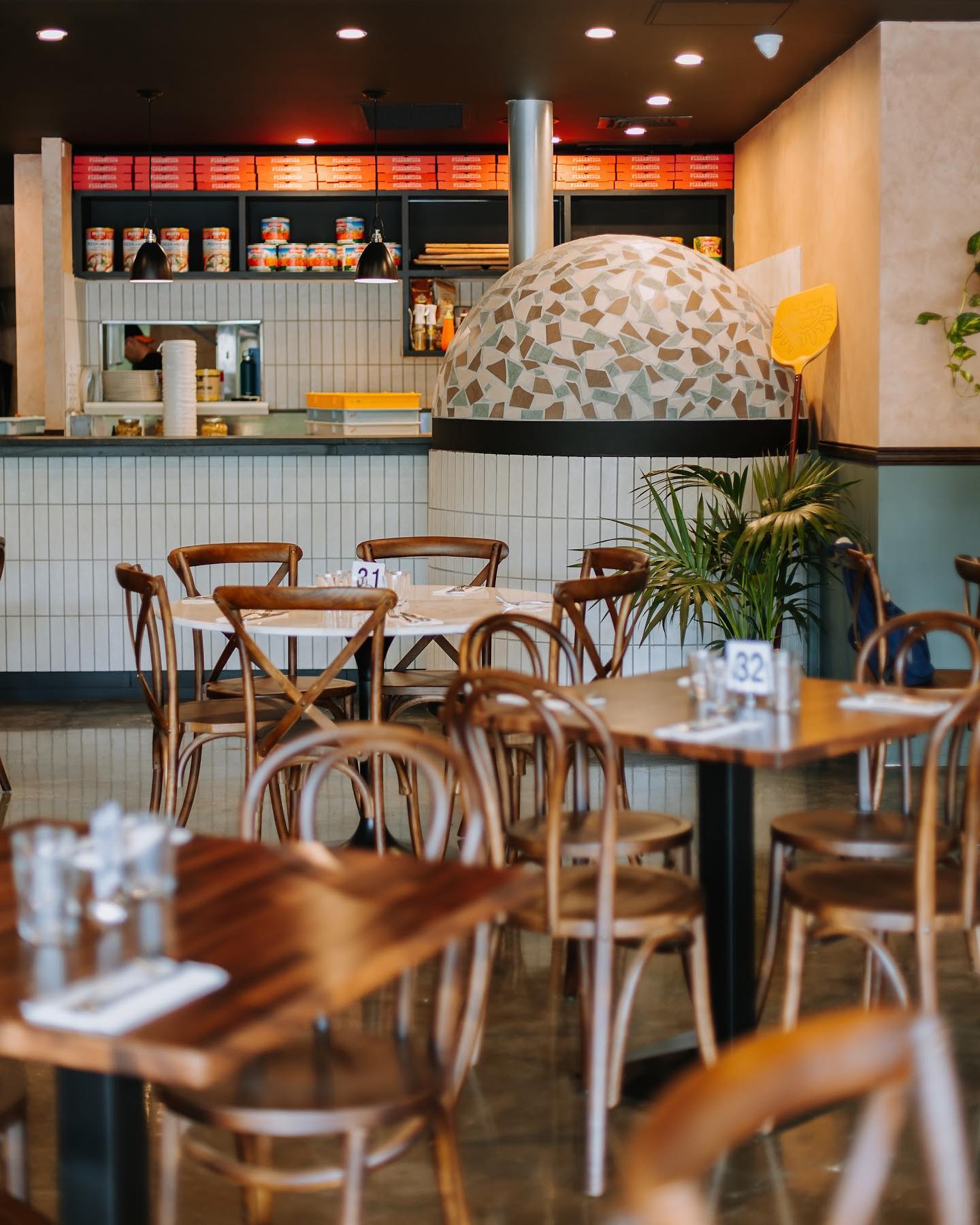 Antica
Wilston
Not sure how many parents would be willing to let their kids attempt to eat spaghetti bolognese in public, but for those who always pack plenty of wipes and a change of clothes, Antica's bambini menu features that and a handful of pizzas—including one topped with fries to blow their little minds. The adult menu is also pretty mind-blowing, featuring duck ragu ravioli, antipasti boards and their famou giant 400g burrata best served with fried pizza dough. All this in a gorgeous, rustic Italian-inspired setting? Find your shoes kids, we're going to dinner. Just ask for a table on the patio in case of spills (and screams).
High chairs available? Yes.
Ciao Papi
Howard Smith Wharves
Thought your days of dining with a view at Howard Smith Wharves were behind you? We beg to differ—Ciao Papi welcomes bambinos with open arms, outdoor vibes and a spacious venue where you won't be elbow to elbow with tables of childless people giving you the evil eye. They also know how kids like their pasta—plain and doused in butter, of course. Parents, meanwhile, can opt for something a little more indulgent—will it be the Italian pork sausage ragu with penne or casarecce with mussels, nduja and spinach?
High chairs available? Unconfirmed
Le Coin Bistro
Red Hill
Le Coin Bistro's kids menu may only be available from 5pm-6pm but let's face it—we all eat dinner at 5pm these days anyway. Going down the French route (it is a French restaurant after all), they can choose from tarte flambee with bacon and cheese or kids steak with shoestring fries. The tarte flambee is actually a Le Coin signature, with several different versions on the grown up menu too—including a bacon and gruyere cheese number. Plus, the enclosed dining area feels just relaxed enough that you won't want to hide every time your kid drops a crumb on the floor.
High chairs available? Unconfirmed
Jugar
West End
What's the next best thing to getting a babysitter for the kids and going out to dinner? Going out to dinner somewhere that has an enclosed indoor playground of course. But don't be fooled, Jugar is as boujee-looking as any other restaurant on our list—the team behind it wanted to create somewhere that families could have a nice dinner out while actually keeping the kids happy sans iPads—and yes, it's licensed.
High chairs available? Yes.
Keep It Casual
King Of The Wings
Stafford
King Of The Wings breezy outdoor laneway is the perfect place to eat with a few kids in tow—we love a dining area where we don't have to worry the mess we know is about to happen. While they don't have a dedicated kids menu, they do have boneless wings to share amongst the whole fam and a cheeseburger with fries for a mere $13. Adventurous little eaters (they do exist) might even be willing to gnaw on a pork rib, or nibble on the watermelon and feta salad. Introduce them to shared dining early, we say.
High chairs available? Yes.
Barbecue Mafia
Coorparoo
How does tucking into melt-in-your-mouth BBQ meats while the kids run amok outside sound? Yeah we thought so. Located in a suburban AFL club, Barbecue Mafia is within view of a fenced grassy oval—chuck the kids inside and get down to the business of stuffing your face with brisket, beef ribs, burgers and birria tacos. Again, there's no kids menu here, but there is mac 'n' cheese available by the pot, and the massive BBQ platters means you can share your fries and brisket with plenty to spare.
High chairs available? No.

Victoria Park Bistro
Herston
Uber family-friendly, Victoria Park Bistro has its own playground—ideal for when you want to go out for a family dinner but there's absolutely no hope of getting anyone in your group under the age of 10 to sit still for longer than five minutes. The kids menu features familiar faves like cheese pizza, fish and chips and spaghetti and meatballs, while the adults can enjoy the likes of pan-fried gnocchi, harissa basted half chicken and woodfired pizzas. Just make sure the kids aren't looking before you order bomboloni donuts for dessert.
High chairs available? Yes.
Big Roddy's
Fortitude Valley and South Brisbane
We're sensing an American BBQ trend here—might it have something to do with the fact that this author's toddler refuses to eat anything but slow-cooked meat? Possibly. Regardless, Big Roddy's is no stranger to Little Roddys, with boneless beef ribs, chicken strips and cheeseburgers on offer for youngsters, and kid-friendly sides like corn on the cob (another toddler fave in this family) and sweet potato fries if they demand something from your own plate and you don't want to give up your mac 'n' cheese balls and pork ribs.
High chairs available? Yes.
Brooklyn Depot
South Brisbane and Stones Corner
If you don't want to risk getting tomato sauce on the iPad as the kids attempt to eat and Youtube at the same time, head for Brooklyn Depot, where the kid's meals come with colouring in to keep them entertained (for at least five minutes). There's chicken nuggets, plain hot dogs (because god forbid if a drop of sauce touches the sausage) and mac 'n' cheese for them, and seriously stacked burgers, insane stuffed hot dogs, and—wait for it—lasagne nuggets for you.
High chairs available? Yes.
Put The Kids To Bed
Providoor
Your House
Ok, a rogue entry here, because this one doesn't involve leaving the house at all—but for some that might sound like the best option of all. Providoor makes it possible to dine on some of Brisbane's, and even the rest of Australia's, best restaurant fare at home, with just a little prep work to finish things off. Order one of their feasts (with same day delivery for most Brisbane venues), spend 15 minutes in the kitchen putting it together and voila, a restaurant-level meal at home, with the kids already in bed, a wine in hand and Netflix on the TV. Frankly, this our favourite family-friendly venue of them all.
Want to get out for breakfast? Check out Brisbane's most kid-friendly cafes here.
Image credit: Urban List archives