The words 'caravan park' don't often conjure up mental images of seclusion, stunning interiors and opulence, but if you head out to Lake Wivenhoe caravan park you'll be pleasantly surprised by the newest lavish edition to the park, Pure Glamping.
A quick 90-minute drive south-east of Brisbane will not only help you to achieve that new year's resolution of listening to more podcasts but also land you at postcard-perfect Lake Wivenhoe. The largest lake in south-east Queensland is now home to Pure Glamping, the latest luxury rollout from the legends behind Victoria's award-winning ultra-luxe spa house Hepburn Bathhouse & Spa.
Nestled on the shore of the lake sits a cluster of boujee and highly 'grammable sustainable, solar-powered cotton bell tents complete with all the amenities you'd expect at a luxury hotel. Pass through the triangular doorway to find a large impeccably decorated bedroom space—the whole experience is reminiscent of that magical tent the Weasleys have in The Goblet Of Fire.
In the centre sits a positively luxe queen bed with high thread count sheets to match (thank the lord- as fun as regular camping is, the whole sleeping on the ground thing ain't exactly therapeutic for the back). Another saving grace is the additions of fans and the indoor wood-fire for the chillier winter months. Yep, absolutely no discomfort for you. There are also USB charging ports installed in your tent as well as a private outdoor barbecue and fire pit just outside complete with seating, glassware, plates and cutlery as well as an esky and ice for the bevs. Swoon.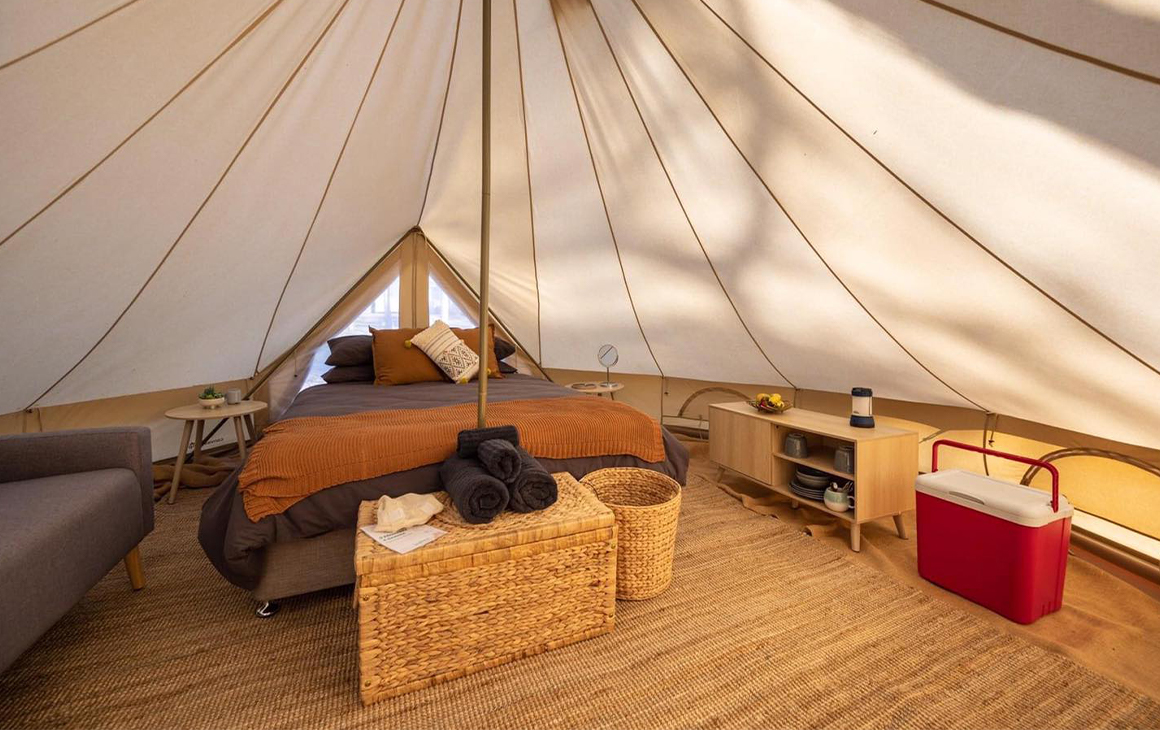 Now that you've truly left the hustle and bustle of the city behind, settle in and unwind and plan the days itinerary for tomorrow. Visitors are spoilt for choice with the lake boasting canoeing, kayaking and rowing activities as well as a small beach area to get your feet wet—or you can head to nearby Logan Inlet if you want to take a dip. Speaking of the inlet, if you're somehow storing your boat at your place, whip her out for a cruise along the serene inlet. Jump online and get a permit from the Department of Agriculture and Fisheries and you can drop a line in as well. It's truly a combination of the best of both glamour and camping worlds.
Water activities not your vibe? Take to the multi-use trails and reconnect with nature for walking, hiking, running, mountain biking, and horse riding where you may even be able to spot some of the resident koalas. If you're wanting to upgrade date night to a date weekend away, you can look forward to romance packages that include rose petals and champagne on ice that you can sip while gazing at the stars and enjoying the complete silence of the surrounding bush.
Luxe seclusion calling your name? We thought it might be. Tents are $199 a night and are sure to book out quickly. Back a bag, load up the car and book here.
You should also check out this off-grid tiny house in the Gold Coast hinterland.
Image credit: Supplied