Everyone needs a safe space to retreat to at the end of the day. Somewhere calming and comforting that draws you in and lulls you to sleep with a soothing atmosphere and cosy vibes. If your bedroom is anything less than an enchanting oasis that wipes away the worries of your day, we're here to help you transform it without breaking the bank.
How can you possibly achieve these dreamy vibes without spending a small fortune? We're proud to team up with the home furnishing (and meatball) aficionados at IKEA to guide you along your journey of creating the ultimate affordable, safe, and inviting space to unwind and recharge.
Read on to discover the best money-saving hacks that can transform your bedroom into a joyous haven.
Start With Quality Bedding
Still rocking that faded quilt cover you bought when you first moved out? Treat yourself to a much-needed upgrade.
While quality bedding can easily cost the average week's rent, we have a few tips and tricks to help you achieve a luxe look and feel without the matching price tag. The key lies in choosing the right material that hits the trifecta of affordability, elevated design, and cosiness. Our pick? Linen.
Nothing says quality bedding like the natural weave of linen—plus, it's super soft and breathable. A tonal, linen doona set in dark beige delivers cosy, grounded vibes, adding warmth and texture to your bedroom while creating a deliciously soft cocoon of comfort. Best part? Being 100% linen, this doona set will get softer with every wash, locking in cosy bedroom vibes for years to come. Plus, you can give your room a fresh feel without having to replace your entire linen cupboard—win!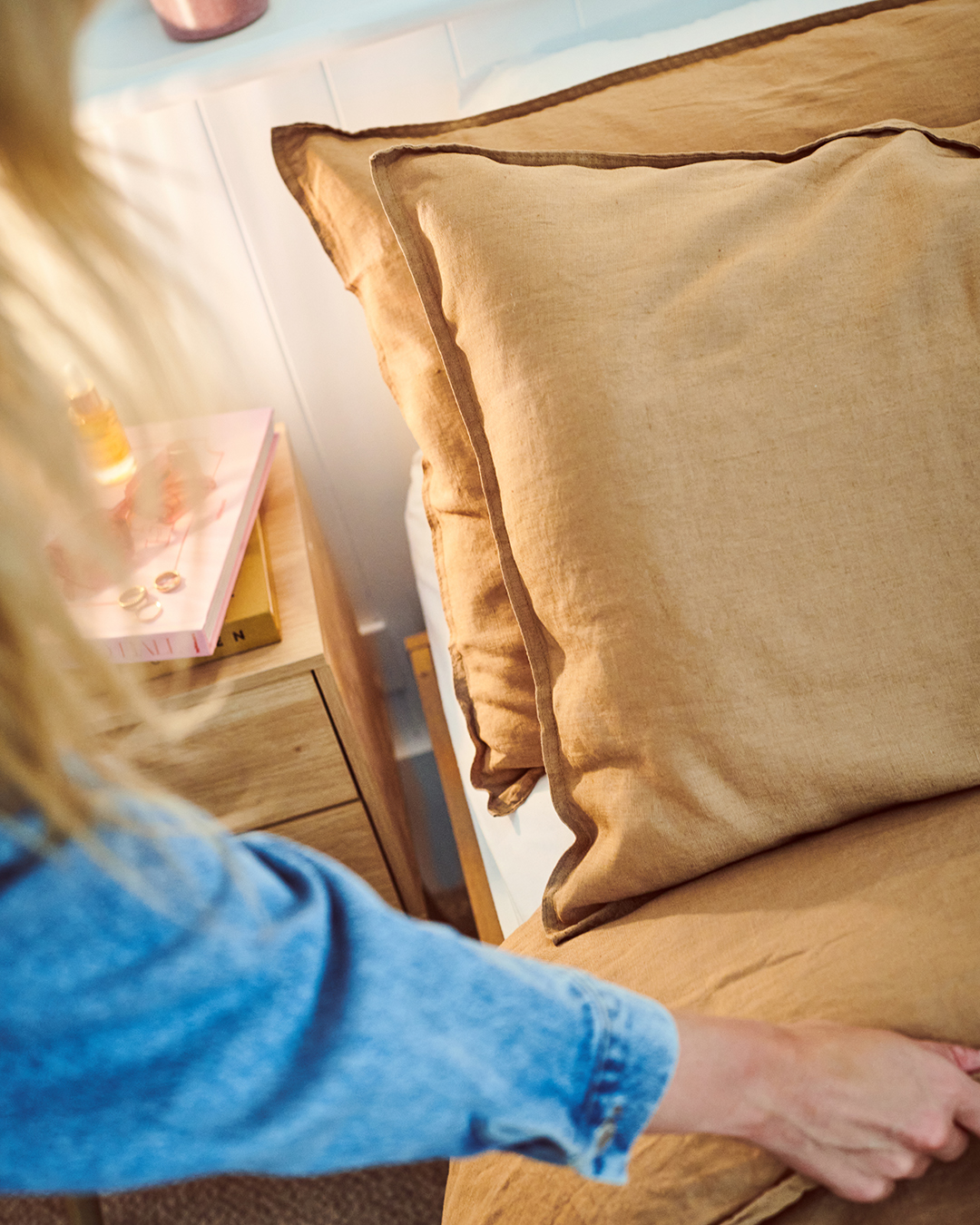 Layered Lighting And Luxe Touches
Once your lush and cosy bedding is in order, you'll need some soft, warm lighting to match. When it comes to lighting design for any relaxing space, lamps are your best friend. For less than $50, you can find cute designs that will fill your room with a gentle glow that hums with a soothing energy, radiating warm and restful tones.
Lamps are also a great way to incorporate sculptural elements into your bedroom, introducing aesthetic materials and textures into your space. We suggest an elegant table lamp to wash your bedroom with a soft mood light while enhancing the design of your space thanks to the stylish brass base and stunning fluted glass.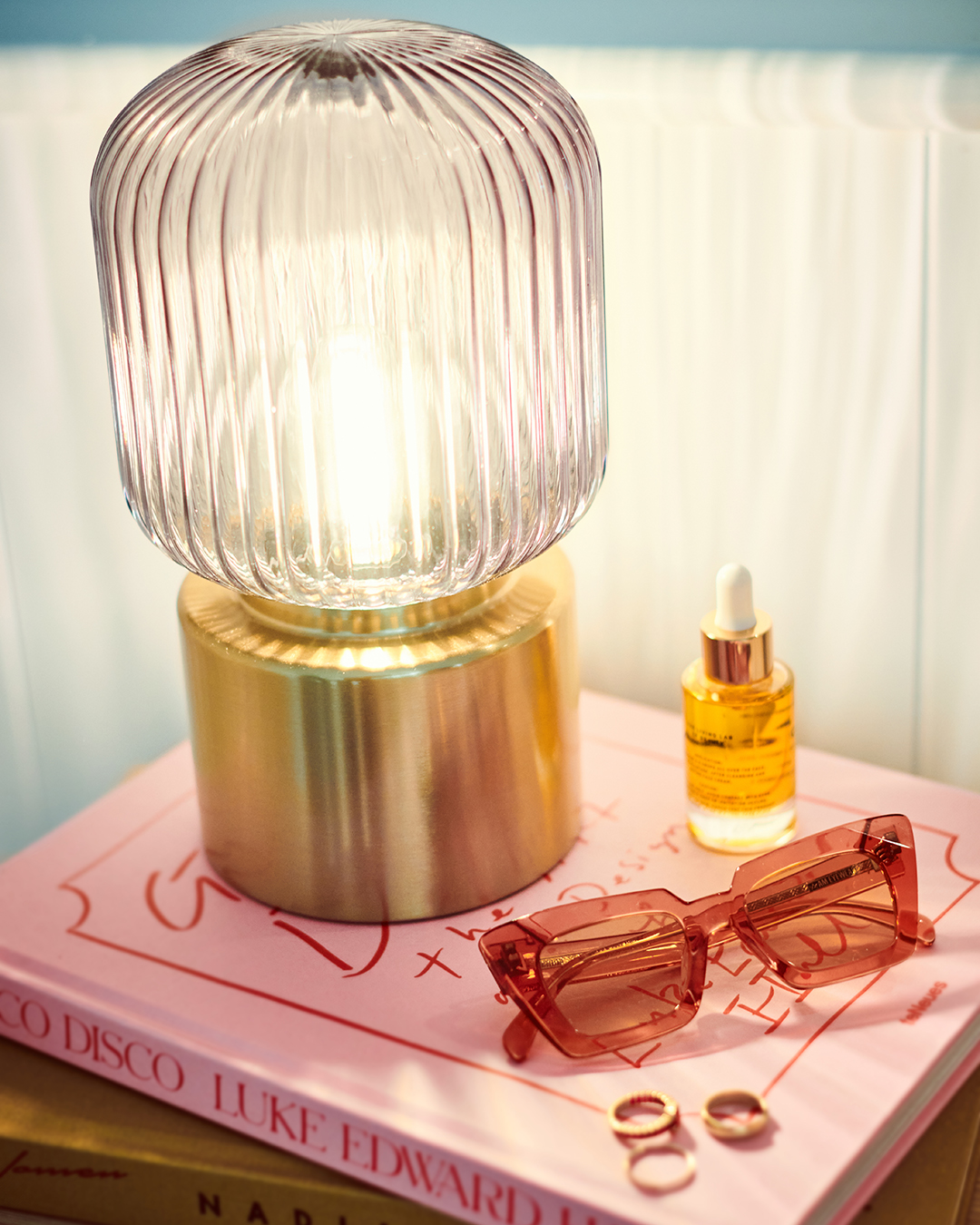 Aesthetic Self-Care Essentials
Take a break from pure aesthetics for a moment and think about the functionality of your bedroom. Does it provide you with everything you need to fully relax and replenish your energy? If not, invest in some budget-friendly, self-care essentials that are visually pleasing and, most importantly, will help you de-stress after a hard day.
These self-care products don't have to be anything fancy or expensive. A stylish jug filled with lemon water accompanied by a weighty glass create a simple yet luxurious self-care moment. Use scented candles to fill your bedroom with the scent of spring herbs while adding a comforting glow. Whatever you need to help you kick back, incorporating it in a stylish way will give your room the resort vibes that demand a chill time.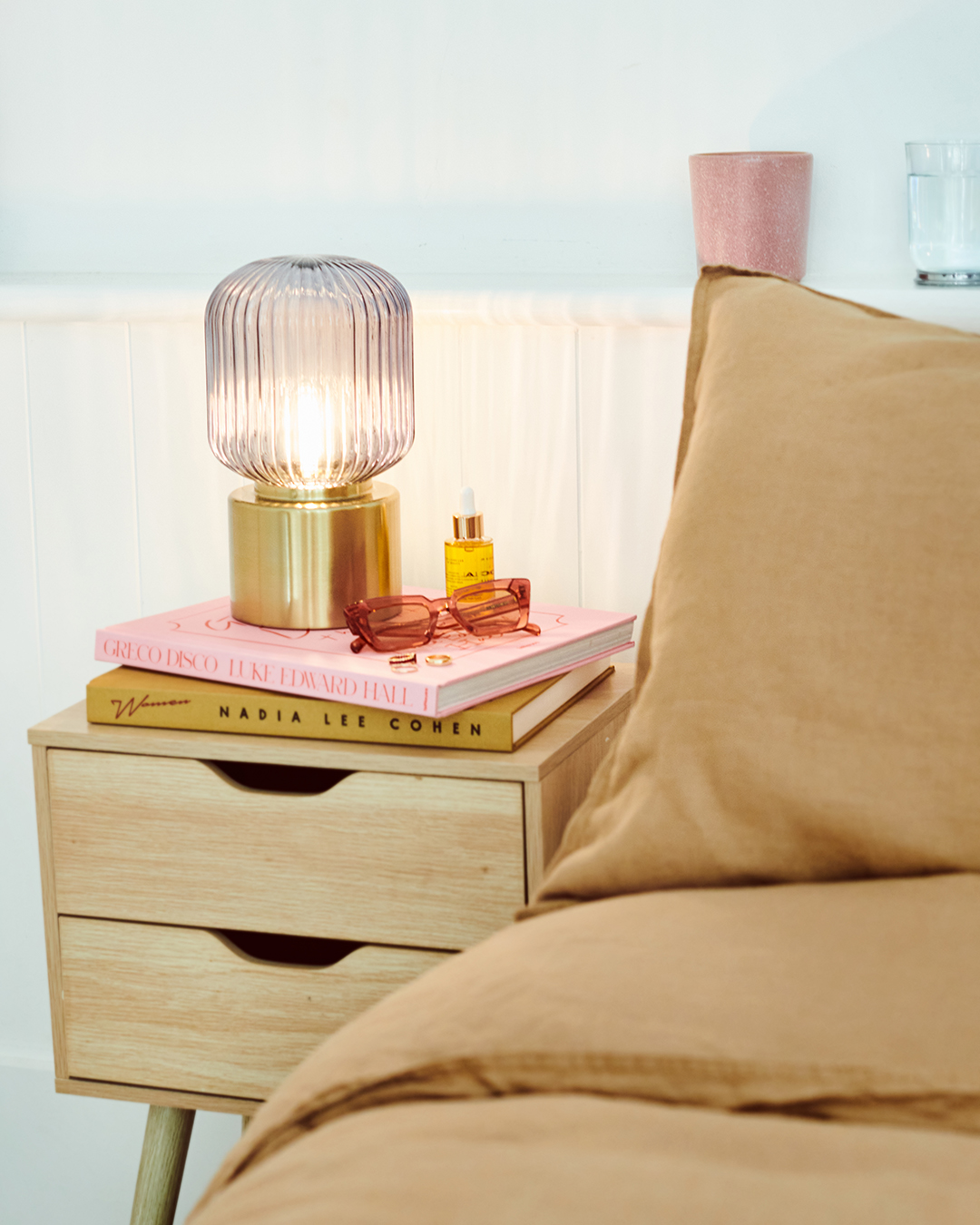 Accessorise With A Purposeful Catchall
Our bedrooms are one of our primary living spaces. We spend a third of our time there, which means it gets some pretty heavy use and can accumulate its fair share of clutter. The best way to combat the bedside-table build-up of jewellery, bobby pins and lip balms? An elegant catchall.
Borrow from other rooms in the house to repurpose exciting objects and simultaneously snag a bargain—the kitchen section is just waiting to be raided and repurposed. A glass serving tray placed in the centre of your dresser can serve as a handy vessel to showcase your most used accessories without breaking the bank. It's also an eye-catching design element in its own right. By accumulating all your bits and pieces into one purposeful zone, you can quickly transform a cluttered surface into an organised and visually pleasing design moment that omits a peaceful feel.
Ready to transform your bedroom into the tranquil sanctuary of your dreams without blowing out your budget? Head over here for more inspiration on affordable ways to transform your bedroom into a joyous safe haven for less at IKEA.
Editor's note: This article is sponsored by IKEA and proudly endorsed by Urban List. Thank you for supporting the sponsors who make Urban List possible. Click here for more information on our editorial policy.
Images: Urban List, Daniel Knott