Having earned our place as the world's oldest, driest and flattest inhabited continent, Australia is a land of wonders. Separated from our neighbours for over 30 million years, we're blessed with an entirely unique natural history made all the more richer by our First Nations peoples. Since their arrival over 50,000 years ago, Indigenous culture has exploded, with our country home to hundreds of distinct languages, customs and cultural beliefs.
But even with such a rich national history, far too many Aussies are completely oblivious to the Indigneous experience. They're yet to learn what it's like to walk, talk and live as an Indigneous Australia, both now, and for the thousands of years they've strolled our shores. Be an ally to our Indingeous brethren and get to work exploring the rich cultures scattered across our sunburnt lands—all without leaving our very own backyard. Here are our top picks for the best Indigenous travel experiences across Queensland.
Quandamooka Coast Tours
North Stradbroke Island
First things first—start exploring your very own backyard with a tour along the Quandamooka Coast on Stradbroke Island. Learn about the Yalingbila and their migration journey on a whale-watching tour, stretch your legs on a cultural walk along the coast, or enjoy an immersive experience to the tune of the soul-soothing didgeridoo. Whatever you choose, Quandamooka Coast Tours guarantee an authentic First Nations experience for those seeking a lasting connection to country.
Kuku Yalanji Cultural Habitat Tours
Port Douglas
Fancy an adventure up north? Save yourself a spot on a Kuku Yalanji Cultural Habitat Tour and explore the heritage of Cooya Beach's Traditional Custodians, about 15 minutes north of Port Douglas. Squelch your way through the mangroves and mudflats as you join your guides on a spearfishing trip, all the while learning about Kuku Yalanji culture, traditional medicine and food plants. Perfect for families, this one's for those who don't mind getting their hands (and feet) dirty.
Dreamtime Dive and Snorkel
Cairns
Keen for a cheeky snorkel? Take your Indigenous adventure underwater with Experience Co's Dreamtime Dive and Snorkel tour. Departing Cairns, spend the day out on the water with Indigneous Sea Rangers as you explore two of the Great Barrier Reef's most spectacular snorkeling hotspots. You'll also be treated to a vivid creation story while you snack on bacon and egg damper or Bunya nut pesto, with all your snorkel gear provided by the kind folks at Reef Magic Cruises.
Hervey Bay Eco Marine Tours
Hervey Bay
See a whole new side to this family-favourite destination with a Hervey Bay Eco Marine Tour. Depending on your preference, there are three tours on offer: the Djinang Cultural Walking Tour, Milbi Sunset, and our personal favourite, Turtle Discovery. But the best part is yet to come. Profits from these tours go towards subsidising excursions for schools in the Fraser Coast region, so students have the chance to learn more about the culture and history of the Butchulla people. It's the perfect way to do some good while living it up on holiday.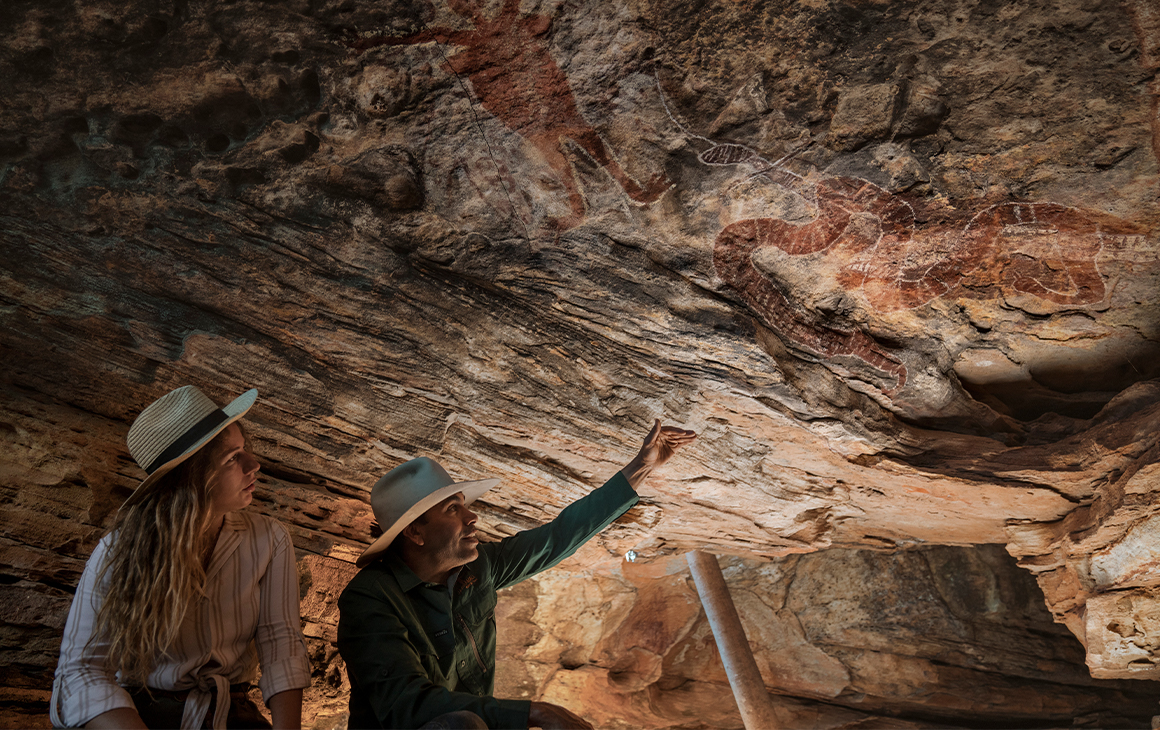 Jarramali Rock Art Tours
North Cairns
Named by UNESCO as one of the ten most significant bodies of rock art in the world, the Quinkan Rock Art is one for your bucket list. Way up north in Cape York, Jarramali Rock Art Tours offers a range of guided experiences through this 20,000 outback museum, showcasing all that the Quinkan Rock Art has to offer. Departing Laura, in North Cairns, jump in a 4WD with a Traditional Owner or fly in via a scenic helicopter and experience Jarramali's natural wonders from up above.
Ngana Julaymba Dungay Tours
Port Douglas
Discover the heart of Australia with a guided Ngana Julaymba Dungay tour. Let your guide reveal a hidden world where land meets sea, and the Great Barrier Reef and Daintree Rainforest collide. Feast on Aboriginal bush tucker as you revel in the tales of Aboriginal history and culture. Top it all off with a dip in the gorge's sheltered swimming hole and consider it a day well spent.
Talaroo Hot Springs Discovery
Mt Surprise
Trade in your next spa day for a visit to Queensland's most extraordinary geological wonder, courtesy of the Ewamian people. The Talaroo Hot Springs Discovery Tour offers incredible views of the ancient vents and terraces, all from the comfort of an elevated boardwalk. Listen to the stories and secrets of Talaroo's Traditional Custodians, before taking a moment to dip your feet in the healing waters of the soaking pool. At just 35 bucks a pop, this tour is a triple threat— relaxing, informative and affordable. Sign us up! Oh, but you will need to drive about five hours west of Cairns...
Looking for more ways to give back to our underserved communities? Be inspired by 'Democracy In Colour' Australia's first racial and economic justice organisation.
Image credit: Tourism And Events Queensland