Cooking dinner can be a tedious task. Thinking of something interesting (and delicious) to cook after a long day slaving away at work is often the last thing we want to do—which is why we tend to roll out the same recipes week in and week out.
If you need inspiration (like us), you've come to the right place. We've linked up with chef extraordinaire Laura Sharrad to help us get out of our dinnertime cooking rut. Using tasty slices of Birds Eye Deli Roast Potatoes Rosemary and Garlic she's created a delicious pizza recipe you can throw together in a flash.
Ingredients
1 12-inch store-bought pizza base
2 tablespoons truffle oil (for drizzling and brushing)
1/3–1/2 bag of Birds Eye Deli Roast Potatoes Rosemary and Garlic, thawed and thinly sliced (depending on your how much potato you like)
1 cup shredded mozzarella cheese (or a mix of your favourite cheeses)
Freshly ground black pepper to taste
Optional: Chilli flakes for added heat
Grated parmesan or pecorino romano cheese, for garnish
Fresh arugula or rocket, for topping, after baking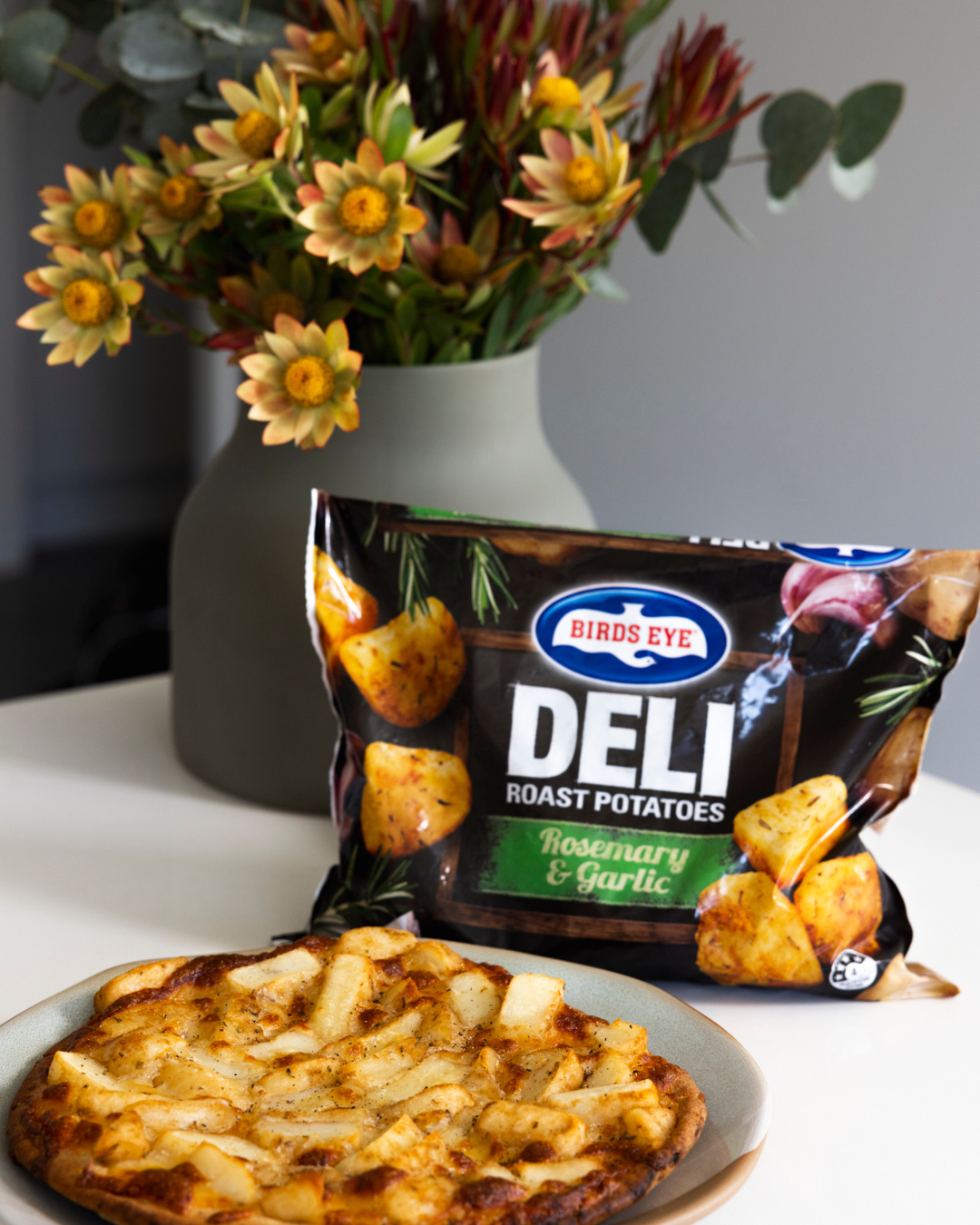 Method
1. If your pizza base requires pre-baking, do so according to package instructions. Otherwise, preheat your oven as per the recommendations for the pizza base, usually around 475°F (245°C) or the temperature indicated on the package.
2. Place the pizza base on a pizza stone or a baking tray lined with parchment paper.
3. Lightly brush the pizza base with truffle oil, ensuring you get the edges. This will give the crust a rich flavour.
4. Add half the shredded mozzarella to your pizza base.
5. Evenly distribute the thawed Birds Eye Deli Roast Potatoes Rosemary and Garlic over the pizza base.
6. Add the other half of the shredded mozzarella cheese (or your cheese mix) over the potatoes.
7. Sprinkle freshly ground black pepper, and if you prefer, some crushed red pepper flakes to taste.
8. Transfer the pizza to the oven and bake according to the pizza base instructions, or until the cheese is melted, bubbly, and slightly golden brown, and the edges of the pizza are crisp. This usually takes about 8-12 minutes, but always keep an eye on it, as oven temperatures and pizza base thicknesses can vary.
9. Once out of the oven, drizzle the pizza with a bit more truffle oil for an enhanced luxurious flavour. If desired, sprinkle with grated Parmesan or Pecorino Romano cheese. For a fresh touch, top the hot pizza with some fresh arugula or rocket leaves.
10. Slice the pizza, serve immediately, and enjoy the rich flavours of potato, truffle oil, and rosemary combined!
Editor's note: This article was produced in partnership with Birds Eye. Thank you for supporting the partners who make Urban List possible. To read our editorial policy, click here.
Images: Kelsey Zafiridis.