If you've never been into colouring books and puzzles seem far too mundane, or you could never stay consistent with journaling, we may have just found your favourite new mindfulness hobby.
Introducing the LEGO® Botanical Collection. Yes, that's right—you can now relive your most beloved childhood memories once again all while practicing mindfulness with the new range from LEGO.
The Perfect Way To Slow Down
Not only do these LEGO kits launch you straight into nostalgia, but they're also an epic way to slow down, get your eyeballs out from in front of a screen, and take some time out for yourself. Whether you tackle it alone or with your partner, friend or family member, there's no denying this is the ultimate way to reconnect with yourself and others while having fun.
Better yet, if you're trying to think of the perfect date night (hint: Valentine's Day is fast approaching), this is the ultimate out-of-the-box date idea to help you and your partner reconnect while arguing over who's in charge of citing the instructions (just kidding). Give the post-dinner Netflix binge the flick and make way for the perfect 'Slow Date' with the LEGO Botanical Collection.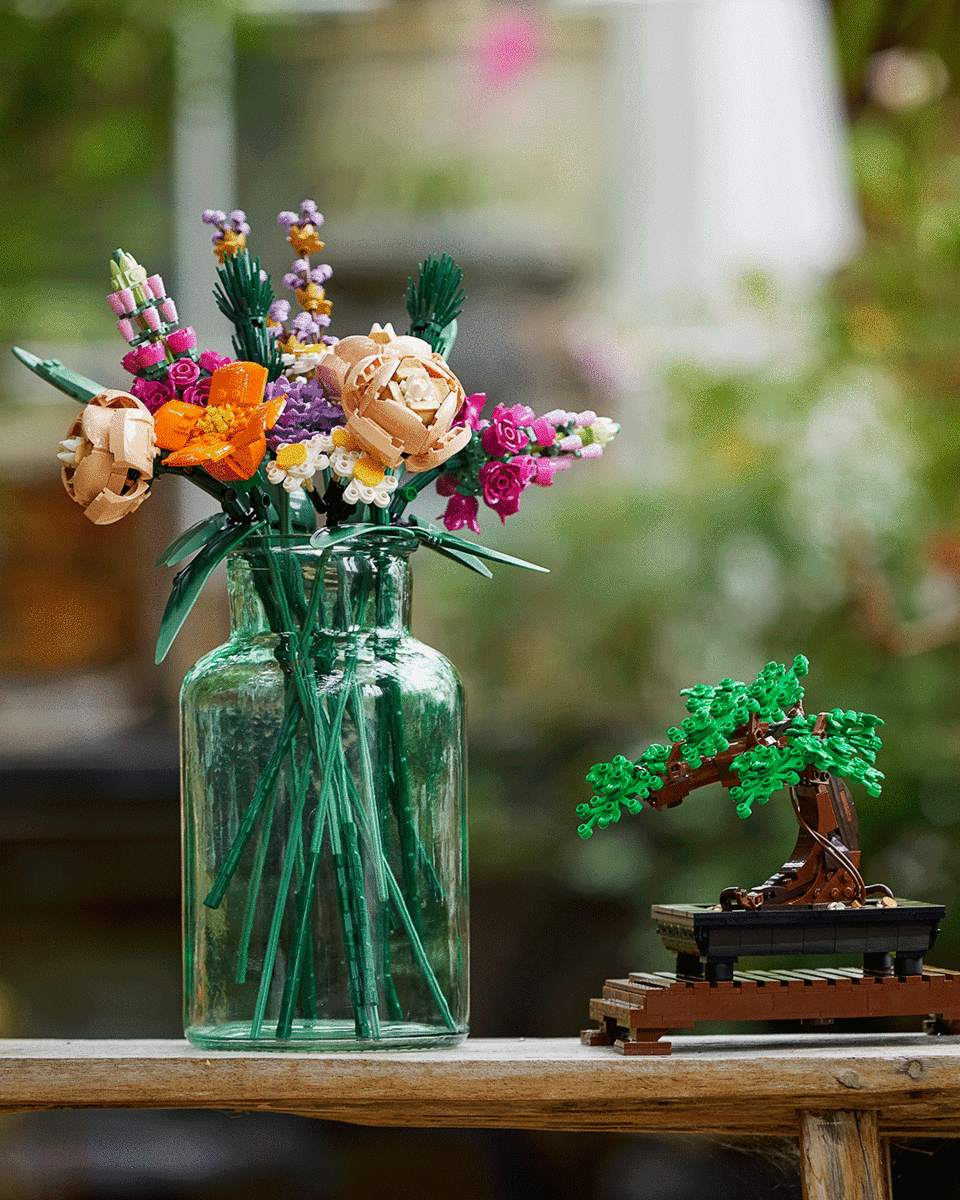 The Flower Bouquet
The new LEGO range takes inspiration from the natural world, with therapeutic yet intricate designs to soothe the mind and soul. The Flower Bouquet is designed by Anderson Grubb (Lead) and Astrid Sundorf, flower and gardening enthusiast, who have created flowers for LEGO offices, anniversaries and special occasions for years. You can forget the primary colours you remember from childhood, the Flower Bouquet features soft pink blush, lilacs and harmonizing colours sets the tone for a romantic vibe offset with pops of bright yellow and orange to draw your eyes in. Complete with contrasting types and sizes of blooms, you'll feel all kinds of self-satisfaction when you complete this stunning flower composition that won't wither.
The Bonsai Tree
The Bonsai Tree is another great addition to the range, coming in a small rectangular pot with a slatted wooden stand. As a traditional symbol of harmony and balance, you're sure to feel all kinds of calm when assembling your masterpiece. Team it with the White Noise Soundtrack that accompanies the set and you'll be feeling more zen than ever. Featuring two different tree crowns, you can alternate between the green crown that resembles the original bonsai tree crown or the pink/white crown that resembles the Japanese cherry blossom trees, Sakura. You'll definitely want to have this bad boy on display in all its LEGO glory once you've conquered the assembly.
It's official. LEGO isn't just for kids, and we're pretty stoked about it. To purchase your own kit and get in on what's set to be 2021's most entertaining mindfulness activity, click here.
LEGO and the LEGO logo are trademarks of the LEGO Group. ©2021 The LEGO Group
This article is sponsored by LEGO and proudly endorsed by Urban List. Thank you for supporting the sponsors who make Urban List possible. Click here for more information on our editorial policy.