Brisbane has some seriously boujee hotels, it's true, but no matter how Instagrammable the interior, a hotel always feels just like that—a hotel. That's not the case at New Farm's new accommodations, however, with Miss Midgley's opening its storied doors to a collection of boutique apartments where you'll feel right at home (though we daresay they're much better looking than your own pad).
Landing on James Street, just a stone's throw from everyone's fave dining and shopping strip, the hotel has taken up residence in one of Brisbane's oldest buildings. Built over 150 years ago, the grand structure has been a private home, an orphanage and a hospital in its past lives, however its stint as a school, Miss Midgley's Educational Establishment, in the early 1900s was the inspiration for its current new lease on life, with the name a nod to the founder of the school, and references to the building's educational past throughout.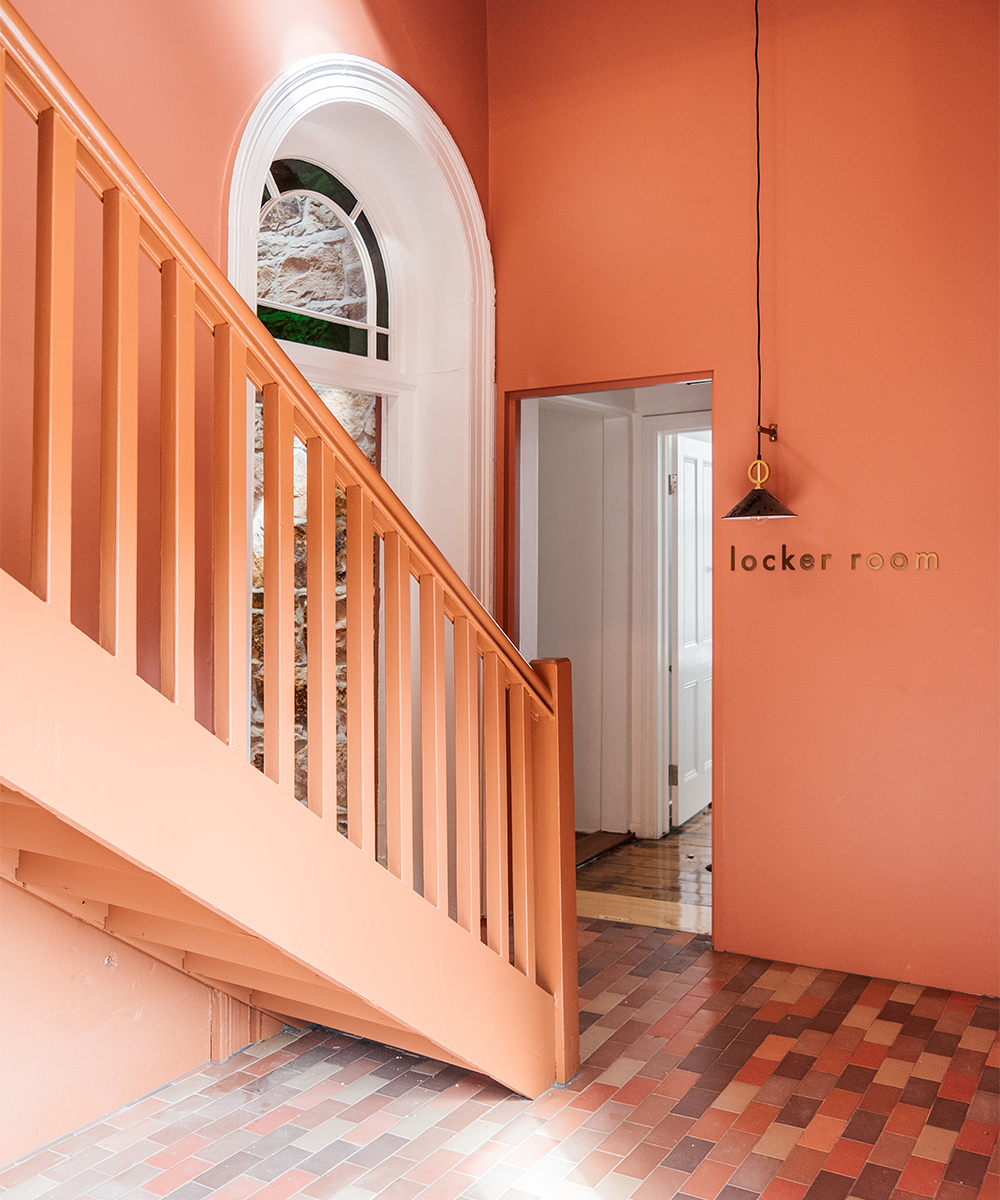 New owners Lisa and Isabella White, a mother and daughter duo who both studied architecture, are the team behind the heritage hotel, and they've poured endless hours into transforming the old building into the stunning site it is today. The renovation wasn't without surprises, some good, some not so much. On the lower floor, concrete rendering was removed to expose gorgeous stone walls built with convict-cut blocks, but on the flip side, much of the original timber flooring had rotted away and had to be completely replaced.
The hard work and many, many changes to the design to accommodate the building's quirks has paid off, however, with the resulting five apartments worthy of a magazine spread. All two-bedroom suites apart from one studio apartment on the ground floor, each room features a glam kitchen or kitchenette, a generous living space taken up by a velvet, curved fuschia couch that we want in our own lounge room and an outdoor verandah or patio. Special mention also has to go to the 'grammable bathrooms, with pink and black arched tiling, floor-to-ceiling pink privacy curtains and chrome fittings. Swoon.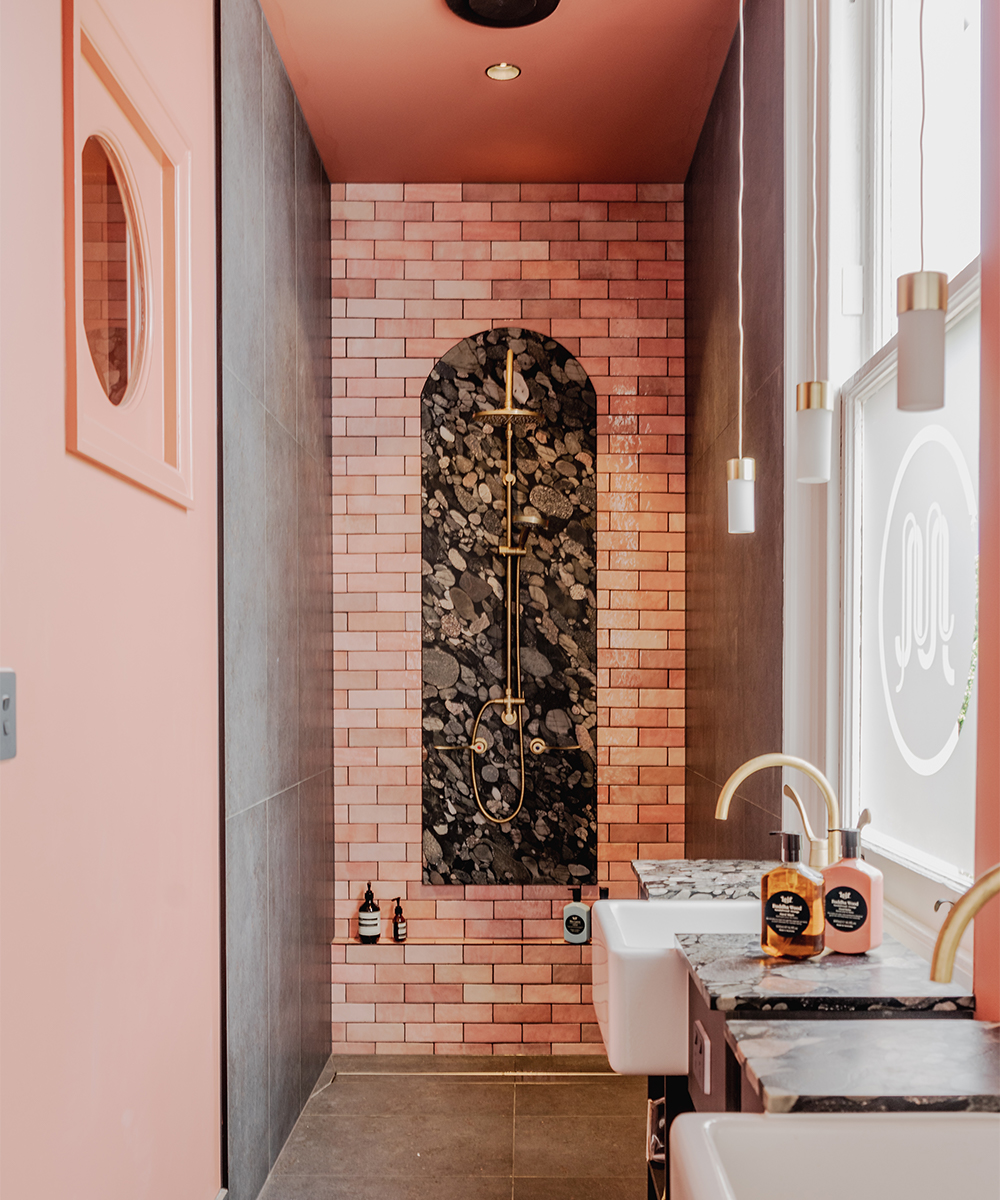 Apart from the stone walls, heritage touches you'll find in the rooms include decorative molding on the ceiling, old school casement windows and vintage school desks used as hall tables and consoles. Thought has been put into the modern necessities as well, with plenty of suitcase space in the bedrooms and kitchenware in the kitchen. Not that you'll need it, with so many incredible restaurants and cafes within walking distance—hello Agnes Bakery for breakfast, lunch and snacks.
The whole place has basically been designed to provide guests with the feel of New Farm living but all the 'grammability of a boutique hotel, not to mention a little bit of local history—and of course a picturesque pool for that true vaycay feel. Bonus, you can even bring your pup along—the ground floor apartments are pet-friendly.
Miss Midgley's is open and taking bookings now and you'd better get in quick, because dates are filling up fast. You can even book out all five apartments and take over the whole hotel if you've got a big crew—girls weekend away, anyone?
Check out more of Brisbane's best hotels here.
Image credit: Static Identity