Gin lovers, if you're looking for a new spot to sip on a G&T, then look no further than Brisbane's newest distillery and bar, Nosferatu. Serving up a range of craft gins inspired by a cult-classic movie adaptation of the novel Dracula, this warehouse spot has landed in a back street in Bowen Hills, serving up coffee and snacks by day and boozy sips by night.
After migrating up from Melbourne and bringing a vintage-looking caravan with them, Nosferatu's range of gins are now made right there in the cavernous warehouse space—you'll see the stills, including a very squat copper still dubbed 'The Shreck', along the back wall. Adorned in hanging greenery and fairy lights with one entire wall covered in antique ladders, the bar's real eye candy is that caravan, which, instead of being kitted out with a bedroom and kitchen, is lined with Nosferatu gins, other spirits, wines and beers, in order to function as a very aesthetic bar.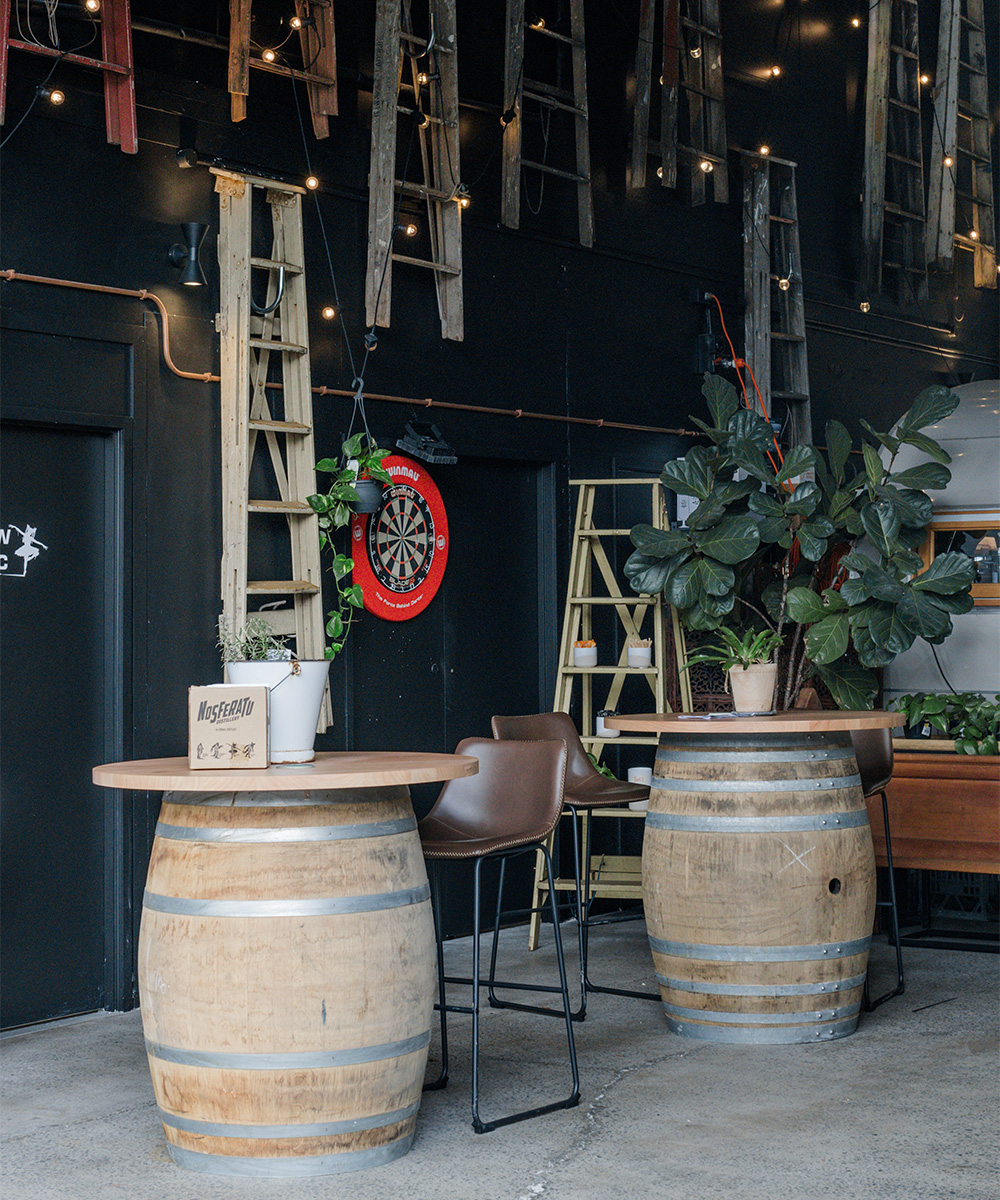 From 11am, once the liquor licence kicks in (though they serve coffee and snacks from 7am), you can taste your way through Nosferatu's range of specialty gins on a tasting flight, which comes complete with ice and tonic. There's the Mandrake (a root Harry Potter fans will be familiar with), which melds juniper, cucumber, mint, coriander seed and liquorice root, the distinctively red hued Nosferatu, their signature blood orange gin which represents the very essence of its namesake film, and the Giselle—a sweet pavlova gin with unmissable hints of cream, vanilla, toffee and caramel. Our favourite though, is the Bunyip, a sticky gin that features a hefty dose of unfermented Pinot Gris grape juice, and which we could drink all night.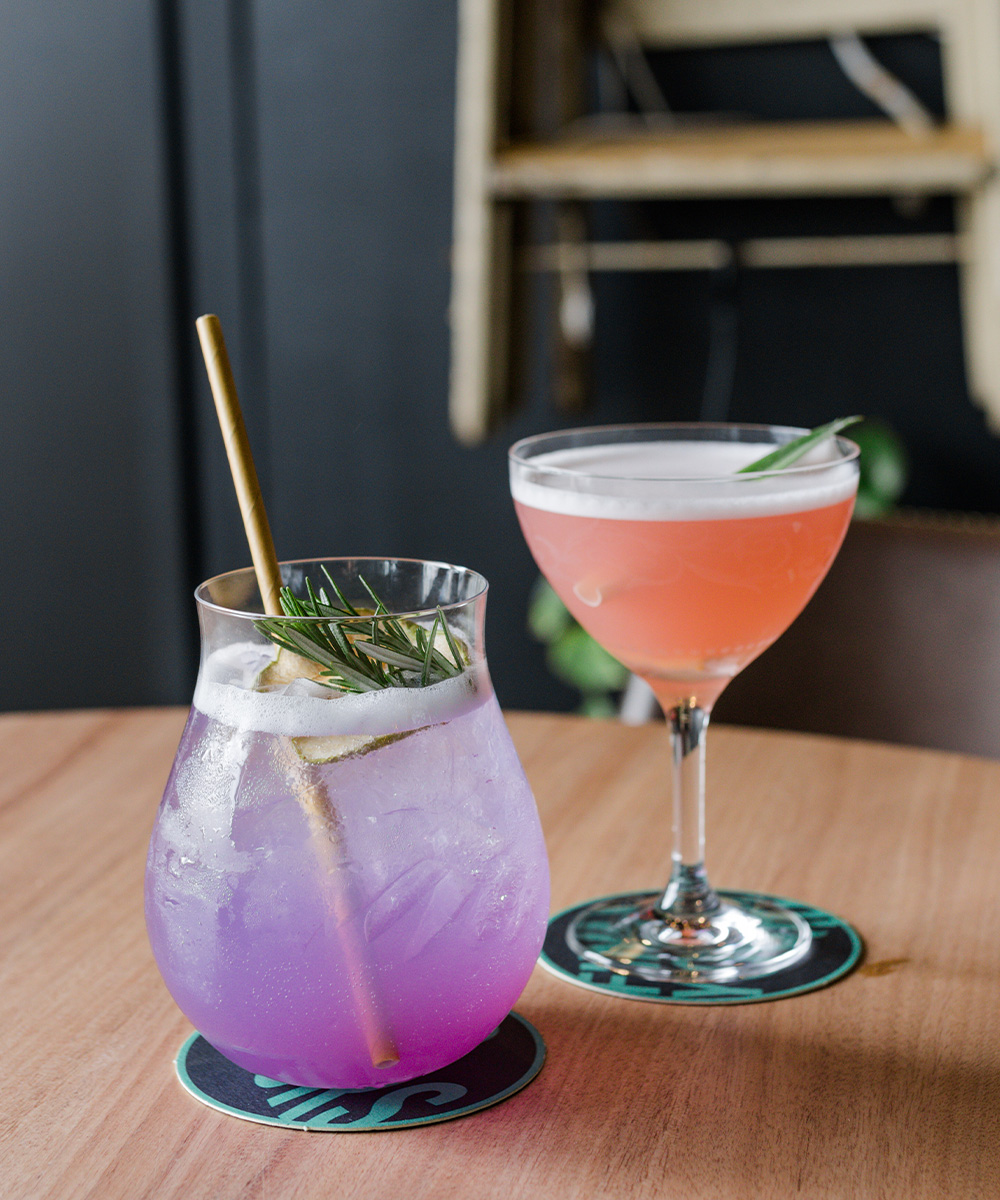 If you want to continue the journey, you can also taste your way through some other Australian and international gins—but if you've found a favourite, just order it up as a gin and tonic board so you can add your own preferred amount of tonic and garnishes. Of course, it wouldn't be a gin bar without a cocktail or two on offer, and Nosferatu has several, each inspired by a classic concoction, but made using their own gin, like the Bloody Good Negroni featuring Nosferatu, and the Last Dance, which blends Giselle with berry and citrus.
Not a gin lover? Don't worry, they've got you covered—there's a handful of craft beer tinnies, other spirits and wines on the menu too. Eats, meanwhile, are taken care of by visiting food trucks, who stop by for lunches, or pre-made cheese and charcuterie boxes. The best part? The bar is totally dog-friendly, so you can bring your four-legged friends along to solicit pats from strangers while you drink.
Whether you're already a Nosferatu aficionado, you want to sample a new favourite gin or you're just looking for an after-work drinks spot, you can find all the details on the cafe, bar and distillery here.
Check out more dog-friendly bars around Brisbane here.
Image credit: Ranyhyn Laine