KEWPIE mayo has to be one of the greatest inventions of all time—but we're not here to tell you things you already know. We're here to help you turn the trifecta of do-it-yourself Japanese staples into some home meals that will rival even your favourite restaurants.
We'll show you how to bring the best out of Hakubaku Soba Noodles, add some complexity to your flavours with KEWPIE Japanese Dressing Roasted Sesame and make a stunning curry with the legendary S&B Golden Curry. With these three pillars of home-cooking up your sleeve, there's no going wrong with your next easy weeknight feast.
Read on for everything you need to know to whip up Crispy salmon noodles with KEWPIE Mayonnaise, Japanese Curry Pot Pie And Asian Slaw and Curry Udon Noodles With Crispy Chicken.
Crispy Salmon Noodles With KEWPIE Mayonnaise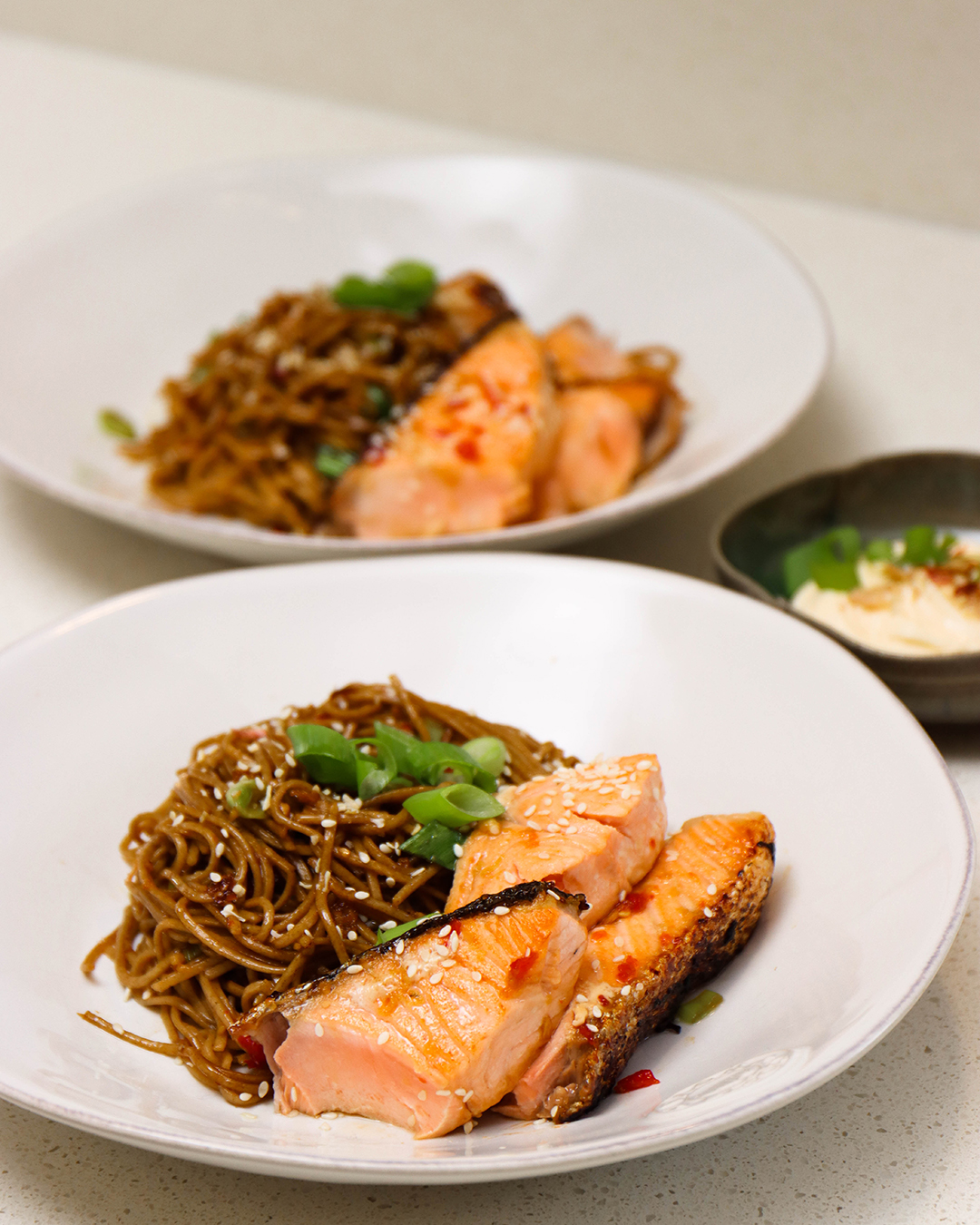 Ingredients
Fresh salmon with skin on

3 tbsp light soy

1

tbsp lemon juice

2 tsp honey

1

tsp chilli sauce

1

tsp crushed garlic

1

tsp grated ginger

2 serves of Hakubaku Soba Noodles

2 fresh shallot/spring onion

2

tbsp dried shallots

2

tbsp dried onions

2

tbsp KEWPIE Mayonnaise

1

tbsp sesame seeds
Method
Heat a Non-Stick Pan medium to high heat and place the salmon flat side down. Cook for a couple of minutes on each side until golden and crispy.

For the glaze add light soy, lemon juice, chilli sauce, garlic, ginger and honey to a jug and whisk to combine.

Spoon 1/4 of the glaze over the salmon and move the salmon around the pan to soak it up.

Boil the Hakubaku Soba Noodles as per package instructions.

Add noodles to the pan and pour over the remainder of the glaze onto the noodles, tossing through with the tongs. Add the fresh shallot, dried shallot and dried onion, and stir through.

Remove noodles from the pan and arrange in a bowl, adding KEWPIE Mayonnaise on top, on the side or stirring through if desired.

Add salmon on top, and drizzle any remaining glaze.

Add sesame seeds, additional shallot and or onion flakes if desired and serve immediately.
Japanese Curry Pot Pie And Asian Slaw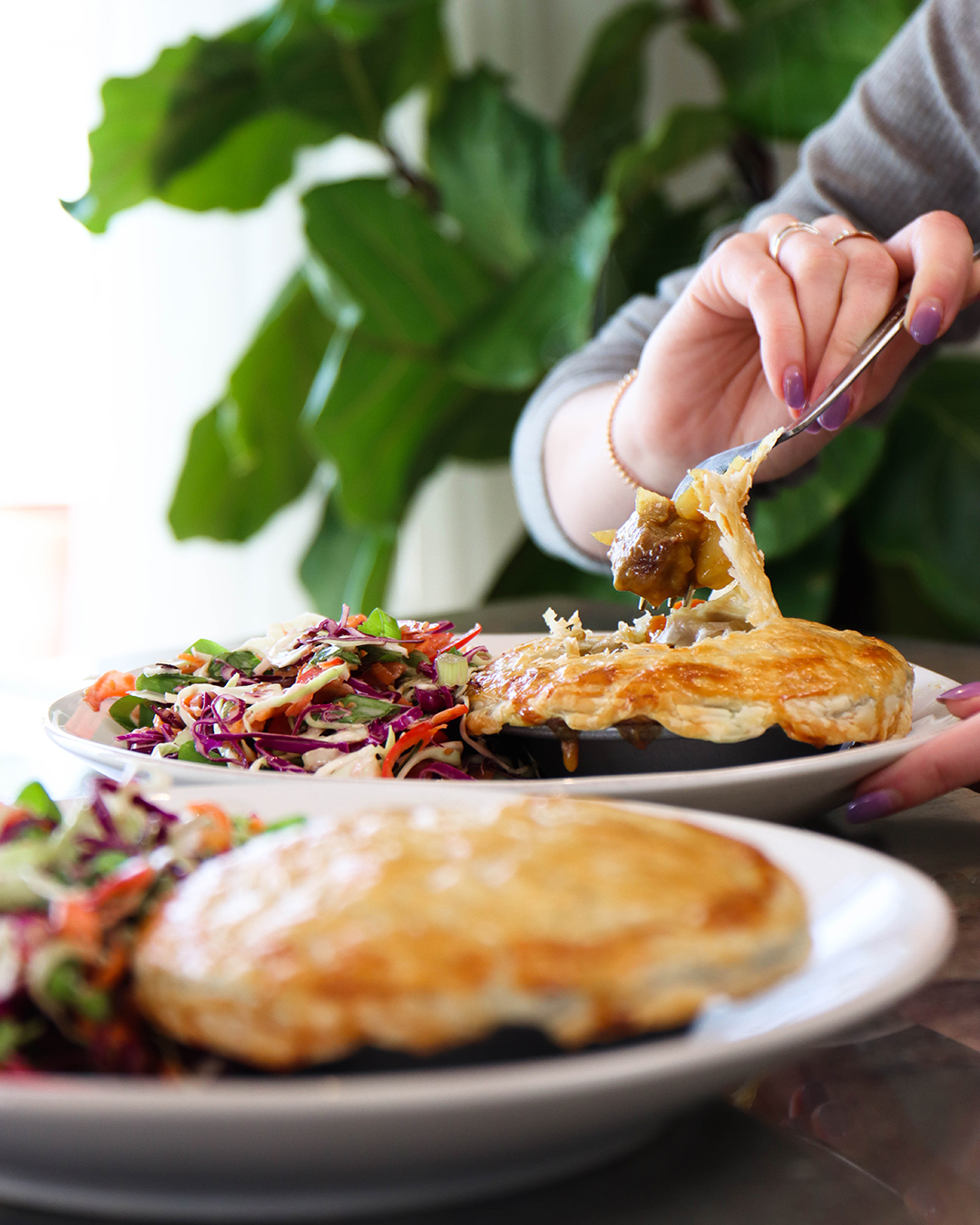 Pie Ingredients
1/2 onion sliced

3 medium russet potatoes peeled and cubed

1 carrot peeled and cut

1 tbsp olive oil

250g cubed beef or protein of your choice

1/2 of a 92g box S&B Japanese Golden Curry Mix Medium Hot

2 and 1/4 cups of water

1 puff pastry sheet

1 egg for egg wash
Pie Method
Prep the vegetables.

Preheat the oven to 190 degrees C.

In a pot, heat oil over medium-high heat. Brown beef pieces (or other protein).

Add in sliced onion and mix. Then add in potatoes and carrots and mix well.

Pour in water. Bring to a boil and then reduce heat to low and cover for 10-15 minutes (or until vegetables are just about done). Be sure to skim the impurities off the top during the cooking process.

Put in the S&B Japanese Golden Curry Mix Medium Hot and mix until sauce thickens. If it's a little too thick, add a little more water.

Ladle the curry into two small pie tins.

Thin out a sheet of puff pastry. Cut the puff pastry sheet into sizes that will fit/cover the pie tins.

Place prepped puff pastry onto the tins and press around the edges.

Prepare your egg wash (you can either just beat the whole egg and use that, or the egg yolk mixed with 1 tbsp milk for the egg wash). Brush egg wash on your puff pastry.

Put the pot pies into the oven for 25 minutes or until golden brown on top.
Slaw Ingredients
½ green cabbage

½ purple cabbage

1 carrot

1 bunch coriander (½ cup chopped)

1 spring onion

Other vegetable choices (shelled edamame, red capsicum)

KEWPIE Japanese Dressing Roasted Sesame
Slaw Method
Peel and julienne the carrot and cut the length in half if necessary.

Chop coriander into half-inch pieces and finely cut the green onions.

Remove the core of the cabbage and cut (or shred) the cabbage into thin slices.

Add all vegetables to the bowl with the KEWPIE Japanese Dressing Roasted Sesame in it.

Toss everything together and serve.
Curry Udon Noodles With Crispy Chicken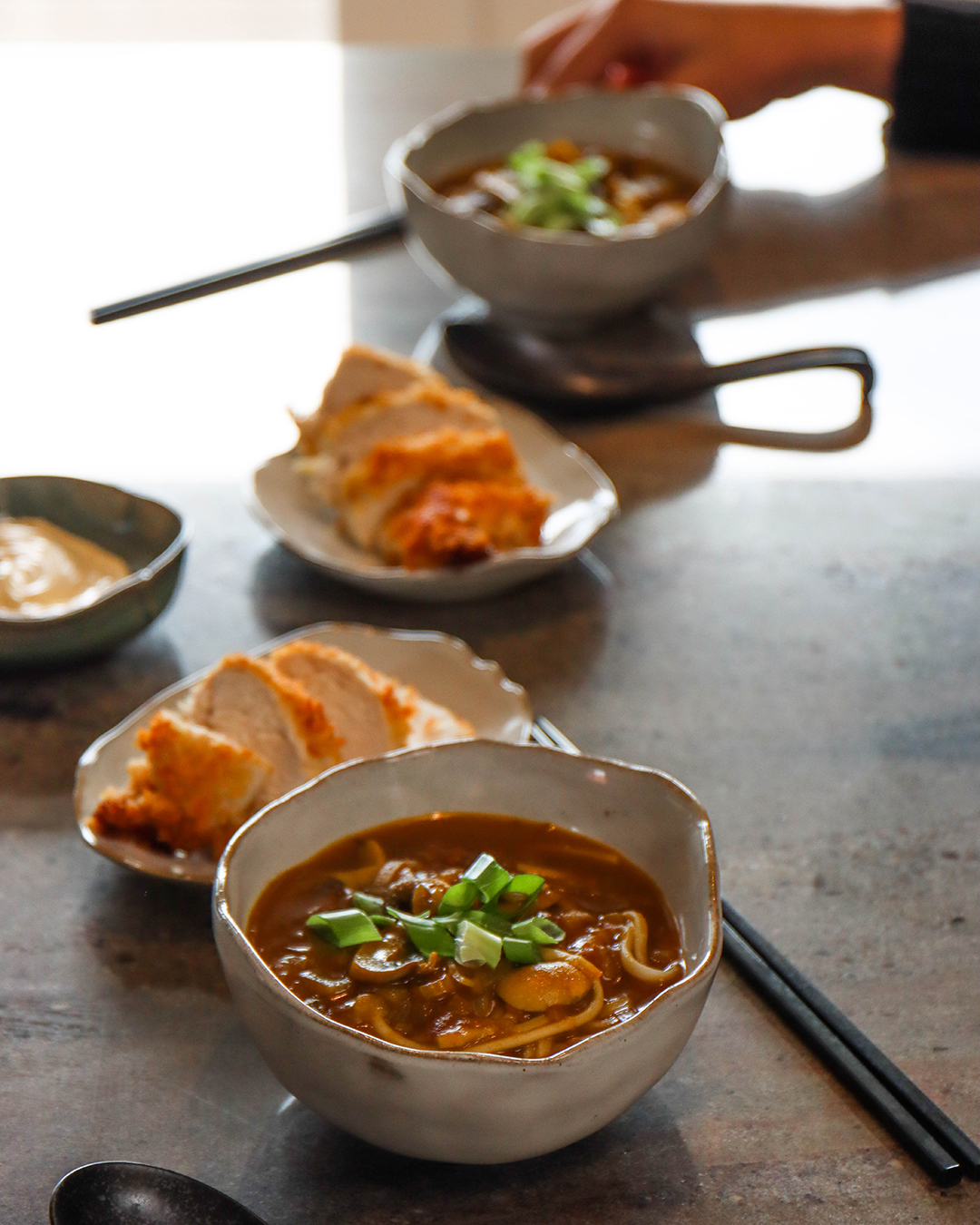 Ingredients
2 chicken breasts

1/2 cup Panko crumbs

KEWPIE Mayonnaise

92g of S&B Golden Curry Sauce Mix Medium Hot

Large onion, chopped

50g mushrooms

1 tbsp vegetable oil

1L water

1 tbsp soy sauce

Hakubaku Udon noodles

2 spring onions
Method
Slice the mushroom, dice the onion and then pour Panko crumbs onto a plate.

Coat each chicken breast in KEWPIE Mayonnaise and then press both sides into the Panko crumbs.

Heat 3 tbsp of vegetable oil in a shallow pan and bring to high heat. Flash fry the chicken for a minute or two on each side to brown the crumb.

Place chicken in a baking dish and cook in the oven for approx. 30 minutes at 180 degrees.

While the chicken is cooking, stir-fry the onion with oil in a saucepan on low heat until golden.

Add mushrooms to the pan and stir-fry, then add 1L water and bring to a boil and simmer for 10 minutes.

Turn the heat off, break S&B Golden Curry Sauce Mix into pieces and add them to the saucepan. Stir until sauce mixes are completely melted.

Bring back to boil, and add soy sauce. Simmer for approx. 5 minutes, stirring constantly. While this is happening, cook the Hakubaku Udon noodles per packet instructions.

Pour the curry over Udon and sprinkle the green spring onions over the top.

Slice the chicken and serve on the side.
For more information on all your KEWPIE, Hakubaku and S&B needs and where to find them, follow the links.
Image credit: Urban List
Editor's note: This article is sponsored by KEWPIE, Hakubaku and S&B and proudly endorsed by Urban List. Thank you for supporting the sponsors who make Urban List possible. Click here for more information on our editorial policy.