In Queensland, typical vacays tend to fall into one of two categories: cosy winter getaways, and road trips to the coast. But station stays are a welcome addition to the holiday shortlist. In short, station stays take your typical farm stay to the next level—think endless red dusty roads, sprawling acerage, and nothing less than thousands of sheep or massive herds of cattle. They offer guests a taste of outback living without having to commit to the rural lifestyle.
But booking in for a station stay doesn't have to see you roughing it. Each station does things their own way, so no two stays are the same. Check out our top picks for a station stay in Queensland, from simple campsites to working farms, and everything in between.
Shandonvale Station
Near Barcaldine
If you're looking for the working station stay experience but can't bear to give up those creature comforts, set your sights on Shandonvale Station. This unique outback accom takes station stays to the next level thanks to the recent refurbishment of their 100 year old Shearer's Quarters. Think glam chandeliers, soft white linen, and plenty of pillows to keep you cozy. Better still, you'll be treated to a true farm-to-table dining experience with a home-cooked meal at homestead. As for what to do while you're there, you can jump on a buggy and help with the sheep-herding, have a go at the gun range or just enjoy a campfire—you're not on the clock here.
Gilberton Outback Retreat
Near Hughenden
Stop what you're doing—this station stay deserves your full attention. With sweeping views out over Gilbert River and luscious green plains, Gilberton Outback Retreat is the perfect place to unplug and unwind in aluxe, open air cabin perched up the surrounding bushland, complete with a free-standing bathtub and four-poster bed. The seventh generation cattle station is perched on a former gold mine, and offers a range of activities to keep you entertained, including a farm tour that will see you helping put out cattle feed or getting involved in training young cattle. Of course, if you just want to relax and enjoy the all-inclusive meals and beverages, you can do that too—no judgement from us fellow city folk.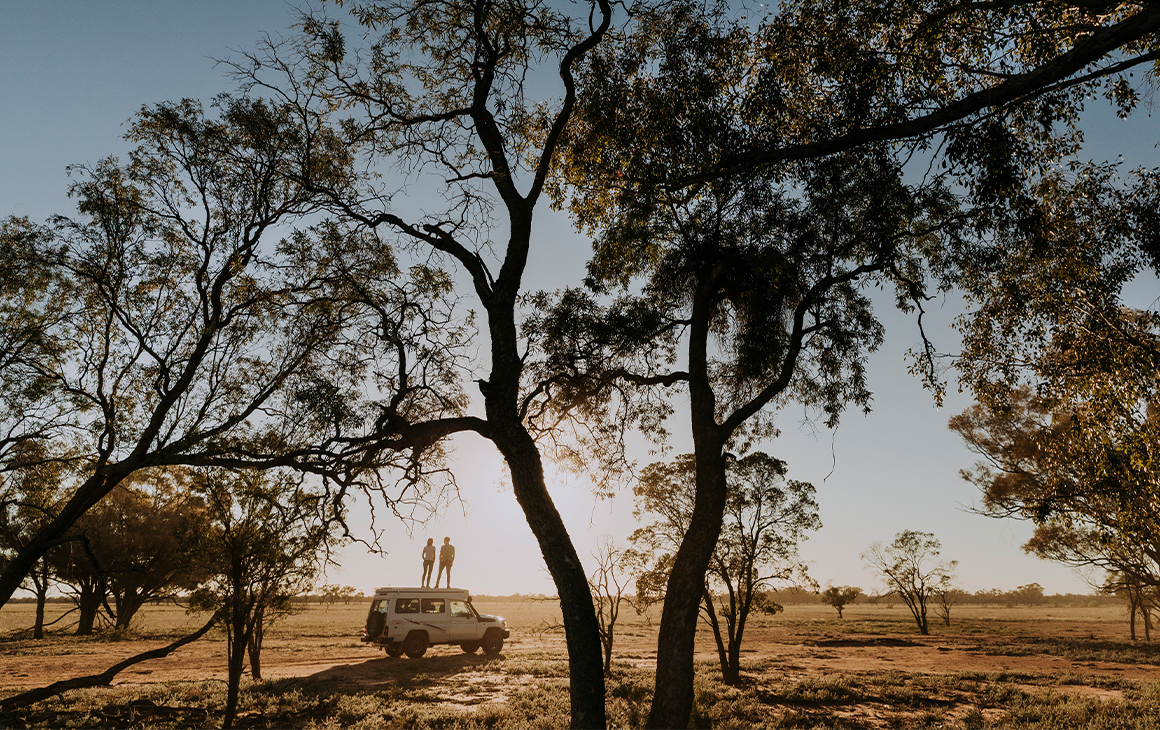 Charlotte Plains
Near Cunnamulla
Home to several thousand head of sheep, Charlotte Plains is the perfect place for an authentic outback experience—you can even tour their historic woolshed, where they still tackle the shearing every year. Located near Cunnamulla, the station is family owned and operated, meaning everything has a personal touch. The Charlotte Plains campgrounds are ideal for RV campers or tent haulers, but there's also minimalist cabins if you prefer a solid roof over your head. The best part though? Their outdoor baths, where you can soak in mineral rich artesian bore water. Oh it's dog-friendly too—are you packing your bags yet?
Noonbah Station
Near Longreach
Filled with fiery sunsets, countless stars, and over 128,000 acres of ridges, flats, and rolling hills, Noonbah Station is an absolute must-visit. The sprawling acreage has been in the hands of the Emmott family for over one hundred years, so you can trust they've learned the secrets of the land. Pitch a tent beside one of the cattle station's secluded waterholes, or book a stay at their rustic schoolhouse for some classy accomodation in the heart of the bush.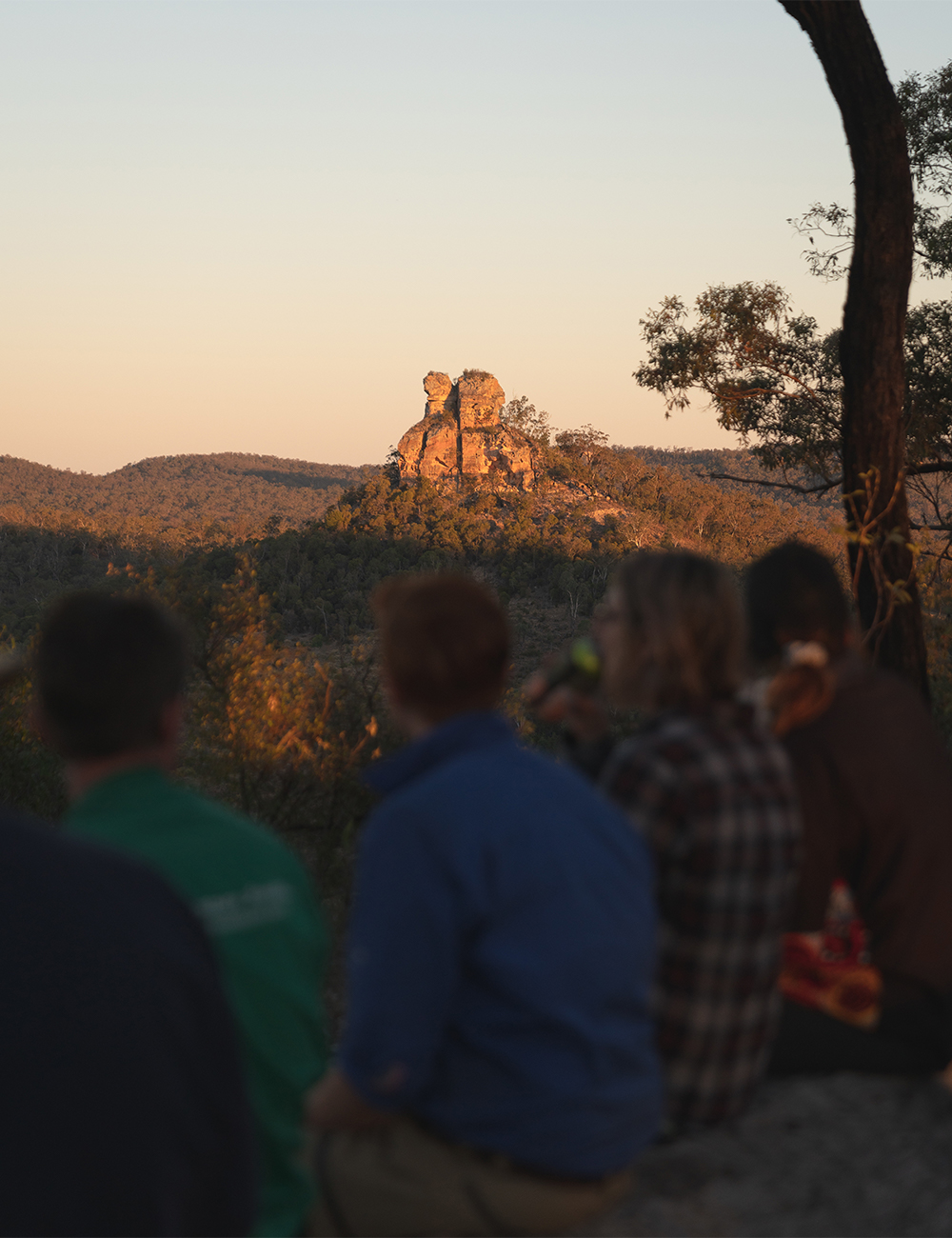 Wallaroo Outback Retreat
Near Roma
Nestled amongst the towering cliffs of the ancient Carnarvon Ranges, Wallaroo Outback Retreat is a classic country lodge built from timber milled on the property. The station offers guests the chance to disconnect from the daily grind and appreciate the beauty of the Aussie outback, only in total luxury, thanks to their deluxe glamping tents, which come complete with their very own ensuite. Once you're settled, you can learn to crack a whip, catch some yabbies in the dam or try your hand at camp oven cooking—and be sure to keep an eye out for the local wildlife.
Myella Farm Stay
Near Rockhampton
A beef cattle farm with roots dating back to the 1930s, Myella Farm Stay is packed with plenty of old fashioned charm. Whether you prefer to pitch a tent or book a room, guests are promised a chance to get back to nature thanks to Myella's multitude of farmhouse pets. Meet Mr Big, the beautiful Shetland Pony, Pink Floyd the Galah, and the endless stray roos who wander around the property in search of a feed. If you're up for it, you can also get up close and personal with the working animals, from hand milking a cow to collecting eggs.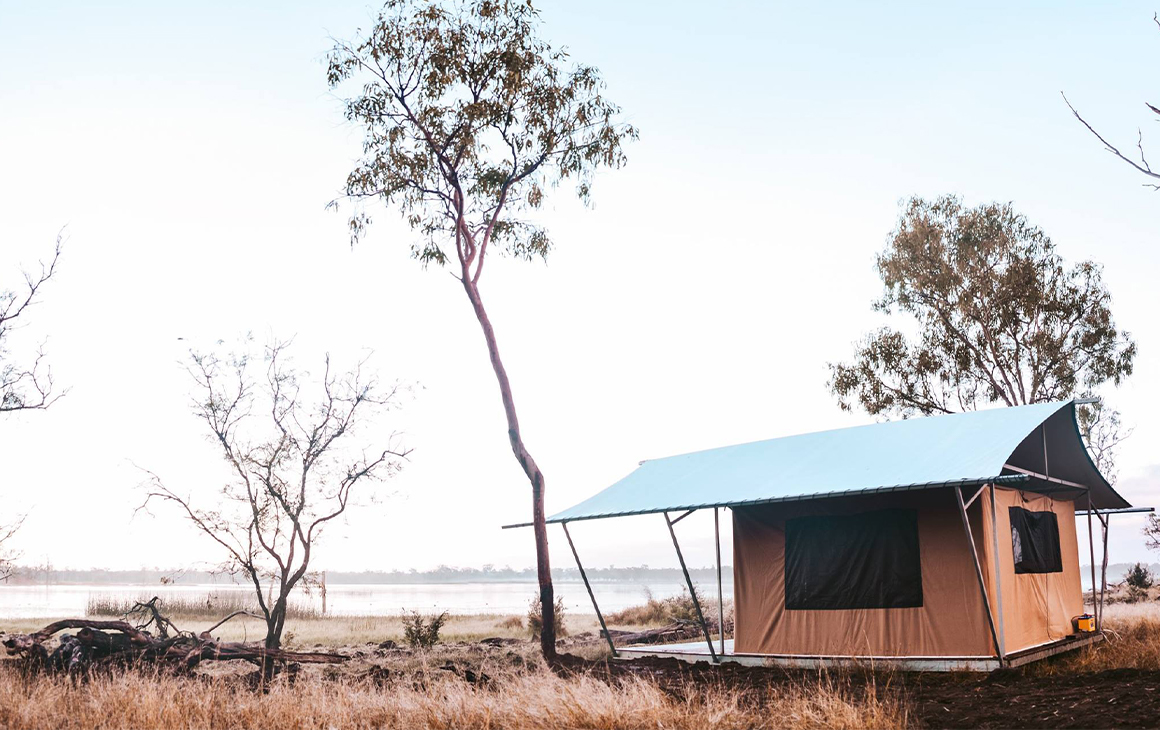 Kinrara Expeditions
Near Innisfail
Sounding the stunning Kinrara National Park, this magical outback retreat is designed to treat guests to a truly immersive station-life experience. Set down your bags in your personal tent, complete with its own private balcony and incredible views of the lake and surrounding wildlife. Enjoy communal eating with local produce served family style at large dining tables for everyone to enjoy. Keep an eye out for Kinrara's Chief Experience Officer, whose role is to make sure your stay is as memorable as possible through a range of activities and once in a lifetime experiences. This is one holiday you'll be 'gramming about for years to come.
Kilcowera Station
Near Cunnamulla
With fields of stunning purple flowers, and sweeping views out over the Mulga Rangelands, this is one station stay you'll want to pack your camera for. Kilcowera Station rounds out our list with some of the driest lands in South West Queensland, meaning healthy native vegetation is vital to the survival of the natural ecosystem. Expect to share your stay with a range of local wildlife, each making the most of the station's lakeside location. Throw on your hiking boots to really make the most of this outback retreat, with plenty walking tracks ranging in intensity for guests to enjoy. We recommend walking the 10km lagoon loop at sunrise for an invigorating experience that will see the sunlight mirrored in the shimmering lagoon waters. Talk about serenity.
Looking for something a little closer to home? Check out The Overflow Estate 1895's all new Wanderpods, set to open in December this year.
Image credit: Tourism And Events Queensland, Kinrara Station