About three hours north of Brisbane, along the Bruce Highway, past Caloundra, Noosa and Gympie, sits the stunningly beautiful Fraser Coast. You probably know the region for its namesake, World-Heritage listed K'gari/Fraser Island. While the island is undoubtedly phenomenal, and a must-do for any self-respecting Australian, there's plenty more to keep you entertained in the area if you're willing to look for it.
To help you tackle it all we've teamed up with Queensland to bring you our top picks for the best things to eat, drink and do when heading up to the Fraser Coast. Yes, we've included Fraser Island—but have you heard of the Maryborough Mural Trail? Trust us, it's worth a Google.
Where To Eat
Enzo's On The Beach
When it comes to beachside dining, it doesn't get much better than Enzo's On The Beach. The restaurant offers an all-day breakfast menu packed with goodies like vegan huevos rancheros, açaí bowls, and sunrise granola, not to mention classics like bacon and eggs and pancakes. Of course, being on the beach, fish is their specialty, so stop by before close for a fresh catch.
Eat At Dan & Steph's
You'll have to book ahead to score yourself a seat at Eat At Dan & Steph's, but it's well worth the trouble. Order up a brisket mac and cheese, corn beef hash, or our personal fave, sticky date hotcakes. But the true star of the show is their drinks menu—what can we say, we're suckers for a Turkish Delight Latte.
The Vinyard
Boasting incredible views over the Urangan Pier and out over to Fraser Island, The Vinyard is a wine-lovers dream. Dishes are carefully curated to pair perfectly with different wine selections, to give guests the ultimate dining experience. If you aren't into wine, don't fret—their cocktail selection is just as impressive, and they welcome requests.
Arkarra Gardens Cafe Restaurant
Set on two acres of beautifully landscaped gardens, Arkarra Gardens promises a tranquil dining experience that allows you to slip away while listening to the sounds of birdsong. Sip locally roasted espresso coffee as you explore the gardens, or sit down to a scrumptious lunch by the gardens' gourmet chef. Their diverse menu caters to all diets and includes everything from falafel tortillas to blackened salmon—not to mention their sinfully delicious loaded fries.
Where To Drink
The Dock
With a picturesque location on the banks of the Hervey Bay Marina, The Dock welcomes anyone and everyone looking to have a good time by the bay. With a fantastic selection of cocktails, wines and beers, you'll want to try a little of everything before calling it a night.
The Beach House Hotel
The multi award-winning Beach House Hotel is pegged as Hervey Bay's premier entertainment venue—and it's not hard to see why. With 60 taps and over a dozen icy cold beers and cider available in house, you'll be spoilt for choice, so choose wisely. Of course, they've also got quality wines and cocktails on the menu, just to make it that much more difficult. So many drinks, so little time...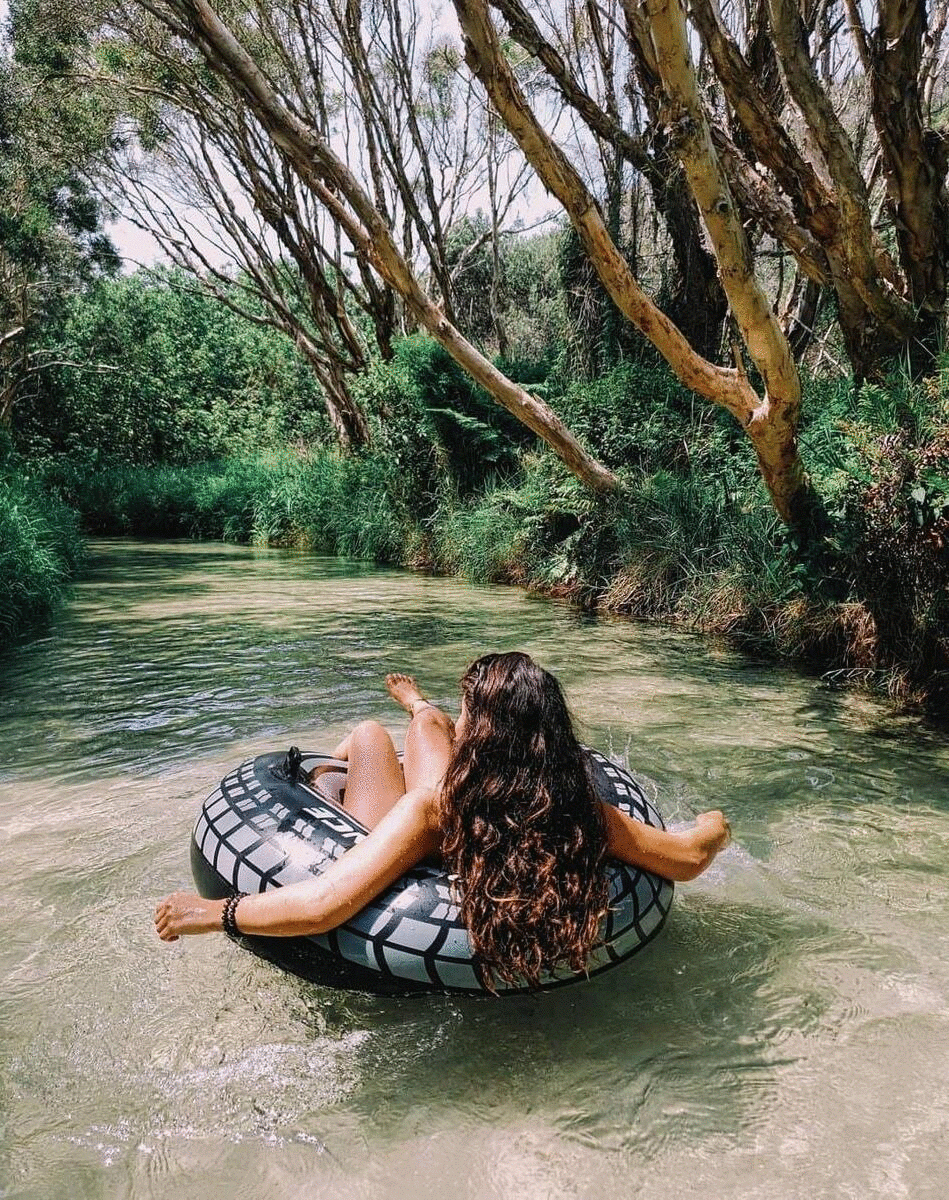 Where To Stay
Ramada Hervey Bay
Make yourself at home with a suite at Ramada Hervey Bay, whose self-contained apartments offer everything you need to kick back and relax. Step out onto the balcony to look out over the marina, or take a dip in the hotel's showcase pool—the longest in Hervey Bay. The apartments come with a fully equipped kitchenette and the convenience of a laundry, not to mention a spa bath to soak your worries away.
Torquay Caravan Park
Nestled along the foreshore of Hervey Bay lies Torquay Caravan Park, the perfect base for exploring the Fraser Coast. The park sits right in the heart of the bay, meaning travellers have everything they need right at their doorstep. With laundry facilities, a camp kitchen, free barbecues and a nearby boat ramp, Torquay Caravan Park is all set up for the perfect family getaway.
Oaks Resort & Spa
With beachfront views and a convenient location, Oaks Resort & Spa is the perfect stepping off point to exploring the Fraser Coast. Family-friendly beaches, bars, eateries and shops are all just a stone's throw away, making your stay that much easier. Rooms range from one to three bedrooms at all different price points to accommodate every guest, but each and every room promises a relaxing stay.
Kingfisher Bay Resort
If you're looking to stay on Fraser Island, Kingfisher Bay Resort is an excellent option. They have rooms, villas and even houses available for guests, meaning there's something for everyone, regardless of your budget. Plus, as part of their reopening special, you can get 25 per cent off your hotel rate by using the code 'QUEENSLANDER' when you go to book. Not a bad deal, eh?
Fraser Island Retreat
Enjoy all that Fraser has to offer by booking a hillside cabin with Fraser Island Retreat. The cabins come with their own ensuite bathroom, fully screened windows and doors, and of course, fully enclosed dingo fencing. The cabins are all within travelling distance of the island's main attractions, including Rainbow Gorge and Lake Mackenzie. There's also a licensed general store in the area, so you're covered in that respect, as well.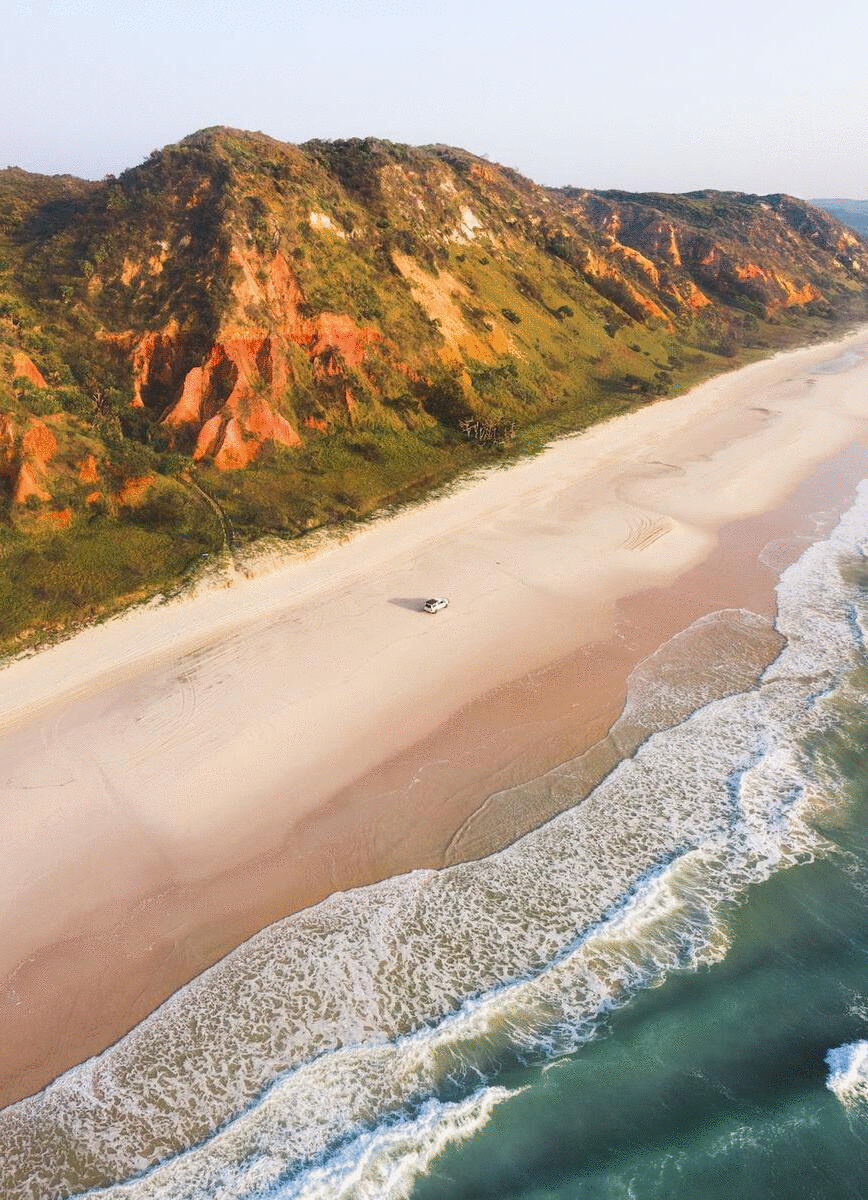 What To Do
Soar Through The Skies With A Scenic Flight Over Fraser Island
For a truly unforgettable experience that will blow you away, strap yourself in for a scenic flight over Fraser Island. Taking off from Hervey Bay Airport, you'll be treated to incredible birdseye views of Lake Mackenzie, Eli Creek, the Maheno Shipwreck, and plenty more. Flight times range from 15 minutes to a full hour depending on what you want to see (and what you want to pay). The 60-minute flight promises possible shark and dolphin sightings, as well as a beach landing and photo op (to keep your Insta followers up-to-date, of course).
Set Sail On A Luxury Yacht At Sunset
Sip champagne and watch the sun go down as you sail the seas, courtesy of Blue Dolphin Marine Tours. The 90-minute tour offers a relaxing sail around the Great Sandy Strait as you take in panoramic views of Hervey Bay and Fraser Island. There's free WiFi on board so you can post any photos and videos as you take them—but you might be too busy enjoying the canapes to take photos.
Make Some New Underwater Friends With An Eco Marine Tour
Ever seen a turtle in the wild? With Hervey Bay Eco Marine Tours, now's your chance. Each tour offers a different adventure, like the chance to snorkel the reefs of the Great Sandy Straits or listen to ancient Dreamtime stories from a local Butchulla guide. You won't want to miss the chance to snorkel with turtles on the Turtle Discovery Tour or view marine life through the moon pool on the Milbi Sunset Tour.
Throw A Line In On A Hervey Bay Sport Fishing Tour
There's an abundance of underwater life out in the bay, and the crew at Hervey Bay Sport Fishing know just where to find it. Head out on one of their boat tours and you'll be supplied with all the gear you need to catch mackerel, snapper, barramundi and more, along with drinks, morning tea, snacks and lunch.
Go Whale Watching In The Bay
Being on the annual migration path, Hervey Bay is well known for its whale watching opportunities, but for the best views, you really need to jump on a boat. Two of the best tour operators you'll find in the region are Whalesong Cruises and Tasman Venture, both of whom offer multiple options for whale watching tours and packages. Just make sure you visit between mid-July and early November to catch them.
Hire A 4WD And Explore Fraser Island
If you're heading to Fraser, you'll want to hire a 4WD to really make the most of your time there and ensure you explore everything the island has to offer. Drive to local hot spots like the crystal clear waters of Lake Mackenzie, or take a dip in Eli Creek. Head to the island's east coast for sights like the Maheno Shipwreck, Indian Head and of course, the Pinnacles Coloured Sands. With so many incredible things to see and do across the island's rugged natural terrain, you'll need a few days to take it all in.
Thousands of tourists flock to the Fraser Coast every year, so we reckon it's about time you finally ticked this slice of paradise off your bucket list—especially now that we've got the place to ourselves. Not only will you be living your best life, but you'll also be supporting businesses and locals who are doing it tough right now, so join our 20 for 20 challenge and make the promise to holiday here this year.
Queensland is good to go, so let's get out there! And remember, always be COVID safe and check operator details and opening times prior to travel.
Editor's note: This article is sponsored by Queensland and proudly endorsed by Urban List. Thank you for supporting the sponsors who make Urban List possible. Click here for more information on our editorial policy.
Image credit: Tourism and Events Queensland