If you grew up in South East Queensland, chances are North Stradbroke Island is your go-to home away from home. Coming home tomato red after a weekend trip to Straddie is practically a rite of passage. And if you weren't lucky enough to make the trip yourself, no doubt you had mates who went religiously, renting the same house year after year and coming back with epic tales of racing down the dunes and getting bogged near Brown Lake. Sound familiar? We thought so.
Of course, Straddie isn't the kind of place you can tick off your bucket list and never go again. This little slice of paradise will be forever burned in your brain, making you count down the days until your next visit.
But whether this is your first trip or your tenth, we've rounded up the best local tips and tricks to make your island getaway one for the ages. Load up that summer playlist, these are the best things to do on Stradbroke Island, including the eateries to hit up and the best beaches to lay your towel down on.
How To Get To Stradbroke Island
There's two main ways to get to Stradbroke Island, and surprise, surprise—they're both by boat. While there's plans in place for a Straddie ferry terminal at Howard Smith Wharves, for now, you'll need to make the trek out to Cleveland, in Brisbane's east. The SeaLink terminal is a 40 minute drive from the CBD, but hey, that's what playlists are for.
The first decision to make is whether you'll be bringing your car along for the ride. If you opt for the car barge, you're looking at a 45 minute trip to the island, at a cost $180 return. Of course, the barge fills up fast, so book in advance to score yourself a spot. If you'd rather leave the car at home, you'll need to fork out $10 each way for the walk-on water taxi, which will get you to the island in 20 minutes or less.
Whatever you choose, your next stop will be Dunwich on Stradbroke Island, a small town with plenty of cafes selling cold drinks to keep you cool (slushee, anyone?). If you opted for the water taxi, you can hop on the island bus to get to your next destination—it operates round the clock, and will drop you at either Amity or Point Lookout, depending on your preference. But if you're travelling light, we recommend hiring a scooter for a more up-close-and-personal tour of the island.
And if you need somewhere to stay, you can check out the island's best accomodation options right here.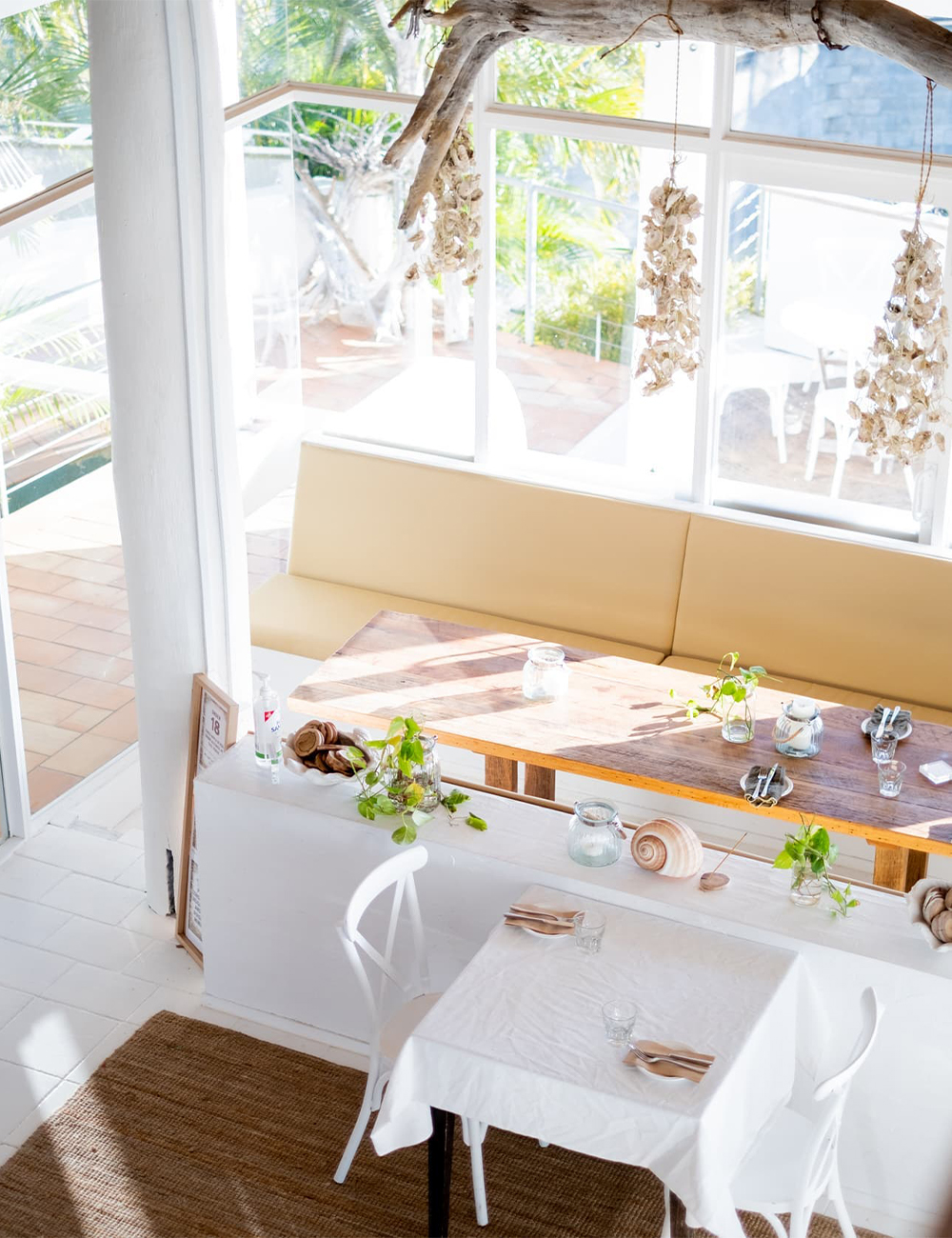 Where To Eat And Drink On Stradbroke Island
Kokomo Beach House
Formerly Whale's Way, Kokomo Beach House is under new ownership, and according to locals, it's thriving. Run by a couple of guys from Byron Bay, the venue has undergone a major makeover, and has now fully transformed into a stunning island bar and restaurant. There's simply no competition for Kokomo's cocktails, and the fresh island seafood is next level. Head up to the beach house for a magical afternoon watching the sun go down as you spot whales and dolphins jumping in the distance.
The Blue Room Cafe
For delicious gourmet food alongside classic beach shack vibes, set your sights on The Blue Room Cafe. With a menu devoted to diversity, the Blue Room serves up fresh brunch bites perfect for vegans, vegos and celiacs alike. Different items are served everyday, so be sure to book in a week-long vacay so you can sample the lot. Trust us, your tastebuds with thank you.
Oceanic Gelati & Coffee Bar
When it comes to ice cream, there's only one place on Straddie to curb your sweet tooth. Oceanic Gelati And Coffee Bar is an island institution, beloved by locals and tourists alike. Just a stone's throw from the start of the Gorge Walk, the gelateria serves up a range of drool-worthy sorbets and creamy gelati flavours. Iced vovo, rosewater meringue and cherry ripe are some of our faves, but there's simply no beating the classics (their chocolate gelato will ruin icecream for you forever). They even have a range of vegan and lactose-free options, so you can indulge in sweet treats without the side serve of guilt.
Sealevel 21
If you're as big a fan of breakfast as we are, you'll want to pay a visit to Amity Point's Sealevel 21. Known as the home of the best breakfast on the island, Sealevel 21 is a local fave serving up Insta-worthy dishes from their outdoor patio with some serious island vibes. The waffles are an absolute must, and there's simply no passing on those oh-so-delicious arancini balls.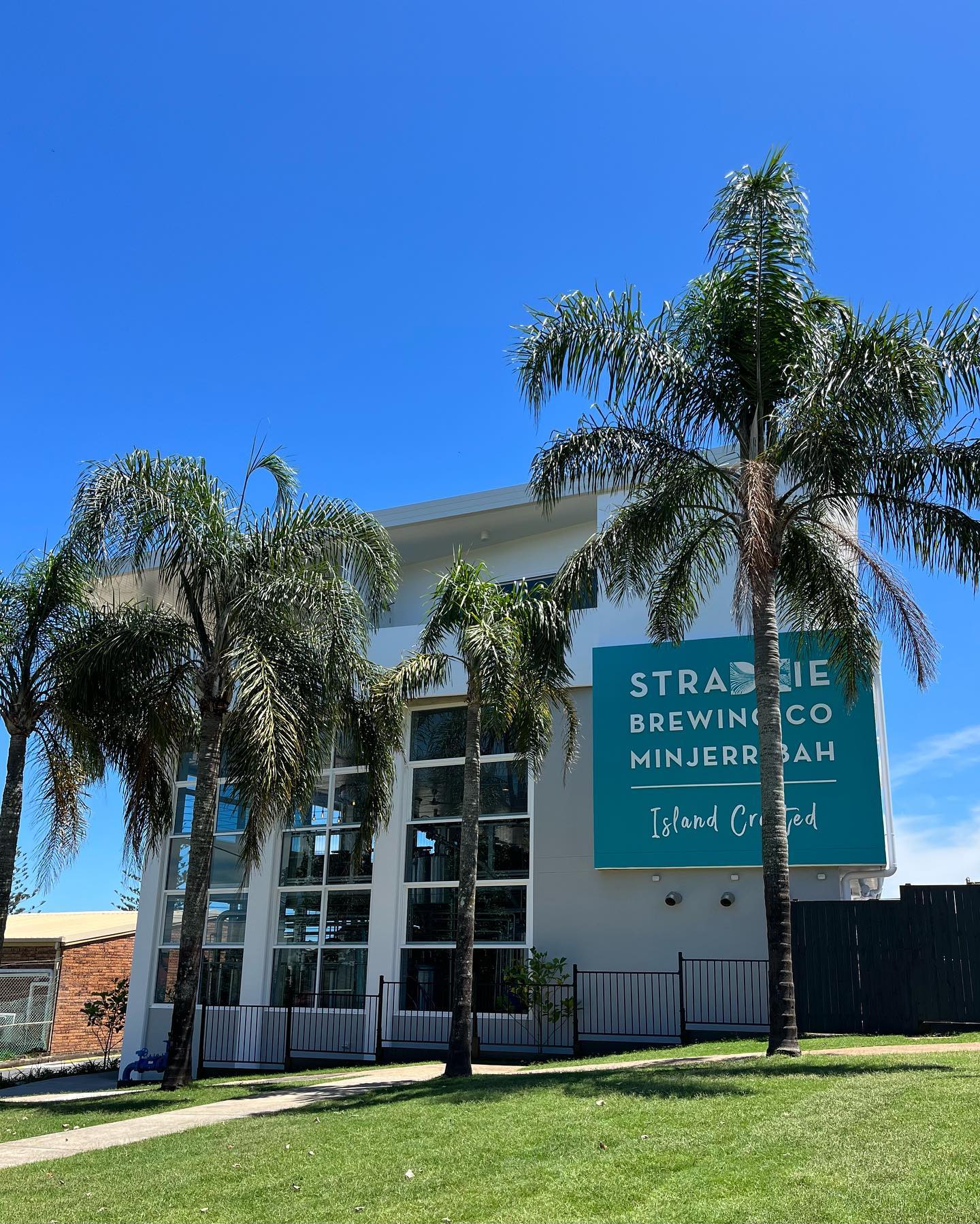 Straddie Brewing Co
Brand new to the island and already causing a stir is Straddie Brewing Co, a three-story brewhouse and tap room making beers from the sand-filtered water that flows from Straddie's aquifer. You can enjoy one of their seven brews from the Taproom, the Brew Deck or the rooftop Sunset Deck with stunning views over Moreton Bay. For eats, there's plenty of seafood, pizzas and tapas-style food platters, and if you want to get up close and personal with the brewing process you can even book a brewing tour.
The Stradbroke Island Beach Hotel
Can't pass up a classic pub feed? Pick up a parmi with a view at The Stradbroke Island Beach Hotel, aka the best beer house on Straddie. With live performances every Saturday and Sunday, it's the perfect place to put your feet up and kick back with a beer as you cool off post-sunburn. Bonus, you can make use of their free courtesy bus to pick you up and take you home.
Rufus King Seafoods
The title of best seafood on Straddie is highly contested, but having surveyed them all, Rufus King Seafoods is our top pick. Located at Amity Point, Rufus' always had a line out the door, with locals and tourists alike queuing for a taste of freshly caught prawns, oysters, crabs and bugs. Pick up a bag of fresh prawns to eat on the beach or grab a seafood feast to cook up back at your Airbnb.
Straddie Woodfired Pizza
For a taste of authentic Italian on the Aussie coast, set your sights on Straddie Woodfired Pizza. With a truck down at Cylinder Beach every weekend, treat yourself to a slice of Italy with a classic margherita topped with plenty of cheese. Order ahead to skip the queue and indulge on oven-hot pizza by the beach.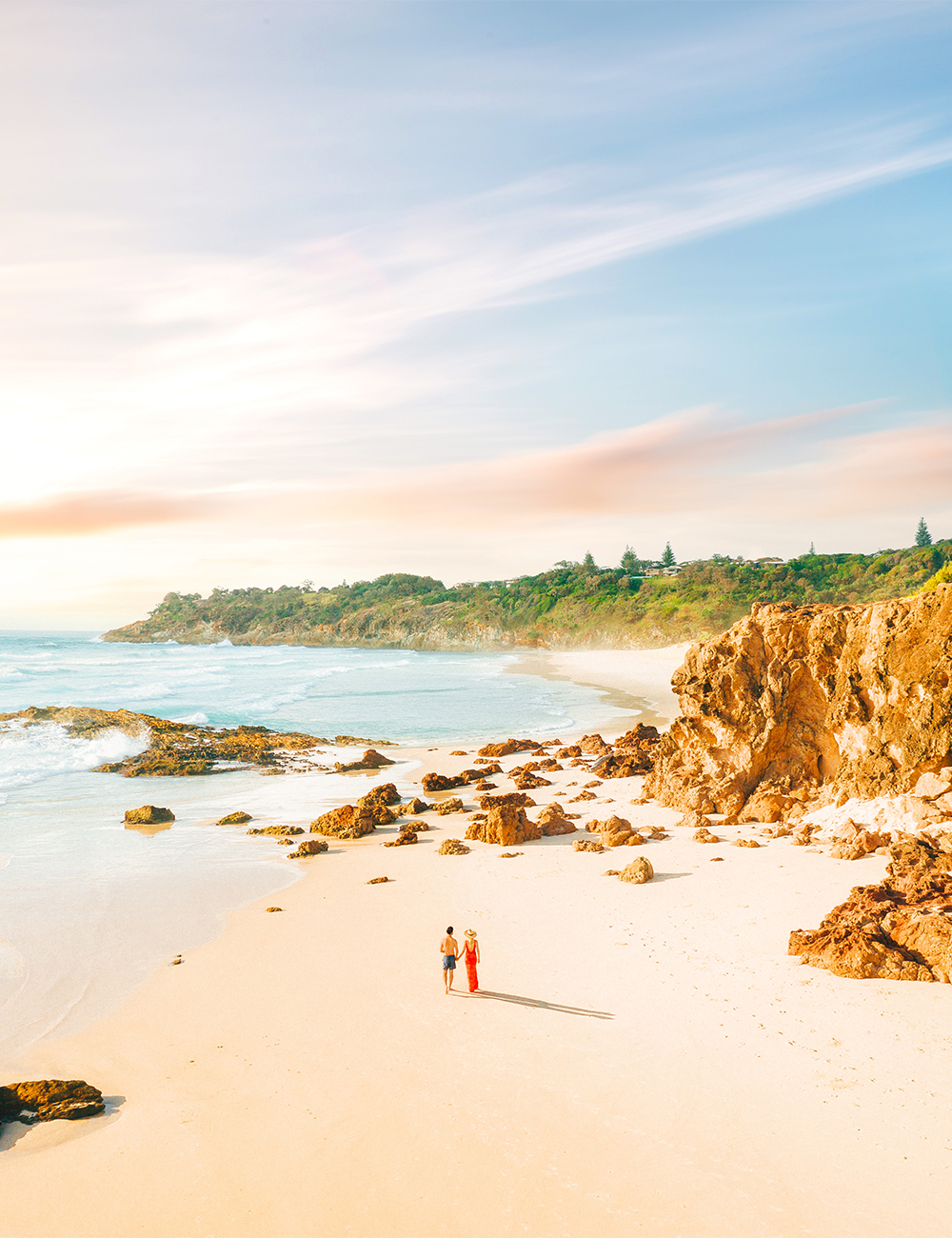 Things To Do On Stradbroke Island
Meet the Wildlife on the Iconic Gorge Walk
Easily the island's most famous activity, trust us—the Straddie Gorge Walk lives up to the hype. Clocking in at just 1.5km, this iconic coastal loop consists of a gentle stroll along the Point Lookout boardwalk, with plenty of spots to snap a pic. You'll likely stumble across a kangaroo or two, but don't forget to cast your gaze seaward for a chance to spot dolphins, rays, whales and turtles. Up your gorge game with a $50 Indigenous Quandamooka Guide who will walk you through Stradbroke's Indigenous history and the incredible cultural significance of the island's natural wonders.
Explore Underwater At This Premier Dive Facility
Straddie is known for its incredible sea life, so it should come as no surprise that scuba diving is one of the island's many attractions. Sign up for a three-day open water course and become a certified diver, so you can take those scuba skills anywhere in the world. The course will take you to four local dive sites and teach you all the skills you need to make friends with the fish—just be sure to keep an eye out for sharks.
Get Your Bowl On at the Local Lawn Bowls Club
Get a group together and lock in a day at the Point Lookout bowls club. With stupidly cheap drinks and a laid back atmosphere, it's the perfect place for a Sunday sesh by the beach. Keep an eye out for kangaroos enjoying the bowling green—there's a good chance they'll try to steal your lunch.
Greet the Dolphins at Amity Point Jetty
Ever seen a dolphin out in the wild? Head down to Amity Point Jetty at sunset, and be greeted by a pod of dolphins looking for a feed. You aren't supposed to feed them, so try to avoid it if you can, but there's no harm in paying the dolphins a friendly, food-free visit,
The Best Beaches On Stradbroke Island
Being, you know, an island and all, Straddie is blessed with some of Queensland's most beautiful beaches, almost all of which put our mainland hotspots to shame (sorry, but there's really no competition). But depending on the vibes you're after, you'll want to pick your beachspot carefully, so it matches your vacay plans.
If you're into an early morning surf, set your sights on Main Beach, which offers consistent, clean waves and rideable swells with gentle, offshore winds. For those with kids in tow, Cylinder Beach is known for its safe swimming conditions, and shady picnic spots. Home Beach is dog-friendly, and comes complete with a picturesque freshwater lagoon so clear you can see the fish swimming around you. If you're after a bit more adventure (and came prepared with a 4WD), Flinders and Main Beach are both four-wheel friendly—just be sure to pick up a vehicle access permit before you go.
If you need somewhere to stay, you can check out the island's best accomodation options right here.
Image credit: Tourism & Events Queensland, Kokomo Beach House, Straddie Brewing Co