For those who are yet to experience the magic of Outback Queensland, prepare to be graced with some pretty epic rewards, from natural wonders to heartwarming local communities and a wealth of history and quality eats in between. Whether you're saddling up for a rodeo in Mount Isa or stargazing in Longreach and 4WDing through the red dusty sands of the Simpson Desert in the South West, it's about to get wild in the rugged outback.
If you're heading out to the golden west, we've teamed up with Queensland to bring you all the places you need to stop at along the way.
Things To Do
Experience history at the Big Rig
The attraction Roma Street is perhaps best known for is The Big Rig Night Show Sunset Experience. Sit back, relax, and enjoy the tales of yesteryear as you're taken on a visual journey through the history of Roma. As you drink in the local stories, sip on the regional port they have on offer and enjoy the full Roma experience.
Take a spa day in the Australian Outback
On your travels between Roma and Charleville, stop in Mitchell and recharge at the Great Artesian Spa. Here you can bathe in the mineralized waters the area is famous for. Said to have relaxing and therapeutic properties, a trip to the spa is the perfect way to rejuvenate yourself after a long road trip.
Uncover top-secret WWII mysteries
As you move on toward Charleville, stop by the Cosmos Centre for a glimpse into the area's fascinating history with space and the beyond. From there you can depart for the Top Secret WWII Tour. What does WWII have to do with this small, Outback town, you may ask? Take the tour and find out.
Journey back in time to when dinosaurs ruled the outback
We all know that dinosaurs once roamed the earth, but what do you know about the local dinos that shared our land? Make your way to the Australian Age of Dinosaurs in the small town of Winton to see the evidence for yourself. This museum is home to Australia's largest collection of Australian fossils and will teach you all about the local dinosaurs that once ruled what is now the Aussie Outback.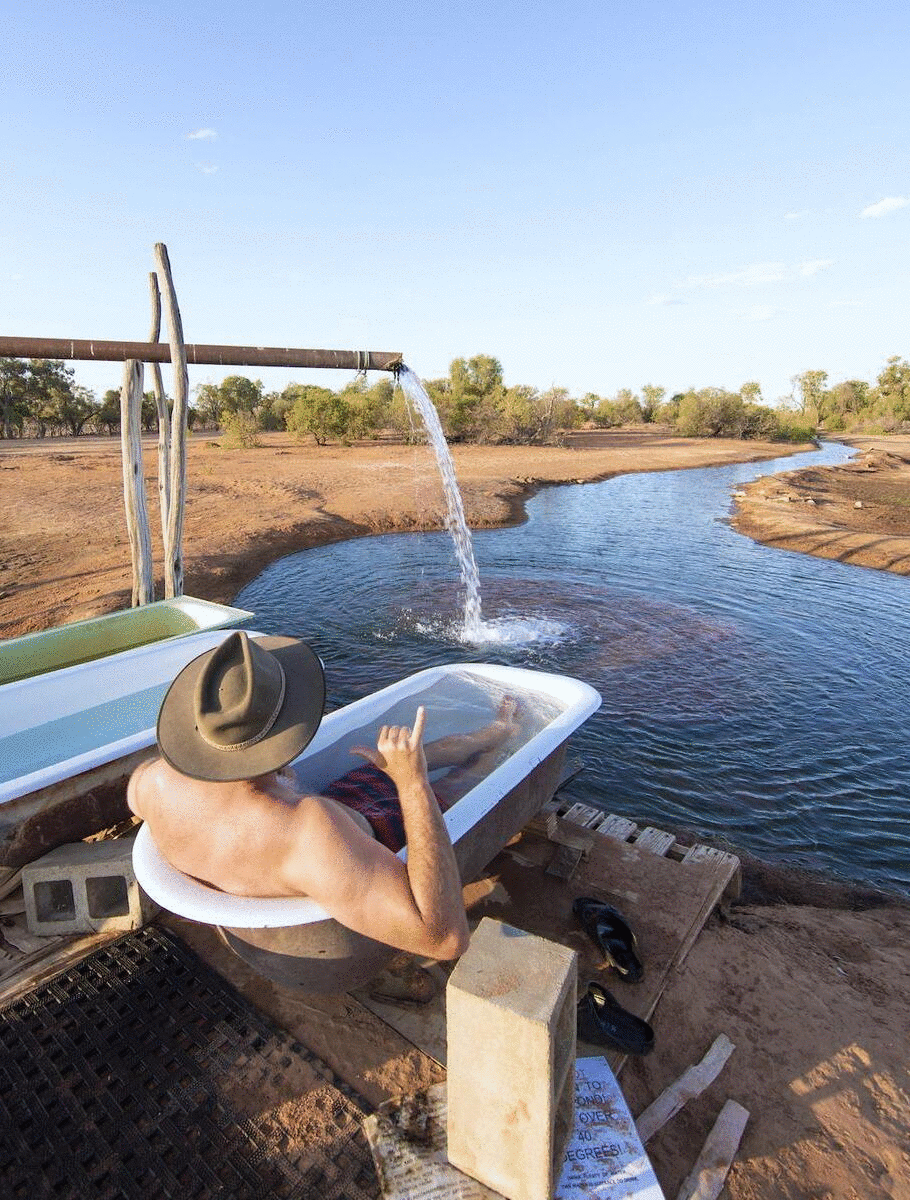 Where To Eat
The Lounging Emu
If you're a pizza lover on your way to Longreach, stop off in Barcaldine for wood-fired pizzas that will knock your socks off. The Lounging Emu may not look like much from the outside, but as soon as you cross the threshold you'll be greeted with the toasty scent of unparalleled pizza crisping up in their wood-fired oven.
On the Rocks Restaurant
Settle in for a delicious feast at On the Rocks. Designed for its Charleville climate, On the Rocks sports high ceilings and sweeping verandahs for an alfresco style dining experience. The menu is packed with mouthwatering modern Australian dishes inspired by the Outback surroundings, paired with an extensive wine list and whiskey menu to accompany your meal.
Cattle Camp Hotel
Another Charleville eatery worth checking out is the Cattle Camp Hotel. Serving up Australian favourites from a fresh seasonal menu that changes with the seasons, Cattle Camp is perfect for either a quick bite or a luxurious, hearty meal. If you're just passing through we recommend the Blazing Saddle Pizza and if you're settling in, definitely try one of their legendary 'best steaks in the west' with a cold beer to wash it down.
Treats For Your Table
Passing through Richmond and have a hankering for something sweet? Treats For Your Table is here to deliver. Hiding away in this outback town, you won't believe the delicious desserts they are baking up. Take your pick of their elaborate cakes, overflowing eclairs, freshly baked scones, and more - trust us, it's all worth the carbs.
Where To Drink
The Birdsville Hotel
Located in what has to be the closest Queensland town to the centre of Australia is The Birdsville Hotel. Known as Australia's most iconic outback pub, Birdsville calls all with adventurous spirits and a love of the Aussie Outback to tackle the unpredictable and sometimes perilous Birdsville Track. Winding up at the doorstep of their iconic pub, you can celebrate your conquest of the difficult terrain with a beer amongst like-minded travellers.
The Australian Hotel Motel Boulia
Smack bang in the middle of the Queensland outback is a little town called Boulia, and at the heart of it in one of the town's oldest buildings, lies The Australian Hotel Motel Boulia. This is your quintessential Aussie town that is best known for one thing. Camels. The bar reflects this, serving up their custom Crazy Camel Lager alongside a menu of their signature camel recipes. (Don't worry, the beer itself is completely camel free… we think).
Walkabout Creek Hotel
Grab a cold schooner at one of the Outback's most well-known waterholes, the Walkabout Creek Hotel. Isn't ringing any bells? Rewatch Crocodile Dundee, then realise that you must visit this iconic Australian bar immediately. The owners have retained Walkabout's rustic decor and true blue Aussie spirit, making it a must-see McKinlay stop on your next Outback road trip.
Arvos Tapas Bar
If you're passing through Mount Isa and are craving a cocktail or two, stop in at Arvos Tapas Bar. On top of their delicious tapas menu, they sport an impressive cocktail list and are known for having the best service in town. Make sure you order from their dessert tapas menu for the perfect end to your evening.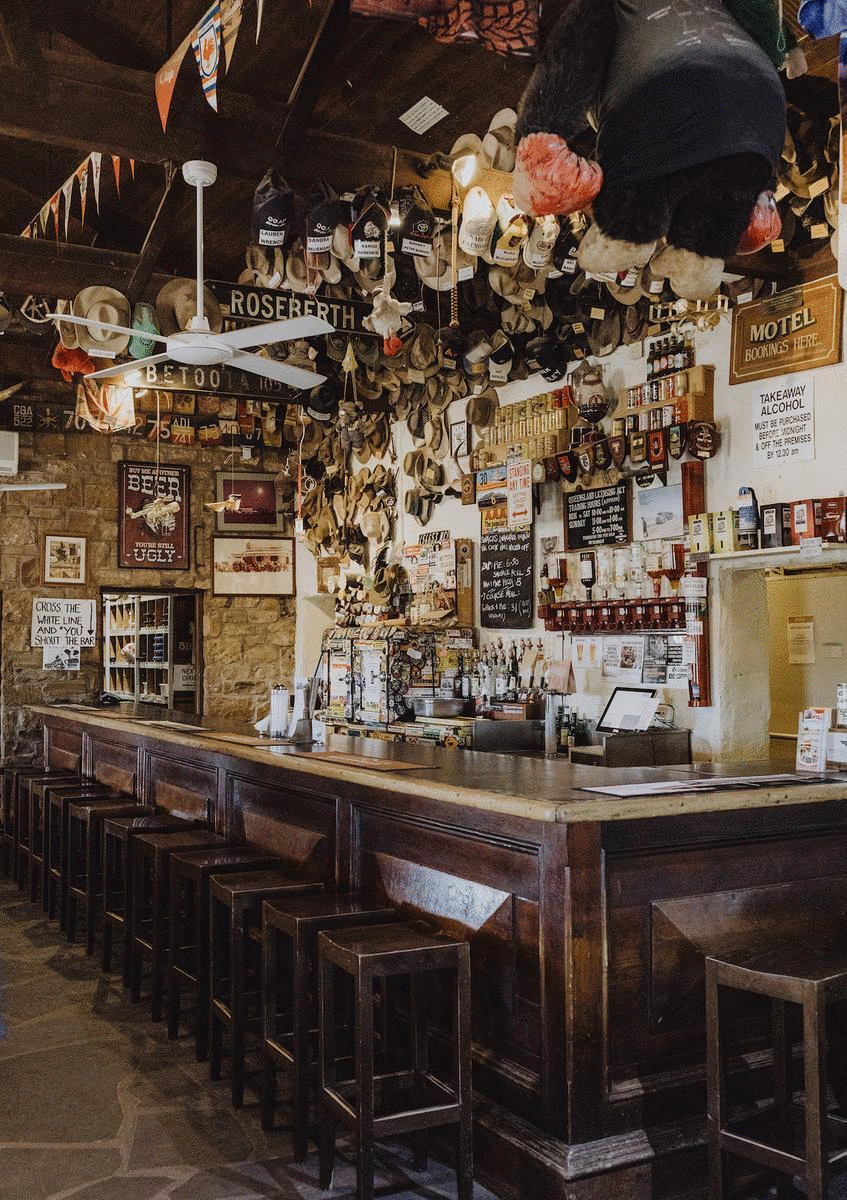 Where To Stay
Hotel Corones Charleville
Known as one of the Outback's truly iconic hotels, Hotel Corones has a rich history hailing back to the 1920s when it was first built. Located in the very heart of Charleville, Corones is a historic landmark that once housed royalty. Book a room and learn about the significance of the charming hotel and hear the tales of Harry Corones himself.
Longreach Motor Inn
If you need a place to rest your head in Longreach, relax in the heart of town at the Longreach Motor Inn. Centrally located for easy access to explore the town and surrounds, the Inn boasts an award-winning restaurant serving up contemporary Australian cuisine. Made with seasonal produce and paired with expertly picked wine, the entire menu can be delivered directly to your room. Restaurant-quality meals in bed? Yes, please!
Motel Carnarvon
If you're heading west toward the Outback, chances are you'll be passing through Roma on your way. For a central location and all the creature-comforts, stay the night at Motel Carnarvon. During the day you can explore everything Roma has to offer, from the Roma Bush Gardens to the touching war memorials scattered throughout the town.
Roma Central Motel
Another Roma motel that offers contemporary accommodation and is walking distance from the local attractions is Roma Central Motel. The acoustically designed rooms have been optimised for your comfort, and the motel itself boasts its own 'smart bar' and will serve you breakfast directly to your door.
Boasting red-sand country, natural wonders unlike anywhere else in the world, and top-notch cultural experiences, there's no better place for a 'gram-worthy escape than Outback Queensland. Join our 20 For 20 Challenge and make the promise to holiday here this year and support Queensland businesses that need your help right now.
Queensland is good to go, so go get some red dirt under your tyres! And remember, always be COVID safe and check operator details and opening dates and times prior to travel.
Editor's note: This article is sponsored by Queensland and proudly endorsed by Urban List. Thank you for supporting the sponsors who make Urban List possible. Click here for more information on our editorial policy.
Image credit: Tourism and Events Queensland