There's nothing quite like the jolt of joy that courses through your body when you come across the perfect one-off piece at Vinnies. The build-up of diligently flicking through every hanger on the racks, not quite sure what you're looking for but when you see it, you just know it's coming home with you. A perfectly worn-in pair of jeans? An Aussie made jacket from the '90s? A designer dress for a fraction of the price? Vinnies is a treasure trove for anyone with a passion for style, saving and sustainability to boot.
It's undeniable that op shopping is having a revival moment and love for secondhand is happening in a big way. Market places like Depop are popping up digitally to respond to the sustainability-minded demand for pre-loved pieces, but there's nothing quite like the IRL experience of the op shop and dodging the dreaded Depop Drama. If there's anything that feels better than putting on a fresh, recycled 'fit, it's walking out the door knowing that your pre-loved threads are part of a sustainable solution to textile waste.
According to the report Transitioning to a Circular Textile Economy in Australia, researchers present statistics on the impact of fast fashion and discarded clothing on the environment, which are pretty eye-watering. The report states that every 10 minutes an estimated 6,000 kilos of textiles and clothing are dumped in landfills across Australia and 100 billion garments are produced globally each year with 33 per cent going to landfills within the first year of purchase.
Those numbers are pretty overwhelming on a grand scale, but there are some easy, small scale solutions that we can all engage with to reduce those numbers—and look cute while we do it.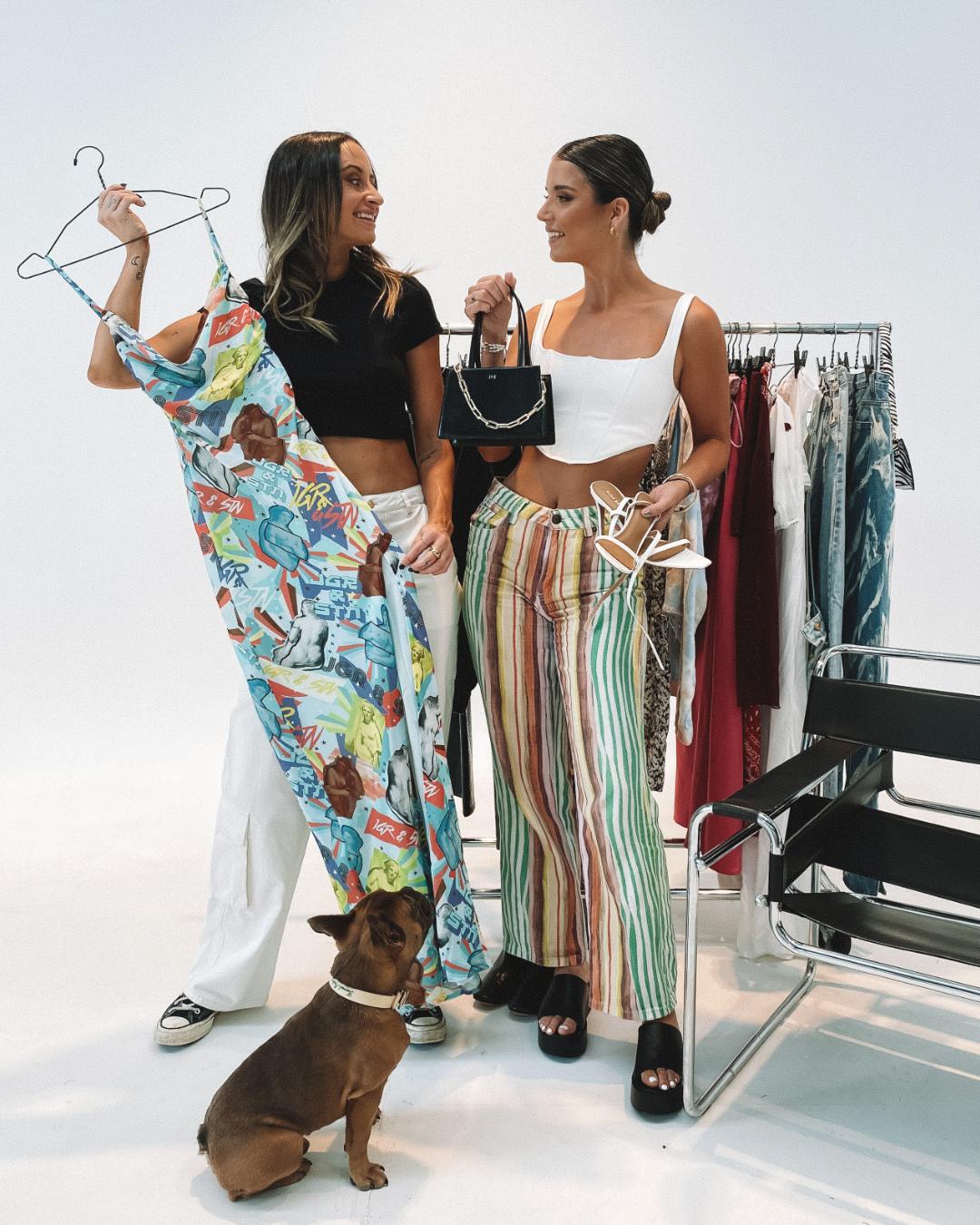 Life-long thrifters Lucy and Nikki of We The Wild Ones acclaim have always been advocates for the magic of secondhand items.
Thrifting throughout their uni days, Lucy and Nikki believe, "You can get the best one-of-a-kind piece'" when you shop secondhand. Despite massive success since their uni days with fashion label Jagger & Stone, they still relish the opportunity to thrift, "We love the journey of finding those special pieces! And I feel like no matter what, the one-off pieces are always the ones people comment on."
Nikki holds fond memories of thrifting in Paddington, Brisbane. "There were so many amazing op shops there, including Vinnies. If you are a regular op-shopper you'll know how rewarding it is to find a pair of vintage denim jeans that just fits like a glove, after trying on 1,000 pairs."
Hot Tips For The Best Thrifty Finds
We know a thing or two about nabbing the best bargain and uncovering the most coveted op-shop finds and in the name of a healthier planet, we're willing to part with our secrets. Read on for our top three tips.
Try It On
The easiest hack for walking away from a visit to Vinnies is to try before you buy. We're shopping second hand which is sustainable, but always ensure you're not making any rash purchase decisions that leads to your thrifted threads hanging in your closet only to then end up in landfill following your spring clean. We also recommend you're dressed for the occasion. Wear something easy to pop on and off because even though something might be calling your name as soon as you spot it on the racks, the only way to know if it's meant to be is to try that baby on and make sure it fits.
Check The Label
While any chance for a garment to have a second life is better than its useful days being cut far too short, not all garments are made equal. Depending on what your hopes and dreams are for your next wardrobe love affair, the label can tell you a lot about how your garment is made, how to care for it and the lifespan you can expect from your thrift treasures. We also love the thrill of finding Aussie labels amongst the racks and appreciating the craftsmanship that goes hand in hand with standout designs.
Get Out Of Town
One thing we always put on the to-do list when we leave the city is a visit to a regional Vinnies. It cannot be overstated what a treasure trove regional towns provide. Filled with homewares to hats and beyond, enter with an open mind and your next favourite item will find its way to you.
Whether you're after a new winter staple, a party dress a cut above the rest, or accessories to elevate any outfit, get curious and dive into the treasures waiting for you at your local Vinnies.
Image credit: Supplied.
Editor's note: This article is sponsored by Vinnies QLD and proudly endorsed by Urban List. Thank you for supporting the sponsors who make Urban List possible. Click here for more information on our editorial policy.