Small, independent workshops have been popping up in every nook and shared space in Brisbane and we are living for the hot opportunity to upskill.
Here's where to keep your repertoire fresh and learn something new at one of the best hands-on Brisbane workshops.
Mas & Miek Ceramic House
Pottery Classes | Newstead
Running classes for absolute beginners to seasoned pros, Mas and Miek Ceramic House is where to head for all things ceramics (including your Ghost moment). Their fully-equipped studio can teach you to build, throw, glaze and fire all your own creations in everything from one-day classes to eight-week courses, and you can even sell your wares at their end-of-year students' market. Click here to check out the different classes.
Class Bento
Various Workshops | Various Locations
When we say Class Bento has a class for everything, we mean everything. Collating incredible workshops from businesses and independent creatives from across Brisbane, this site lists everything from earring and pasta making to toy crocheting, house plant propagating, mushroom growing and basket weaving as just a handful of the 100+ classes you can find and book on their calendar, with loads of locations and price points so you'll be learning something new in no time. Head here to see what's on offer.
Soul Pantry
Flower Arranging And Plant Workshops | Stafford
Soul Pantry is the northside's one-stop hotspot for botanical homewares. Their list of workshops can teach you how to make your own terrarium, concrete pot or flower arrangement, cutting down your yearly gift budget to raw materials only. If you struggle to keep your plant babies alive, they also do a 'Living With Plants' workshop designed to turn you into a regular green thumb.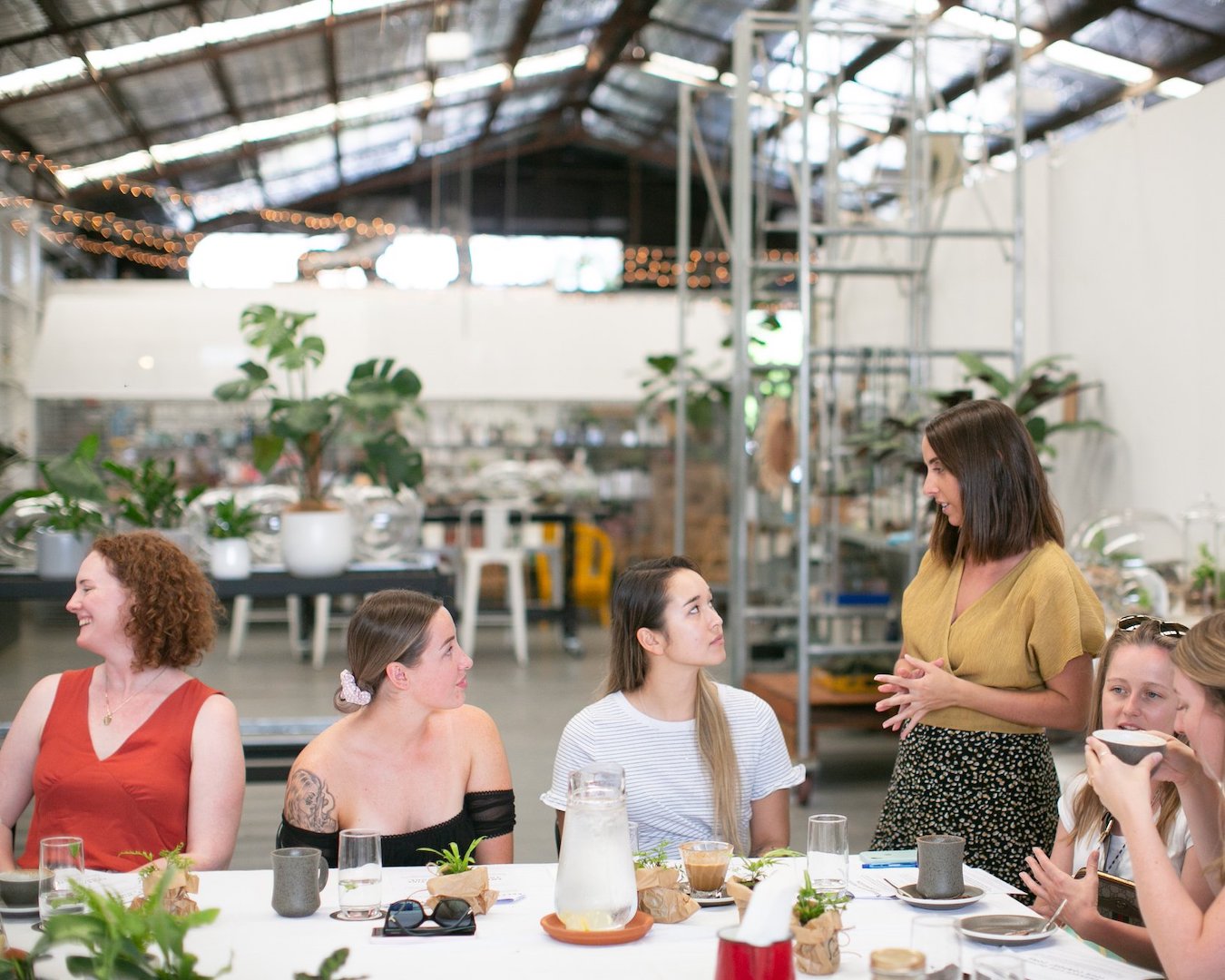 The School Of Everything
Various Workshops | Fortitude Valley
Serving up regular masterclasses that would be perfect for a team event, girls day out, or bridal or baby shower, The School Of Everything's lineup is hosted by local experts and includes the likes of grazing tables, floral wreaths, bouquets, racing headwear, and even DIY beachy waves. All students receive a glass of bubbles on arrival (which always fuels our creativity) as well as a gourmet grazing platter, and the workshops are BYO, too.
Pixiedust Calligraphy
Calligraphy Classes | New Farm
If you're developing square eyes from staring at your phone or computer and want to flex your creative dexterity and revisit analog handwriting, check out Pixiedust Calligraphy's guided classes. They host a bunch of different calligraphy and lettering workshops, and also offer private classes if you want to get truly hardcore. You can check out what's coming up here and book in to give your handwriting that extra bit of pizazz.
Workshop Hub
Art And Craft Workshops | Manly
If you want to go home from a workshop with something that looks like you picked it up at a design market, head for Workshop Hub on Brisbane's eastside. With workshops on everything from creating resin homewares to succulent gardens, you'll finish up with a finished product to be proud of, whether you keep it for yourself or gift it to someone else.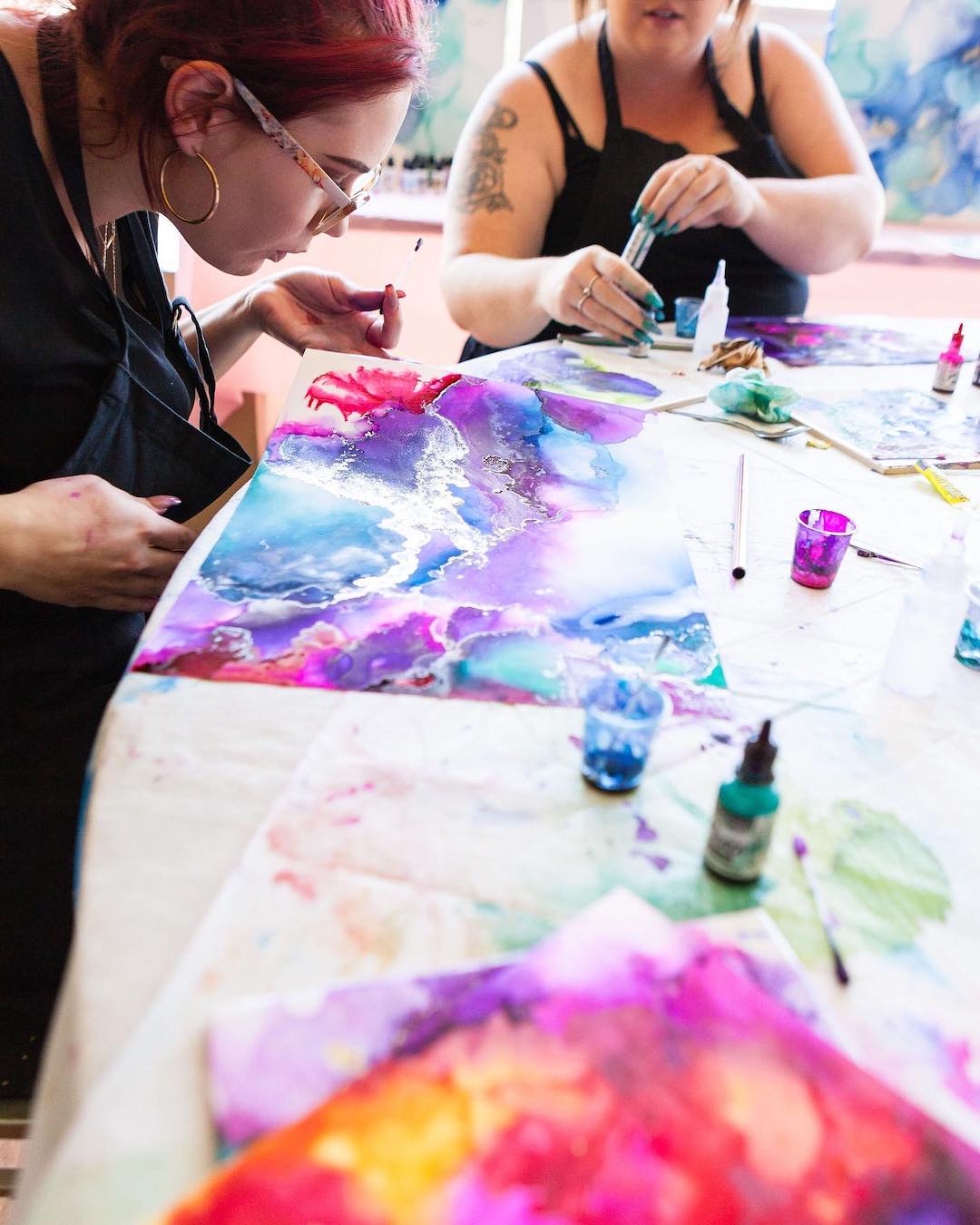 Mappins
Plant And Garden Workshops | West End
The expertise of the gardeners and the sheer range of plants on offer at Mappins make them the perfect place to upskill your plant game. They offer a bunch of different workshops including hands-on classes with kokedama, terrariums and wreaths. Check out their full schedule here.
Work-Shop
Everything | Newstead
If you've got a list of things you want to learn how to do a mile long, then you need to know about Work-Shop. With a huge array of courses on offer every single week, you could soon be an expert in everything from cheese-making and beekeeping to body positivity cross-stitching and loom weaving—the list goes on. Check out their website for upcoming classes.
Ministry Of Handmade
Sewing And Crochet Workshops | Bridgeman Downs
Don't let grandma be the only one in the fam with sick sewing skills—DIY fashion is the new designer label, don't you know? If Nan won't share her secrets (or her sewing machine), the Ministry of Handmade in Bridgeman Downs should be your next port of call, where you can learn the basics in a simple Learn to Sew class, or step it up and actually make something to take home.
Queensland Writers Centre
Writing Courses | Online
Whether you're a uni student who wants to brush up on the basics or you have dreams of becoming the next J.K. Rowling, there's an online writing course for you at the Queensland Writers Centre. You can get back to the basics with an introduction to grammar or get some help writing an unputdownable short story from the likes of Nick Earls. Find the full list of courses here.
Looking to broaden your horizons? Listen to these 5 podcasts to help you land your dream job.
Image credit: Mas & Miek Ceramic House, Soul Pantry, Workshop Hub