5 Boroughs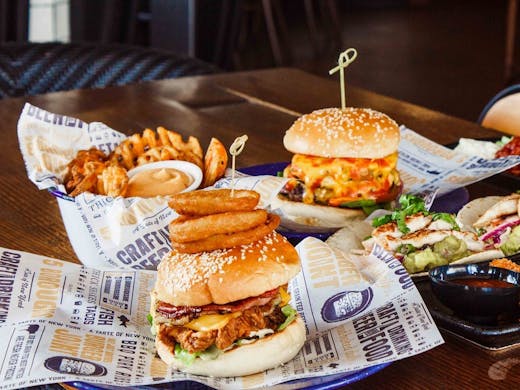 One bite of 5 Boroughs burgs and you'll be transported to the streets of New York, braving the subway as you bounce between Manhattan, Brooklyn and Queens. Make the most of your metaphorical overseas adventure by feasting on the venue's cross-cultural menu. Steamed buns, gyoza, and fish tacos are just some of the selections that stray from your typical American fast-food offering.
Of course, if you are craving some of the classics, 5 Boroughs has got you covered with succulent wings, waffle fries, and all the hot dogs money can buy. You won't want to pass up the chance to try their epic burger range, featuring grain-fed, locally sourced steak, and plus a few plant-based patties for our ethical eating friends.
But the best part of dining at 5 Boroughs? Their impressive bar menu features a range of cocktails, spirits, and frozen bevvies perfect for cooling off in the heat of the afternoon. We can't get enough of their summer spritzer range, so be sure to order a glass (or two) the next time you're hankering for a juicy burg.
---