Agnes Restaurant Pop-Up Bakery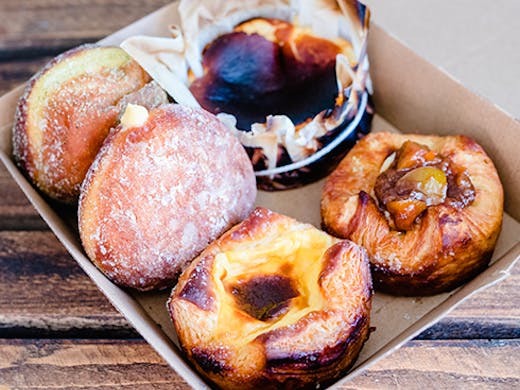 What happens when a global pandemic derails your plans to open one of the most anticipated restaurants of the year? Well, if you're Ben Williamson and his Agnes Restaurant team, you switch gears and open a pop-up bakery and bottle shop instead.
Judging by the (physically distanced) queues forming around the block before opening time every morning, the change up was a thoroughly brilliant idea. With the restaurants wood-fired oven already installed and raring to go for the planned opening day in March, instead of postponing, the team opted to use it to bake up stacks of sweet and savoury pastries and breads, and flung open the doors right on schedule.
On the racks behind the counter you'll find dense and flaky kouign amann pastries, sugar dusted doughnuts filled with butterscotch custard, charred Basque cheesecakes and pizzettes laden with a rotating list of toppings like smoked potato, raclette and onion. Drool. As well as the baked goods, you can get your hands on fridge and pantry staples like cheese, salumi and wood smoked butter, while the bottle shop (which opens at 10am) is overflowing with boutique wines to get you through these tough times.
You'll want to get in quick though—according to their Instagram feed, the baked goods pop-up will be ending as of Tuesday 7 July so that the team can get to working on preparing the restaurant to finally open. While you're there, you can get a sneak peek at the stunning industrial interiors we'll be flocking to when this is all over—though we're hoping those kouign amann pastries are on the menu for good.
Image credit: Ranyhyn Laine
---
You May Also Like
Things To Do
Brisbane City, QLD
Luke Nguyen's stylish 100-seat restaurant nestled within the Treasury is a… Read More +
Things To Do
Brisbane City, QLD
Brisbane's in for a treat with Black Hide by Gambaro at Treasury Brisbane. This… Read More +