Bardon Yoga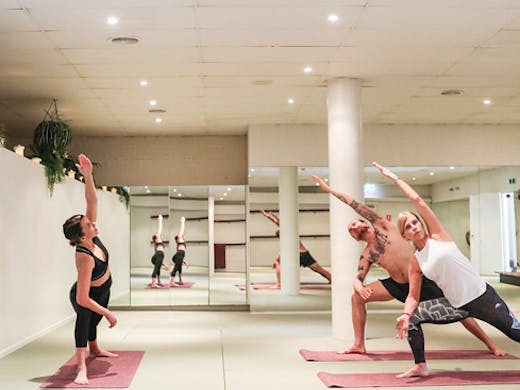 The Verdict
Yoga can be intimidating. When you're not exactly at pretzel levels of flexibility, it's easy to feel like you could never muster up the courage to attend a class. Plus, they can often cost more than a week's rent—which is never ideal.
That's why we're so excited that we just discovered Bardon Yoga. The newly refurbished studio is totally refreshed and offers much more than just hot yoga—seriously, they just got a brand new yoga-suited floor imported from Germany. Bardon Yoga has a totally different feel than any other yoga studio we've ever visited: it's fun, there's no judgment, and every class is perfectly suited to beginners. Their motto is that yoga should be fun, which we 100% support.
The studio is staffed by locals who teach a broad range of styles. The team is dedicated to making yoga accessible. They carry this philosophy across to their membership prices, too, you can score a casual membership for only $14 or $140 for unlimited monthly membership.
So, if you've been meaning to get into yoga but haven't ever built up the courage beyond following a Youtube video, or you're feeling all of the judgey vibes at your current studio, check out Bardon Yoga.
To see their class timetable click here.
Image credit: Grace Elizabeth Images.
---
You May Also Like
Fitness
West End, QLD
A new kind of workout has arrived in Brisbane, one that will get you sweating through…
Health & Beauty
South Brisbane, QLD
Looking to turn up the heat and sweat out those nasty party toxins? Well, Pilgrim Hot…