B+C Lab Café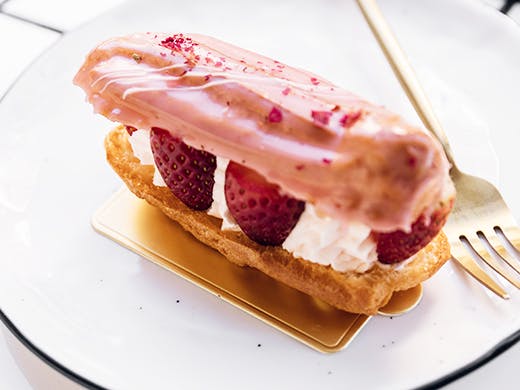 Nestled away in the city fringe 'burb of Kelvin Grove is the totally gorgeous B+C Lab Café. Serving up all things matcha, coffee and cake, B+C Lab marries Australia and Japan's love for a bloody good local cafe.
Featuring an all white palate of washed walls and tiles, with concrete accents, paired back decor and minimalistic furniture, B+C Lab is a coffee lover's dream, featuring a variety of coffee blends on the menu alongside specialty coffee and tea such as pourovers, cold drips, filter plus matcha and hojicha teas sourced from Kyoto.
'Grammer's will be right at home with their beautifully designed tasting notes and serveware—and seriously, when you see the cake cabinet you'll understand why this place gets our vote.
Strawberry fans must tackle B+C Lab's strawberry cream cake (a Japanese chiffon cake with a smooth creamy finish and fresh strawberries) but for those that want to branch out really ought to try their Hojicha crepe cake or matcha layer cake with a latte (matcha, beetroot, turmeric; you name, B+C's got it).
Do yourself a favour and make haste to Brisbane's cutest under-the-radar cafe.
Image credit: Grace Elizabeth Images
---