Bisou Bisou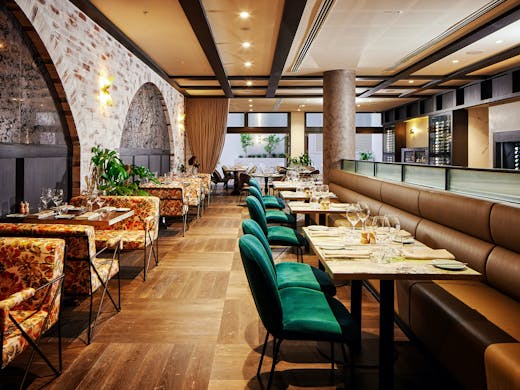 French for 'kiss kiss,' Bisou Bisou comes to us from the Ghanem Group, the team behind the likes of Donna Chang, Boom Boom Room and Blackbird Bar, Dining & Events. The interiors are seriously luxe, all the way from the cocktail bar at the entrance, which features red velvet bar stools and a curved bar, to the moody, Parisian dining area, where marble tables, floral lounges and art deco tiling come together to create a cosy, vibrant space.
Start your journey through the streets of Paris at the bar, where concoctions like the Mezcal Rogue await, along with a lengthy list of wines. Once you've got your tastebuds raring to go, take a seat in the dining room for comforting, brasserie-style feeds that will leave you with a newfound obsession with French food. Think classics like seafood bouillabaisse with saffron rouille, duck breast with caramelised witlof and crispy-skinned roast chicken from the rotisserie.
If it's a sweet dessert you're after though, never fear, there's a Tarte Tatin of toffee apple, caramelised puff pastry and cinnamon ice cream with your name on it, as well as housemade ice creams and sorbets.
Read more about Bisou Bisou here.
Image credit: Grace Elizabeth Smith
---
You May Also Like
Food & Drink
Fortitude Valley, QLD
Brisbane has been blessed with yet another incredible joint from the team…
Restaurants
Brisbane City , QLD
Taking over the space once occupied by OTTO before its migration across the river to…