Bloom Patisserie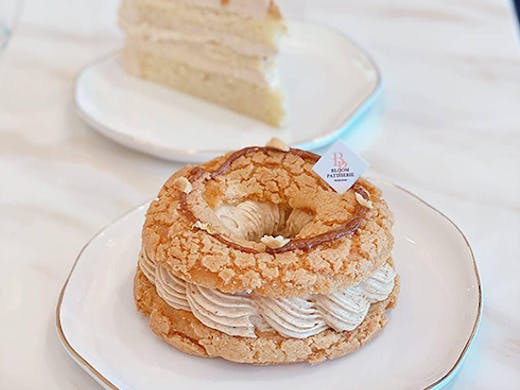 Newly landed in Sunnybank's Market Square, Bloom Patisserie is a wonderland of sweet treats and baked goods. Taking up residence on the second level, the dreamy, pastel cafe features floor-to-ceiling windows overlooking the streets below, but you won't be looking outside—you'll be too busy staring wide-eyed at the desserts in front of you.
In the glass cabinet at the counter are an array of slices of chiffon cakes, mille crepe cakes, Paris Brests and glossy mirror glaze cakes made in house. Flavours range from black sesame chiffon cakes and matcha mille crepe cakes to the more classic pistachio Paris Brest, which, if you don't know, is a doughnut-like French dessert made of choux pastry and praline flavoured cream.
On the short menu meanwhile, are the likes of strawberry shaved ices and a selection of drinks to pair with your sweets, including fresh juices, tea and coffee. So if you're looking for an afternoon pick-me-up, this is it.
Image credit: Bloom Patisserie
---