Botanica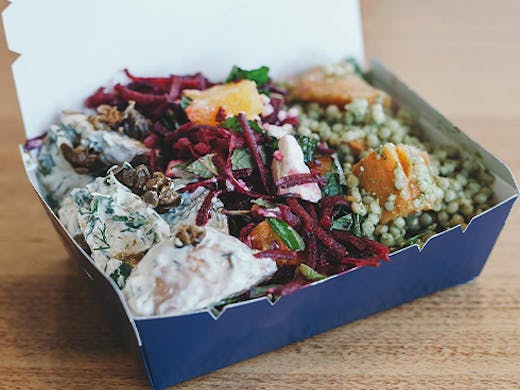 The Verdict
Locals on the east side of Brisbane can finally start to understand the inner city's obsession with salad with the news that cult salad bar Botanica has opened its third location over in Camp Hill. After the immense popularity of both the Red Hill and Newstead locations it's high time east siders got a taste of their impressive salads, and it probably won't be long before they're as addicted to kale as the rest of us.
Botanica specialises in plant-based feeds that can fulfil any dietary requirements and satisfy your hunger needs all day, as well as save you the hassle of prepping multiple side dishes for your next group dinner. Established by husband and wife Brett and Alison Hutley, the boutique takeaway joint dishes up uber creative salads that will make you never want to eat the plain garden or ceasar variety ever again. While you're picking up your lunch or dinner, you can also nab one of the gluten-free sweet treats they're famous for—we can tell you from plenty of first hand experience that the bundt cakes are to die for.
Run, don't walk, and make sure you get in early enough to have the full array of salads to choose from—the favourites sell out quick!
Image credit: Botanica
---