Brush & Barrel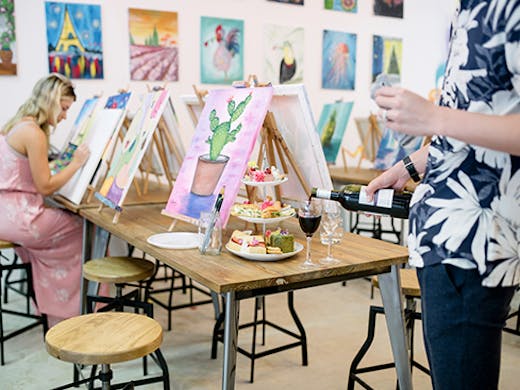 The Verdict
Stumped on what to do for your next catchup with pals, or have an upcoming special occasion that needs celebrating? Then look no further than Brush & Barrel, the super cute paint and sip concept that guarantees a good time, every time!
This adorable and intimate studio is the BYO venture set to rejuvenate your friend date routine and bring a refreshing change to the dinner and drinks scenario we're all so familiar with. Just book your session according to what painting is being recreated that day, and enjoy a mindful two-hour escape from the daily grind (along with plenty of drinks and laughs, obvs!).
One of the best things about Brush & Barrel is that they'll provide all the painting necessities while you only need your favourite adult grape juice, although if you're feeling snacky why not whip up a luxe cheese board to bring along?
To accompany you on your artistic journey there are tunes to brush along to and step-by-step guidelines from the 'Social Painting Instructor' if, like us, you're challenged even by stick figures. However, you're given the choice of following along with the selected paint scheme or letting let your artistic flag fly and going rogue with the perfect colour combo for the wall your masterpiece will undoubtedly hang upon.
If you've been burdened with organising the next work outing or want something new to do with a larger group, Brush & Barrel also offers private classes in their gorgeous 20-seat studio.
Because of the intimate nature of Brush & Barrel (honestly, one of its perks) bookings are essential to make sure you don't miss out. So fire up the group chat, select a tasty vino, and make a booking right here.
Image credit: Tash Sorensen
---