Clayfield Seafood Market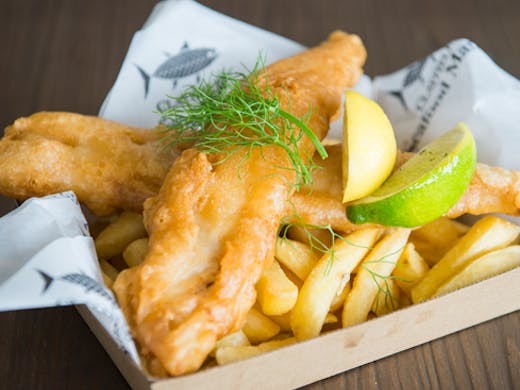 The Verdict
If fresh, local, and all round delectable fish and chips are what you're after then Clayfield Seafood Market is your answer. These guys aren't your regular fish and chip shop though, no sir. The seafood here is fresh not frozen for a start and is locally sourced. Everything is boned and filleted on site and they even make their own batter using Newstead Brewing Co.'s Amber Ale—it's a full blown local love affair. Plus, all of their sauces are made on site too; none of those impossible to squeeze sauce sachets here, folks. Gluten-free peeps, they've got you covered too with a separate fryer for gluten-free chips and a whole bunch of GF options. Oh boy.
So what's on the menu? Where do we even begin…
The classic "fish and chips" are done right with Japanese panko crumbs and Newstead Brewing Co.'s Amber Ale beer batter, served with a big old heap of chips. Captain Rod's Fishman Basket is another classic: beer battered fish, battered prawns, calamari rings, scallops and all of the chips. If you're looking for something a little less deep fried then they've still got you covered, don't sweat it. The grilled Gold Band Snapper topped with a pesto crust and lemon and herb dressing with a green salad is what foodgasms are made of. They also do breakfast, and their Rising Sun breakfast burger—complete with piles of bacon and cheese—is seriously the stuff of legends, so get around that, stat.
We've really saved the best for last though, these guys are BYO too. So you can pair your epic fish and chips with a nice frosty beer. F**k yeah!
If you're not feeling like fish and chips, don't sweat it: these guys are also fully fledged fish mongers. All seafood is sourced locally, with the salmon even flown in fresh from Tasmania, prawns from Mooloolabah - it's a full-on local love affair here. Ain't nobody got time for frozen, imported nastiness. Plus, the team will go above and beyond to meet your needs and will fillet your fish however you want. Talk about customer server?
A word of warning; these guys get busy. Like, really busy. So your best bet is to call ahead with your order or simply brave the queues. It's worth it though. So, so worth it.
Life hack: if you want to beat the queue entirely though, head in earlier in the week.
For more information be sure to check out their website.
Image credit: Jason Starr
---