Collective Kitchen & Bar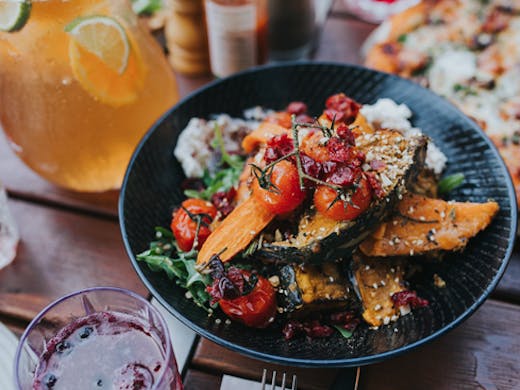 The Verdict
Collective Kitchen & Bar, smack bang in the middle of the CBD, is the answer to all our foodie dreams. Open, spacious, grassy dining areas dappled in sunlight and bordered by historic cathedrals are pretty rare finds in Brisbane, let alone the CBD. Collective Kitchen & Bar however, are doing it right. The spacious courtyard is perfect for groups, after-work drinks or a good old fashioned feed.
These guys take the cake for menu diversity. From soft shell crab tacos (holy YUM) to buttermilk fried chicken ribs with ranch and chipotle, there's oodles of options to satisfy even the pickiest eater. There's also a burger to suit every taste bud: beef with crispy onion rings, buttermilk fried chicken or the pulled pork. Just between us, we totally wouldn't judge you if you opted for one of each.
The mains really steal the show though, and are the perfect antidote to your 9–5. The woodfired root vegetables, quinoa, cranberries, labna, sumac & almonds is our pick for a winter warmer while the grilled salmon with crushed chats, dukkha, zucchini and asparagus herb salad and labna really gets our mouths watering. The chargrilled tiger prawn salad also gets our vote for those (rare) times when ordering one of each burger just isn't on the cards…
Proving that you can never have too much of a good thing, these guys also have beers on tap, a whoooollle lot of wine, and do a mighty fine Pimms jug. Plus, if you're not crazy-hungry but are looking for a bite to eat to match your drink, these guys also do a next-level charcuterie board that's perfect for sharing. Or eating solo—we don't judge.
Breakfast fans, Collective Kitchen & Bar haven't forgotten about you. If walnut & banana bread, blueberries, vanilla bean mascarpone, macadamia crumble, maple syrup doesn't get your tummy grumbling we're afriad there's no hope for you. The Collective benedict ticks all our breakfast boxes—perfectly poached eggs, hollandaise, smashed avo, cherry vine tomatoes, and goats curd.
This CBD spot's breezy location lends itself well to functions too, so you can pimp your next event with their tasty menu.
Image credit: Yaseera Moosa
---
You May Also Like
Restaurants
Brisbane City , QLD
Taking over the space once occupied by OTTO before its migration across the river to…
Restaurants
Brisbane City, QLD
Secreted away inside Brisbane city's new Hotel Indigo is Izakaya Publico, a…