Crispy Puff Donuts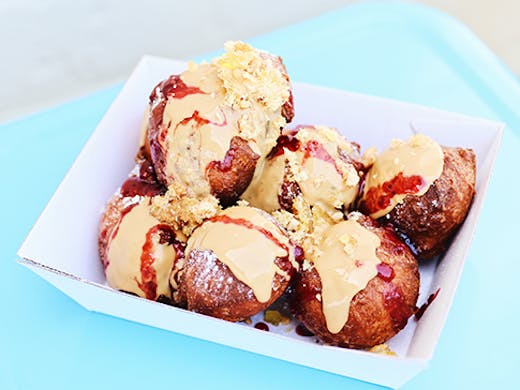 Crispy Puff Donuts in Ipswich aren't making any ordinary doughies, folks—heck no. This blink-and-you'll miss it hole-in-the-wall eatery is making the freshest loukoumades this side of the Mediterranean—and you better believe it!
Owner Mark has taken the humble Greek classic to new heights, creating mouth-watering flavour combos more akin to a cake shop than an icon of the Aegean.
Made fresh to order for peak fluffy vibes, Crispy Puff Donuts' loukoumades are drizzled and stuffed with your favourite toppings once golden brown and fried to perfection; think salted caramel, vanilla custard and praline crumble, traditional honey and pistachio—even peanut butter and jelly!
So, the next time you've got a hankering for something that's, frankly, way better than a traditional doughie, Crispy Puff Donuts needs to be top of your sugar-hit list. Light as air, made from a traditional family recipe, oh and they're pretty as a picture (what can we say? We're suckers for food that's as pretty as it is tasty…), Crispy Puff is more than worth the short drive down the M3.
Hot tip: these guys sell out pretty much on the daily, and stay open until sold out. Gotta be in it to win it, guys...
Image credit: Grace Elizabeth Images for The Urban List
---
You May Also Like
Things To Do
Brisbane City, QLD
Brisbane's in for a treat with Black Hide by Gambaro at Treasury Brisbane. This… Read More +
Things To Do
Brisbane City, QLD
Luke Nguyen's stylish 100-seat restaurant nestled within the Treasury is a… Read More +