Darvella Patisserie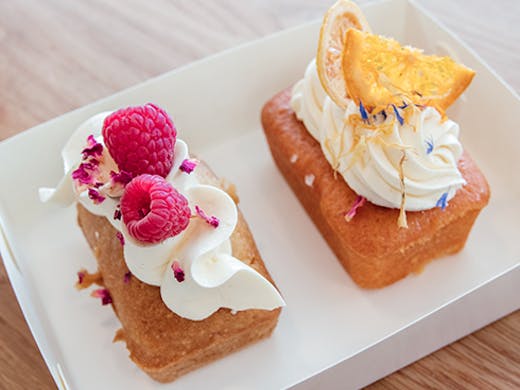 Landing with a bang in Bulimba, Darvella Patisserie comes to us from Giorgina Venzin and the Venzin Group, who you would absolutely know from their other venues, Pawpaw Cafe and Mons Ban Sabai. Named for the town in Switzerland where Venzin's father grew up, the hole-in-the-wall bakery has a Swiss feel—but you're not here for the interiors, you're here for the carb-loading.
Though there are a handful of stools by the entrance, Darvella is definitely a grab-and-go spot, which is probably best considering the amount of crumbs you'll soon have down your shirt. There's flaky, golden croissants, sugary doughnuts filled with jam or Nutella, decadent choc salted caramel and passionfruit meringue tarts, mille feuille, danishes and more, not to mention savoury goodies like wraps, croissant sandwiches, sausage rolls and loaves of fresh sourdough.
The real eye candy though, has got to be the baby cakes—miniature versions of stunning cakes that feed three to four people (or just one person with an epic sweet tooth). You can grab a coffee to-go as well, making this the perfect morning pitstop.
Image credit: Ranyhyn Laine
---
You May Also Like
Cafes
Fortitude Valley, QLD
After just over a year of pouring smooth coffees and slinging pastries and toasties…