Friday's Riverside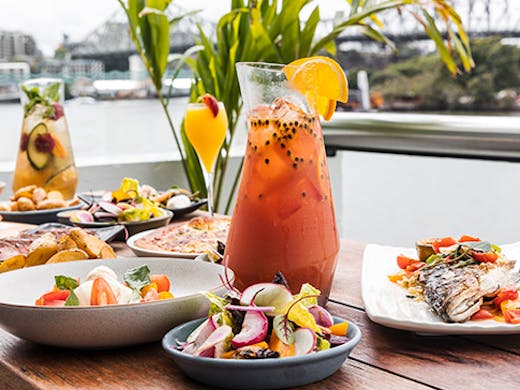 Living in a place affectionately named "The River City", it goes without saying that Brisbanites love a delicious meal featuring an epic view of the Brisbane River.

So, we're pretty thrilled to have Friday's Riverside nestled in one of Brisbane's most prime piece of real estate. Complete with 180-degree views of the Brisbane River and the Story Bridge, it's no wonder that this place is a trusty go-to for Friday drinks.
Not only does this place seriously satisfy your craving for a post-work week drink (or two), they also serve up some pretty tasty waterfront dining as well.
Our fave? Bottomless Sundays. That's right, bottomless brunch each Sunday from 12pm till 4pm. With Brisbane's best brunch views you can tackle your hangover like an absolute champion with a main meal and two hours of bevvies (think Rosé Spritz, Sangria and Pimms, oh my!) for just $42. Meet you there?

If you're after something a little more low key, like a few drinks with friends and some nibbles (let's be real, we always want the nibbles), make sure to get around their small plates. Just a few of the standouts are the cheeseburger springies, chicken wings and mushroom arancini. We are already mentally washing this down with a glass of vino already.
For the city slickers searching for a delicious but quick work lunch, the Huon salmon poke bowl is absolute perfection. Or, if you're feeling devilish go the buttermilk fried chicken burger with a frosty draught beer.
If a romantic dinner with your S.O is on the cards, make sure to order the mouthwatering pappardelle with lamb shank ragu, and the premium Black Angus eye fillet (with beer batter chips, of course) from the Terrace Grill. It goes without saying that you'll need to share these two bad boys.
We love a good deal (and we know you do too), so we thought we'd be good friends and let you know they're grilling up $15 rump steaks every Wednesday as well as gifting us with $15 lunches Monday to Saturday. We're basically making money here.
You may now excuse yourself to fire up the group thread.
---