Good Lookin' Rooster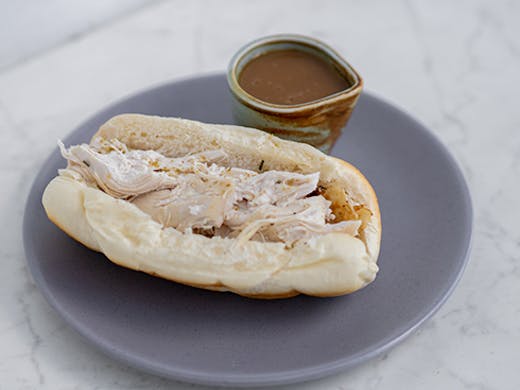 We know how often you finish work, or have a busy weekend, and get home tired and hungry with absolutely no desire to cook. Well next time it happens, instead of reaching for your phone to order Uber Eats, make a quick trip to Good Lookin' Chook, where you'll find a wholesome, ready-to-eat feast awaiting you.
As you can probably guess from the name, it's all about the humble roasted chook here, in either quarter, half or whole portions, ready to be paired with fresh, flavoursome salads, roasted corn on the cob and crisp baked potatoes that are better than any you'll ever whip up at home. Just choose your perfect combo and take it home, no cooking or waiting necessary.
That's dinner sorted, but if it's a quick lunch you're after, you can opt for a fresh crusty roll filled with rotisserie chicken, topped with either gravy, gravy and chips or even salad if you need to get your two and five in. Basically, Good Lookin' Rooster has you covered from noon to night.
Image credit: Good Lookin' Rooster
---
You May Also Like
Restaurants
Brisbane City , QLD
Taking over the space once occupied by OTTO before its migration across the river to…
Restaurants
Brisbane City, QLD
Secreted away inside Brisbane city's new Hotel Indigo is Izakaya Publico, a…