Hakataya Ramen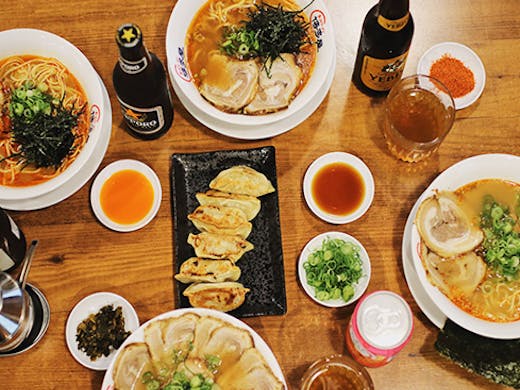 The Verdict
Adding to its repertoire of multiple food court locations, Brisbane ramen fave Hakataya Ramen has opened its flagship standalone restaurant in Queen Street Mall, ready to fulfill all your comfort food-filled dreams.
Hakataya Ramen specialise in Tonkotsu soup (pork bone broth) and uses premium Australian pork for maximum flavour extraction—the char siu pork slices that top these hearty bowls of deliciousness are slow-cooked to ensure they melt in your mouth, FYI—making their signature dishes super tasty and ultra-addictive.
To all the spice lovers out there; if you ever feel like your tastebuds aren't challenged enough, try Hakataya's Karaka-Men option on for size. Easily one of Brisbane's spiciest ramens, they weren't kidding around when they labelled this bad boy with three chillies!
So what sets Hakataya Ramen apart from the ramen masses? Easy! Not only do they serve generous portion sizes (which we're very happy about), their cute-but-cool fit-out is a step up from your local ramen joint, and the fact that all ingredients, right down to the noodles, are made from scratch in-house daily. Over-achieving, much?
Hakataya Ramen's new flagship store in the CBD has a restaurant-style vibe but still retains the same affordable and delicious ramen we've come to love from this iconic ramen-slinging kitchen.
The ramen sets on offer (unique to their flagship location) make it the perfect, hassle-free destination for your next feast with the crew! Queen Street is also the only Hakataya location where you can take advantage of their $2 soft serves (the perfect refreshing sweet treat to indulge in a post-ramen gorge). And even better–these legends are giving away FREE soft serve with ANY ramen purchase all week (Monday 5 February - Sunday 11 February) at their Queen St Mall locations! Just say the code word "The Urban List" and thank us later...
Hakataya Ramen is the epitome of affordable and classic Japanese eats. If you haven't been to Hakataya Ramen yet, that needs to change, stat!
Image credit: Grace Elizabeth Images
---